Koh Sichang is a small picturesque island in the Gulf of Thailand and a good destination for those who want to escape the noise of Bangkok or Pattaya. It's definitely not a party place and the island stays relatively quiet, even on weekends. If you are more after fun, then probably you should check Koh Samet instead.
How to get to Koh Sichang?
The island can be reached only by sea and you will need to get to Jarin Pear Ferry (next to Wat Koh Loy) in Si Racha in Chonburi Province. The trip takes about 45 minutes and costs 50 THB for one way. The ferry arrives at Tha-Lang Pier on Sichang Island
Si Racha can be easily reached both from Bangkok and Pattaya.
When to go?
The best time to visit Koh Sichang is the same as for all the other islands in that area, from November to May, outside of the rainy season. The weather is stable and showers are rather occasional. In other months, it's better to check the boat schedule and availability of accommodation well in advance.
Due to its location not being far from Bangkok and Pattaya, try to avoid coming here on the weekend as it can get more crowded than usual.
How long to stay?
It's a small island so I would say that 1 full day should be enough to visit all the exciting places and enjoy beach time. If you prefer a more relaxed pace, do yourself a favour and stay for at least one night.
Where to stay?
Hotels, bungalows and resorts, all of these are available on the island at various prices. You can easily make a reservation on booking.com or agoda.com. I only made a day trip so I can't recommend any particular place.
Getting around the island
Options are limited to tuk-tuks, bigger pick-up trucks, rental motorbikes or walking. I always opt for my own wheels and that time was no different. I got a classic Honda Click just next to Tha-Lang Pier, with a full tank and in excellent condition. The cost for 24 hours is around 300 THB, including fuel.
Beach
The island isn't a paradise for beach lovers, but it's definitely worth stopping by at Hat Tham Phang. There are places to eat and drink and also some deck chairs for chilling. You can also rent a banana boat, a kayak or an inflated tyre. There is a nice viewpoint at Laem Tham Phang, a bit more towards the north.
Other places to visit
King Chulalongkorn's Summer Palace
This is a former palace and garden which was built by King Chulalongkorn around 1890 as the summer residence for the Royal Family. It's a great place for a walk and you shouldn't miss the wooden pier, King Rama V Monument, the temple located on the hill as well as a nice viewpoint a bit further on.
Chonlathassathan Marine Museum
Apparently nice and free aquarium to visit, not far from King Chulalongkorn's Summer Palace. Unfortunately, it was closed on the day of my visit.
Southern Tip
Small rocky beach with views of Ko Yai Thao and Ko Khang Khao. Not suitable for swimming.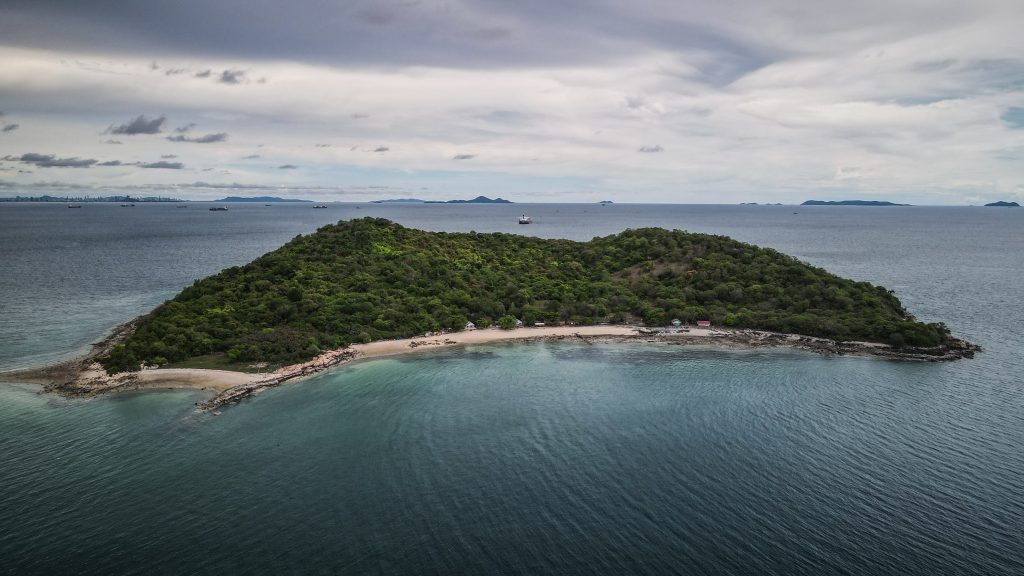 Wat Tham Yai Prig and Tham Chakkaphong Sangha Monastery
A stairway flanked by the mythological Naga serpent leads up to the ornate temple building. A little bit further north is a yellow statue of Buddha with great views of Koh Sichang and the surrounding islands in the Gulf of Thailand.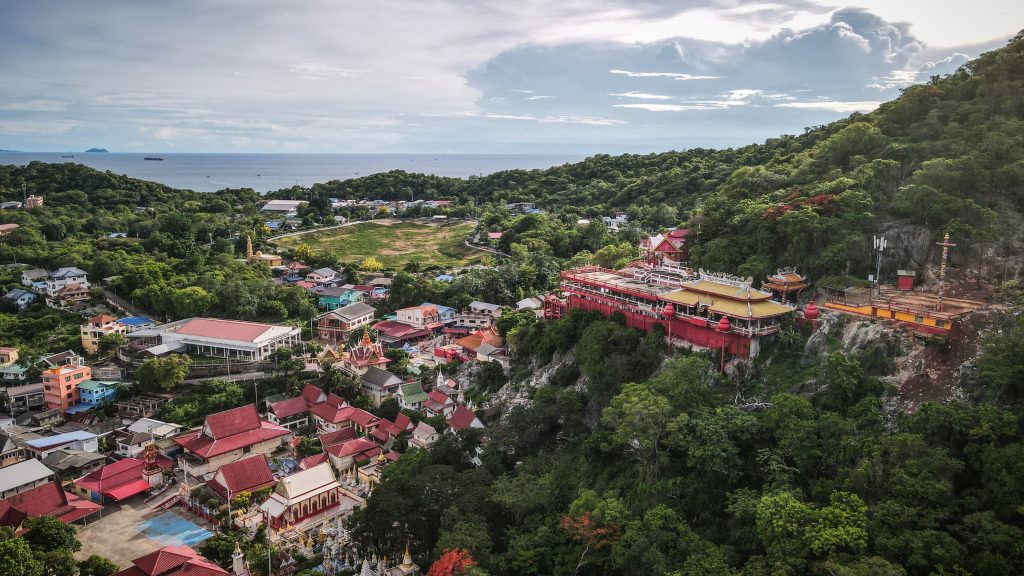 Chao Pho Khao Yai Shrine
It is believed that the shrine was founded by Chinese traders passing by the island by boat. If you want to get better views across the island climb more than 500 steps to reach a replica of a Buddha footprint and a viewpoint with a small golden pagoda even higher up.
Summary
Do I regret coming to Koh Sichang? Not really, it was a good day but there are so many other nicer destinations in Thailand that I don't think I will ever be back. It's a typical one-time visit destination so if you have time, give it a try but otherwise, you may want to try Koh Samet or Koh Larn instead.