Koh Samet is located in the Rayong province, about 200 km from Bangkok. It's definitely off the main tourist track but in my opinion, it gives the island even more charm. Especially on the weekdays, the atmosphere is rather quiet and you will have no problems with finding a piece of beach just for yourself.
Upon arrival, you will have to pay a 200 THB entry fee as the whole island is declared a national park. Road traffic is limited to pick-up trucks taxis and motorbikes only. Therefore, you will certainly feel the specific island vibe here!
Besides relaxing on beaches or enjoying water activities, there is not much more to do on Koh Samet. But if those beaches are extremely picturesque with a truly paradise atmosphere, aren't they enough?
How to get to Koh Samet?
The island can be reached only by sea and you will need to get to Ban Phe Pier or Nuanthip Pier. The public ferry costs about 120 THB for a return trip and it takes about 30 minutes of travel time. More expensive speedboats are available as well but even though they are faster, I wouldn't say it's worth spending extra money unless you are travelling in a bigger group.
If you travel from Bangkok, Nuanthip Pier can be reached from the Ekkamai bus terminal and the trip there takes about 3 hours. You can also start a trip in Pattaya or Rayong as both of these cities are on the way from Bangkok.
The area around the piers is full of shady sellers and scammers so stay focused and don't let them trick you into an expensive boat ride.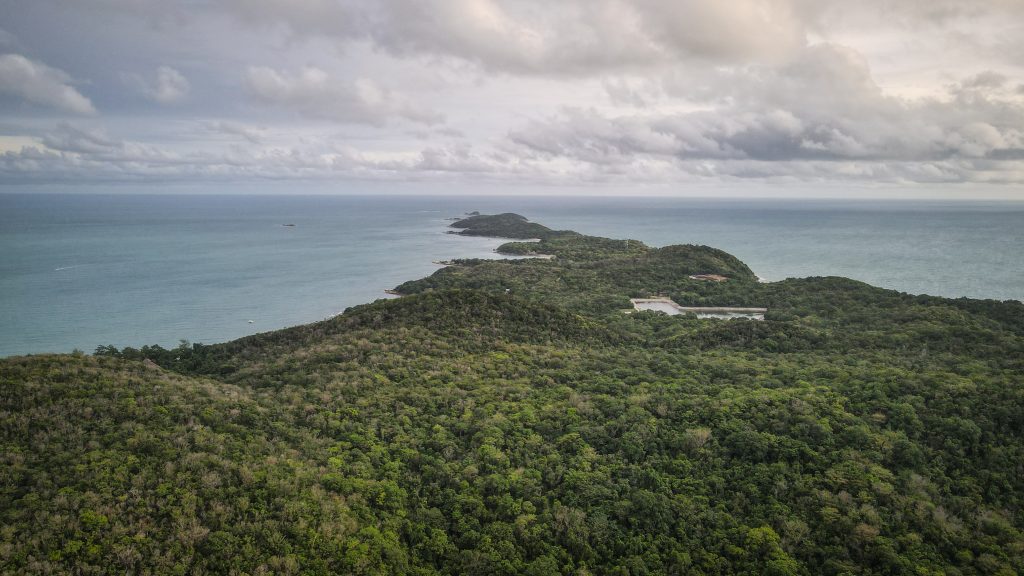 When to go?
The best time to visit Koh Samet is the same as for all the other islands in that area, so from November to May, outside of the rainy season. The weather is stable and showers are rather occasional. In other months, it's better to check the boat schedule and availability of accommodation well in advance.
Due to its location not far from Bangkok, try to avoid coming here on the weekend as it can get crowded.
How long to stay?
It's a small island so I would say that 2 full days should be enough to visit all the exciting places and enjoy beach time. If you are short on time, it's doable in 1 day too but in my opinion, Koh Samet deserves an overnight stay.
Where to stay?
Hotels, bungalows and resorts, all of these are available on the island at various prices. I stayed in Runa Runa The Best Guesthouse which was affordable and clean, but not as close to the beach as popular resorts. You can easily make a reservation on booking.com or agoda.com.
Getting around the island
Options are limited to pick-up trucks or rental motorbikes. I always opt for my own wheels and that time was no different. I got an orange Honda Click, one of the most popular motorbike models in Thailand, and it was in excellent condition. When you leave the ferry terminal, just walk straight to the other side of the small square until you see the shop renting scooters. The cost for 24 hours is 300 THB, including fuel.
Beaches
Most of the beaches are located on the east coast of the island with Sai Kaew Beach being the most popular one. You may want to look for a more quiet alternative during the day but anyway it's a good place to come back and chill while watching a fire show in the evening in one of the bars or restaurants there. Other beaches on the east coast are:
Ao Hin Khok
Ao Phai
Ao Nuan
Ao Chor
Ao Wong Duean
Ao Thian
Ao Wai
Ao Kiew
On the west coast, Prao Beach is an awesome place to spend a few hours and I honestly think that it might even be my favourite spot on Koh Samet. White sandy beach, clear water, palm trees, and the possibility to do some snorkelling or paddling on a kayak or SUP board that can be rented from the nearby hotel. And on top of that – amazing sunsets! What else would you need?
On the north coast, you may visit Noi Na Beach. It's a good place for sunrise and there are restaurants around but other than that, it's a rather ordinary beach.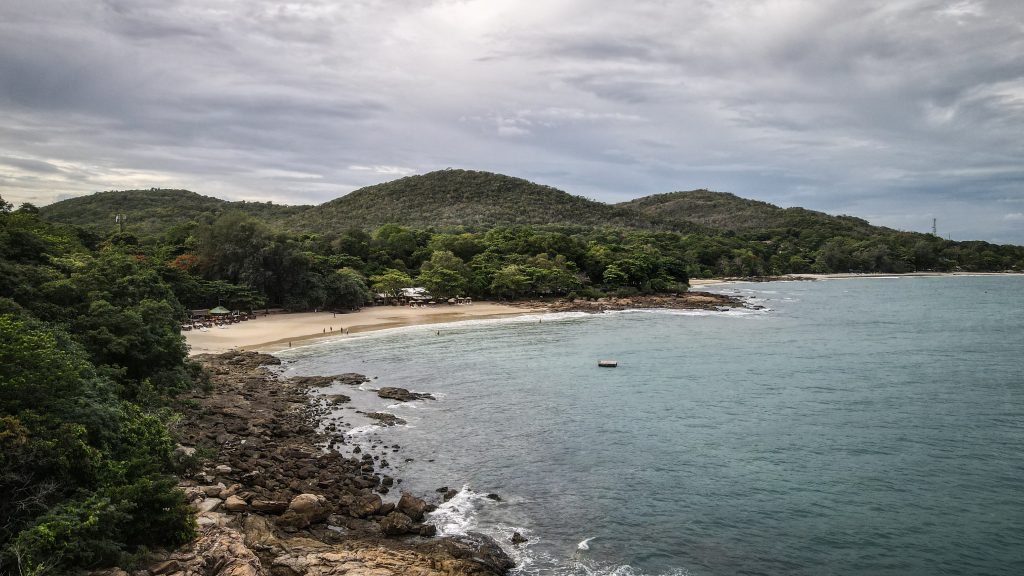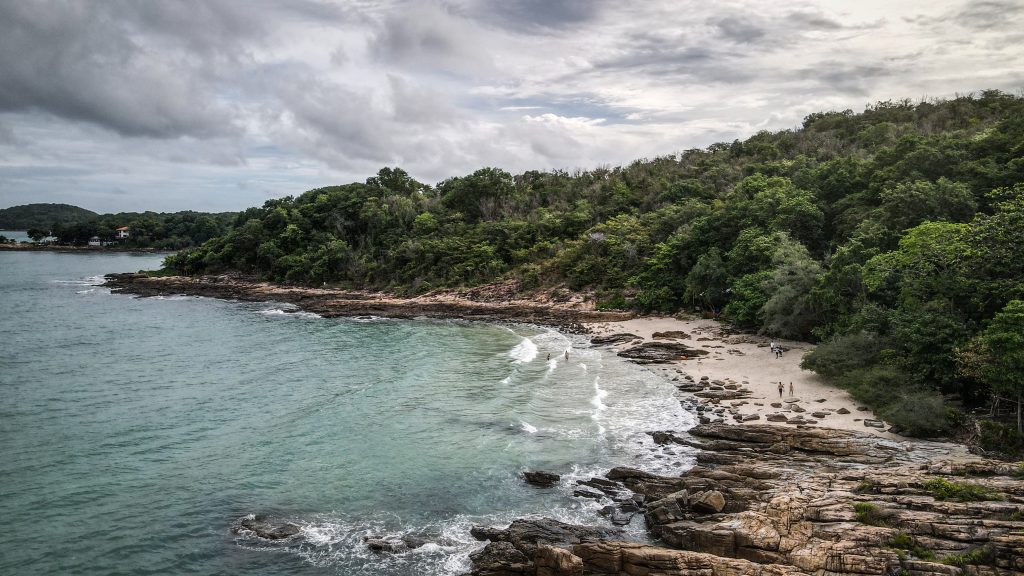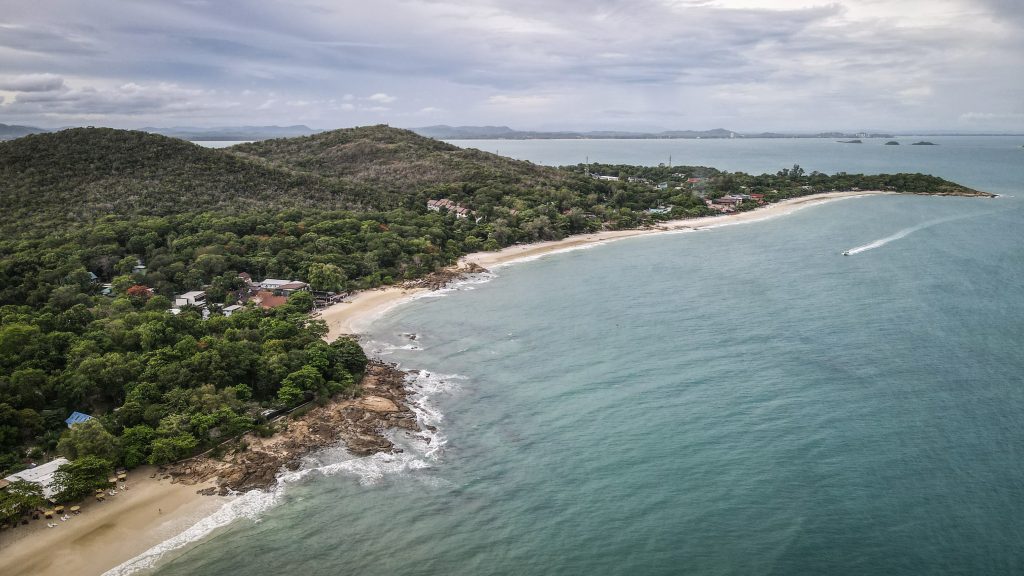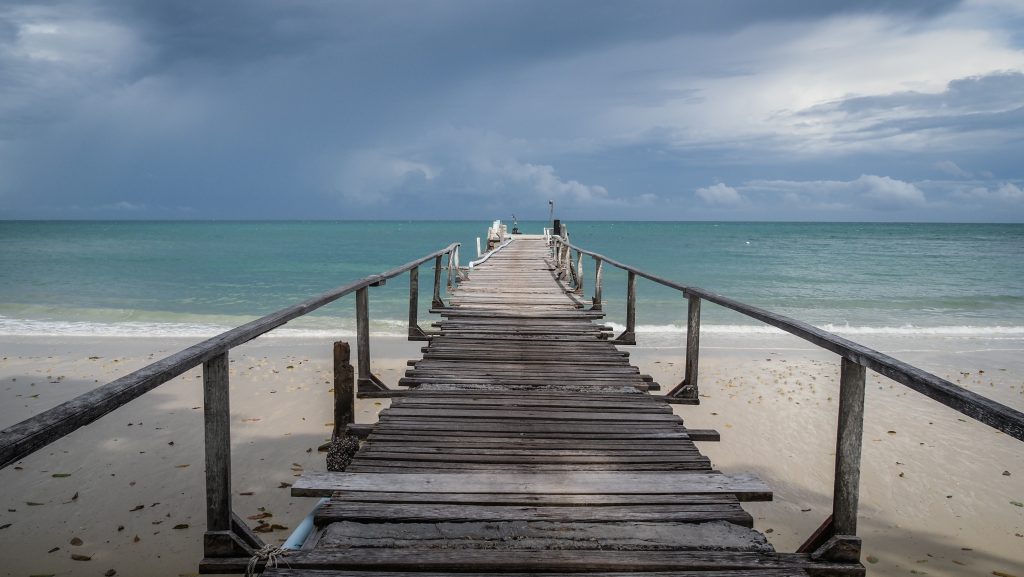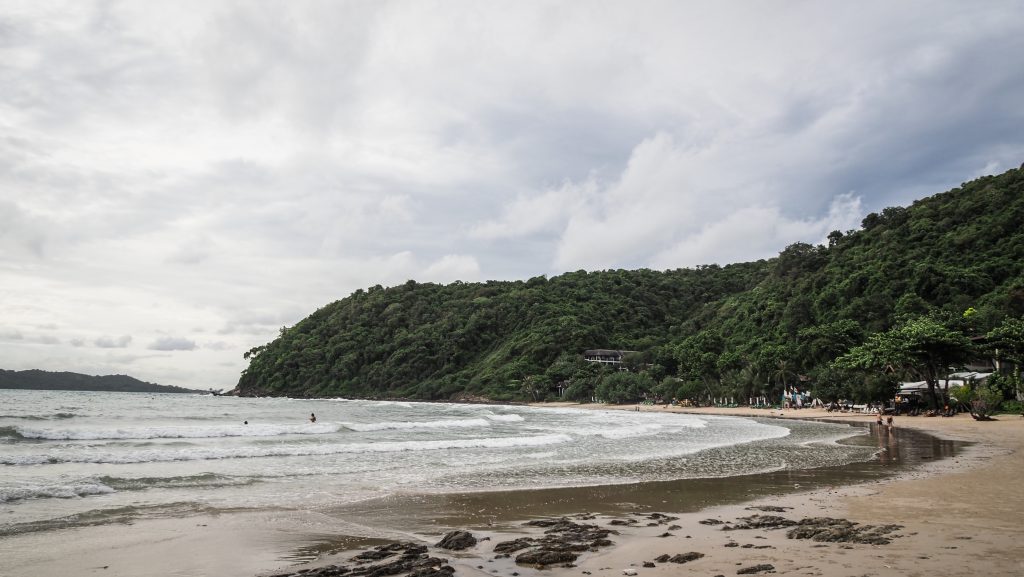 Other places to visit
The Mermaid at the Na Dan Pier
Tourists arriving on the island are greeted by an interesting but also a bit weird statue coming straight up from the sea. It is Phi Suea Samut, a mystical mermaid made of bronze. It relates to one of the most famous epic poems of the Thai past, Phra Aphai Mani by Sunthorn Phu.
Cape Laem Toei
A beautiful place at the southern tip of the island, to just stay and look out into the sea. It has two great viewpoints (one of them with a swing) and a rugged rocky coastline. Probably the best place to watch a sunset on Koh Samet.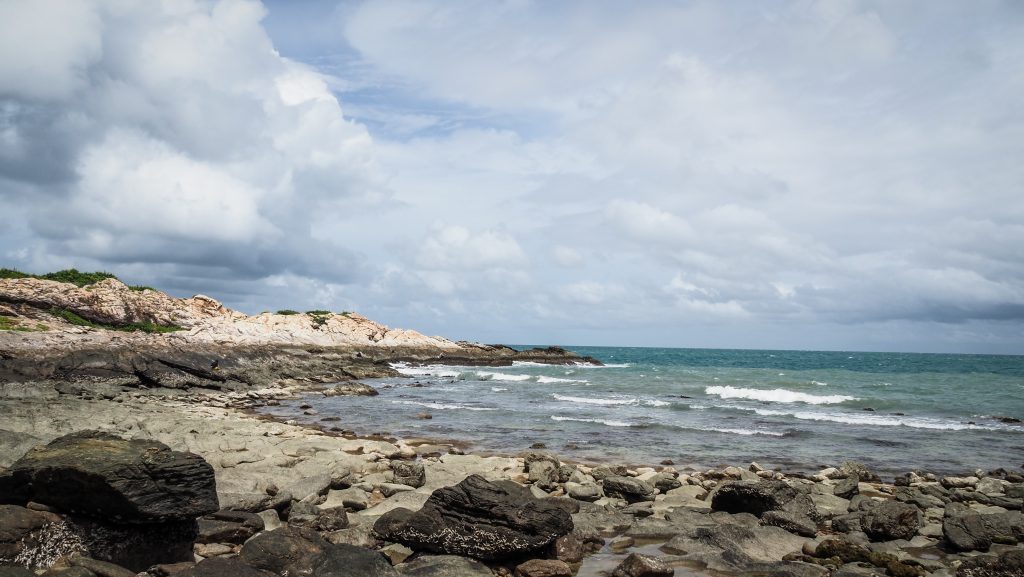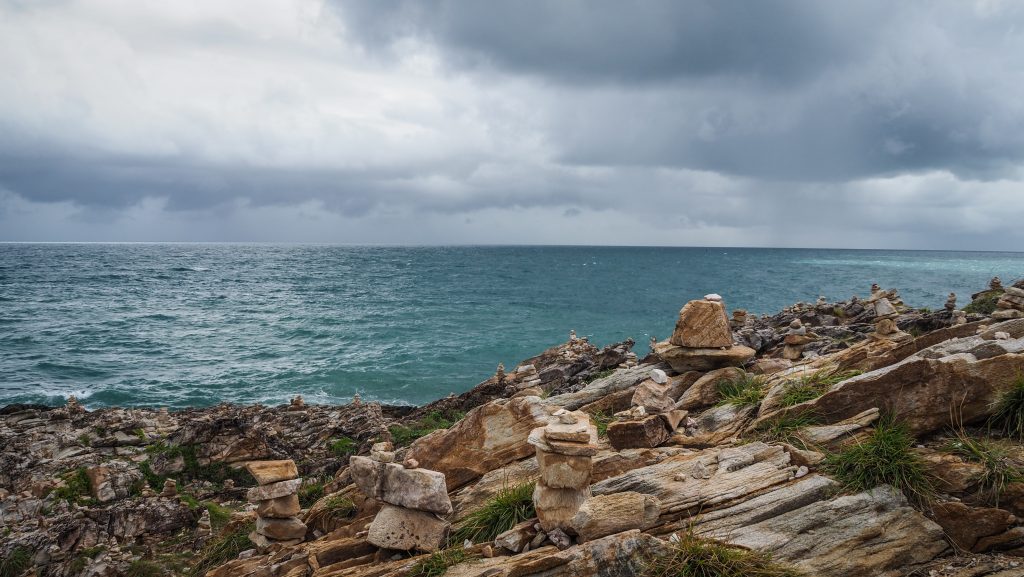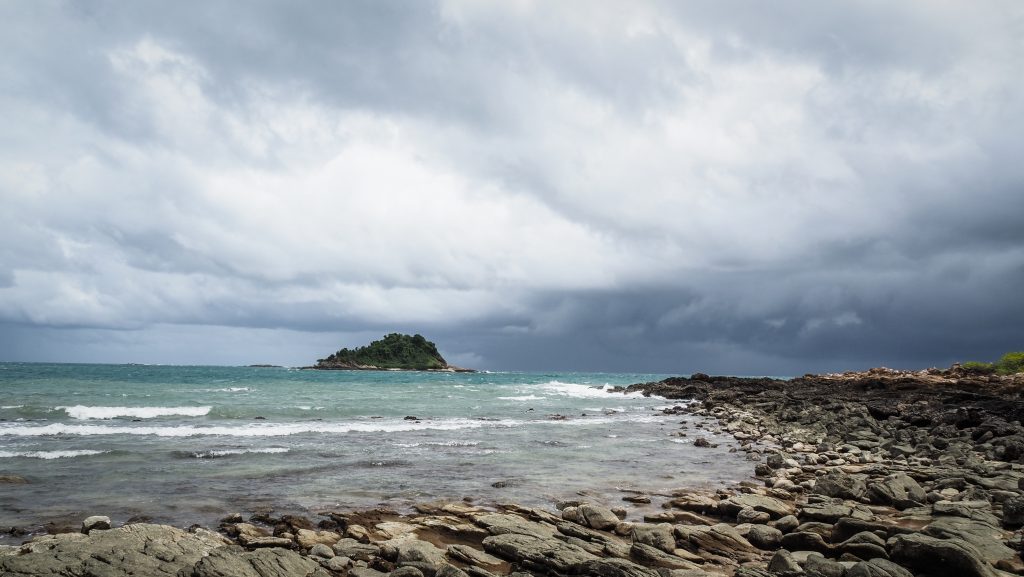 Wat Koh Samet
The main temple of the island is a bit hidden from the main road and I got there by accident by taking a detour on a random road. Having seen hundreds of other temples in Thailand, that one isn't really that special but it's worth a quick stop to check out the large smiling Buddha statue in its centre.
Diving and snorkelling trips
Popular and inexpensive snorkelling trips go around other small islands in the area where you can get to know the richness of the underwater world. Of course, more serious diving trips are also on offer.