Nestled in the Gulf of Thailand, Koh Phangan is a captivating tropical paradise, known for its pristine beaches, vibrant culture, and unique blend of tranquillity and excitement. Whether you're seeking the thrill of the world-famous Full Moon Party, a serene escape to crystal-clear waters, or a taste of authentic Thai culture, this island has something for every kind of traveller. For me, it's also one of the top places for online work in the whole of Thailand.
How to get there?
Koh Phangan can be reached on a ferry from Donsak Pier near Surat Thani. Raja Ferry is slow, cheap, uncomfortable, and takes about 2,5 hours while Lomprayah is exactly the opposite but about twice the price and takes 1,5 hours. Time is money, they say. The choice is yours 🙂
Another option would be to fly to Koh Samui and hop on a boat from there. There are regular flights from Bangkok and other major cities in Thailand, as well as some foreign destinations. Check your connections at 12Go.Asia
How long to stay?
The island is a very pleasant place to stay, regardless if you are a party type or not. I would count a minimum 3 days which could be easily extended to one week or even longer. Beautiful beaches, waterfalls, and forest, nice standard of accommodation for online work, good food, and an option for a day trip to Ang Thong National Marine Park. What else would you need for a perfect tropical holiday?
When to go?
The best period to visit Koh Phangan is between December and August.
The dry season lasts from December to April and it's the peak tourist season. Pleasant weather with lower humidity and cooler temperatures. Accommodation and flights can be more expensive, and popular tourist spots can be crowded.
From May to August, there is a hot season with higher temperatures and humidity. Occasional rain showers are possible but they are usually brief. May and June can be particularly hot.
Rainy season months, so September to November, are better to be avoided. The prices are more budget-friendly but you may expect frequent rainfall and boat tours will most likely be closed.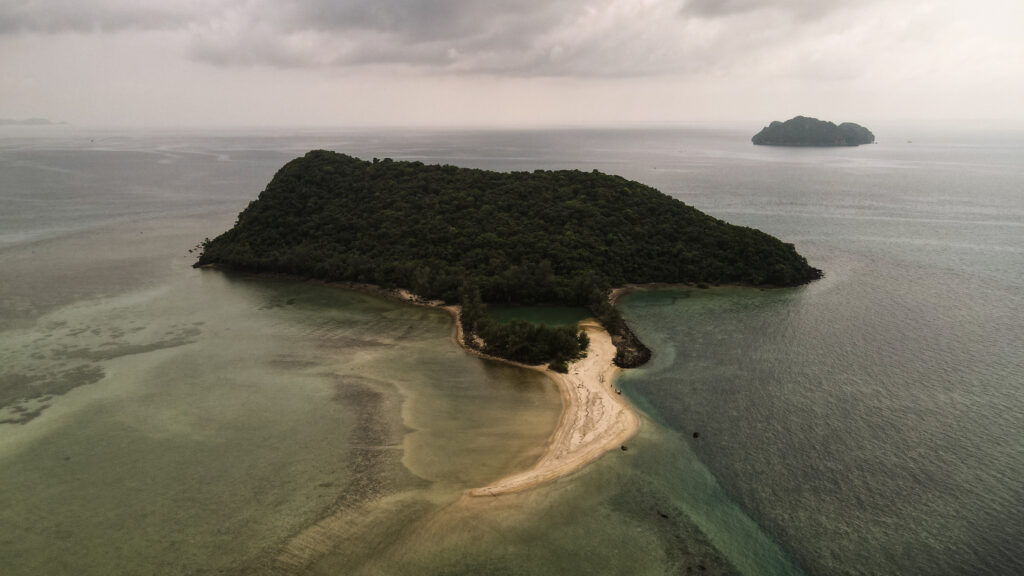 Where to stay?
The night in Mae Haad Garden Inn cost me about 12 EUR per night and I chose that location only because other options were not available because of the Full Moon Festival. I ended up very satisfied with it and the area was super calm. With a scooter, it was easy to reach any part of the island anyway. Chaloklum Beach was only a 10-minute ride away.
Later, I moved to the Shanti Boutique Hotel which was a bit more expensive but absolutely brilliant. The rooms are simple but very cozy and clean, and it's nice that they come with a balcony. The location is great as well, near Srithanu Beach and Zen Beach. There are also many cafés and restaurants that offer super tasty food with a lot of variety.
How to get around the island?
Without a doubt, the best option is to rent a motorbike. Ask for one at your accommodation. They will either have one or get in touch with someone who can deliver it to you within minutes. You will also find some rental agencies near Thongsala Pier.
The network of roads is really good with most of them sealed. There are still some dirt roads, often steep so pay special attention there or simply park your bike on the side of the road and walk.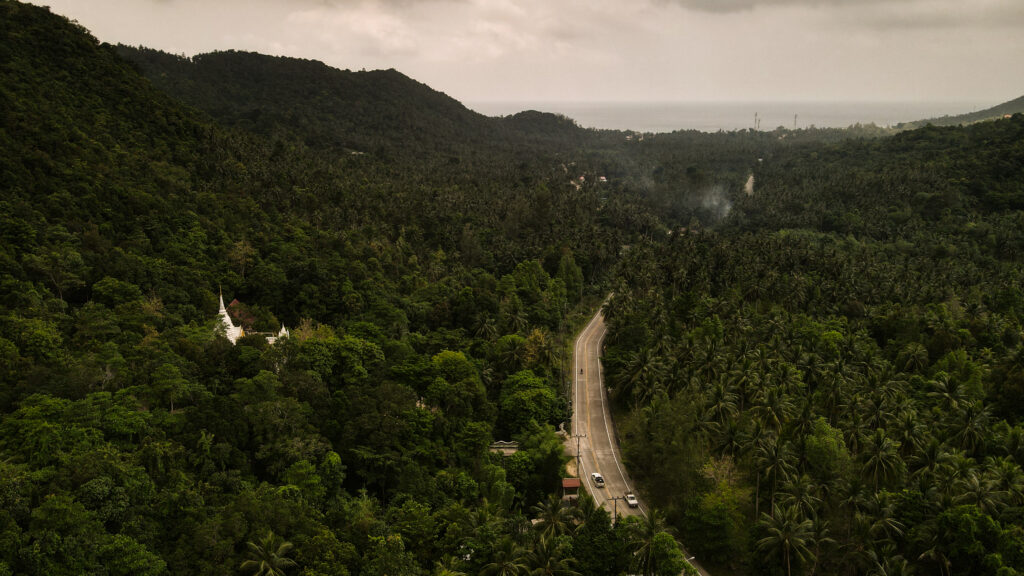 What to do in Koh Phangan?
Wat Phu Khao Noi
The oldest temple on the island is a very tranquil place to walk around and enjoy the peace. It has a very nice vibe and the buildings are beautiful to look at. As it is located on a small hill, there are some good views too.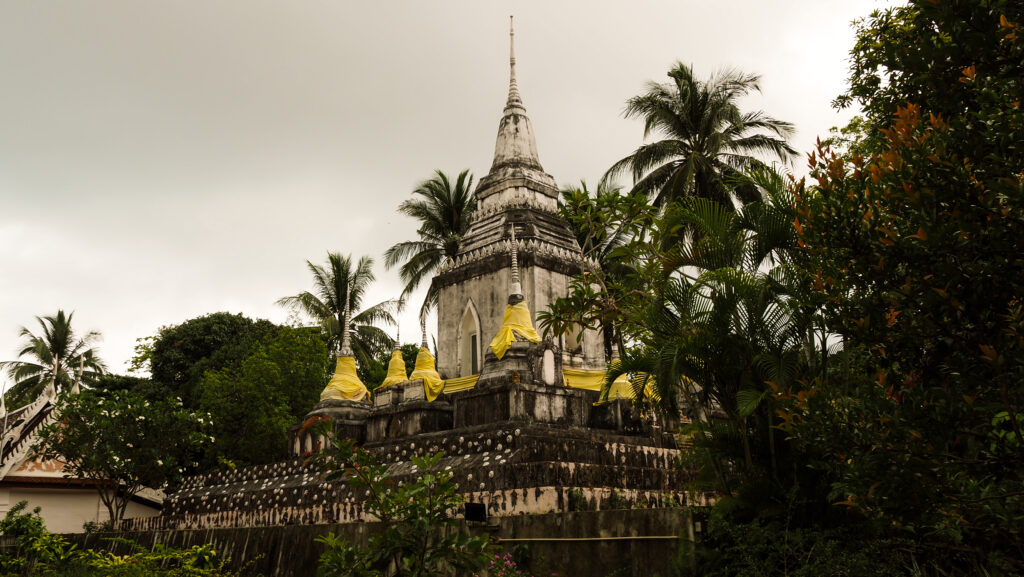 Phaeng Noi Waterfall
Wonderful waterfalls with lots of places to stop for a quick dip. The circular trail is challenging and adventurous but absolutely worth it. The full version takes about 2 hours but you may also choose a shorter variation. Hiking shoes are recommended as the trail is sometimes difficult and can be slippery. The entrance fee for foreigners is 100 THB.
Than Sadet Waterfall
The scenic road from the south of the island to Haad Sadet Beach crosses Namtok Than Sadet National Park. Don't expect an impressive waterfall as it's more like a stream with a lot of small waterfalls where you can walk up or downstream. The level of water depends on the season. The entrance fee for foreigners is 100 THB.
En route, you will notice two other access points to the same stream: Pho Darng Waterfall and Deang Waterfall.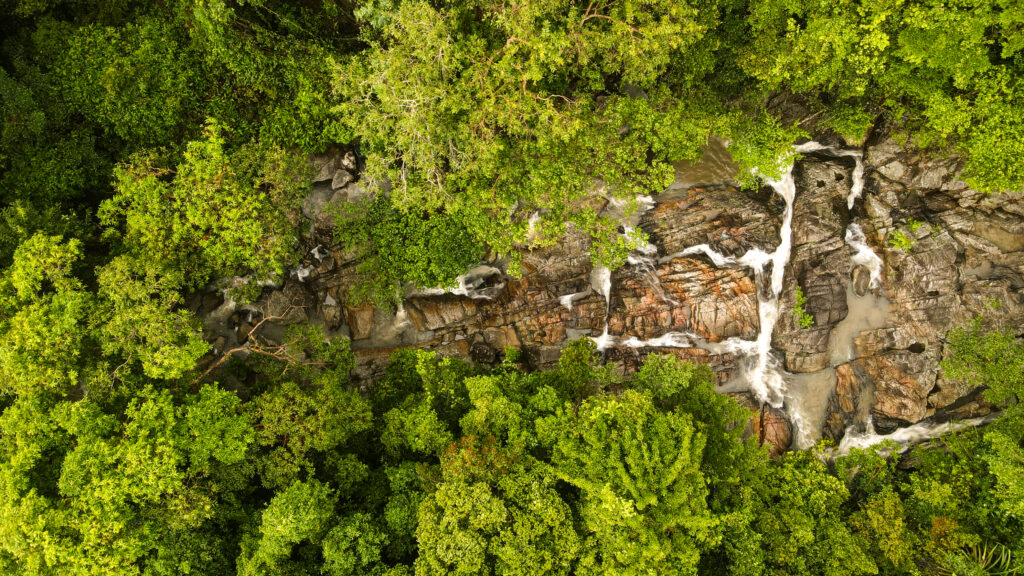 Haad Sadet Beach
An okayish place but nothing too special. The highlight for me was taking a walk through We took a walk through the rickety bridge to the abandoned resort on the nearby beach: Haad Thong Reng. The entrance to Haad Sadet Beach costs 100 THB.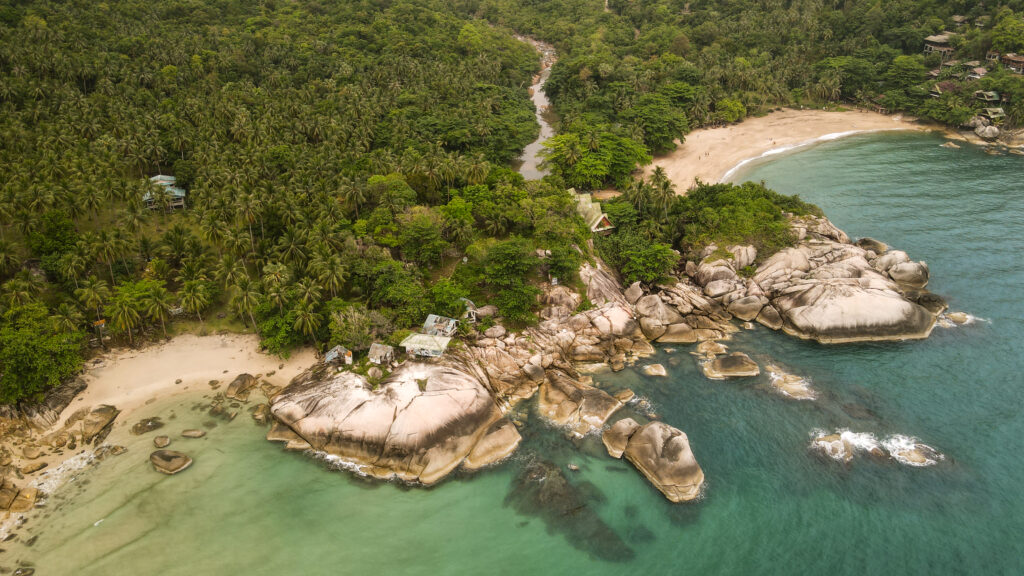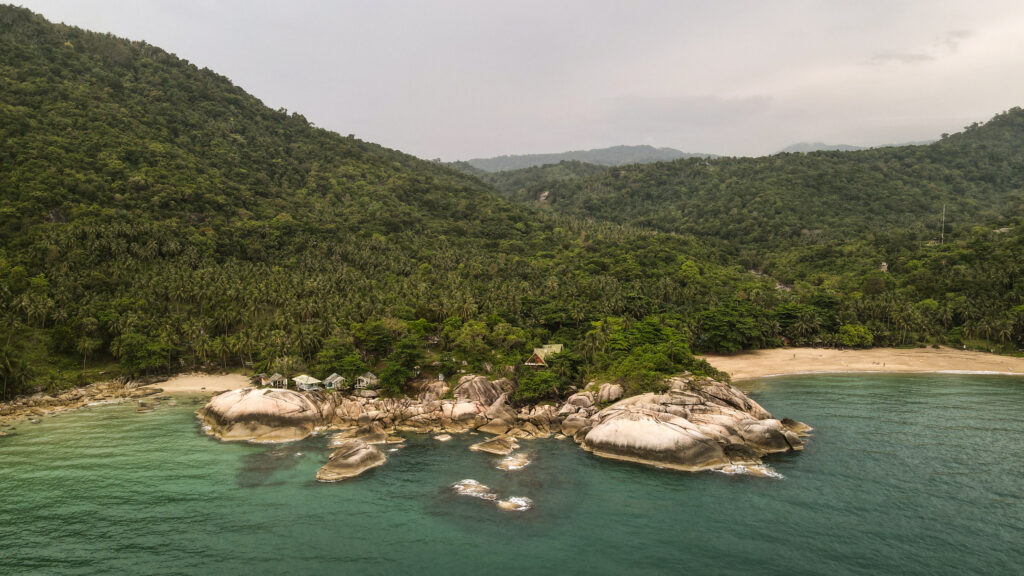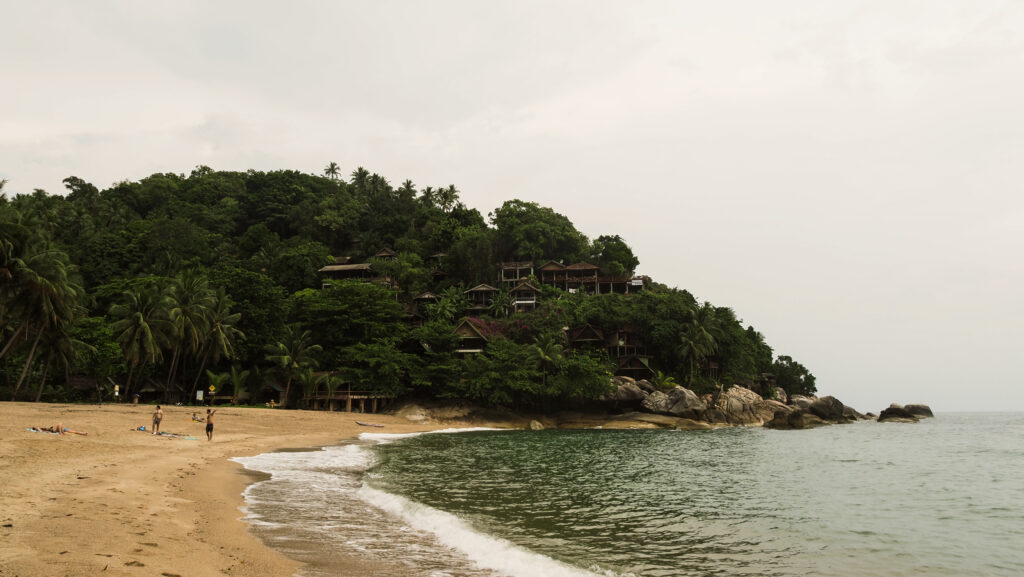 Haad Yao (East) and Haad Yang
Two remote and quiet beaches that can be reached by boat from Haad Rin, 4WD, or on foot. Haad Yao (East) is popular for its weekly parties at Lost Paradise.
Haad Wai Nam
Another nice and cozy beach, with a very chilled vibe and free atmosphere. Beautiful rocks and good water for snorkeling! The restaurants serve delicious food and there is a beach party every Saturday. The easiest way to get here is by boat from Haad Rin.
Haad Yuan Beach
I really enjoyed the jungle hike from Haad Rin to get to this place, with a wonderful viewpoint on the way. It takes about 1,5 hours. If you don't feel like hiking all the way back, you can just take a boat taxi for approximately 200 THB per person. There are parties on Saturday night at Eden Bar.
Haad Rin
This is the epicenter of the island's nightlife, most famous for its Full Moon Party, a massive monthly beach party that draws thousands of visitors from all over the world. The event typically takes place on the night of the full moon, hence the name. It's known for its vibrant atmosphere, music, dancing, and colorful decorations.
Haad Rin is divided into two main beaches: Haad Rin Nok (Sunrise Beach) and Haad Rin Nai (Sunset Beach). Sunrise Beach is where most of the Full Moon Party action happens, while Sunset Beach is generally quieter and more relaxed. Both beaches offer stunning views and plenty of water sports activities.
For good panoramic views, hike to Haad Rin Rock Viewpoint. It's a good spot for sunset, although take the flashlight with you as the route is bushy. Follow the road to the antenna and about 20 meters before the road ends, there is a small, overgrown path toward the rock from which you can see the best view.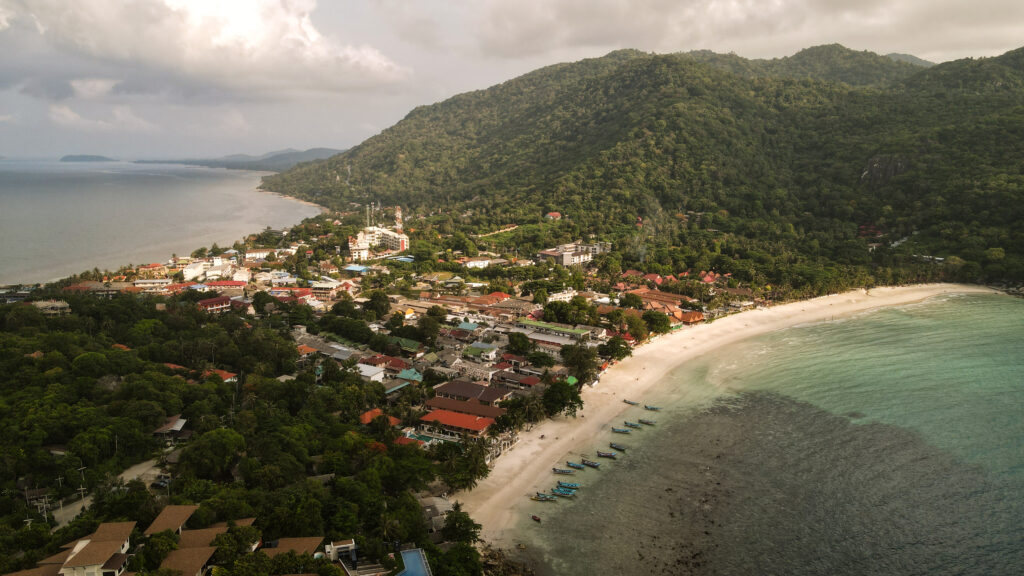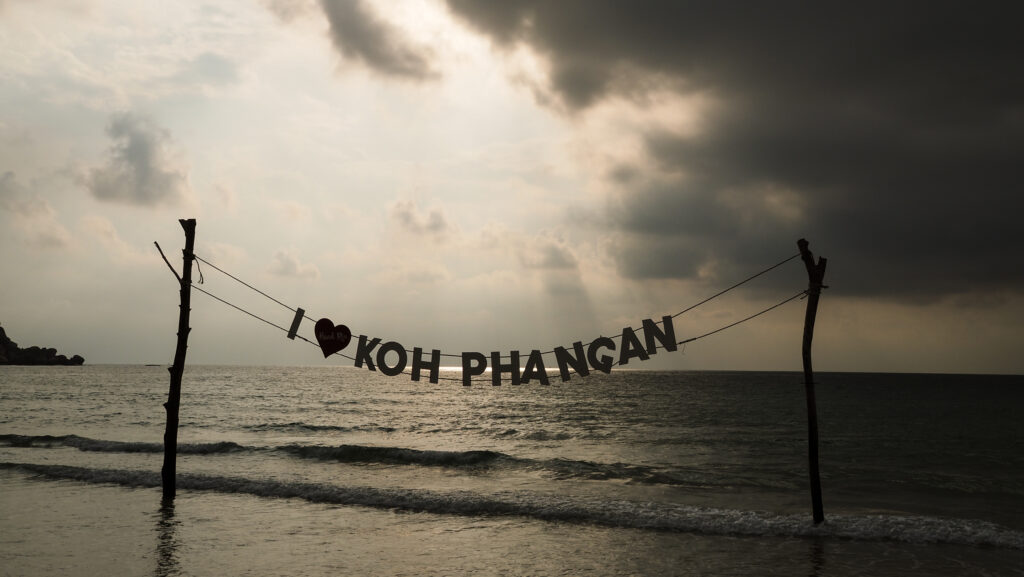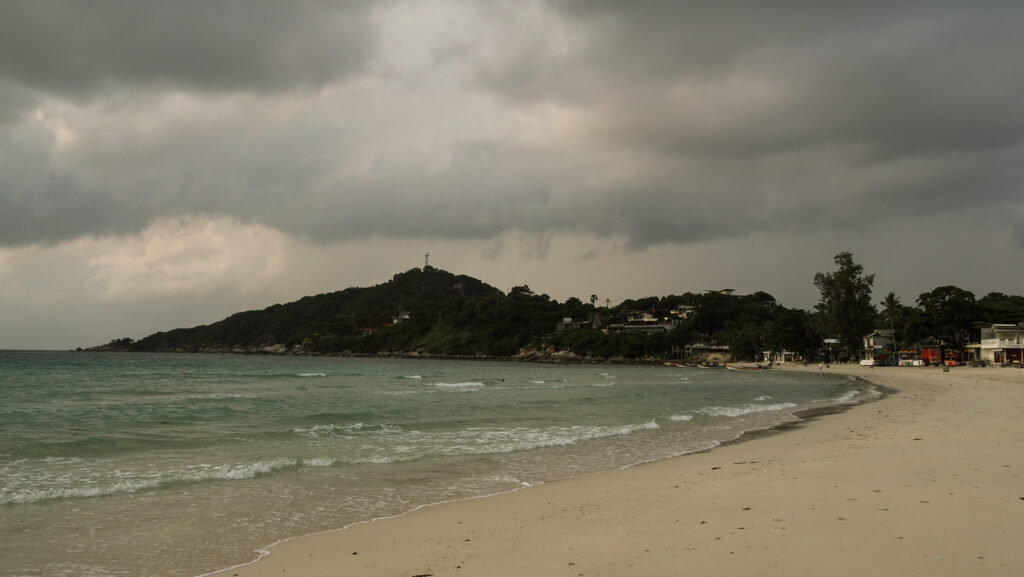 Yang Na Yai Tree and Wat Pho
Dipterocarpus alatus also known colloquially as the resin tree, is a tropical forest tree. The tallest one on the island is truly colossal and impressive. It's located near Wat Pho, which is a quiet temple with an herbal sauna on the opposite side of the street.
Wat Khao Tham
It's a very quiet and calm place on the hills of Koh Phangan, with a wonderful viewpoint over Koh Phangan. Koh Samui can be seen as well. They have a Vipassana meditation retreat so ask for more details if you are interested.
Koh Ma and Koh Ma Beach
Koh Ma is a small island in the northwest connected to Koh Phangan by a tiny but very picturesque sandbar. It's a very popular snorkeling spot with some rock reefs on the east side of the island. The beach is very nice too, with hotel rooms located right on it but go a bit further and you will find a much quieter part.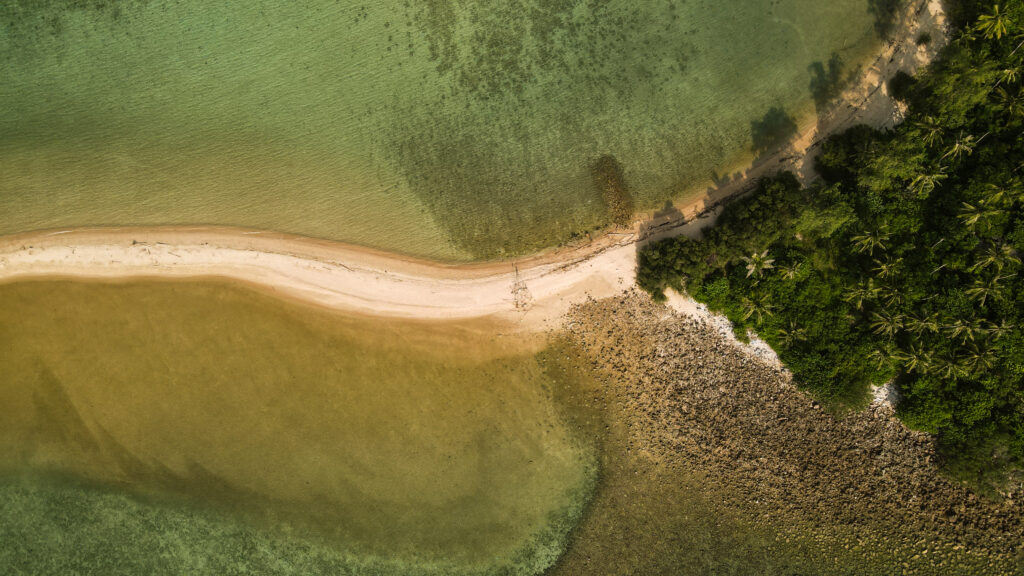 Wang Sai
Very disappointing place. The entrance fee was 50 THB per person but the place is neglected and it isn't worth the time and money. The bar was closed and the waterfall was very tiny. Not recommended!
Guanyuin Temple
Beautiful temple located on the hill by the main road from Thongsal to Chaloklum. It is dedicated to the bodhisattva Guanyin, the Buddhist Goddess of Mercy. The price for entering is 40 THB per person.
West Coast Beaches
There are several pleasant beaches on that section of the island. Especially worth mentioning are: Salad Beach, Haad Yao Beach, Secret Beach, Zen Beach, Srithanu Beach, and Hin Kong Beach.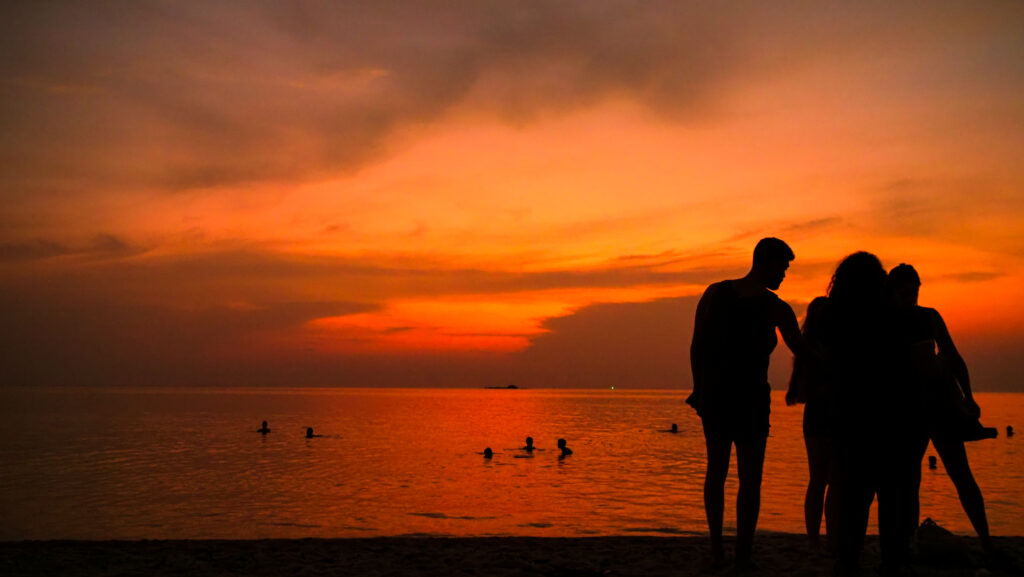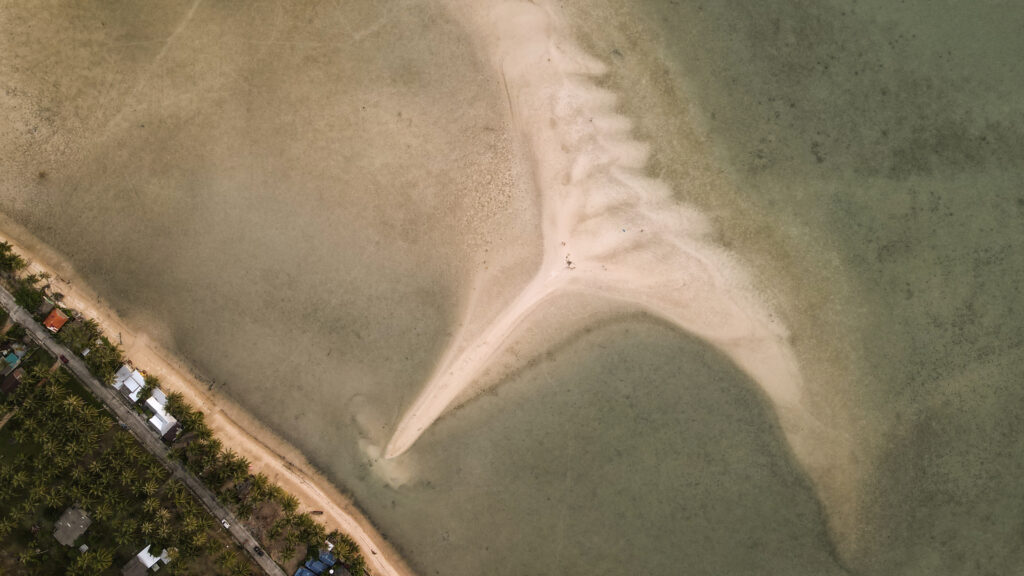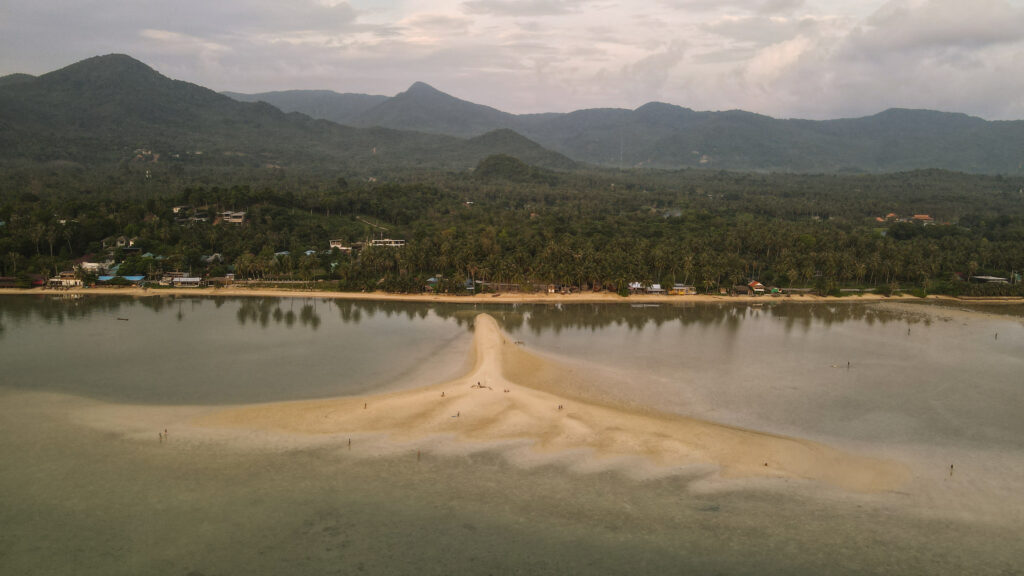 Phangan Royal Navy Ship
HTMS Phangan was donated to the Thai government by the United States back in 1957 as a symbol of good relations. It was in service during the Vietnam War and was officially retired on June 5, 2008. During my visit in April 2022, the interior was not available for sightseeing.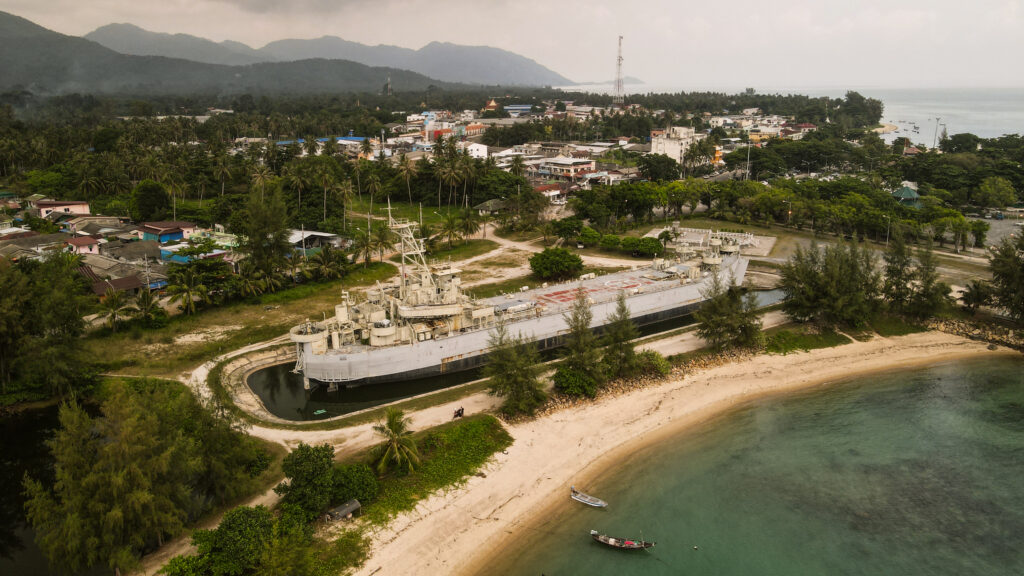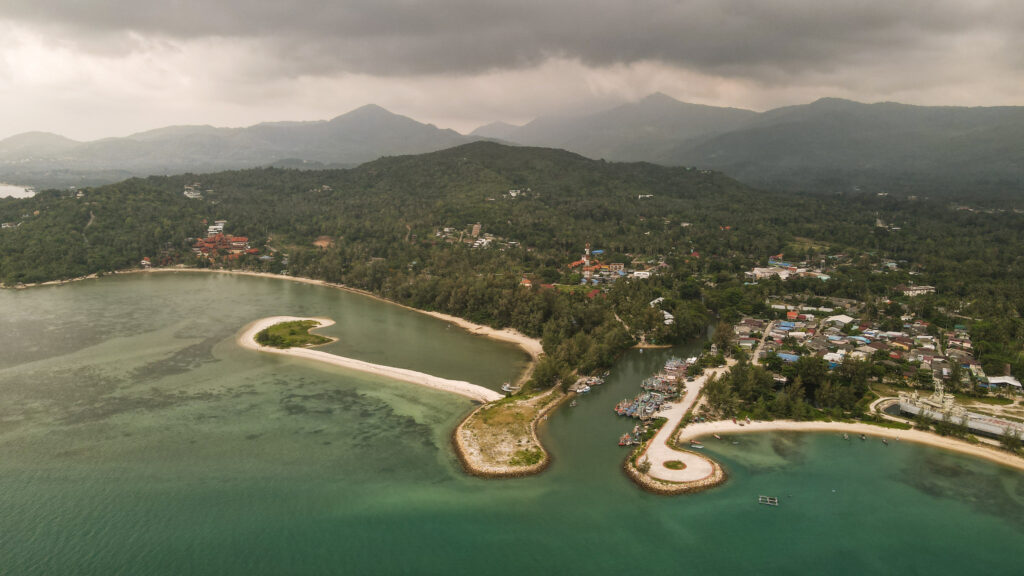 Chalok Lam Beach and Malibu Beach
A nice beach stretching mainly by Chaloklum, a small fishing village. There are a lot of food options around. To the west of the village is the very picturesque Malibu Beach.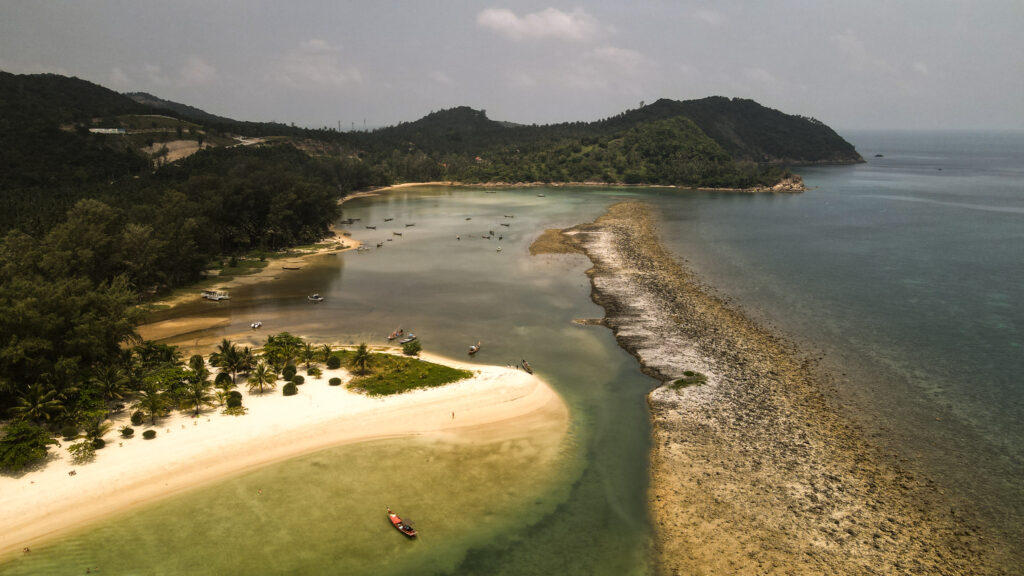 Khao Ko Viewpoint
A hidden little viewpoint over Chaloklum Bay! You can spend the entire afternoon there enjoying the view from the hammocks. The road is short but very steep so if you are an inexperienced motorbike rider, just park it on the side and continue on foot. Refreshments like beer, coke, and water are available.
Bottle Beach
Nice, wide, and relatively clean beach with a bar and some bungalows for rent. The road to get there is recommended for 4WD only, so unless you are a skilled rider, it's better to park your motorbike and continue on foot. It's a pleasant downhill walk and on the way back I was lucky enough to get a ride in a pickup truck. From here, you can also access the track through the jungle leading to the most amazing viewpoint on the island.
If you don't drive a car or ride a motorbike, you can find boat taxis waiting for clients on the beach or ask about them in a bar.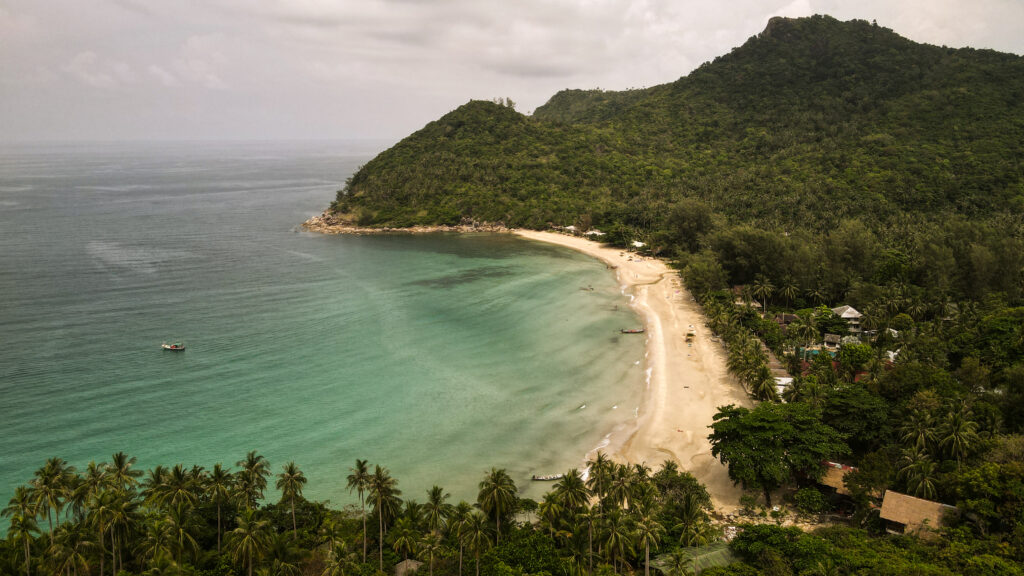 Bottle Beach Viewpoint
Probably my favorite point in Koh Phangan. The journey through the jungle path was nothing short of amazing, and some moderate climbing near the end added to the sense of adventure and connection with nature. It's not for someone who is scared of heights though.
The viewpoint can be reached either from Bottle Beach (about 25 minutes) or from the road on the other side. Just look for "Bottle Beach Scooter Parking" on Google Maps. From there the walk is even shorter. Flip-flops are not recommended.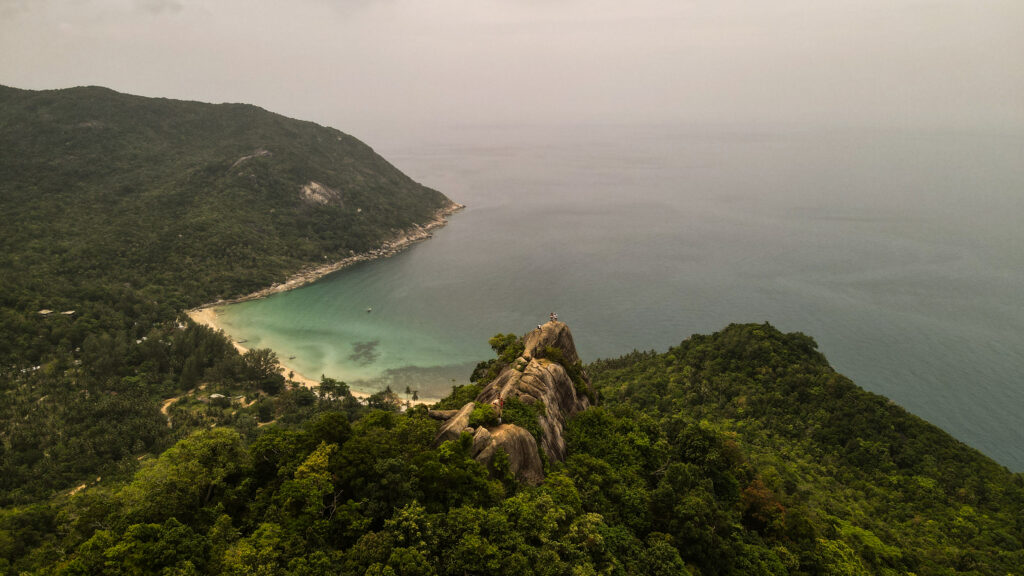 Haad Khom Beach
A quiet and beautiful beach. Sometimes you can see monkeys around this area. You can take a boat taxi to Bottle Beach from here or simply take a trail which is well-signed with blue marks. It should take about 1 – 1.5 hours one way.
Thong Nai Pan Beach
Beautiful beach and area with clean soft sand and water. The village has a quiet vibe and feels small and calm. Wat Thong Nai Pan with an unusual stupa has a nice viewpoint and is located nearby.
You may also check Than Prawet Waterfall or Thong Nai Pan Waterfall if you are tired of beaches.
Day trip to Ang Thong National Marine Park
Ang Thong National Marine Park is a stunning archipelago located in the Gulf of Thailand, not far from Koh Phangan. The park was established on 12th November 1980. and consists of 42 small, limestone islands, characterized by lush greenery, towering cliffs, and hidden coves. All of the islands are uninhabited and undeveloped except for one: Koh Wua Talap, where the visitor center, campsite, and bungalows are located.
There are numerous companies running daily trips from Koh Phangan and Koh Samui and first, you will need to decide if you prefer to take a speedboat or a slow boat. It takes about an hour to reach the islands by speedboat and about 2-3 hours by slow boat. You can save a lot of time choosing the first option but the ride can be bumpy and less enjoyable. The slow boat usually has a nice deck where you can sunbathe and take a lot of nice pictures.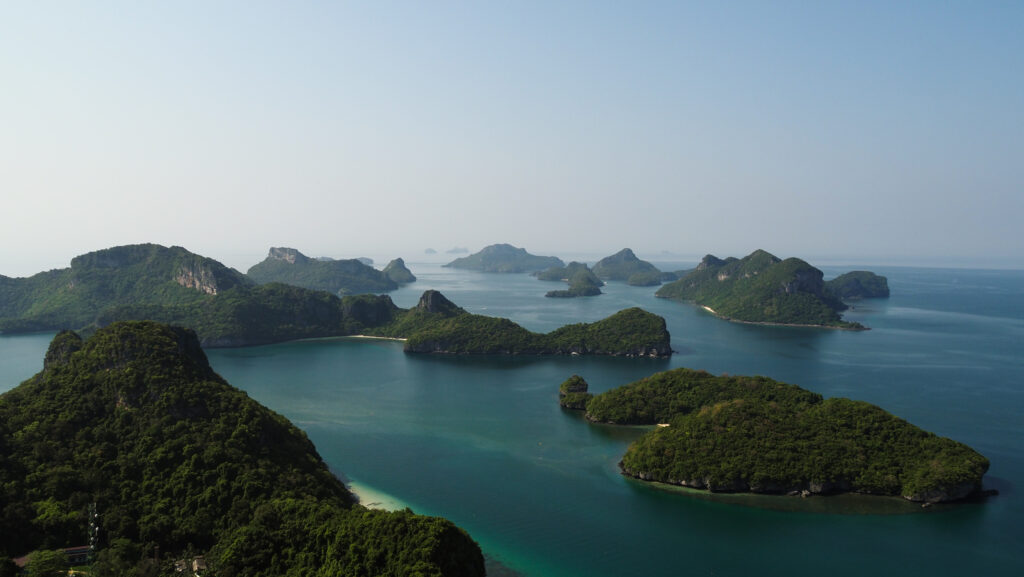 I decided to choose a tour operated by the Orion Cruise, starting from Koh Phangan. It was a bigger and slower boat. As of April 2022, the cost was about 2.000 THB. Included in the price is pick-up from the hotel, lunch, snacks, soft drinks, and snorkeling equipment. You may pay an extra 200 THB if you go for an option with a kayak. The price included the Ang Thong National Marine Park entrance fee.
A full description of the tour can be found in a separate post HERE. You may also ask at your accommodation for alternative options.