If you are wandering around Pattaya Beach, you may wonder what those small islands visible on the horizon are. One of them, called Koh Larn or Coral Island, is a perfect place for beach and water enthusiasts. And just to be honest, who wouldn't like to escape Pattaya for a day or two?
Don't get me wrong, it can still get super crowded. Being one of the closest islands to Bangkok makes it a very popular destination, especially on the weekends. But if you are looking for a nice beach and island vibe, don't hesitate and come to visit.
How to get to Koh Larn?
Frequent public ferries go from Bali Hai Pier in Pattaya and arrive either at Na Baan Pier or Tawaen beach. The first location is around the busy village, full of restaurants and local life and the second one could be better for those willing to stay at the beach for the whole day. But after all, it doesn't make a big difference. Transportation options can be found in either place and can take you further if you wish.
The cost of the ferry is 30 THB each way per person and the travel takes about 45 minutes. There are also plenty of much more expensive speedboats (200 – 300 THB for the return trip) and the sellers are very aggressive. Just ignore them. From my point of view, using that kind of service doesn't make too much sense, unless you are really in a hurry or you travel in a bigger group and share the cost.
If you travel from Bangkok, Pattaya can be easily reached from the Ekkamai bus terminal.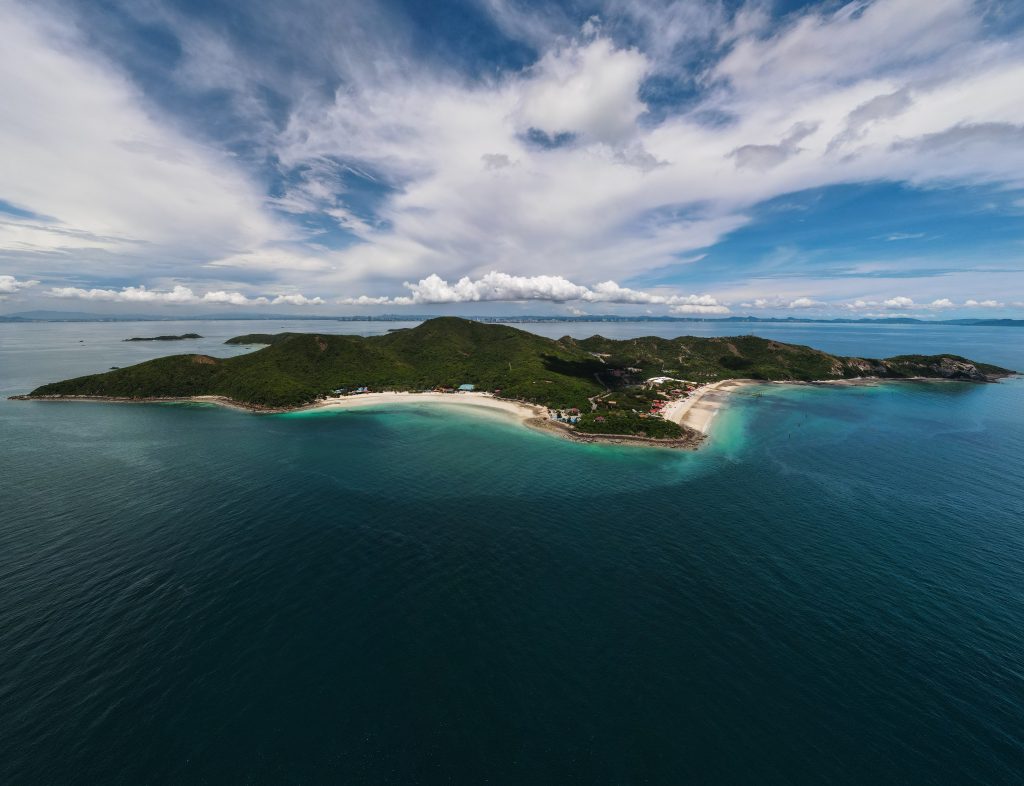 When to go?
The best time to visit Koh Larn is the same as for all the other islands in that area, so from November to May, outside of the rainy season. The weather is stable and showers are rather occasional. In other months, it's better to check the boat schedule and availability of accommodation well in advance.
How long to stay?
It's a small island so I would say that 1 full day should be enough to visit all the exciting places and enjoy beach time. However, if you want to really rest from big city life, staying overnight is definitely a better idea than coming back to Pattaya or Bangkok. Certainly, you won't regret it.
Where to stay?
Hotels, bungalows and resorts, all of these are available on the island at decent prices. Most of the options are located around Na Baan Pier. I won't recommend any because I didn't stay overnight on the island, but you shouldn't have problems with finding what you are looking for on booking.com or agoda.com.
Getting around the island
Rent a motorbike at one of the places around the pier. It costs between 200 – 300 THB per day, including fuel. For me, it's always the best way to explore the place at your own pace. I recommend taking a few pictures of the bike, especially if it has scratched places, just to stay on the safe side. Ahh and don't forget that besides watching the breathtaking scenery of Koh Larn, you should also look at the road 🙂
Baht buses/songthaews can be easily found not far from the main pier. Once you leave the ferry and come to the crossroads, turn left and head towards the temple until you see bus parking. Then, simply ask which bus goes to the beach you want and how much is the ride. You may need to wait a bit until the bus fills up with other passengers but it usually doesn't take long, especially on the weekends. At the beaches, there are usually a few buses waiting too, and if not, just ask local sellers or at the resort.
Motorbike taxi drivers wait for tourists at the main pier. They have maps and fixed prices for different locations. If you need a tailored fit excursion, this is when negotiations begin.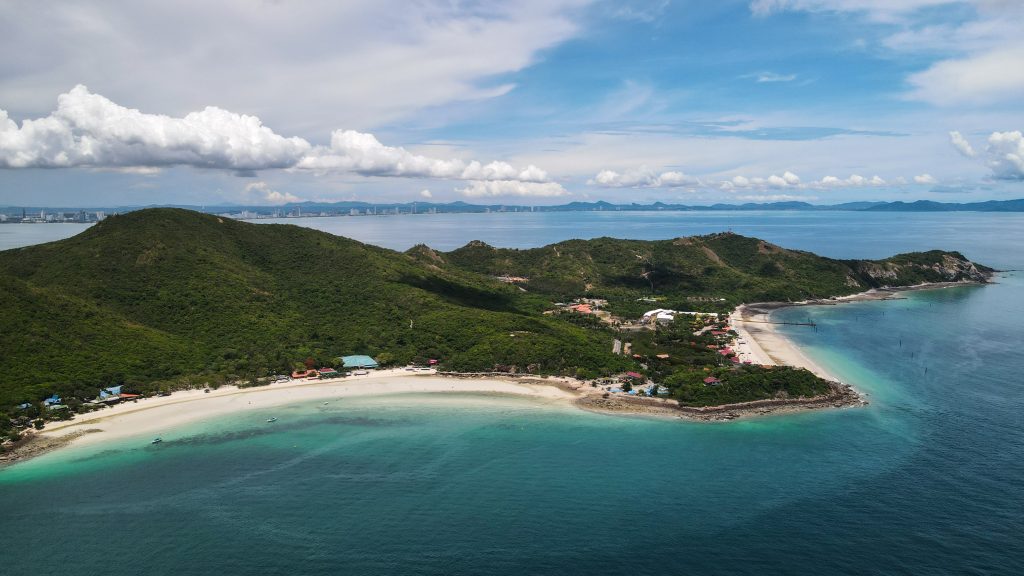 Beaches
Tawaen Beach
The longest (700 metres) and the busiest beach on the island, with plenty of restaurants but also speedboats and jetskis making noise.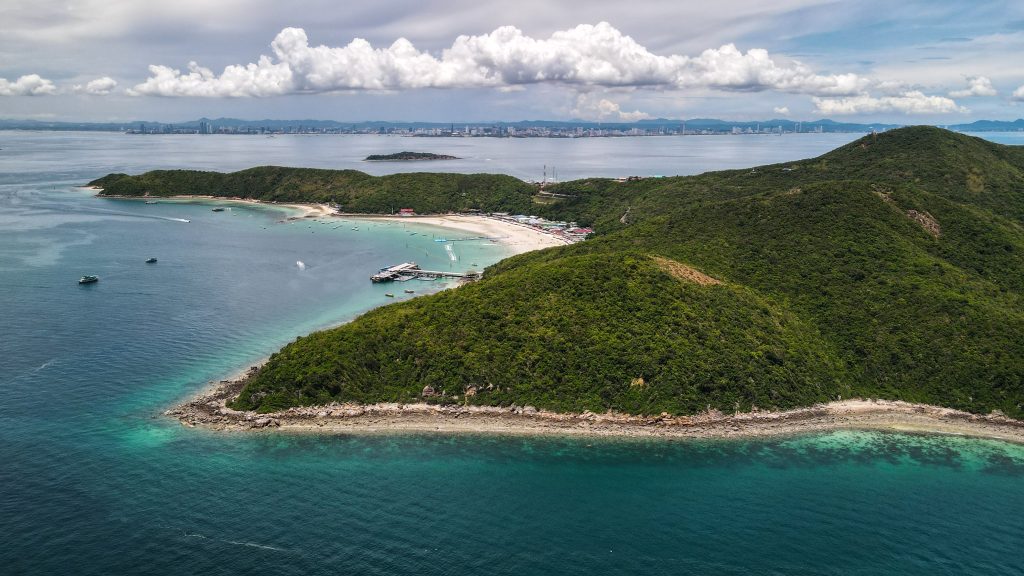 Sang Wan Beach
Within walking distance from Tawaen Beach. From the 7-11 store, turn left and keep walking straight to the pier and the across a small bridge. The beach is nice and quiet, especially in the morning. Good place for snorkelling with crystal clear water and colourful fish.
Tonglang Beach
Another beach that is very close to Tawaen Beach. You can easily walk there or drive the motorbike. Water sports are available and some good local restaurants can be found just at the beach.
Samae Beach and Tien Beach
Both are located on the west of the island, very close to each other. Samae Beach is 500 metres long and similar to Tawaen Beach, it can get very very busy. Tien Beach is within walking distance from Samae (around 10 – 15 minutes). It's a bit quieter as there is no direct road access and a short walk from the main road is required. The further you go towards the end of the beach, the more privacy you will have.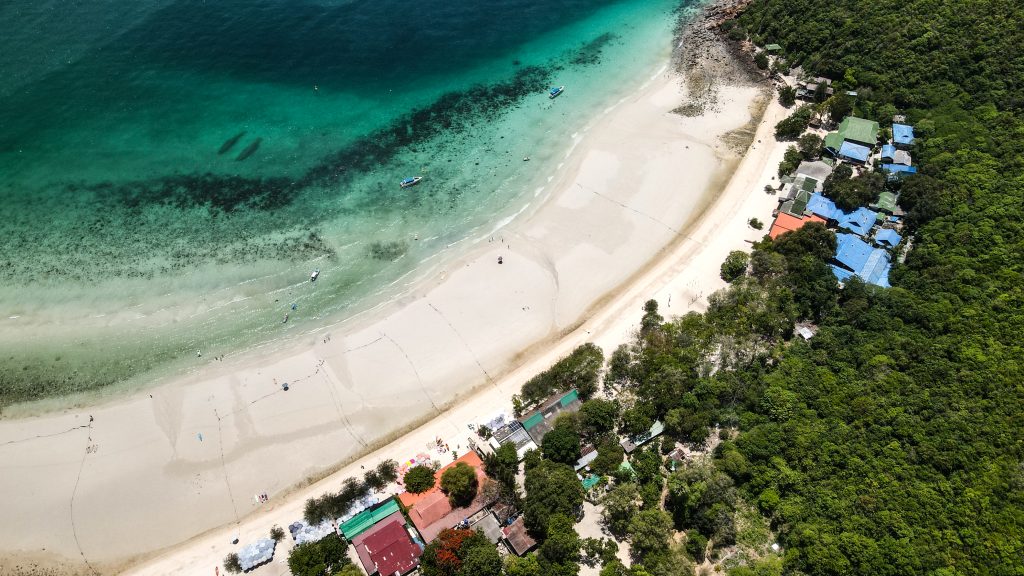 Nual Beach
Located in the south of the island and nicknamed "Monkey Beach", it's actually much less crowded in comparison to the beaches mentioned above. If you are adventurous, follow the narrow path on the right side of the Nual Beach and then hop over a few stones to reach Laem Thong Bay and Hat Kruat Beach. Please be aware that this way is passable probably only during low tide. There is an alternative path higher in the hills but it isn't marked and the best is to use online maps (e.g. MapsMe) for navigation.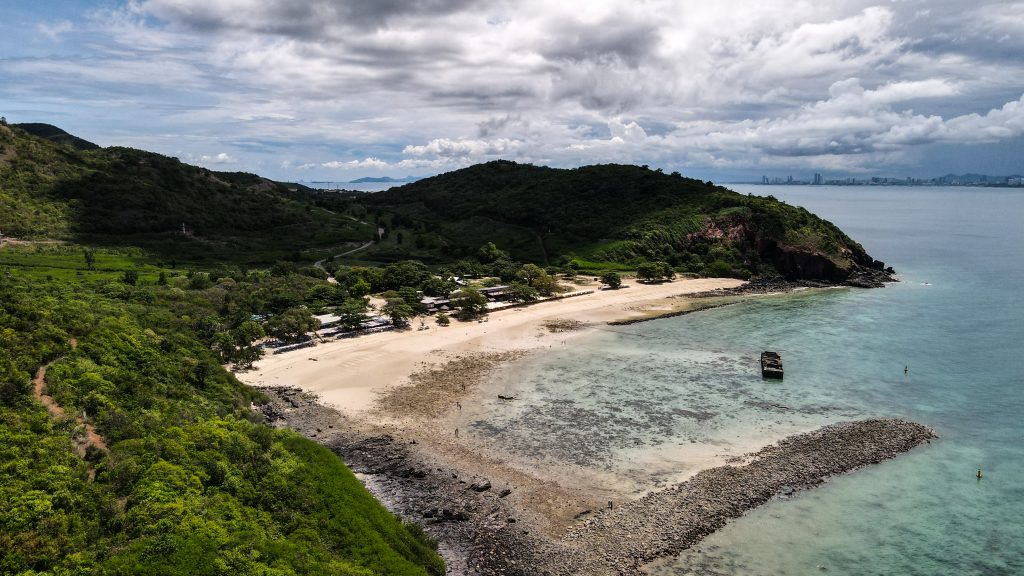 Ta Yai Beach
Located at the far northern end of the island. It's about 100 metres long stretch of white sand which is more difficult to get to, therefore significantly less crowded and commercial. There are also good snorkelling opportunities at both ends of the beach. You will need to get a motorbike taxi or rent your own two wheels to get here.
Other places to visit
Windmills Viewpoint
The highest viewpoint at Koh Larn provides a 360° panorama of the island and the Pattaya area. You will need a motorbike to go here and be careful because the road is narrow and winding.
Big Buddha and Kuan Yin Viewpoint
Definitely a must-see place on Koh Larn. On the way up, you will come across a big Buddha statue with breathtaking views down to Tawaen Beach. You can continue climbing 250 steps up to the small pagoda, but it will be rather for pure satisfaction rather than for views, which are covered by the trees.
Wat Yai Samraan and Wat Mai Samraam
Small temples near the Naban pier, which is convenient for quick sightseeing and taking some rest before boarding the ferry back to the mainland.