Phi Phi Islands are one of the most famous islands off the Andaman Coast of Thailand. The archipelago consists of two islands: Koh Phi Phi Don and Koh Phi Phi Leh. Only the first one is inhabited and all tourist amenities are there. It's a vehicle-free island so prepare for a walk with your luggage. Alternatively, some hotel workers can move your luggage in a cart.
Koh Phi Phi Don was seriously damaged in the 2004 tsunami, where hundreds of people on the island lost their lives. Roughly 70% of the island's infrastructure was destroyed. Before the great tsunami, it was a quiet and elegant resort. After the cataclysm, Thailand urgently needed money, so the tourist infrastructure of the island was quickly rebuilt, but it was done without any reasonable planning. Currently, Phi Phi Don has a reputation as a big, noisy party place. Then, is it still worth visiting? Let's find out.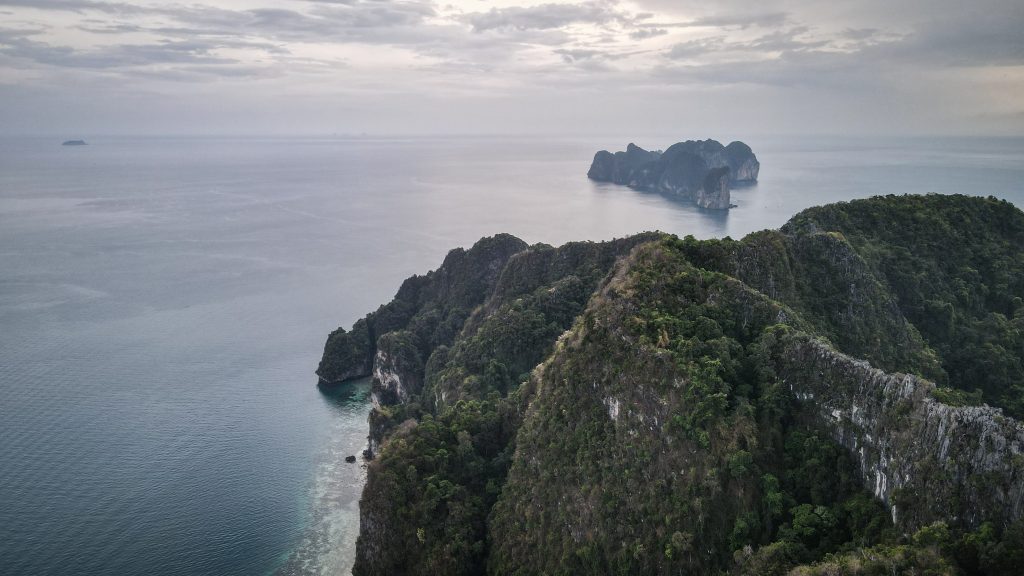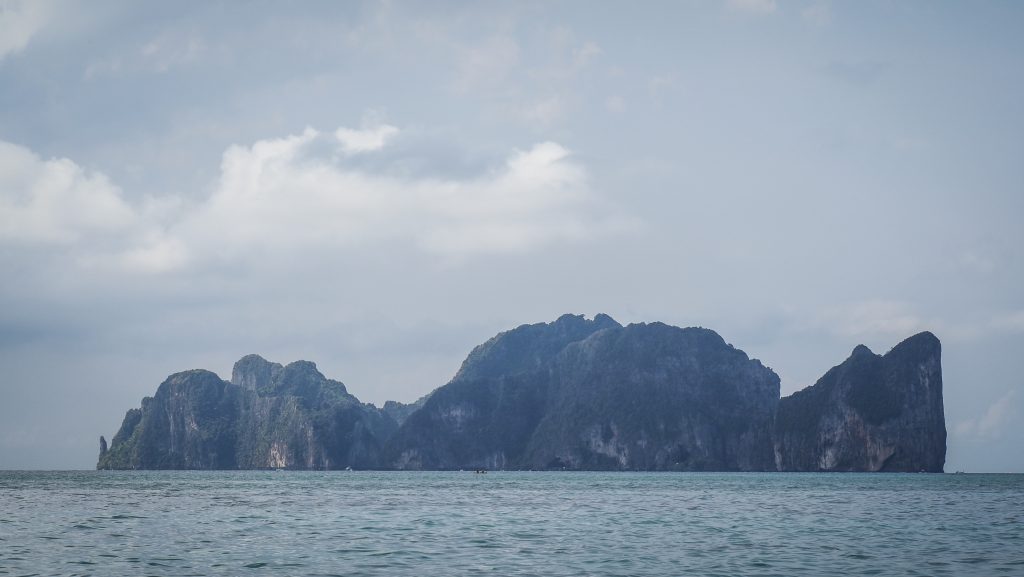 How to get to Koh Phi Phi?
The island can be reached only by sea from several places, such as Phuket, Krabi, Koh Lanta or Koh Lipe. You can choose between buying a one-day trip around the archipelago or using ferry/speedboat connections and deciding by yourself how long you want to stay. I decided to take a speedboat from Krabi with Bundhaya and the experience was very smooth. All the boats depart and arrive at Tonsai Pier.
When to go?
The best time to visit Koh Phi Phi is the same as for all the other islands in that area, from November to May, outside of the rainy season. The weather is stable and showers are rather occasional. In other months, accommodation may be cheaper but it's better to check the boat schedule well in advance.
How long to stay?
Koh Phi Phi Don is a small island but you shouldn't miss a day trip by long-tail boat around the archipelago, including Bamboo Island, Monkey Beach and Phi Phi Leh with the famous Maya Bay. I would say that 2 full days should be enough for all sights and some relaxing time at the beach.
Day trippers seem to be a bit in a rush, so I was very glad that I took my time and spent two nights on the island.
If you are a party type, consider staying longer as Koh Phi Phi Don is one of the biggest party hot spots in Thailand.
Where to stay?
Hotels, bungalows and resorts, all of these are available on the island at various prices. I stayed in Dee Dee Sea Front for about 1200 THB per night. It was located a bit further from all the noisy bars and the room was very comfortable. You can easily make a reservation on booking.com or agoda.com.
Dee Dee Sea Front
Address: 211 Moo 7, Phi Phi Island, Ao Nang, Amphoe Muang, Phi Phi Island, 81210, Thailand
Phone: +66 62 426 2265 GPS coordinates: N 007° 44.651, E 98° 46.462
Getting around the island
Options are limited to walking, riding a bicycle or renting a long-tail boat. Motorbikes are not available for tourists.
One day trip around the archipelago
I booked a tour with Visa Travel Team Phi Phi, just contacting them on Line. It was called One Day Tour By Longtail Boat With Sunset & Plankton and the cost was 850 THB (not including the 400 THB national park fee). Snorkel, mask, life jacket, water and lunch box were provided.
After meeting the staff in front of McDonald's in Tonsai Bay, we boarded our long-tail boat and departed towards Shark Point for the first snorkelling stop. It's just in front of Long Beach. We didn't see any blacktip reef sharks but there were other colourful fish. The waters were a bit rough so it wasn't very easy to swim around.
Next, we got our picnic lunch (fried rice) and continued to Bamboo Island for a bit longer stop. It's a wonderful circular island filled with wild bamboo. The powdery white sand and clear water were really great for chilling. I did a short drone flight, ate lunch and then dipped once more in the sea.
The way to Monkey Beach was incredibly scenic. We passed by Mosquito Island, which is completely uninhabited and rarely visited by tourists, as well as Nui Beach. I have to admit that I really don't like and don't trust macaques but the ones on Monkey Beach were not too interested in the presence of people who were taking photos of them from every angle. Anyway, better watch out for your bag and don't leave it unattended, especially with food inside. The beach is nice and it is a great place to swim and snorkel, but a bit too busy for my taste.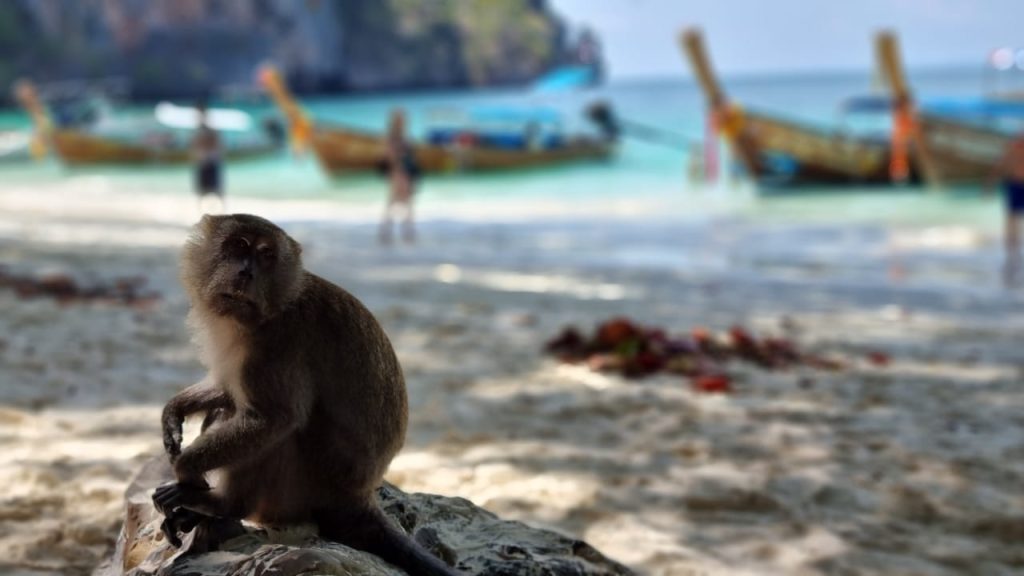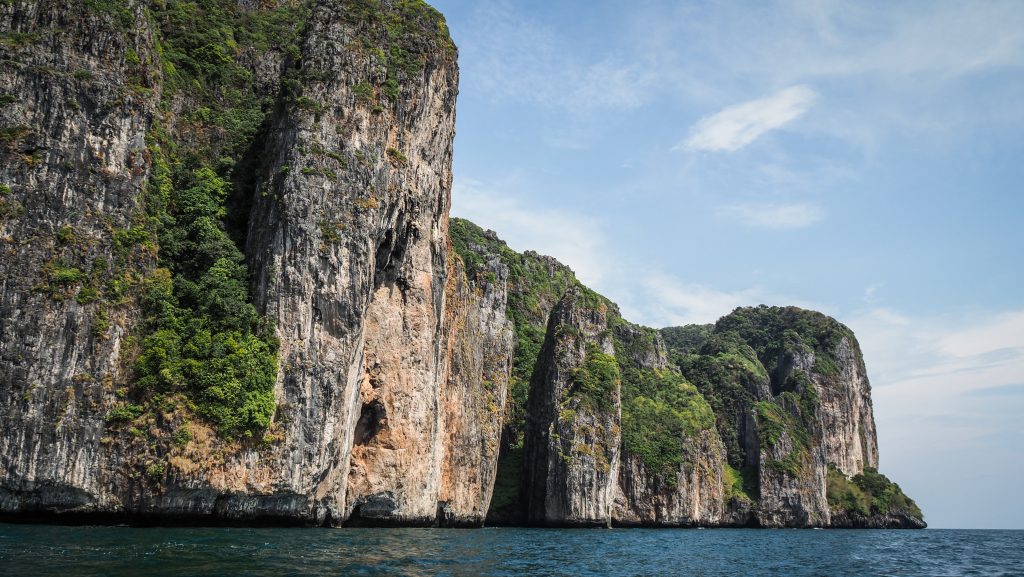 Soon, it was time to move to another island in the archipelago – Phi Phi Leh. First, we passed by the Viking Cave. It is famous for apparently prehistoric paintings of a Viking boat on its wall. It is home to thousands of swift bird nests, which build nests using their saliva. Locals go here to harvest these nests as the saliva of these birds is an excellent source of protein and it is a thriving industry, especially in Chinese culture. It is sold at a premium price and is listed as one of the most expensive animal product foods to be consumed by man. Tourists are not allowed to go inside.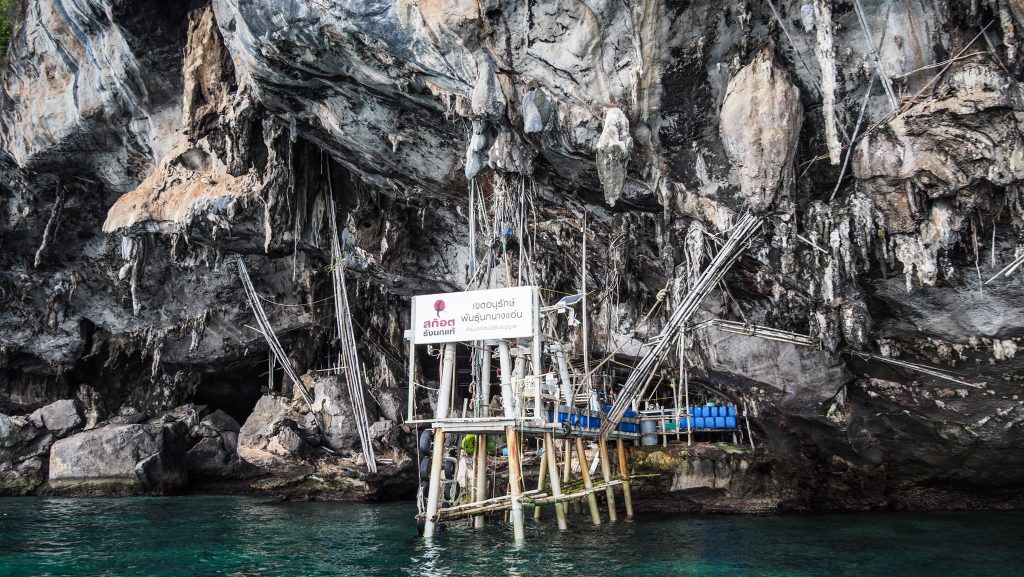 From the Viking Cave, we continued to one of the most beautiful places I have seen on several islands on the Andaman Sea. The first one was Pi Leh Lagoon, with incredibly beautiful turquoise water enclosed by towering limestone cliffs. It's the Thailand that you see on postcards.
The second incredible spot is Maya Bay. It was made famous when it appeared in the movie "The Beach", with Leonardo Di Caprio. Unfortunately, it was also the beginning of its problems. The bay got closed for over three years in 2018 due to the damage caused by hundreds of boats with visitors coming every day. Nowadays, the beach stays off-limits for all vessels and people have to disembark at Loh Samah Bay at the other side of the island and walk through the interior.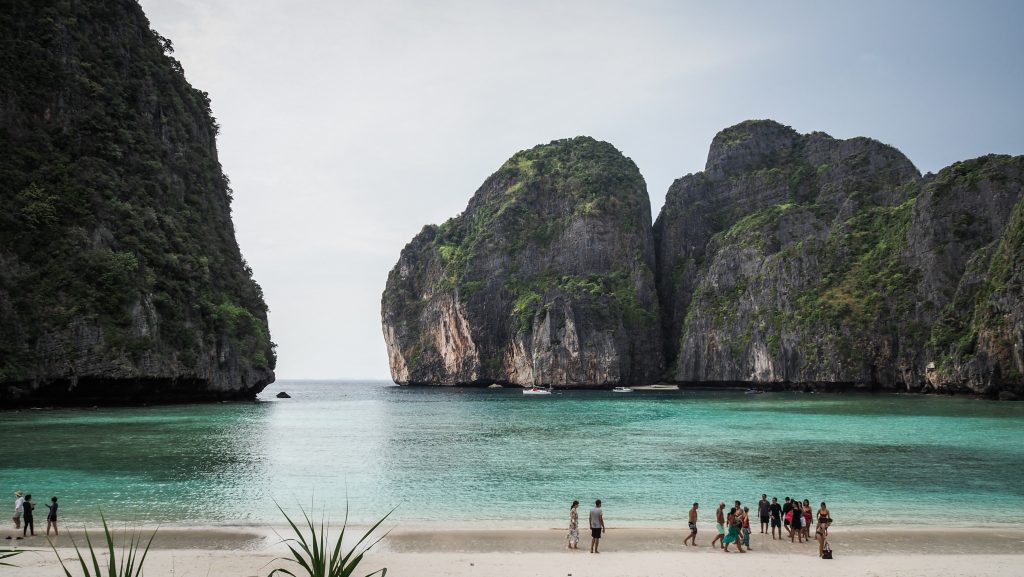 Maya Bay is declared as a National Park and every foreigner has to pay the entry fee of 400 THB. The beach is really beautiful with crystal clear sea and white sand. It is allowed to enter the sea but only to your ankles and any kind of swimming is strictly forbidden. In theory, there is a limit of 300 visitors in one hour, but I hardly doubt that it's monitored.
On the way back, we did one more snorkelling stop, just next to the rocks in front of Maya Bay but of course without entering it. Meanwhile, it got pretty cloudy so visibility underwater was not the best. After that, we continued very slowly to Tonsai Pier, enjoying the nice sunset. For those who want, there is also an option for a night swimming with bioluminescence plankton, of course depending on weather conditions.
Overall, it was one of the best boat tours I have done in Thailand and I was extremely satisfied with it. All the places can be also visited independently with privately hired long-tail boats, and not on an organized group trip. If you opted for that, I would advise visiting Phi Phi Leh first, early in the morning before it gets crowded.
Other attractions on Koh Phi Phi Don
Loh Dalum Beach
Probably the most accessible and popular beach on the island. Nice white sand and calm water with almost no waves but pretty shallow water. Kayak rental and taxi boats to various locations are available. At night, there are bars with parties and fire shows.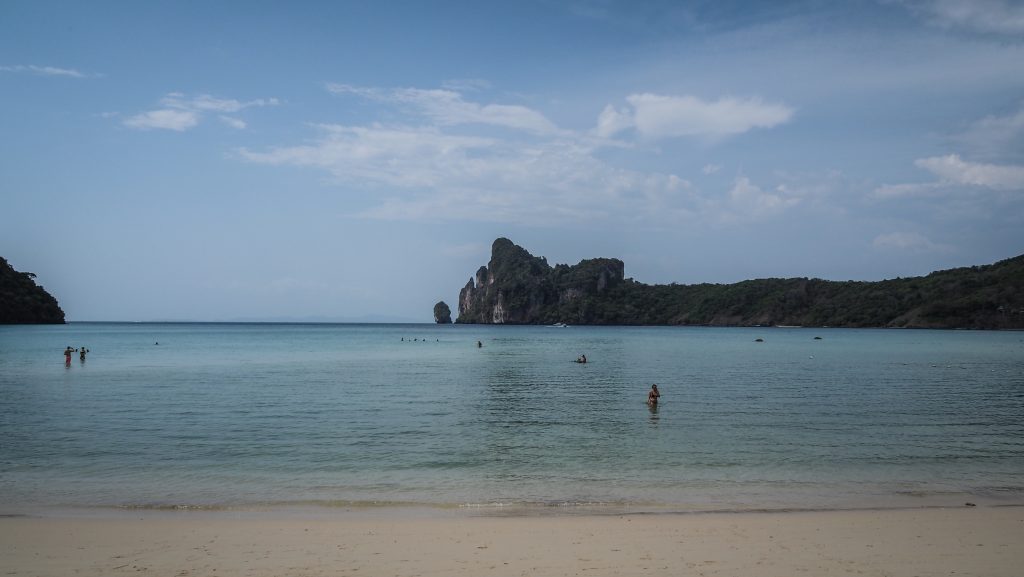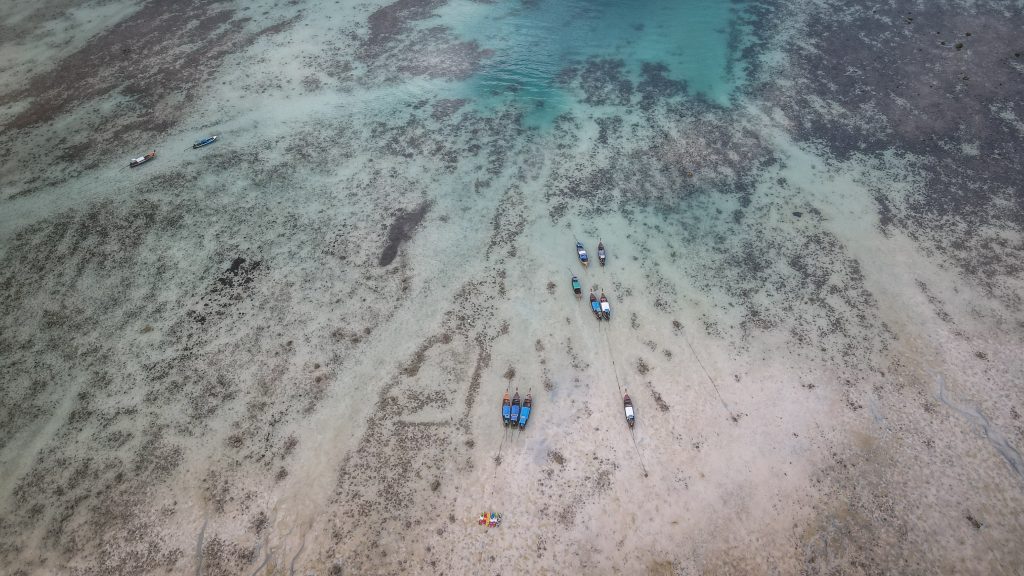 Viewpoints
Viewpoint 1 is a bit kitschy but continues for another 10 minutes and you will reach much better spots. Viewpoint 2 is the most popular one but you may continue even a bit higher to viewpoint 3. Bring water and repellent as mosquitos can get crazy around sunset.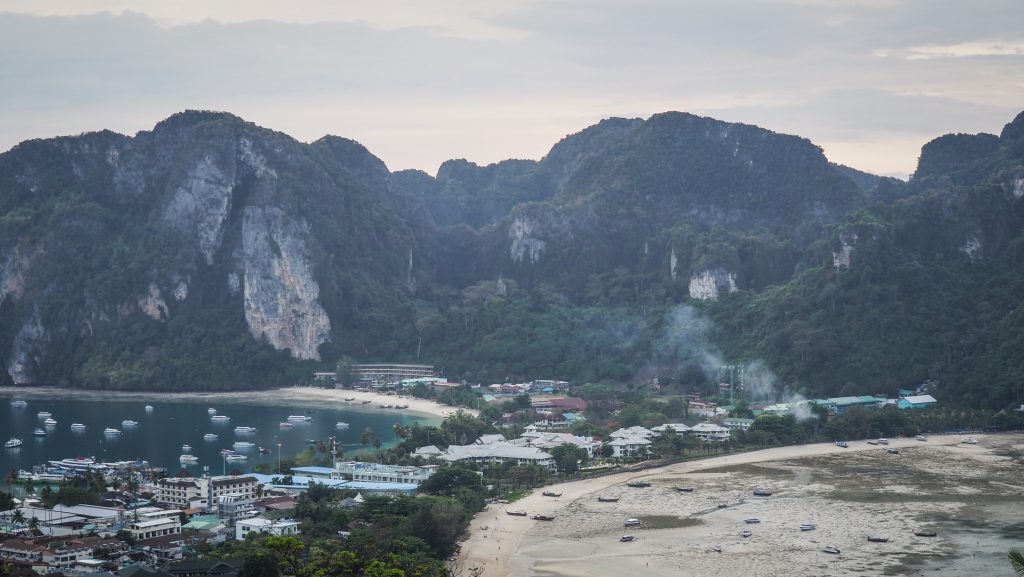 Tonsai Village
Small but tightly packed heart of the island. You can find literally everything here: street food, restaurants, tourist offices, souvenirs, bars, tattoo studios, and massage salons. There are even McDonald's and Burger Kings which is quite unusual on such a small island. Well, just another example that proves that Koh Phi Phi Don is a specific place.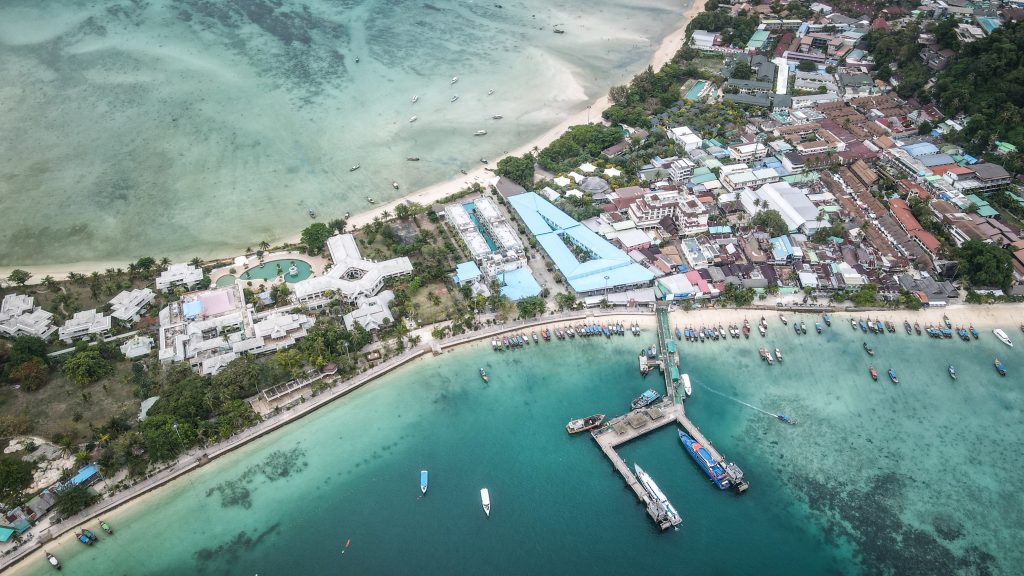 Viking Beach
The beach is small but nice and it is a part of the Viking Resort. The big advantage is the location, away from the hustle and bustle of the Tonsai area.
Long Beach
If you continue further from Viking Beach, you will eventually reach this place. It's a lovely beach which is great for snorkelling, with lots of fish to be seen around the rocks. On the negative side, there are noisy boats passing by all day en route to Tonsai Pier. But that's just how it is on Phi Phi Islands.
Summary
Even though Koh Phi Phi is indeed a party place, I really enjoyed my time there and I am not a party enthusiast. I did my research so more or less I knew what to expect. Sure, it is overpriced, crowded and noisy. But you don't have to stay there for several days and it's possible to book your room in quieter parts of the island. The day trip around the archipelago was excellent and it was worth coming even only to do that.
After two days I moved to Trang Islands and which was an excellent choice. The archipelago is quiet and has a much more local vibe. Just like Koh Lanta, it's a good counterweight to Phi Phi Islands.