Koh Samui is the second-largest island in Thailand, which evolved from a quiet fishing community into a tourism-targeted destination while still retaining its natural charm. It's definitely not as quiet and peaceful as some other Thai islands but it offers a good balance for those looking for a combination of vibrant nightlife, serene temple visits, and jungle adventures.
How to get there?
Koh Samui can be reached on a ferry from Donsak Pier near Surat Thani. Raja Ferry is slow, cheap, uncomfortable, and takes about 1,5 hours while Lomprayah is exactly the opposite but about twice the price and takes 45 minutes. Time is money, they say. The choice is yours 🙂
Another option would be to fly to Koh Samui. There are regular flights from Bangkok and other major cities in Thailand, as well as some foreign destinations. Check your connections at 12Go.Asia.
How long to stay?
I spend 3 nights on the island and I would recommend it as a minimum. It will give you enough time to explore nature and chill on the beach. That time could be easily extended to one week or even longer. There are beautiful beaches, waterfalls, a nice standard of accommodation for online work, good food, and an option for a day trip to Ang Thong National Marine Park. Sounds like a perfect place for holidays? It could be, but keep in mind that there are also two other islands: Koh Phangan and Koh Tao which are well worth checking as well.
When to go?
The best period to visit Koh Samui is between December and August.
The dry season lasts from December to April and it's the peak tourist season. Pleasant weather with lower humidity and cooler temperatures. Accommodation and flights can be more expensive, and popular tourist spots can be crowded.
From May to August, there is a hot season with higher temperatures and humidity. Occasional rain showers are possible but they are usually brief. May and June can be particularly hot.
Rainy season months, so September to November, are better to be avoided. The prices are more budget-friendly but you may expect frequent rainfall and boat tours will most likely be closed.
Where to stay?
I stayed for three nights at the Pamoni Hotel in Chaweng for about 19 EUR per night. It was basically a small apartment, with a living room and a kitchen, a bedroom, a private bathroom and there was a swimming pool for guests too. A very good price-to-quality ratio and the location was excellent too.
How to get around the island?
Without a doubt, the best option is to rent a motorbike. Ask for one at your accommodation. They will either have one or get in touch with someone who can deliver it to you within minutes. You will also find some rental agencies near Chaweng Beach. I rented mine at Idan Rent Motorbikes & Cars. At first, I wasn't too happy with the bike's quality but they quickly reacted and changed it for a better model.
The network of roads is really good with most of them sealed. There are still some dirt roads, often quite steep so pay special attention there or simply park your bike on the side of the road and walk.
What to do on Koh Samui?
Grandfather and Grandmother Rocks (Hin Ta Hin Yai)
Beautiful view of the ocean with nice rock formations. Especially famous are the ones shaped like…. male and female genitalia. The legend says that an elderly couple living in Nakhon Sri Thammarat were discussing the marriage of their son. It wasn't too easy to find a wife for him but they knew someone in the province of Prachuap Kiri Khan who had a beautiful daughter. They decided to use their small wooden boat to make the trip.
It wasn't a good idea though. Their vessel was tossed around like a small toy, and both of them got terribly seasick. In the distance, they saw an island and decided to try to get there. Unfortunately, the waves were big and the winds were strong. Just as they were about to give up, a huge wave washed them both out of the boat and into the sea. Their bodies were washed ashore and instantly turned into rocks on the beach.
There are plenty of vendors selling food, snacks, drinks, and souvenirs just in case you need to cheer yourself up after discovering that sad story.
The rocks are just next to Lamai Beach, which is the island's second largest.
Lamai Viewpoint & Valentine Stone
There is the Valentine Stone at the bottom and some fish ponds but the main attraction is the viewpoint. You can either walk up or pay extra to get a ride up. As it's only 10 10-minute walk, the choice was easy. The path goes through the forest so don't forget to use mosquito spray before you start. They also have an option to do ziplining, which is about 800 THB, including the entrance fee.
Lanlandaw Viewpoint
Beautiful place with an amazing view of the sea and the island. You can just get a beer or fresh coconut and soak the atmosphere. The owners are very friendly and chatty people. The dirt road leading there is quite steep so be careful when riding a motorbike.
Overlap Stone
There are two similar places, called Overlap Stone 1 and Overlap Stone 2. I recommend you to choose the second option. Carry on following the road past the big signs for Overlap Stone 1 and the lady waving enthusiastically asking for a ridiculous 200 THB. The road gets steeper until you see a welcome sign and a little spot saying motorbike parking. Walk up among the trees and the view will open up on both sides. The entrance costs 20 THB and you can buy some drinks too. The views over the island are simply stunning! Take a rickety bamboo walkway to get closer to the stone.
Wat Ratchathammaram
A beautifully laid-out temple decorated with red terracotta. It overlooks the sea, which makes it a particularly calm and scenic place, perfect for meditation and reflection. Moreover, it houses the relics of Buddha brought in from Sri Lanka.
Ban Hua Thanon
Home to the Muslim community, with a local fish market and Koh Samui Central Mosque that can be seen from afar because of its vibrant gold, green, and white colors.
Tarnim Magic Garden
Peaceful place to rest and appreciate the surrounding nature and different statues whilst hearing very calming trickling water. It's quite small though and you can get around in about 30 minutes. The entry ticket costs 80 THB so I really wished it had more to offer. Insect repellent is essential!
Paradise Park​ Farm
A well-maintained place with a lot of animals and an enormous garden. The most popular activity is feeding and observing the pigeons that come in shades of pink, blue, yellow, and orange. There are also some deer, goats, rabbits, parrots, and ducks. They also offer a viewpoint where you can enjoy a swing and capture nice pictures. Tickets are on the expensive side: 400 THB per person, but if you travel with kids, it may be a good idea to visit.
Na Muang Waterfalls
The tallest waterfall in Samui (30 meters) with a great pool for swimming at the base. It is set in lush jungle surroundings, easily accessible just off the main ring road. There are several stalls selling snacks, drinks, and souvenirs. Keep in mind that during the dry season, the water level could be extremely small so you may be disappointed. Unfortunately, near the entrance to the waterfall, I saw an elephant which was clearly used for riding. I strongly discourage you from participating in such an "attraction". If you want to get closer to these magnificent animals, visit Samui Elephant Kingdom Sanctuary or Samui Elephant Home described below.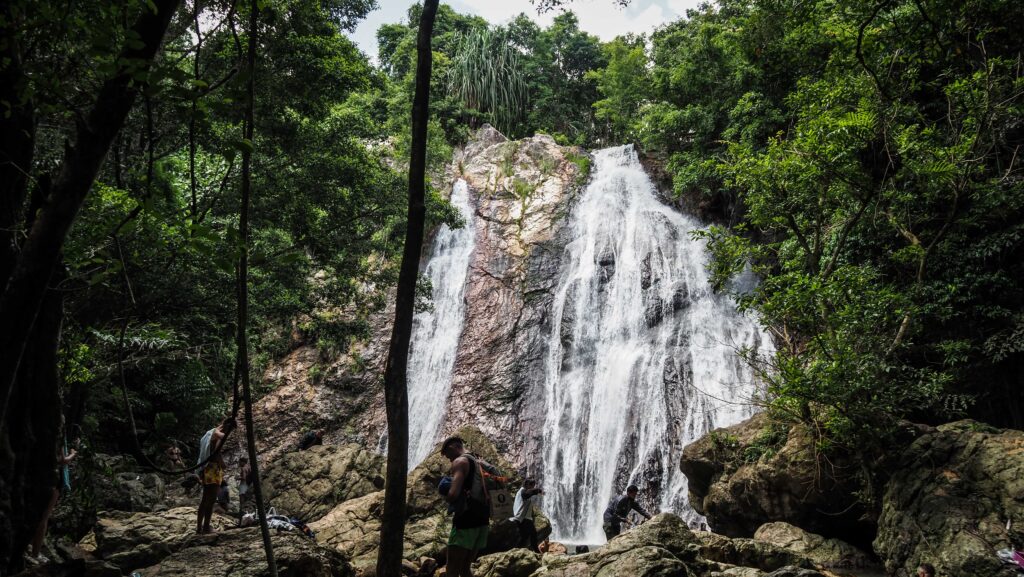 Samui Elephant Kingdom Sanctuary & Samui Elephant Home
If you have the need to get closer to elephants, these two places have a good reputation. The staff look after the rescued elephants and have a great relationship with them. The tours normally include a briefing about the history of each elephant and where they've been rescued from, feeding, a walk around the large open grounds with them, bathing, and of course plenty of photo opportunities.
Cobra Show
I haven't visited the place as I am not a fan of entertainment including animals, but they have positive reviews on Google Maps. Apparently, the owner and staff are very friendly and the animals look comfortable in their enclosures and are well-kept. Let me know in the comments if you were there and what were your impressions!
Khao Yai Waterfall
A short hike through some bush leads you to an unimpressive waterfall. Not really worth the time and effort.
Wang Sao Thong Waterfall
After a 10-minute walk through the jungle, you'll be able to cool down in a small lagoon at the base of the waterfall. Don't expect anything big though and you may totally skip the place in the dry season.
Wat Khunaram
The home to Koh Samui's mummified monk, Luong Pordaeng, who died in 1973. It was his will to be put on display as a visual reminder of the Buddha's teachings. The body is presented in a seated meditative position in a glass case and the only noticeable change to the body has been the disintegration of the eyes, which have now been respectfully covered by sunglasses. I really like that place because it also shows you that Thais approach death as the natural order of things and they view it as an opportunity to be reborn into a better place, one step closer to nirvana. So much different from the European point of view.
Wat Plai Laem
This unique temple was completed in 2004 and most of the complex was built in Thai-Chinese style. The two giant, colorful statues dominate the landscape. The first is the huge image of Guanyin, the Chinese Goddess of Mercy and Compassion who has 18 arms. Guanyin is very highly revered by Chinese people and is known as the protector of women and children, the sick, and the poor. She is said to have so many arms, so she can help many people at one time.
Another statue is that of the fat, laughing Chinese Buddha. In Chinese culture, a fat Buddha represents wealth and prosperity. This very impressive statue is 30 meters high and was painted in expressive colors like red, white, and gold.
Wat Phra Yai
The temple complex is built on a small island named Koh Farn, connected to mainland Koh Samui with a causeway. The highlight is a 12-meter-long Buddha image that was built in 1972. The Buddha is in the subduing Mara posture, which symbolizes the Buddha not giving in to the demon Mara, temping the Buddha with beautiful women. There are also some great views of the surrounding beaches and the island of Koh Phangan to the north.
Thongson Beach
Fine beach but you will most likely need to order something in the restaurant or otherwise they will charge you for parking. You may notice pigs cooling off there on a hot day, not joking. The naturist beach is located further on the right, just follow the path and then go over the rocks. If you are in that part of the island, it's worth stopping by but it's not worth a special trip.
Choengmon Beach
It's one of the most beautiful beaches in Koh Samui with clean water and nice sand. You can get a sun bed for about 200 THB. Plenty of spots offer massage, drinks, and food. It's also a perfect place for a beach walk during low tide to have a closer look at nearby Ko Fan Yai and Ko Fan Noi.
Chaweng Beach
Probably the most crowded and popular beach on the island. Hotels and resorts are all along the beachfront, bars and restaurants play loud music till late night hours, and jet ski as well as other water attractions are available for adrenaline seekers. It's typical beach madness but sometimes this is exactly what you are looking for. Sunrises are beautiful there and probably that is the only quiet time for peace lovers.
Khao Hua Jook Pagoda
Worth visiting around the sunset for great views over the island and the airport. Entrance fee: 20 THB.
Lad Koh View Point
Lovely viewpoint just off the road. You can take a nice walkway down to the rocks below.
Wat Phra Chedi Laem So
Beautiful, serene, and quiet temple by the sea. It's not worth a special trip, but if in the southwestern area of Samui, check it out.
Koh Taen and Ko Mat Sum
Both islands are located only a few minutes away by longtail boat from Thong Krut Pier. Koh Taen isn't too impressive and the beach is rocky so don't waste too much time. On the other hand, snorkeling around the island is decent. Koh Madsum is way better for relaxing on the beach with fine sand and fantastic clear water. It can get crowded as it's popular for… pigs on the beach. The price for a boat, depending on your plan should vary between 1000 – 1400 THB.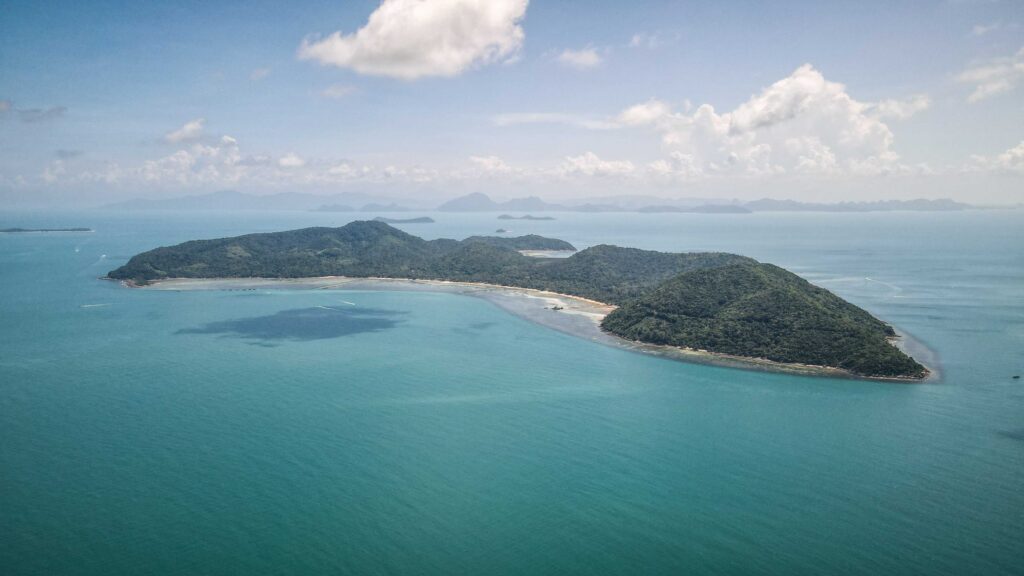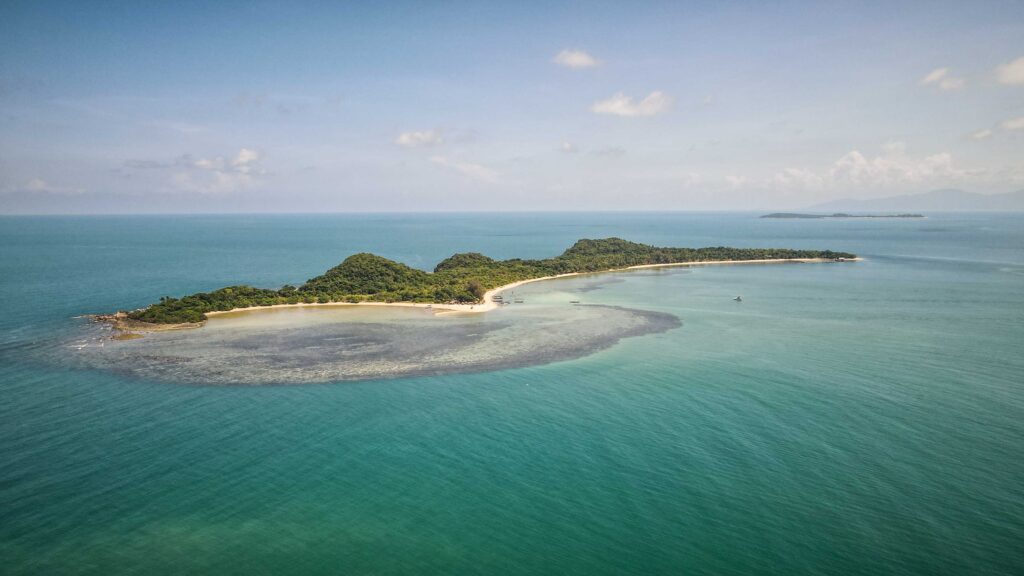 Lipa Noi Beach
A very long and narrow sandy beach. The big plus is that there are hardly any people. Both the water and the beach are clean and it's a good spot to enjoy the sunset in peace.
Hin Lat Waterfall
Another nice waterfall on Koh Samui and a great 30-40-minute hike through the jungle to reach it. Insect repellent and proper shoes are recommended. If the water level allows, you may swim in the cooling pools at the base of the waterfall.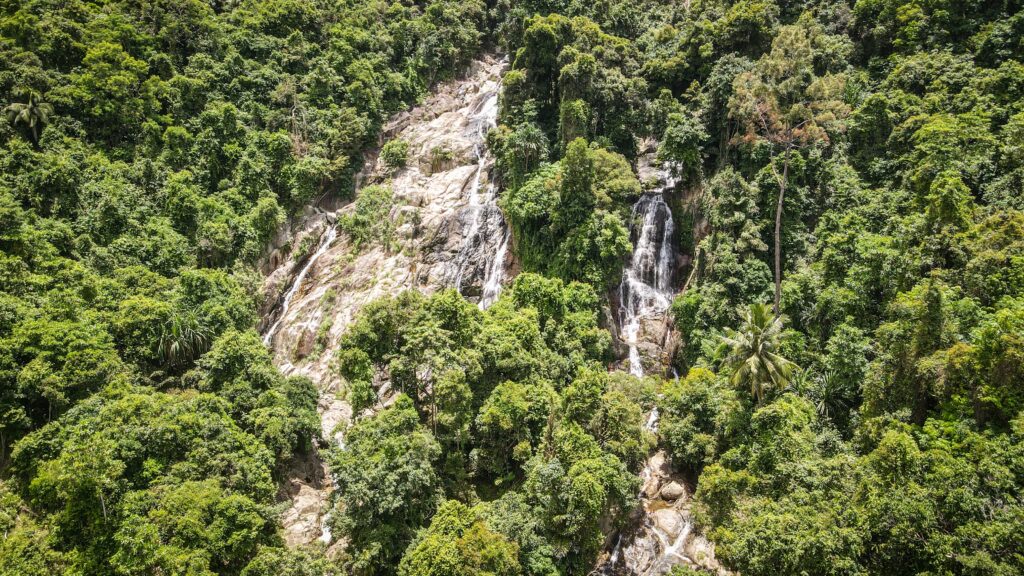 Khun Si Waterfall & Viewpoint
The waterfall wasn't too impressive at the time of my visit but the road to get there was leading through the wilder part of Samui, even though it was a bit tricky. At some point, I started doubting if I was heading in the right direction but then a small wooden sign told me that I arrived. Khun Si View Point is just on the other side of the parking, don't miss it!
Nathon Sunset Viewpoint
A popular location for sunset. There are benches along the road or you can get closer to the water for a different perspective. During low tide, there is also a nice sandbar to walk on. Bang Makham Beach and Laem Yai Beach further north are other good alternatives for watching the sunset.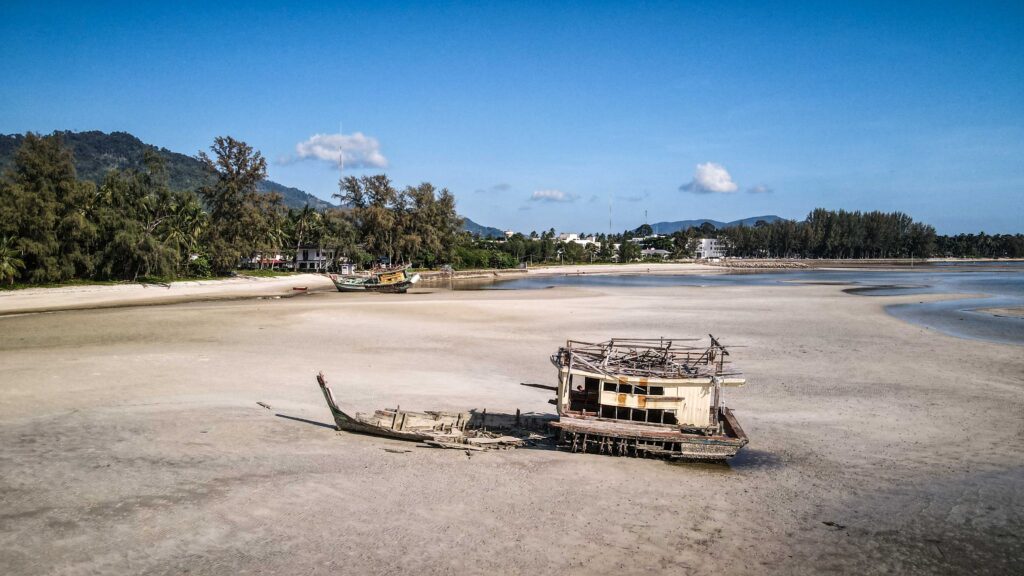 North Coast Beaches and Fisherman's Village
There are a lot of good beaches on the north coast with restaurants, bars, kayaks, paddle boards, jet skis, and other attractions. The best is to just follow the main road on a motorbike and stop wherever you want. The nicest places are Bang Por Beach, Baan Tai Beach, Maenam Beach, W Beach, and Bo Phut Beach. The center of all entertainment is Fisherman's Village and there is a big night market too.