New day, new adventure! I woke up early and took my bags down to the reception. I was going to Great Barrier Island for 2 days only, so it didn't make sense to take the whole luggage. Probably due to early hour, no one was there though, so I just left the note and 3 NZD fee hoping that my luggage will still be there when I arrive back the next day.
After doing some research about Great Barrier Island, I felt like I am going on an adventure. No ATM, no supermarket, solar energy or power generators, unsealed roads, no streetlights, limited mobile coverage. Sounds cool, doesn't it?
Great Barrier Island got its name from James Cook, as it lays like a barrier between the Pacific Ocean and Hauraki Gulf. Indigenous Maori people called it Aotea, meaning 'Cloud'. It's New Zealand's fourth-largest island, after North, South, and Stewart.
Ferry or plane?
From Auckland, there are 2 options: either by plane or by ferry.
The ferry is operated by SeaLink and in high season goes once per day, departing Auckland at around 8:00 AM and arriving at Tryphena 4.5 hour later or to Port Fitzroy 5 hours later. The cost is around 115 NZD for the return trip. It is quite a long travel if you just plan to drop by for 2 days as I did. 
Therefore, I decided on 30 min flight with Barrier Air. Yes, you will spend more money as the flight will cost you around 200 NZD. But people say that time is money. Taking a flight is also a more scenic way of arriving on the island. The plane is small, you have great views through the window being able to admire other islands from Hauraki Gulf such as Waiheke, Rangitoto, Little Barrier as well as the Coromandel Peninsula. The airport is at Claris, 12 km away from Tryphena where you can find accommodation, shop, pharmacy, and (as everywhere on the island) expensive fuel.
The hassle-free way to get to the airport in Auckland is with SkyBus. I bought the ticket online and enjoyed a 1-hour ride using free WiFi and reading about my next destination. Buses depart very frequently from Auckland CBD.
How to get around Great Barrier Island?
As the name suggests, Great Barrier Island is pretty big, so walking is not exactly the best idea. There is some bus going around but you will rely on the schedule and many of the scenic bays will be out of your reach. That's why the best idea is to rent a car. I booked the one with Aotea Rentals – Nissan AD for 70 NZD per day. Never heard about a model like that but its youth time definitely passed a long time ago. It had so many scratches already that I knew that even if I make another one, that wouldn't make a difference. It was still a decent and economical car that took me without an issue to all the places that I wanted to go to. Additionally, it has a big truck so it's an extra advantage for people travelling in groups. The guy from Aotea Rentals was waiting for me at the airport and when I asked how should I return the car, he said: 'just park it here and leave the keys inside'. Fair enough!
Driving on the island was quite an experience. Roads are narrow, sometimes sealed sometimes not. And it was the first time in my life that I had to drive on the left side of the road! Luckily even in high season, the traffic on the island is light, so after a while, I started to feel comfortable.
On the way to Port Fitzroy, I saw some shady bare foot hitchhiker and I felt the impulse to stop. He happened to be retired Kiwi fella that was going back to his boat parked in a bay down the road. Well, you can say – that's life. We had a nice chat even though the Kiwi accent is sometimes beyond my understanding. And he thought all the time that I am from Holland, not Poland. Quite a common misunderstanding here, which I learned in the following months.
Here is the MAP of the island:
Top things to do and see
Dark Sky Sanctuary
Beautiful beaches and nature were not the only things that encouraged me to visit the Great Barrier Island. Another one was the fact that it's one of 10 places recognized as International Dark Sky Sanctuaries (others being in Australia, US, Chile, South Africa, and the Pitcairn Islands). Remember when I said there is no electricity? This and the fact that the island is nearly 100 km away from Auckland make the night pitch black. It is an amazing spectacle in the sky. The best way to admire the Milky Way and other interesting constellations that can be seen in Southern Hemisphere is to spend the night camping.
Kaitoke Hot Springs
My first destination was 45 minutes track leading to forest hot springs. The track was completely empty and at some point, I started to doubt that I'm going the right way, but when I finally reached the spring, 3 folks were already enjoying their time there. I continued the short way up to the lookout and then came back meeting many more people heading the opposite direction. I guess not everyone is going for the hike straight after arrival at 9 am. The track starts and ends at Whangaparapara Road.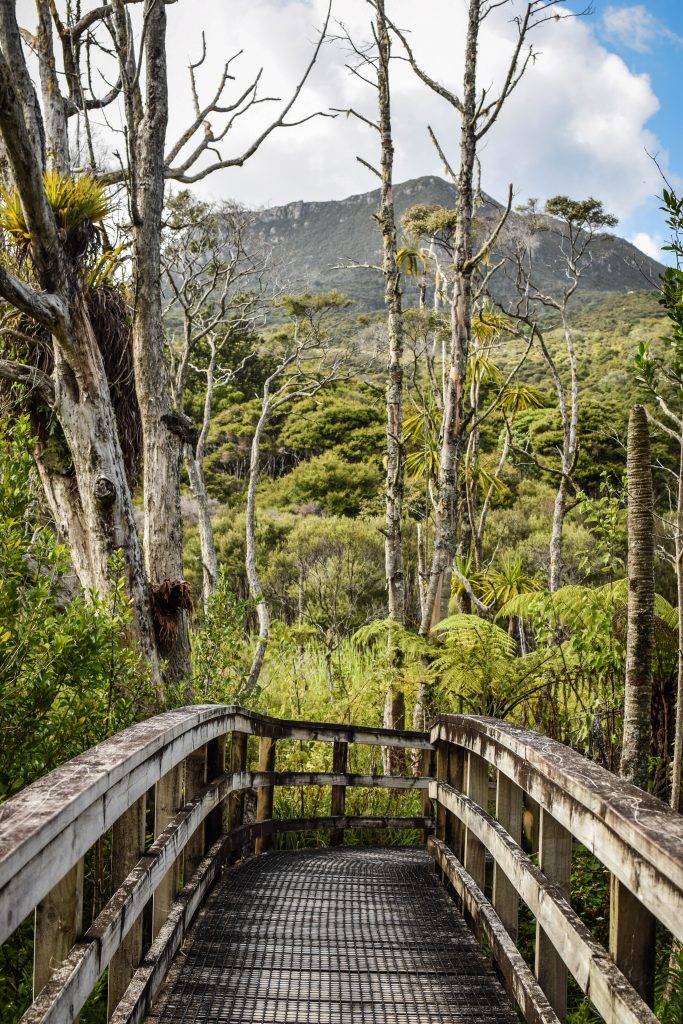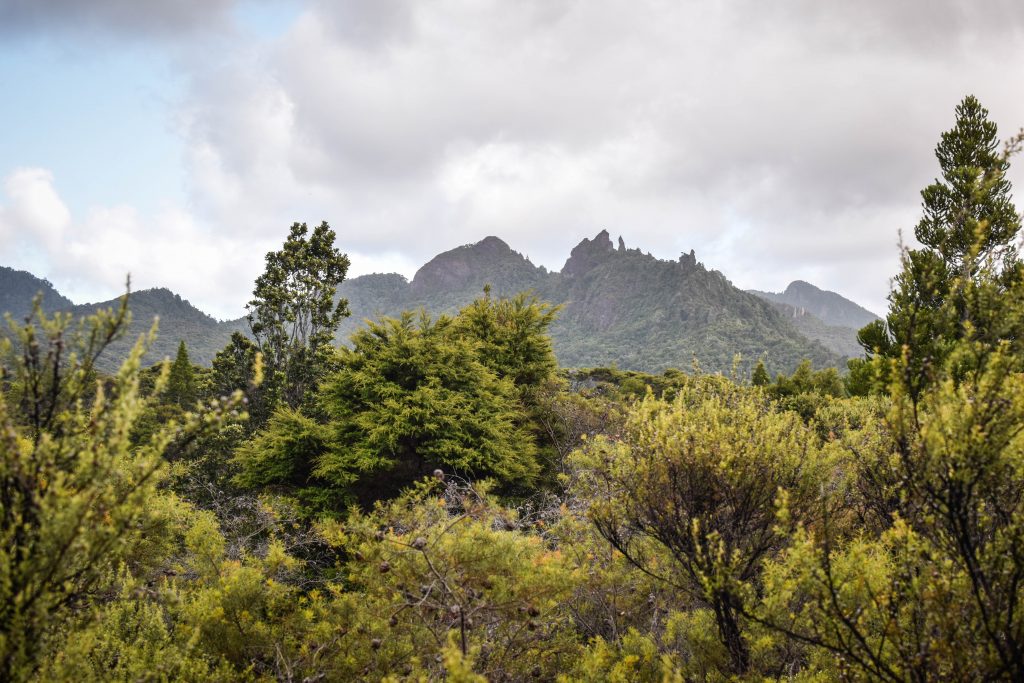 Windy Canyon & Mount Hobson
The most scenic short hike on the island and, according to me, the best thing to do in general. You reach Windy Canyon around 10 minutes after departing from Aotea Road, and then continue for another ca. 2 hours to the highest point of the island – Mt Hobson (621m). Views from the top are simply magnificent and no picture can do this place justice. Go and see by yourself!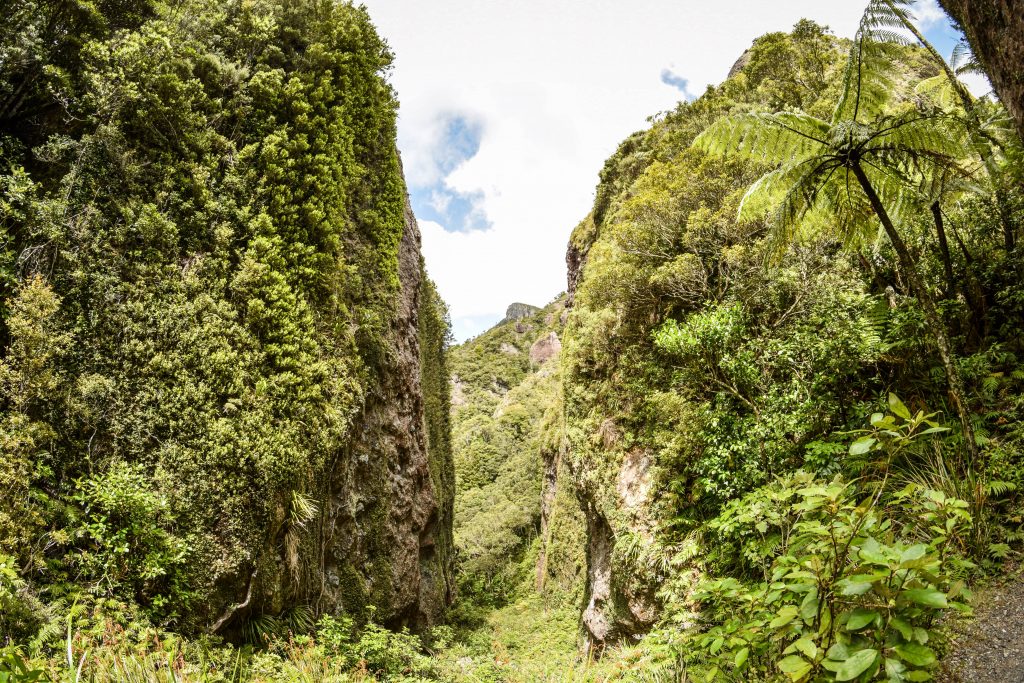 Ruahine Lookout
Even though there was a sign '4WD only' I took the risk and drove down to Cape Carrier. From there I followed the track down to Johnson's Bay and then up the mountain. Bloody hell, I had the feeling that I was the first hiker on this trail for several weeks. Not meeting a single soul on the way up and down and having my face literally covered with spiderwebs seemed to confirm that. Close to the summit, there is Ruahine Lookout proving decent but not the best ocean views. It's quite a steep climb taking anything between 3-4 hours return, depending on your shape. Luckily my car got out of the parking without any issue so if dry, I would say 4WD is not essential.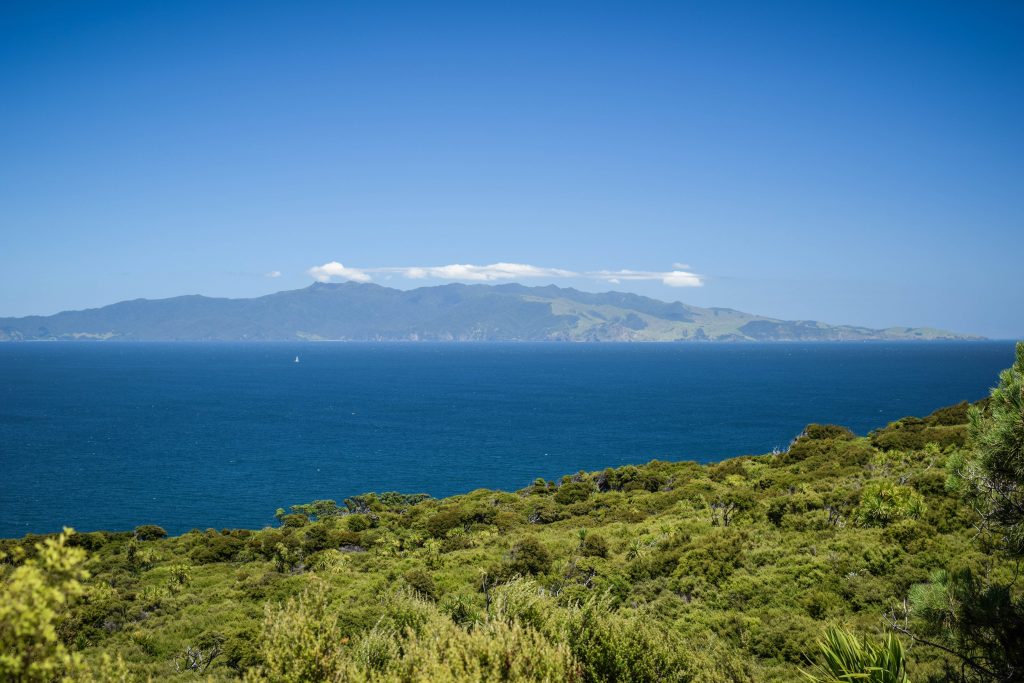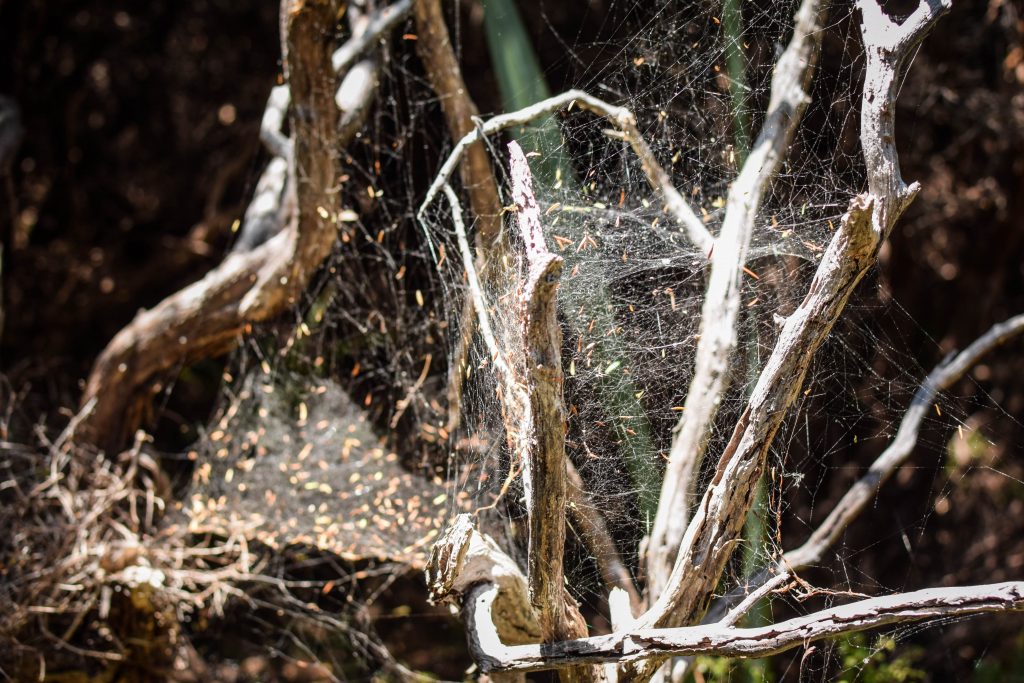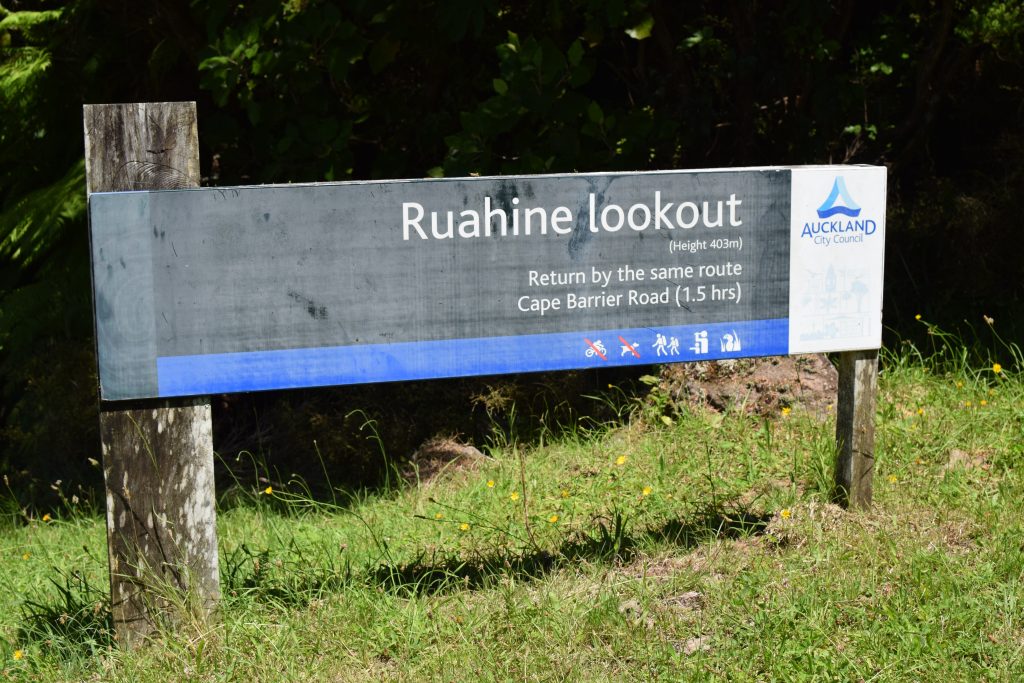 Whalers Lookout
You can make it a destination on its own or just a stop on the way to Ruahine Lookout. Reachable from Johnson's Bay, it's the southernmost point of Great Barrier Island. There is a nice bench to have a rest and wait for the whales to make a splash, however, you have to be very lucky to actually see one.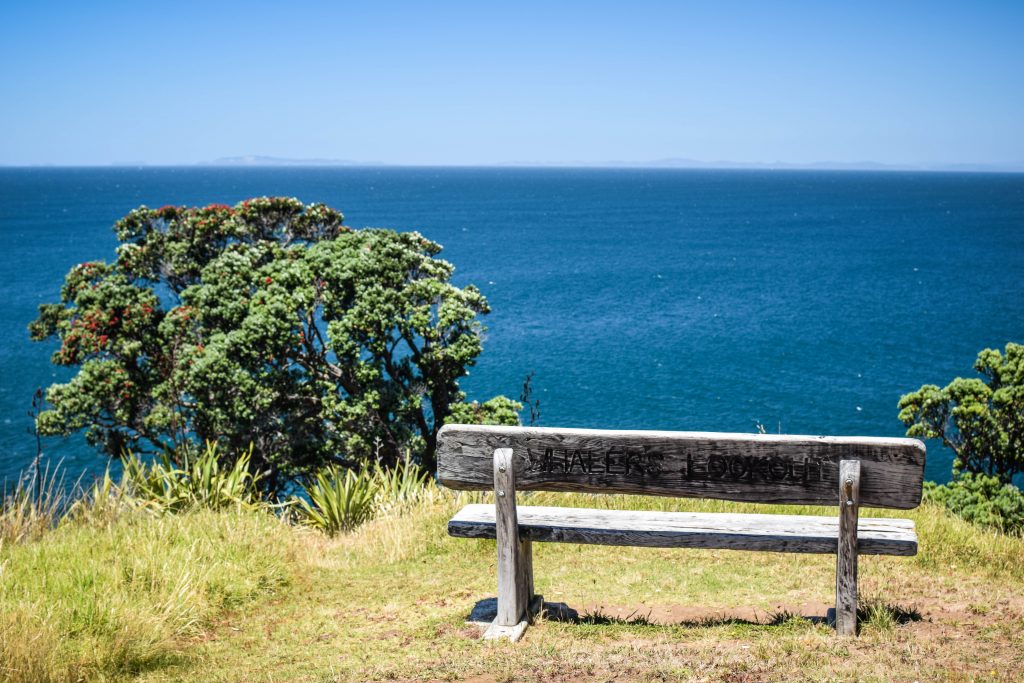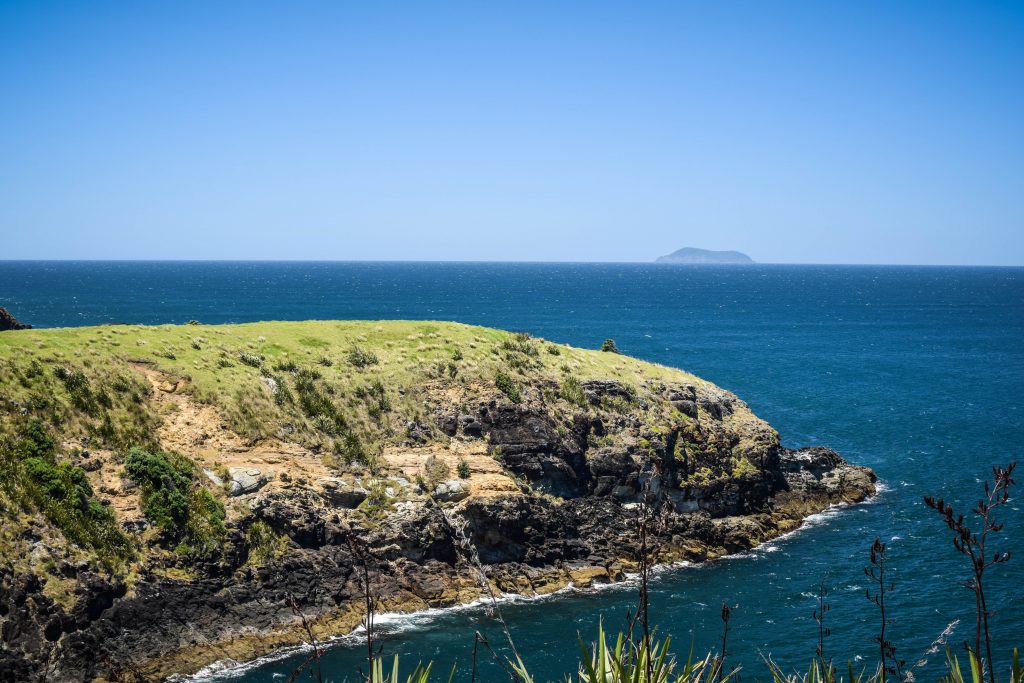 Other hiking trails
Track to Mt Hobson is obviously not the only one on the island. There are amazing alternatives available, ranging from being just a couple of hours warm-ups, such as:
Tramline Track (6 h) following old tramline used by the Kauri Timber Company during the 1920s and 1930s.
Harataonga Coastal Walk (4-5 h one way) which is an easy and flat track with superb views of the coast.
… to some being multiple-day adventures:
Aotea Track (2-3 days) – the father of all hikes on the island, 25 km long loop encircling central mountain area. There are two huts on the way available for overnight stay.
Check the website of the Department of Conservation and select the hikes you like the most! In all cases be well prepared: take plenty of water, snacks, sun cream, hat and tell someone about your plans and expected return time.

Beaches and bays
If you like chilling on the sand (and I mean really white sand), you will have a blast here. The population of the island is around 600, increasing with tourists flow especially on summer weekends, but it's still possible to find a perfect spot on the beach just to yourself, without anyone in the sight. There is more white sand beaches with fine surfing opportunities on the East Coast: Whangapoua Beach, Haratonga Beach, Awana Beach, Kaitoke Beach or Medlands Beach. You can feel the power of the ocean here! On the other hand, West Coast is dotted with calm bays giving even wilder and more remote feeling: Karaka Bay, Katherine Bay, Whangaparapara or Okupu Bay.
Port Fitzroy and Glenfern Sanctuary
Port Fitzroy is the arrival point of the ferry from Auckland CBD. There is a general store, a boat club, an information desk and fuel station. Old Lady Track (45min – 1h) is a great way to straighten your legs and it has a steep side trip (30 min) up to Lookout Rock with stunning views over the harbour. Another point worth checking is Glenfern Sanctuary Regional Park located nearby. They offer self-guided or guided walks in the huge predator-proof area where endangered species of birds can recover. The loop walk is the most popular one.
Make a splash!
There are heaps of water activities to choose from: surfing, kayaking, fishing or diving. Numerous bays are also a heaven for all yachts lovers. You can also go the cheap way – just relax at Kaitoke Hot Spring or at one of many scenic white sand beaches.
Was it worth it?
Yes, it was! Going to Great Barrier Island isn't particularly cheap, but experience even half of what the island has to offer and you will certainly not regret it!
Questions? Please write a comment 🙂