The name Waitomo comes from the Maori words wai (water) and tomo (hole). The whole region has impressive cave systems, out of which the most popular are the ones accessible by tourists: Glowworm, Raukuri and Aranui.
To be honest, I am not a big fan of caves and after visiting a couple of them before, every next tour feels pretty the same. However, Waitomo Caves were on my must-see list from the very beginning as there was something that I had never seen before – glowing worms.
What are glowworms?
Glowworms are the larvae of the fungus gnat. Their luminescent organs attract small insects which come in the direction of the light only to be caught into sticky threads. In fact, the more hungry the larvae are, the brighter the light. The larval stage lasts between 6-9 months. After that, it turns into a pupa stage, similar to cocoon which develops into adult fungus gnat about 2 weeks later. Seems like the only reason for their short life is reproduction. They don't have a mouth, therefore after mating and laying eggs, they die. And then the whole process repeats.
The guides will certainly tell you much more interesting details. Stay quiet and avoid shining your flashlight directly on them as it can scare them off and as a result, they will dim the lights.
How much does it cost?
I arrived at Waitomo Caves Discovery Centre in the afternoon and instantly set my wallet of fire. All the options seemed to be so tempting! I had done some online research before and I knew that for sure I want to do Glowworm Cave Tour and Black River Rafting. In the end, I added Raukiri Cave Tour to the deal as well.
Combined ticket for both cave tours costs 100 NZD and Black River Rafting Tour (Black Labyrinth) costs 150 NZD. Yeah, it is pricey. Don't forget to have a look at www.bookme.co.nz for possible deals and promotions.
What to take?
As it usually is in the caves, the atmosphere is rather wet and cold. Wear good shoes and be prepared for temperature about 12˚ – 14˚C all year round.
If you go for Black River Rafting, you would need to take a swimsuit (to wear under a wetsuit that you get from your guides). It's also good to have a bag where you can put your clothes for the duration of the adventure as well as a towel and flipflops. And definitely don't forget your spirit for adventure!
Glowworm Cave Tour
The tour is the most popular one in the area and it really is an absolutely unique experience. There were two parts of it. First, I got to admire cave formations in the dry section. Then it was the time to hop into the boat and the real fun began. Shortly after, we were already in the large cavern known as the Cathedral. The guide navigated through the darkness by pulling the rope in such a graceful and smooth way that it seemed to be an art in itself. The first time to see glowworms could be a bit overwhelming. It so many of them! Hundreds of blue points glowed above my head and once again, I could not believe how lucky I was to spend 3 months on the other side of the world – in New Zealand.
Black River Rafting
It was raining the whole night and the temperature wasn't too high either. I felt cold even under the blanket inside the van. That's why I was far from being optimistic about jumping to cold water and spending 3 hours in a cave.
After checking-in at Waitomo Homestead, I met the other guys from my group. It was 5 of us in total plus 2 guides – Mitch, who used the word 'awesome' in literally every sentence, and a girl whose name I don't remember but she was a talented singer which we had the opportunity to experience inside the caves.
We got wetsuits, which were still wet after the last tour the day before. Wearing a wet and cold wetsuit isn't particularly nice but after a short time, it adjusted to body temperature.
Next, we got helmets with flashlights and of course black tubes. We made a stop next to the stream, just to practice jumping to the water as there are small waterfalls to jump from inside the caves. Don't worry, just 2-3 metres high so it really isn't a big deal, even for the person who doesn't like heights. It was quite fun and the water didn't seem to be as cold as expected. The wetsuit was doing a good job!
After entering Raukiri cave, we simply walked the first stage until we reached the first waterfall. The jump was awesome! Then, we stopped for marshmallow in chocolate (typical kiwi thing), observed glowworms, saw an eel, jumped from the second waterfall and in the end drifted slowly towards the exit, one after another, holding our feet and creating something like a small train. We were asked to turn off our flashlights to experience total darkness and our second guide started singing a beautiful Maori song. Total darkness, glowworms above your head and live singing inside the cave. Just imagine that. Unforgettable.
The whole experience ended with hot shower, tomato soup and bagel. It was an amazing tour and if I get the chance to repeat one of the cave attractions in Waitomo, I would definitely choose Black River Rafting.
Raukiri Cave Tour
The emotions had not subsided yet but it was already the time for another attraction. I set off to Raukiri cave, that time to take part in walking guided tour. The cave is huge and even though I was already inside during Black River Rafting, the area opened for walkers is a completely different one.
The guide Nathan had a good sense of humour and he introduced the history of the cave, shown stalactites and stalagmites as well as interesting fossils and cave creatures. We covered 1.6 km out of 7.5 km cave system. It was still a nice tour, however definitely the least exciting. I would say, just a regular cave tour which I would not do again if I ever come back to Waitomo.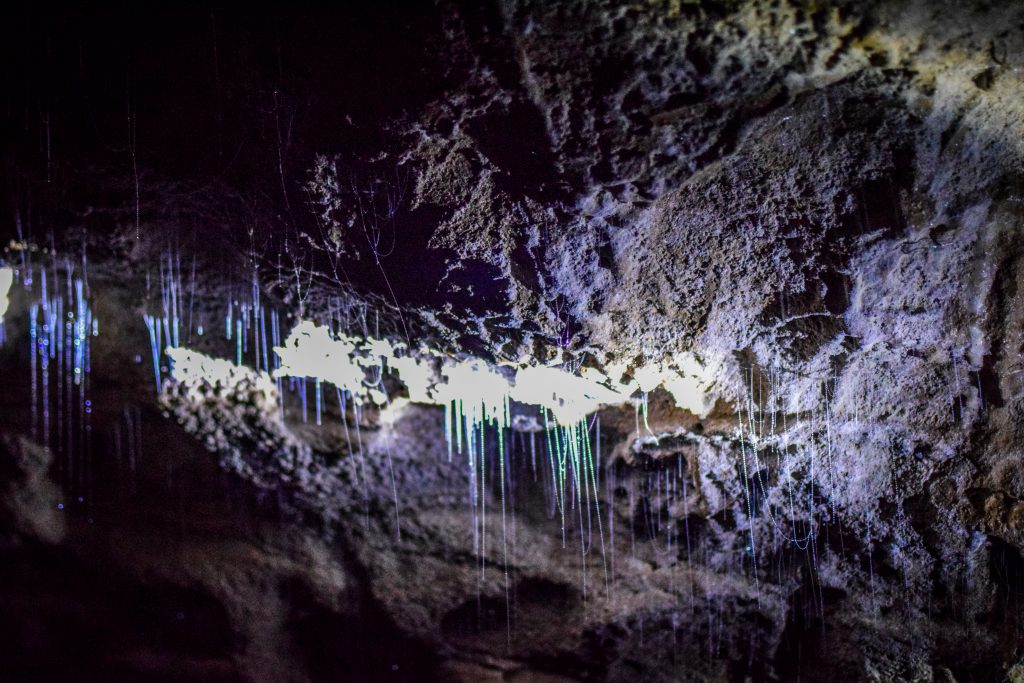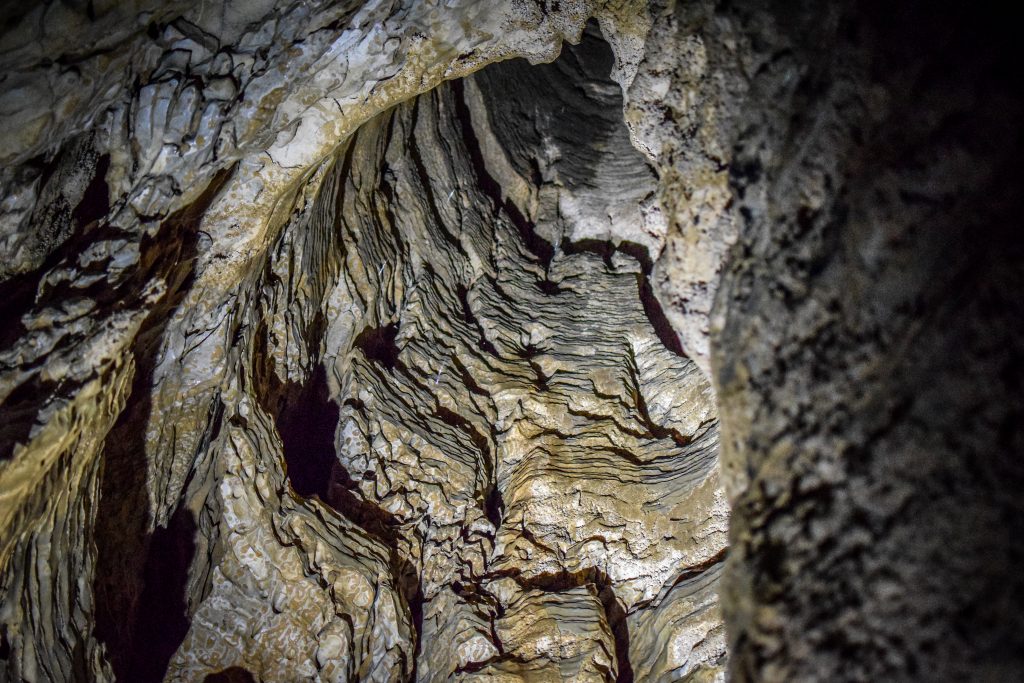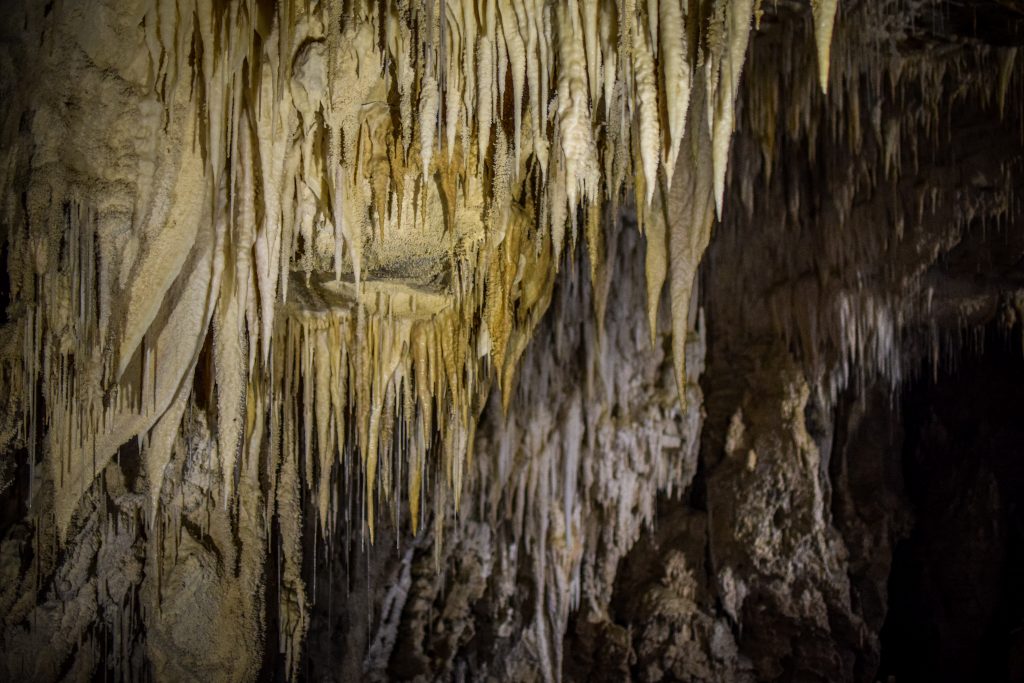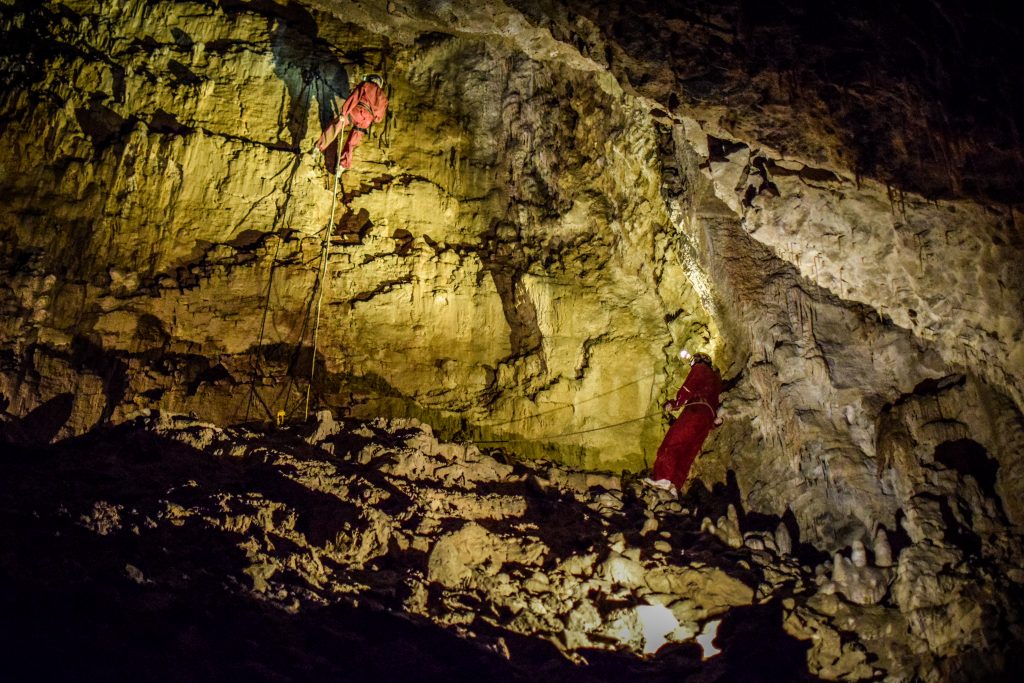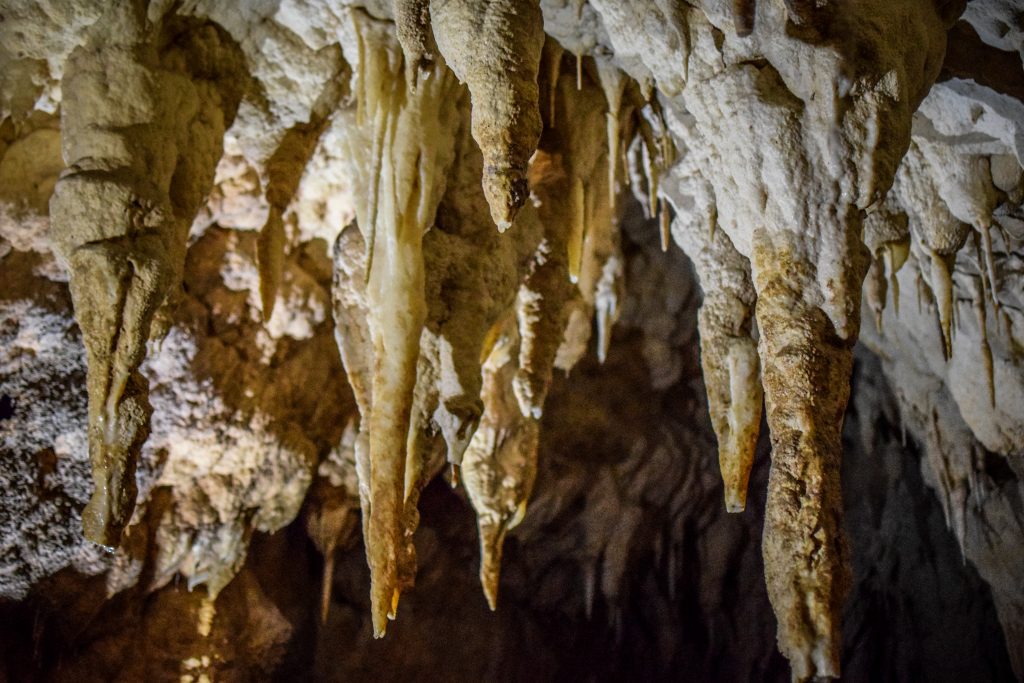 Other sights in the area
As always in New Zealand, there are so many nice places close to each other that it can take days or even weeks to see one region. King Country is not different. If you are done with Waitomo Caves, take your time to visit Mangapohue Natural Bridge, Piripiri Cave and Marokopa Falls.
Mangapohue Natural Bridge
It's a 700m loop track through a limestone gorge that passes underneath a 17 m high natural arch – remains of an ancient cave system. Go up the stairs and have a look at an impressive ceiling with rock formations.
The track continues over farmland and back to the parking. Pay attention to limestone outcrops as on some of them you can notice ancient fossils. It's a really cool place, don't miss it!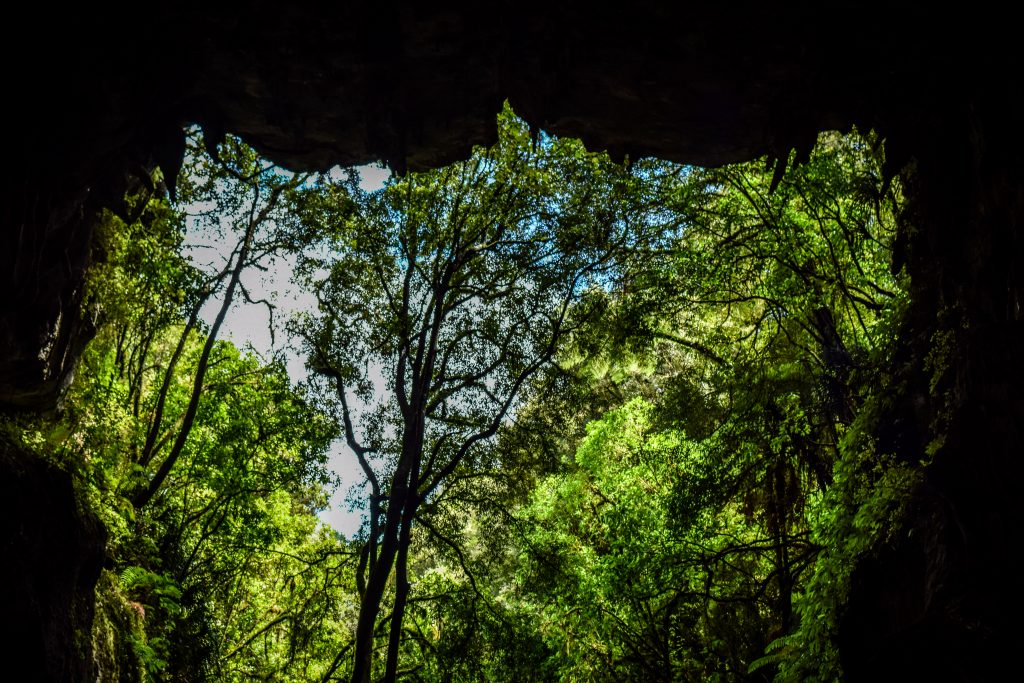 Marokopa Falls
The short track (600m return) takes you through the forest down to the viewing platform. The 35 m high falls are without doubt one of the most beautiful ones in New Zealand. If you are lucky, you will experience a wonderful rainbow and their bottom. Great for photographs!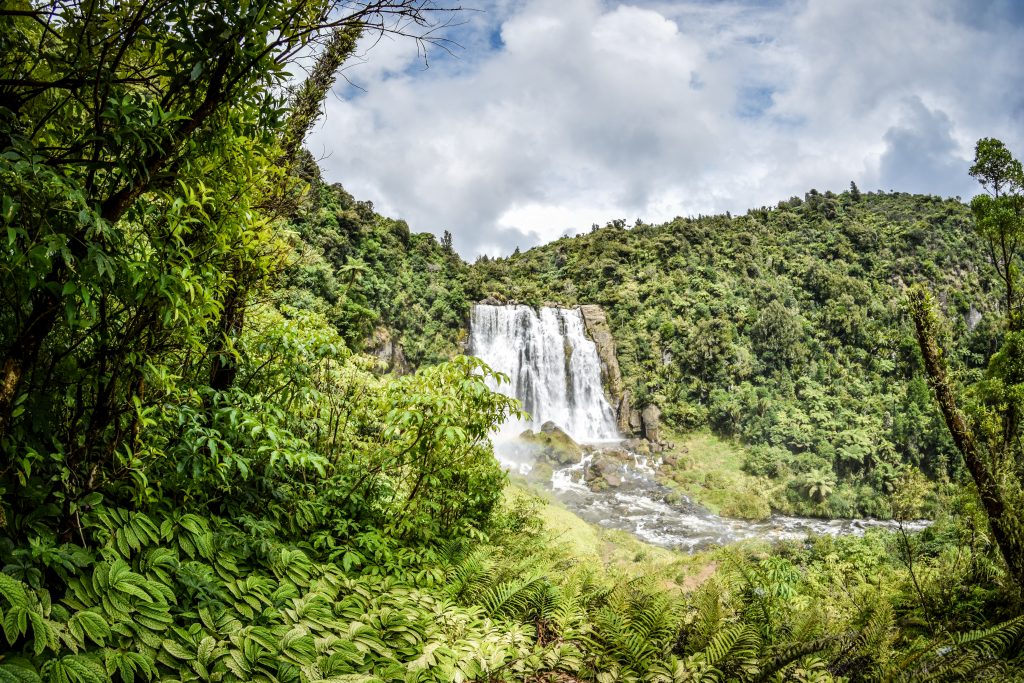 Piripiri Cave
Hiking path through native bush and past limestone outcrops leads to a short staircase that goes down to the cave entrance. There is an observation platform at the bottom.