Traveling through the Isan region of Thailand was a wonderful experience, mainly because of the amazing landscape filled with national parks and the breathtaking Mekong River. I haven't visited too many temples there, mainly because I felt a bit bored with them after seeing so many in the last few years. But Wat Phu Tok was completely different and I was so happy to explore it!
How to get there?
The temple can be reached from Nakhon Phanom, Udon Thani, or Nong Khai, and from all these places the driving time will take about 2.5 – 3 hours. Alternatively, get a bus to Bueng Kan and organize your further transport there, by renting a car/motorbike or hiring a driver. The best would be to consult the options at your accommodation.
You may check your connections at 123Go.Asia
When to go?
The temple can be visited at any time of the year. The dry season runs from November to March. During this time, the weather is generally mild, sunny, relatively dry, and with less humidity.
I visited this region in May and unfortunately, it wasn't the best experience as it was scorching hot, and walking around the rock wasn't easy.
Sightseeing
I didn't have any problems with finding a parking space inside the temple grounds. Understandably, there weren't too many people willing to expose themselves to the sun in a massive heatwave that was over Thailand at that time with over 45 C every day. It would be smart to plan your visit in the early morning or later afternoon.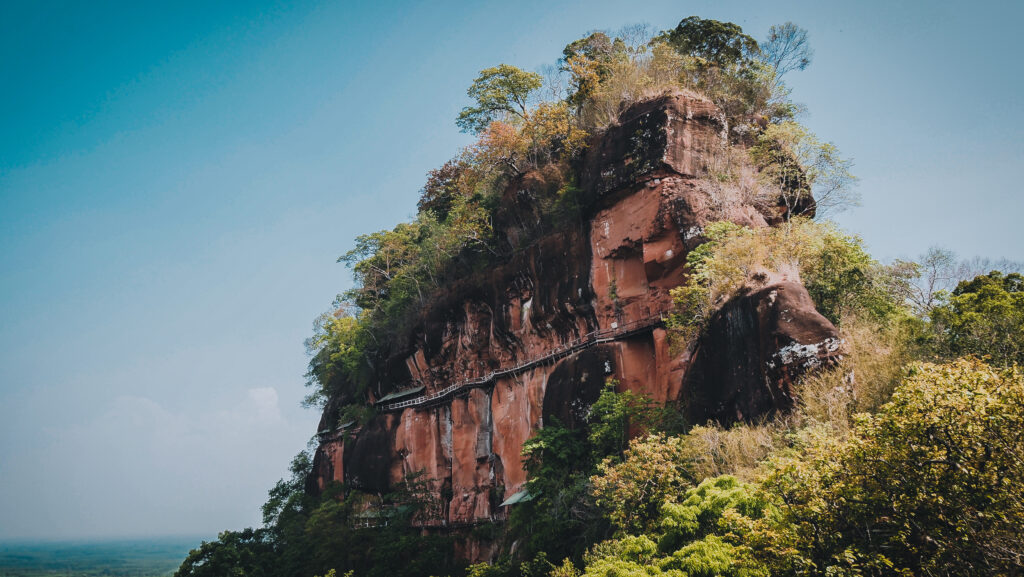 Around the parking, there is another big temple with a beautiful lake as well as Atthaborikhan Museum Chedi Phra Ajarn Juan Kulchetto, dedicated to the founder of the entire place.
I grabbed my water bottle and started climbing the wooden stairs and ladders up the rocky mountain of Phu Thok. Even though there was some shadow created by the trees, I stopped frequently to wipe the sweat off my forehead.
Wat Phu Tok is certainly one of the most unique and exciting temples I've visited in Thailand. The whole experience of climbing and the panoramic view from the top reminded me of the visit to Wat Chalermprakiat Mountain Temple in Lampang Province in 2022.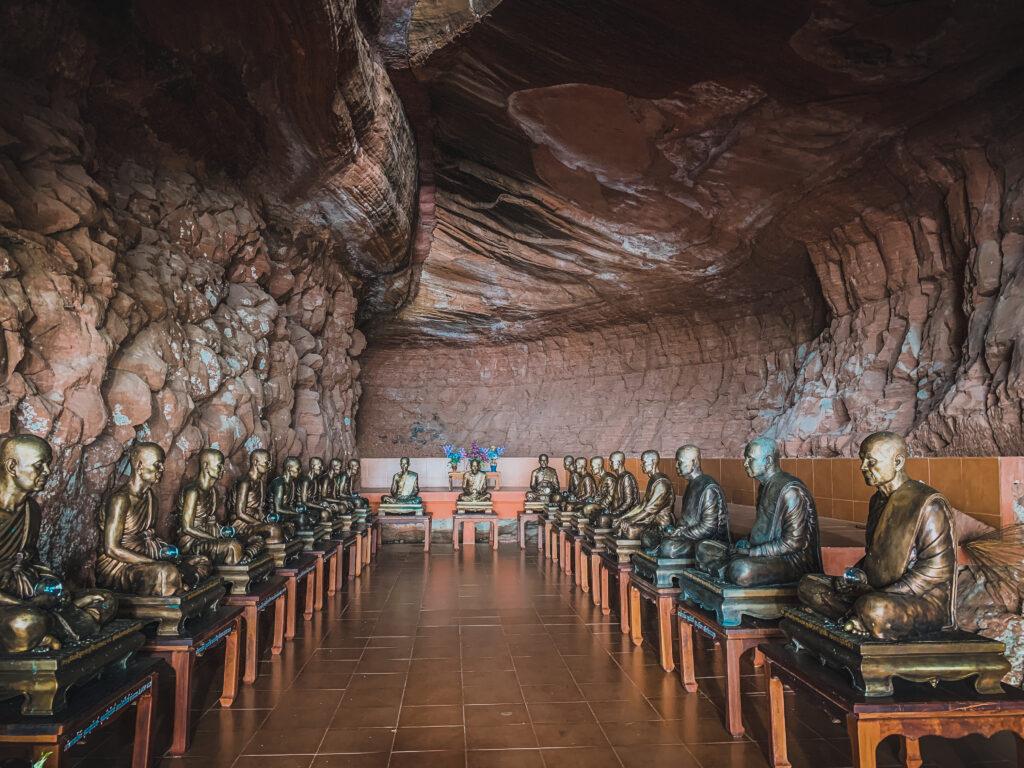 Phu Tok Mountain is 359 meters high, and the name literally means "a lonely mountain". Indeed, there aren't any other significant peaks in that area. Due to its isolation from the outside world, it seemed to be the perfect place for meditation, and the construction was initiated by Phra Ajarn Juan Kulchetto, one of Thailand's most venerated monks. Several wooden staircases, ladders, and walkways were created on seven levels to connect meditation places, shrines, and Buddha statues. Number seven is not a coincidence as it relates to the seven stages of awakening that lead to Nirvana. The construction was finished by 1980, including the walkways into the sides of the cliff, providing a 360-degree panoramic view of Bueng Kan District.
The navigation is rather simple and even though sometimes you will have to decide to turn left or right, the best is to just follow your intuition and immerse yourself into this place. Sooner or later you will reach the top level anyway. Keep in mind that following wooden walkways hanging at the edge of the cliff is not something for people afraid of heights. The construction is stable, but still, it's hard to get rid of the thought that you are several hundred meters from the ground.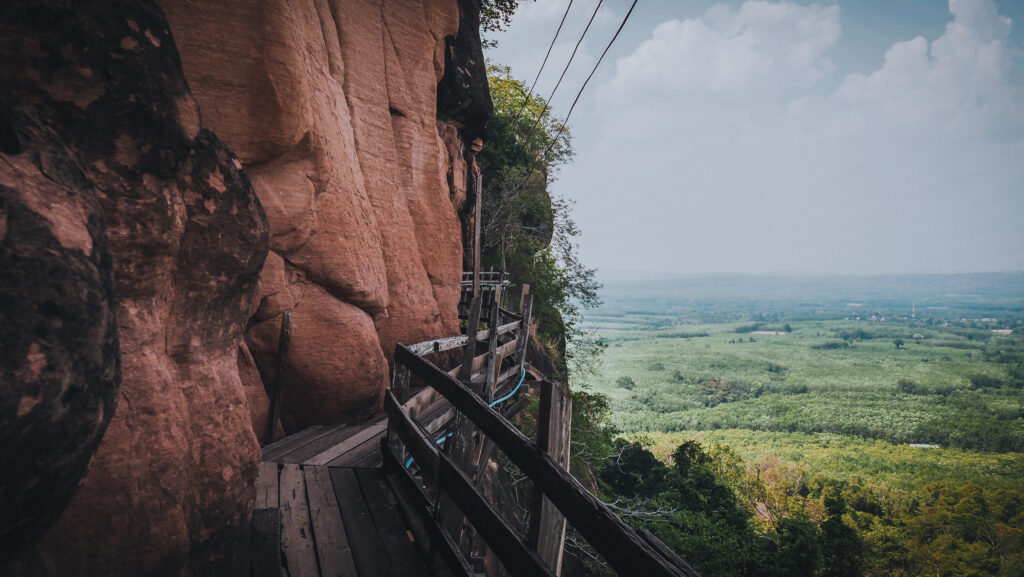 On level 5, you will see an impressive boulder and a small pavilion with the relics of the Buddha and a statue of Ajarn Juan. The views are breathtaking and it's a good photo spot to capture the walkways installed on the rocky wall.
The summit of Wat Phu Tok is on the 7th level, but it's mostly covered with vegetation. There will be two nice spots for taking photos if you decide to make a loop walk around that area. I strongly recommend doing so!
When going down, I was trying to take different walkways and staircases than I did on the way up. The whole sightseeing experience took me about 2 hours, at a rather relaxing pace. It was a good and sweaty exercise but worth it! Some of the walkways may look a bit terrifying but in the end, I felt only positive thrill and excitement.
Other places to visit
As already mentioned, visiting Wat Phu Tok should take you between 2-3 hours. If you have your transport, you may want to fill up your day with some of the attractions mentioned below.
Chet Si Waterfall
It takes about 1 kilometer of walking to get to the waterfall from the parking area. There are several levels to explore but be careful as the rocks may be slippery. Best to visit in the rainy season, otherwise there might be no water and no fun 🙂
Tham Phra Waterfall
On my visit in May, the waterfall has run mostly out of water but I still enjoyed the visit to this place. The sandstone cliffs are beautiful and the eroded pools filled with water are good for cooling down. It's an excellent place to take some pictures and enjoy nature. You need to get a short boat ride from the pier to get there, which usually cost 50 THB per person for a round trip but you might be charged more if you are a solo traveler.
Three Whale Rock
Another stunning rock formation in the region with incredible views of the Isan countryside and the Mekong River in the distance. The bus to the top together with a guide will take you to five stops including Three Whale Rock. It costs 500 THB per vehicle which can fit up to 8 people. Yellow tape lets you know how far you can go toward the edge of the rock.
Phu Langka National Park
A great park with well-maintained trails. The most popular one to Nakee Cave takes about 3 hours for a round trip and a moderate level of fitness is required. When going up, you need to take at least one guide per group of no more than 10 people. No need to book in advance but it's recommended to go early in the morning to avoid heat. During the rainy season, there is a beautiful waterfall along the trail. The park seems to be closed in May. The entrance fee is 200 THB for foreigners.
Naka Cave
The round trip takes about 4 hours and you should be moderately fit. There are lots of stairs to climb so carry plenty of water and something to eat. The mountain has rocks with the texture of snakeskin and also some rocks that look like snake heads. During the weekends, it's recommended to book your hiking trip with the QueQ application. You will be assigned a guide who will accompany you and tell you more about the cave and the mountains around.