Riding a motorbike in Laos can be a thrilling and adventurous experience, offering you the freedom to explore the country's scenic landscapes and remote areas. By many, it is claimed to be the absolute best way of traveling there, and even though I had my ups and downs, I agree with that statement. There is nothing better than a full tank and a worry-free ride 🙂
The most obvious city to start and finish the North East Loop is definitely Luang Prabang. The route isn't as famous as Thakhek Loop and you will seldom meet any other riders. The basic scenario is about 780 km long but there are options for detours, even to remote Sam Nuea next to the border with Vietnam.
When to go?
The most popular time to visit Laos is between November and April, at least if you don't like rain as it's the dry season. However, nothing is as easy as it seems. You won't get wet, but it's the time of intense agricultural burnouts with dense haze hanging over the mountains and the air quality is regularly rated as unhealthy.
I traveled to Laos in March but next time I would go at the very beginning or at the end of the rainy season, so in October or May. Getting a bit wet is certainly better than breathing in all that air pollution and there is a higher chance to actually enjoy clear views of the mountains.
What to take?
To make your trip as enjoyable as possible, keep your luggage to a minimum and find a way to attach it to the seat of the bike (e.g. using bungee cords) rather than wearing a backpack all the time. There are some essentials you'll need to ensure a safe and worry-free journey.
Protective gear: A high-quality helmet is essential for any motorbike trip. I bought mine in Thailand and used it in Laos or Vietnam as well. If renting one, make sure it fits you well and the quality is good. Never save money on the helmet! You should also invest in riding gloves and pants. You will see plenty of people enjoying the time on the bike in T-shirts, shorts, and flip-flops but trust me, you need more especially for a long-distance trip.
Protective covers: Rainproof jackets and covers for your gear and backpack can protect your belongings from rain and dust. Believe me, Laos can be very dusty!
Repair kit: Carry a basic repair kit including tools and tire repair materials. This can be helpful in case of any mechanical issues that may arise during your trip. There are lots of villages on the way where people will help you out but you have to get there first, and on some sections, the traffic can be minimal.
First aid kit: Keep a well-stocked first aid kit with bandages, antiseptics, painkillers, and any personal medication you may need.
Phone with navigation apps can be useful for finding your way. Be sure to download offline maps in case of poor network coverage.
Extra fuel and water: In some remote areas, fuel can be scarce, so it's wise to carry extra fuel in a plastic bottle, just in case. Additionally, keep an adequate supply of water for hydration.
Motorbike rental
Most hotels and guesthouses rent themselves or can organize a motorbike for you. However, very often you won't be able to take it out of town for a few days ride. After asking around and reading some reviews, I found Anousay Motorbike Rental. They are a little bit pricier but have a decent selection of bikes and they do allow you to take the bike as far as you wish. As I was traveling solo, I decided to choose Honda Wave which was in a really good condition. Unfortunately, there is no way to leave the deposit instead of the passport. Bungee cords for the luggage were not provided so I had to buy them separately in the nearby shop.
Accommodation
You may notice that there are not many accommodation options available on booking.com or agoda.com, except for Luang Prabang. It's pretty normal in Laos and it's not because all the rooms are booked out. The owners simply don't care about advertising in this way. To get the best deal, check the reviews of guesthouses or hotels on Google Maps, choose a few that you like, and then visit them asking about the room and the price. Very often the deal will be also much better than when booking online.
The route
Stage 1: Luang Prabang to Nong Khiaw
Distance: 140 km
Time: 3-4 hours
Difficulty: Easy
There are a lot of things to do in Luang Prabang itself and I described the best activities in the separate article HERE. Once you enjoyed your time there and finally organized your motorbike, it's time to hit the road!
The first day is a nice introduction to the route as it is also the easiest, mainly because of road conditions which are really good for Laos standards. You will follow Road 13 to the north, following the Mekong River and Nam Ou River, all the way to Pak Mong, where you will turn right and continue for another 30 km to Nong Khiaw.
About 20 km from Luang Prabang, you have the first detour option to Pak Ou Caves. You can later rejoin Road 13 following a mostly unpaved road along the Nam Ou River. The caves are filled with thousands of gold lacquered Buddha statues of various shapes and sizes that have been placed there over the centuries. I would say that the area and the way to the caves are more interesting than the caves themselves.
Nong Khiaw is a small village located on the west bank of the Nam Ou River which attracts more and more tourists who want to experience rural life. Narrow footpaths ascend steep limestone cliffs to provide you with panoramic views. There are also caves and fantastic multiple-day hiking opportunities to even smaller villages, with an overnight at the atmospheric homestay.
I stayed here for 4 days, so much more than I intended as I am keen on hiking. It was totally worth it and from the perspective of time, I think it was the best place on the entire loop. The full description of this lovely place can be found HERE.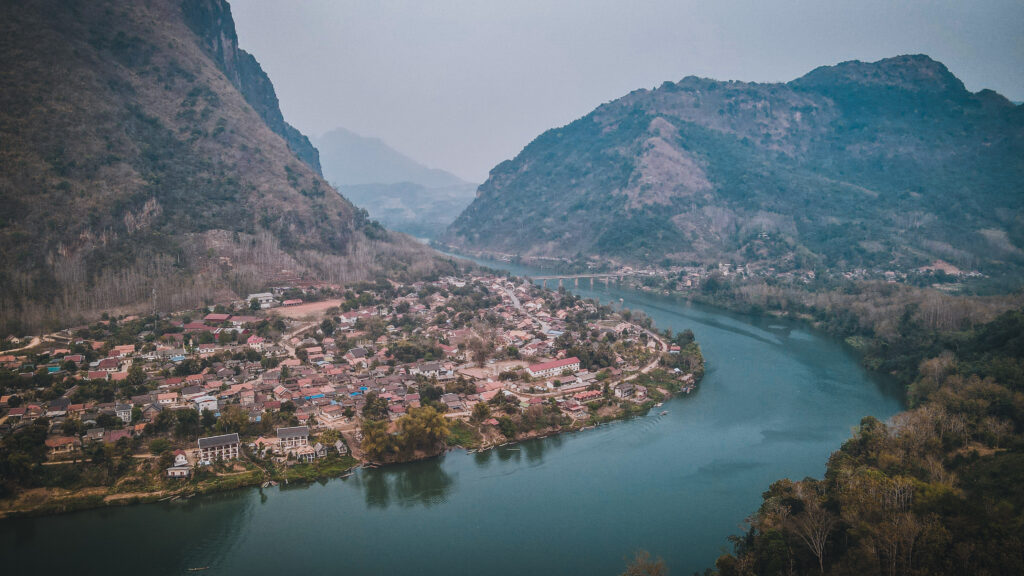 Accommodation:
I stayed two first nights at Nam Ou Riverlodge, which is nicely located just at the riverside. The bed was comfortable and there was a mosquito net which I always appreciate ? The hot shower was fine, though the pressure was quite weak. The room costs about 220.000 LAK per night. The owner also organizes all kinds of tours, so if you want to do a hike, you won't have to look any further.
Later, as the room was not available for extension, I stayed at Arthith Guesthouse. The views from the terrace were even better, and the room was clean and cozy. It was slightly more expensive than Nam Ou Riverlodge (300.000 LAK) but a delicious breakfast was included in the price.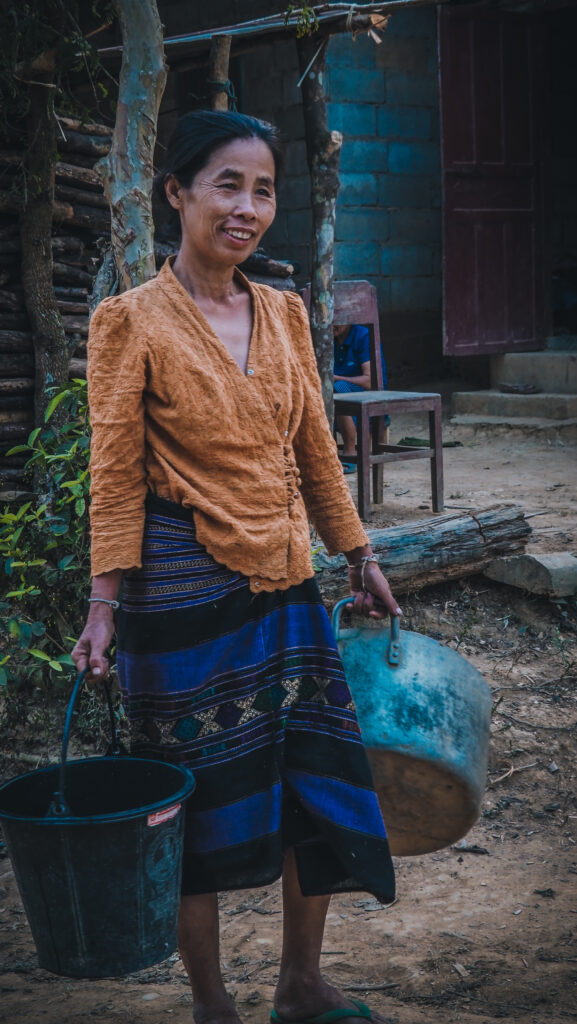 Stage 2: Nong Khiaw to Muang Hiam
Distance: 167 km
Time: 5-6 hours
Difficulty: Medium
This section was one of the most difficult for me on the entire route. There is very little traffic but the road is winding, with frequent potholes and some parts of it are unpaved for a few hundred meters just to become paved again and then the whole scenario repeats. Basically, you can't lose your focus even for a second as it can cost you an accident. Ride carefully! There are villages on the way but food options are limited to snacks so better take something with you from Nong Khiaw.
Stay on the Road 1C for the whole time. There are a lot of picturesque mountain panoramas so take your time and plan some stops to fully enjoy it.
Muang Hiam is a small town that doesn't see many tourists. The highlight is definitely Nam Et-Phou Louey National Park and I recommend you to visit their Information Centre. There you can learn about the work they are doing to conserve some of Lao's most endangered species. They also offer multiple day hikes as well as 24 Hours Night Safari which I wanted to do but it turned out to be crazy expensive for a solo traveler like me and there were no other people willing to join. Next time!
Natural hot springs are located a bit further north beyond Nam Et-Phou Louey Information Center, just follow the dirt road. Nothing too exciting to do there but you may walk around and buy some eggs for cooking in the boiling waters if you get hungry.
Accommodation:
I stayed at Heungkhamxay Guesthouse with an airconditioned room for 150.000 LAK per night. There are not too many restaurant options in the town but you will find some around the Nam Khan River Bridge.
Stage 3: Muang Hiam to Phonsavan
Distance: 207 km
Time: 6-7 hours
Difficulty: Easy
Quite an easygoing section although a long one. The road is paved and in relatively good condition. Follow road 1C for about 60 km until you reach an intersection in Ban Kor Hing. Then, turn right and head for about 90 km to the south towards Muang Kham. It's worth making a short detour to Tham Piew Cave. It's a historical site that was the scene of a human tragedy during the war. In 1968 the US Air Force fired a missile directly into the cave, which at the time was used as a shelter. 374 people were killed. The interior of the cave is filled with small rock piles, as a memorial to all those who died.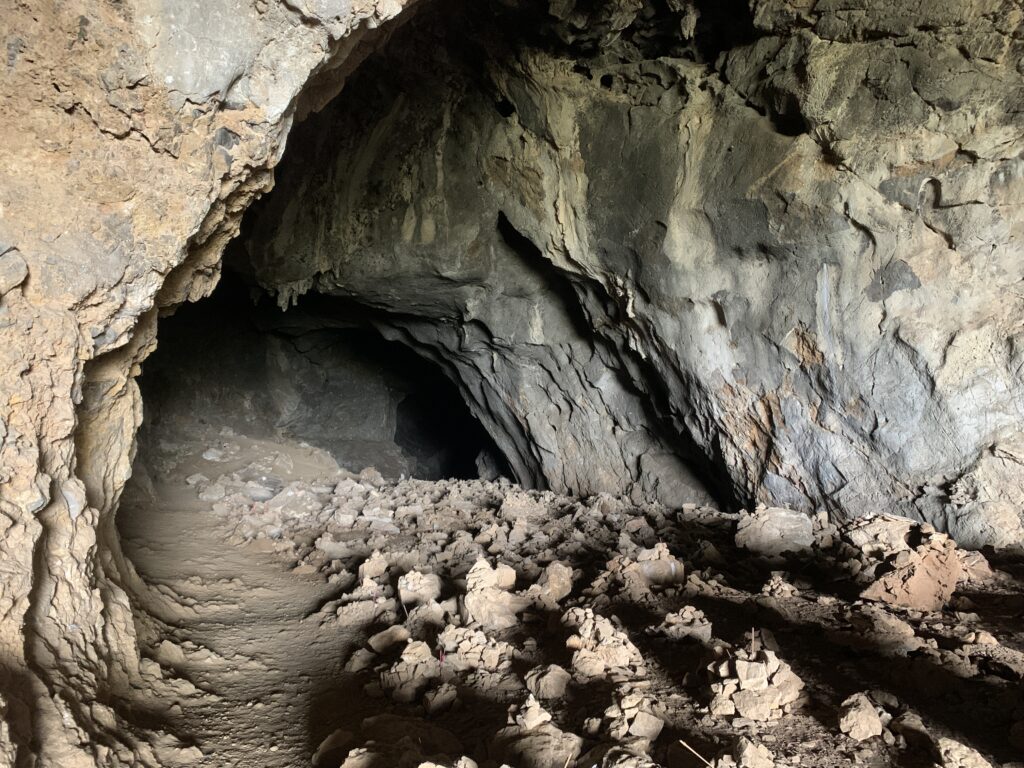 In Muang Kham you can refuel and easily find something to eat, so it's a good place for a longer break.
If you still have some energy and time and are up to some offroad adventure, you may do a detour to Ban Phakheo Village. Normally, 2 days hike to that Hmong village, including a visit to nearby Jar Site 52 and Tad Ka Waterfall costs way over 100 USD when organized for a group of 1-2 people from Phonsavan. I believe it's way too much for a hike in Laos so why not go on a motorbike independently? Look for "Turn-off to Tad Ka Waterfall" in Google Maps and follow the dirt road for about 1,5 km when you will have the junction to Pakheo. Turn right and just follow the dirt road passing by some other small villages on the way, until you reach your destination. The road is in decent condition and can be easily done on Honda Wave or similar. The panoramic views around the mountains are amazing and the location of Ban Phakheo is superb too. It's well worth visiting here independently, even though the hike must be nice too.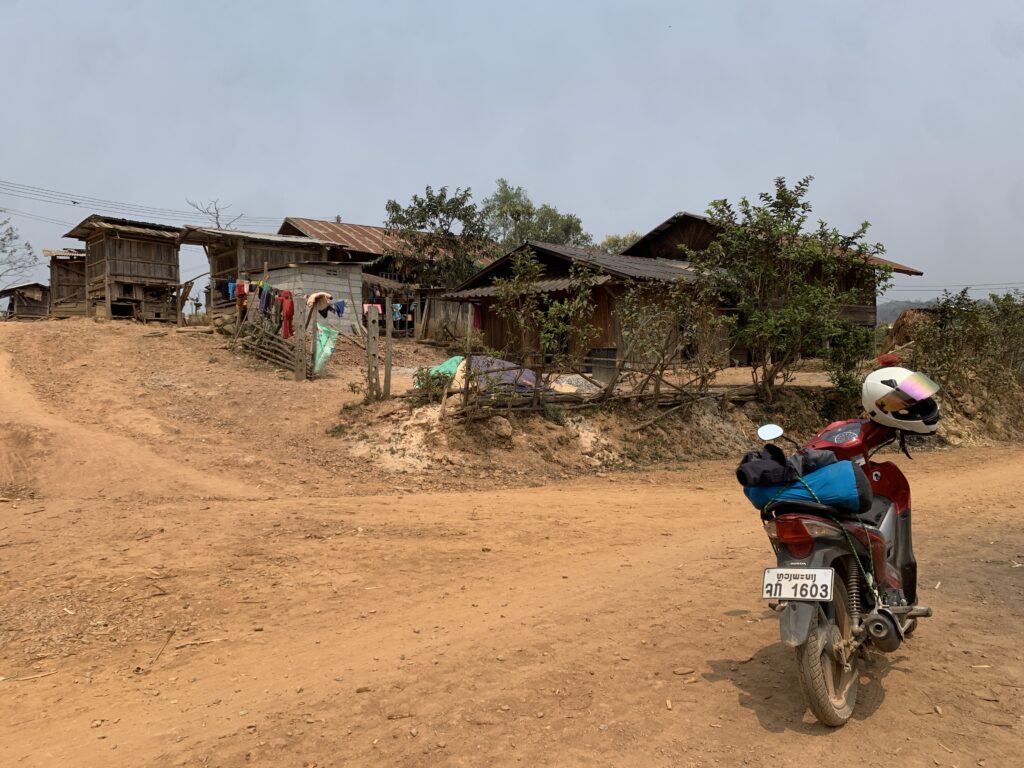 From Muang Kham, it's another 55 km to Phonsavan, the capital of Xiengkhouang Province. There is not a lot to do in Phonsavan town itself, but you can easily spend two days exploring the area, especially the nearby Plain of Jars. Those mysterious giant stones are empty inside and archaeologists assume that they were used for burial rituals. Other places worth seeing are Muang Khoun, which was once the royal seat of the small kingdom of Xieng Khuang or Long Chien, a secret CIA airbase that was once the busiest single strip airport in the world, although getting there may be difficult on a small motorbike so check with your guesthouse first.
You can read all about Phonsavan and nearby attractions in a separate article HERE.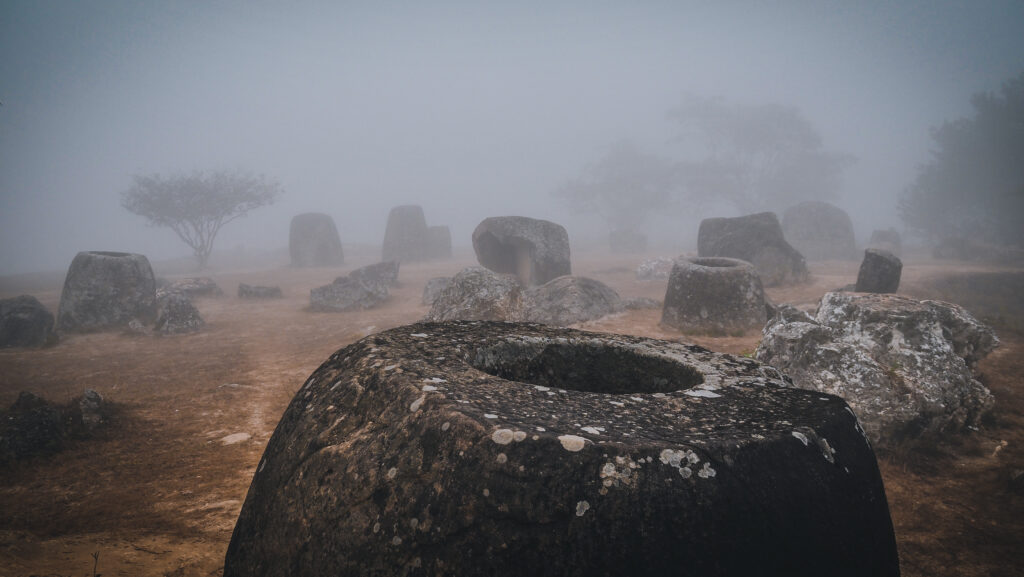 Accommodation:
I arrived without a reservation at Kongkeo Guesthouse and took a private room for 200.000 LAK. They offered also a bed in a dormitory for 70.000 LAK but I had to work online on that night. It was a nice room with a double bed, mosquito net, and a hot shower with really good water pressure which isn't a norm in Laos. Laundry is available too, at 20.000 LAK per kilogram.
Alternative:
Stage 3 can be broken into two parts with possible extensions to Sam Nuea and Viang Xai Caves.
Stage 3.1: Muang Hiam to Sam Nuea
Distance: 152 km
Time: 6 hours
Difficulty: Easy
From Muang Hiam, follow Road 1C to the intersection in Ban Kor Hing, and then instead of turning right, continue straight staying on Road 1C. From this point, it will take you about 3 hours to arrive at Sam Nuea. Take a walk around the town and visit the lively Fresh Market.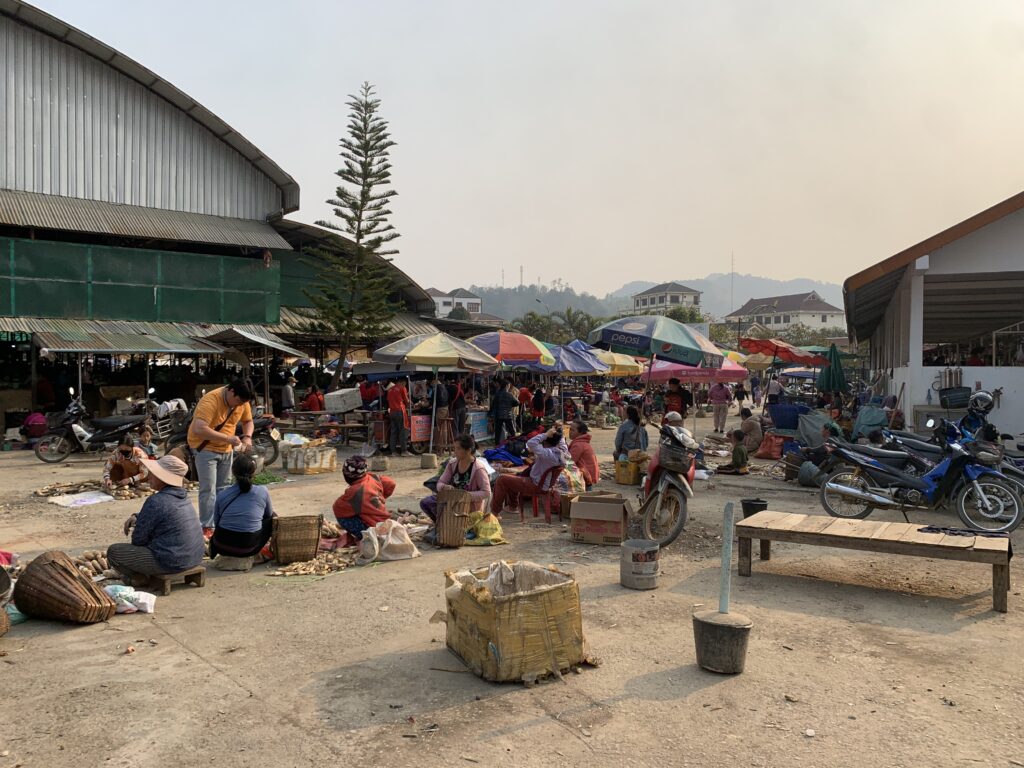 Viang Xai Caves are another 30 km outside of the town but are well worth visiting. We got an audio guide, but next to that, our guide explained a lot himself as well. It's quite shocking to learn how thousands of Lao people successfully hid in the caves from the massive US bombing during the Secret War. There is a tour at 9 AM and another one at 1 PM. Entrance fee: 60,000 LAK. If you arrive outside of the tour hours, you will need to pay extra.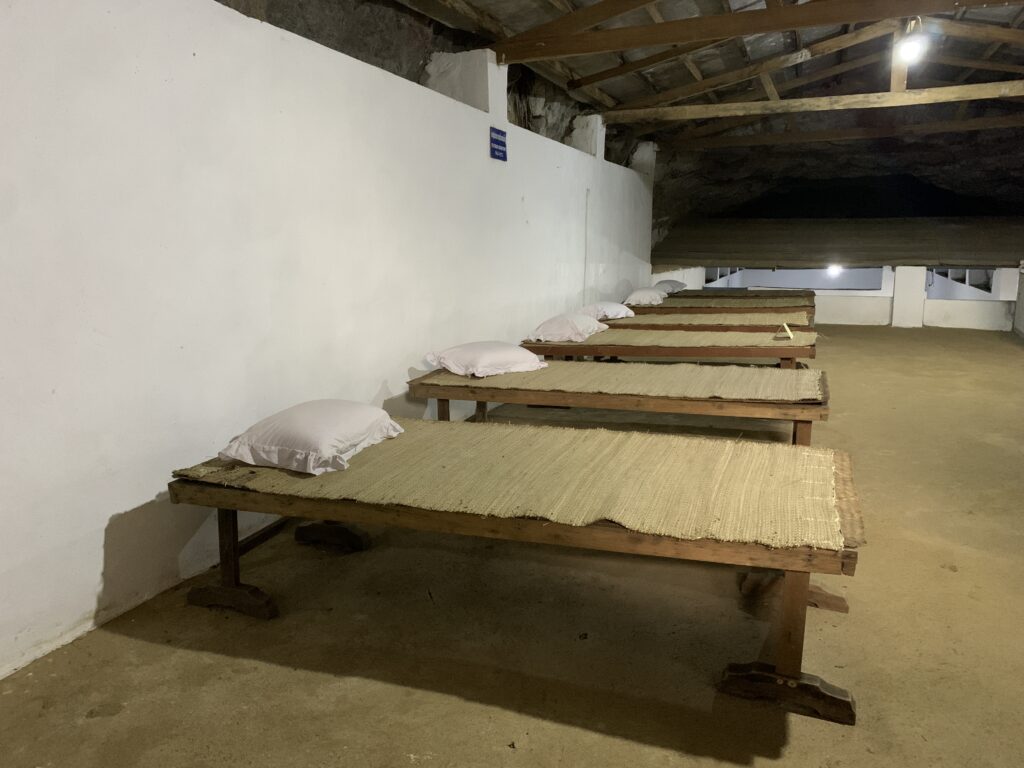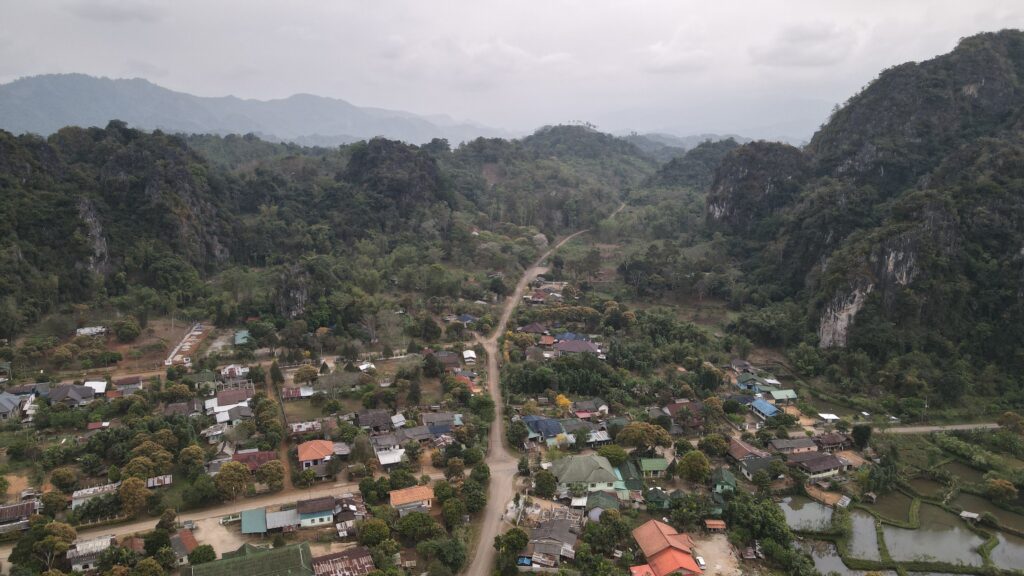 Accommodation:
The room at Khamxam Guesthouse in Sam Nuea was really spacious and comfortable. There is a parking in front and they lock the bikes for the night.
Stage 3.2: Sam Neua to Phonsavan
Distance: 239 km
Time: 7 – 9 hours
Difficulty: Medium
The main difficulty is the long distance, but taking into consideration a number of interesting sights on the way (Tham Piew Cave, Ban Phakheo), it would be smart to break it into easier and more enjoyable 2 days. You need to ride back to the intersection in Ban Kor Hing and then turn left, following the original Stage 3 described above.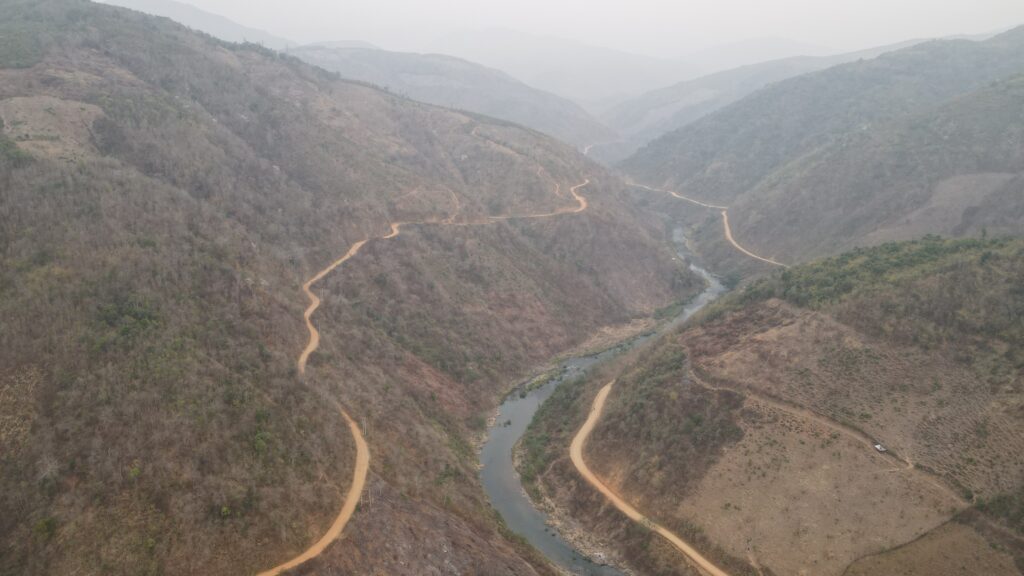 Accommodation:
As already mentioned above, Kongkeo Guesthouse in Phonsavan cost me 200.000 LAK. They offered also a bed in a dormitory for 70.000 LAK if you don't mind sharing the room.
You may also break the ride and spend the night in Keomixay Guesthouse in Sop Lao Village. It will work especially well if you spend the morning at Viang Xai Caves, as then reaching Phonsavan on the same day is rather unrealistic.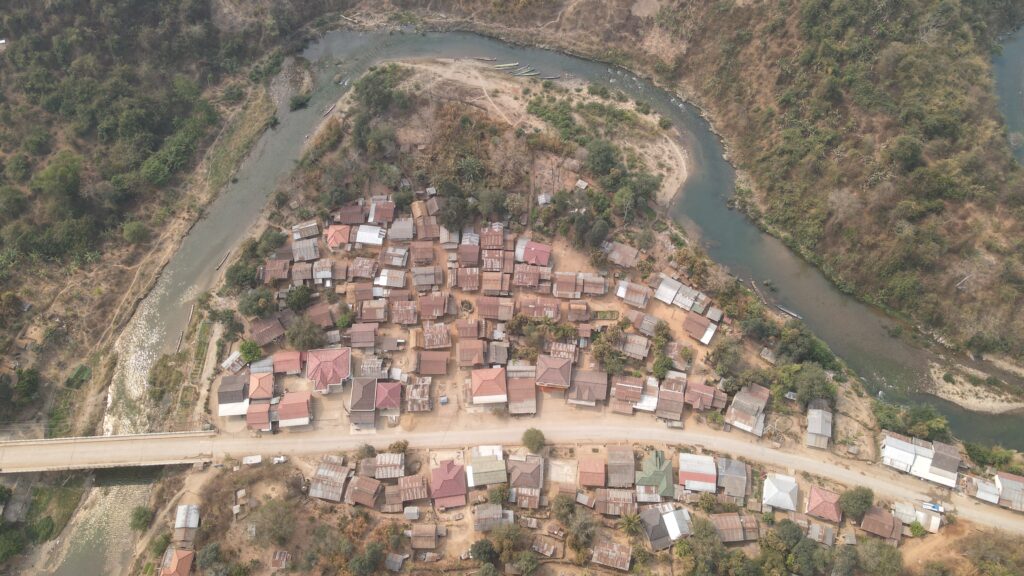 Stage 4: Phonsavan to Phou Khoun
Distance: 136 km
Time: 4 – 5 hours
Difficulty: Medium
The road is paved and in good condition but very winding so take your time and stay focused. In my opinion, it's the most scenic and enjoyable ride on this loop, with vast panoramic views of the mountains and the valleys with Hmong villages below.
Accommodation:
In Phou Khoun, turn left and follow Road 13 in the southern direction. After about 3 km you will pass by Sala Phou Khoun Guesthouse. There is no obvious sign but as soon as I stopped, I was greeted by the owner who showed me the room. They also cooked dinner and breakfast for me which was very delicious. The views from the terrace at sunset must be splendid too but at that time of the year, air pollution due to agriculture burnouts was just horrible.
Stage 5: Phou Khoun to Luang Prabang
Distance: 128 km
Time: 5 – 6 hours
Difficulty: Hard
This section was definitely my most horrible motorbike ride in Laos. Even though for most of the distance the road is paved, it's still covered in dust due to many trucks passing by every day. Overtaking is difficult due to many tight corners and sometimes you are just stuck for a few kilometers behind a huge truck, riding in the cloud of dust. Prepare yourself as much as you can, preferably wearing a decent face mask.
At some point, I even lost interest in the views and taking any pictures as I didn't want the trucks that I had already overtaken to catch up with me. So, I simply pushed all the way back to Luang Prabang to return the bike and enjoy a hot shower in the guesthouse. The bike return went smoothly. I simply had to pay something extra as I agreed through Whatsapp to extend the rental period and then I got my passport back.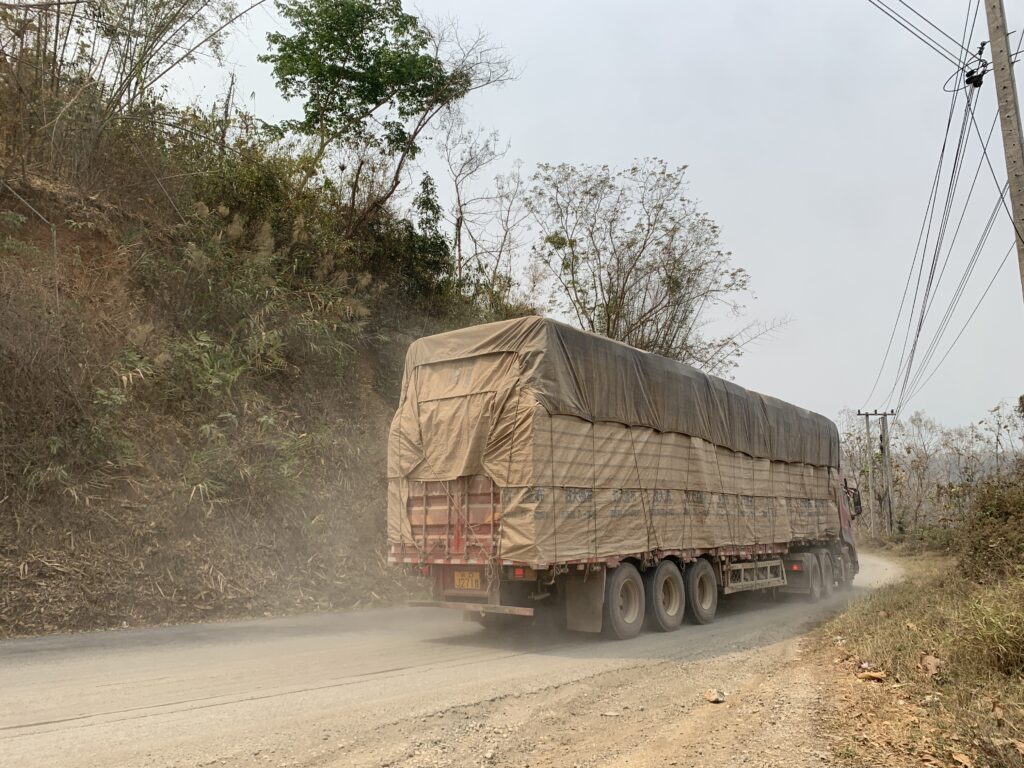 Accommodation:
I spent in Luang Prabang probably over a week in total. During this time, I stayed in three different guesthouses.
The first one was Beauty Season 1935 Hotel. Nothing too fancy but a pleasant stay. I didn't like the entrance door to the room with a kind of wooden shutter so you can hear everything from the outside and probably people outside could hear you talking inside the room until late hours at night. Not ideal for digital nomads to have Skype calls.
The second and best one was Chaliya Boutique Garden. Comfortable room with fast internet and free bikes available for exploration of the city. The only problem was the price (25 – 30 USD per night) and I also didn't like the fact that everything was quoted in USD and not in local currency.
The last one was PP Guesthouse where are arrived without booking. You should get a double room for around 12 USD, including a decent breakfast. Unfortunately, during 5 days of staying there, the room was never cleaned and I had to empty the rubbish bin myself as the teenage staff was too busy with their mobile phones.
Final thoughts
Was it worth riding the North East Loop in Laos? Once I finished it, I felt great satisfaction but it was also a challenging and tiring experience. Long hours on the bike, sometimes on poor-quality roads, not to mention the last day which totally destroyed me. Mae Hong Son Loop in Thailand and Ha Giang Loop were great and I would jump on the bike and ride them once again immediately. I can't say the same about the North East Loop in Laos though. It's one of these experiences that are good to do once in your life, but I definitely wouldn't repeat it, or simply I would save my nerves and butt and do it on a bus.