A small village located on the west bank of the Nam Ou River attracts more and more tourists who want to experience rural life. Narrow footpaths ascend steep limestone cliffs to provide you with panoramic views. There are also caves and fantastic multiple-day hiking opportunities to even smaller villages, with an overnight at the atmospheric homestay.
When to go?
The best time to visit Laos is between November and April, as it's the dry season. However, try to avoid February and March if possible. It doesn't rain, but it's the time of intense agricultural burnouts with dense haze hanging over the mountains and the air quality is regularly rated as unhealthy.
How to get there?
From Luang Prabang to Nong Khiaw it's a bit over 140 km and you will need to get a bus to get there. There are many travel agents on the streets of Luang Prabang or simply ask in your hotel and they will set you up. Expect a travel time of about 3.5 – 4 hours and an approximate cost of 200,000 LAK. For bus connections, you may also check 12Go.Asia.
You can also get there by boat from Muang Khua, which must be a memorable experience. A shared boat with other passengers should cost about 150.000 LAK.
Where to stay?
I stayed two first nights at Nam Ou Riverlodge, which is nicely located just at the riverside. The bed was comfortable and there was a mosquito net which I always appreciate 🙂 The hot shower was fine, though the pressure was quite weak. The room costs about 220.000 LAK per night. The owner also organizes all kinds of tours, so if you want to do a hike, you won't have to look any further.
Once I was passing by Nong Khiaw for the second time, they didn't have an available room so I stayed at Arthith Guesthouse. The views from the terrace were even better, and the room was clean and cozy. It was slightly more expensive than Nam Ou Riverlodge (300.000 LAK) but a delicious breakfast was included in the price.
You may notice that there are not many accommodation options available on booking.com or agoda.com. It's pretty normal in Laos and it's not because all the rooms are booked out. The owners simply don't care about advertising in this way. To get the best deal, check the reviews of guesthouses or hotels on Google Maps, choose a few that you like, and then visit them asking about the room and the price.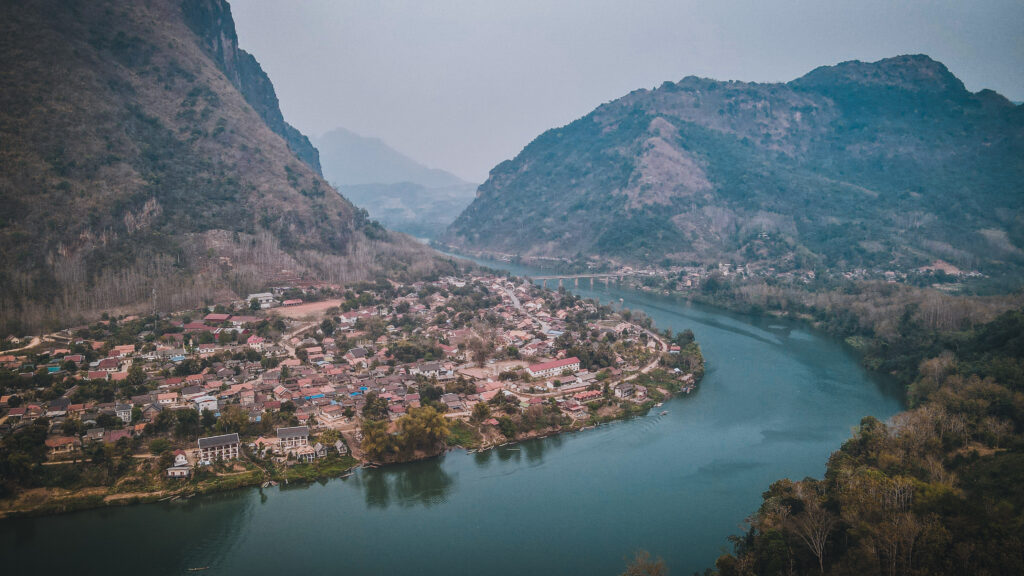 How long to stay?
It depends if you are a hiking enthusiast or not. I am, so it took me two full days to visit all the viewpoints and one of the caves in Nong Khiaw. I spent additional two days on the hiking trip with an overnight stay in the small village and a visit to Muang Ngoy and Tad Mook Waterfall on the way back. But longer treks are available too. I would say that you should plan a minimum of 3-4 days to fully discover the area. It's so beautiful that there's no point in rushing!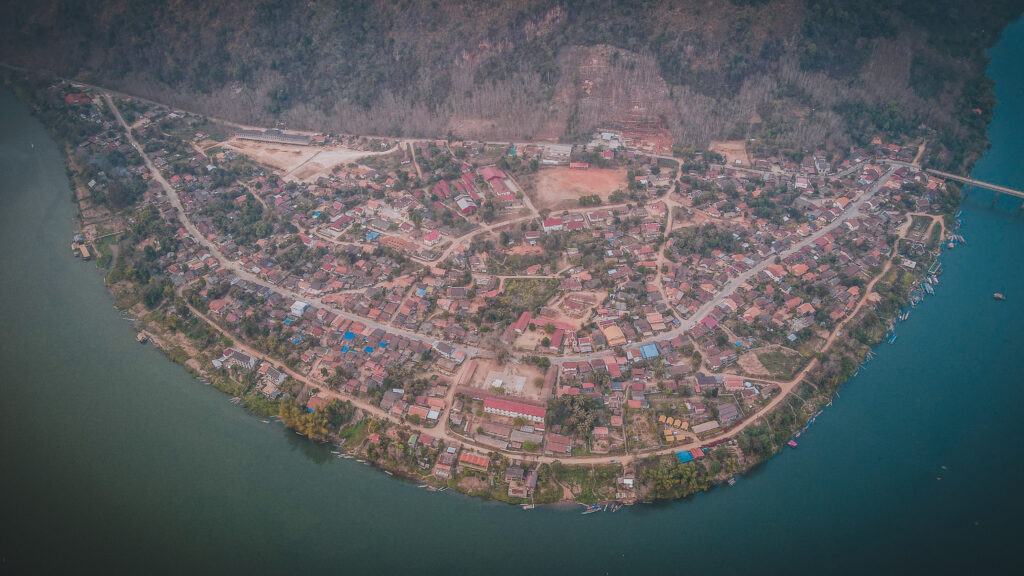 Viewpoints
Sleeping Lady Viewpoint
The first spot that I visited upon arrival. The way up at midday was challenging and very sweaty, but totally worth about one hour climb. The first viewpoint is halfway so it's a good place to rest for a while. Don't forget to stay hydrated! From the second viewpoint, the wide panorama of surging karsts and mountains, with the river flowing far below is simply amazing! I had the whole place for myself but probably more people came up for sunset.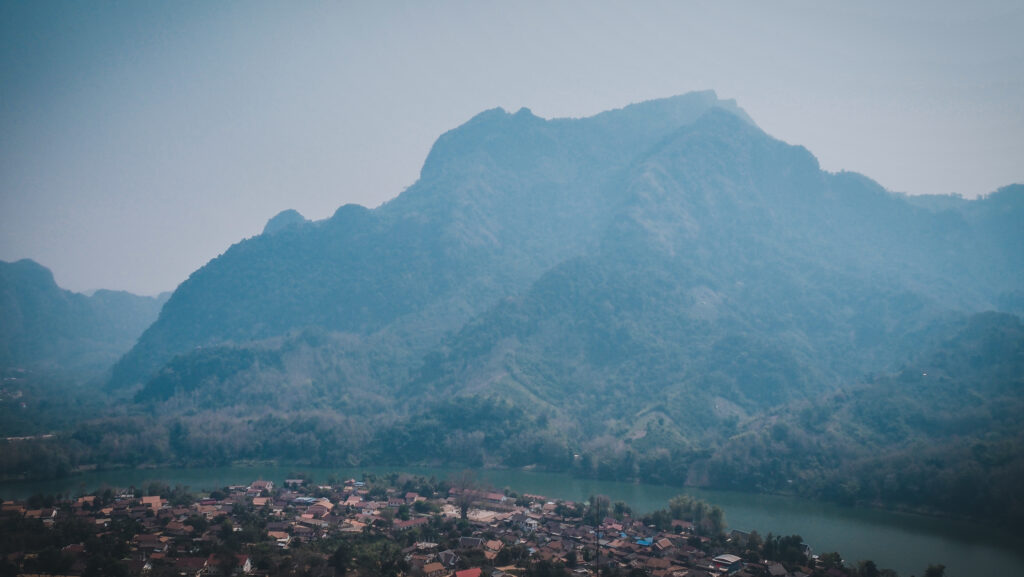 Som Nang Viewpoint
On the same day, I still had the energy for one more climb and made it for sunset here. It was much easier than going up to the Sleeping Lady Viewpoint. In fact, it was the easiest of all viewpoints in the Nong Khiaw area. The start point is just past the bridge's eastern end and there's an entry fee of 20,000 LAK. It should take around 30 minutes to reach the lookout and the trail is well-developed with stairs and handrails in place. There's a large viewing platform at the top, with benches for a comfortable sunset experience. If you want some drinks, get them before you start an ascent 🙂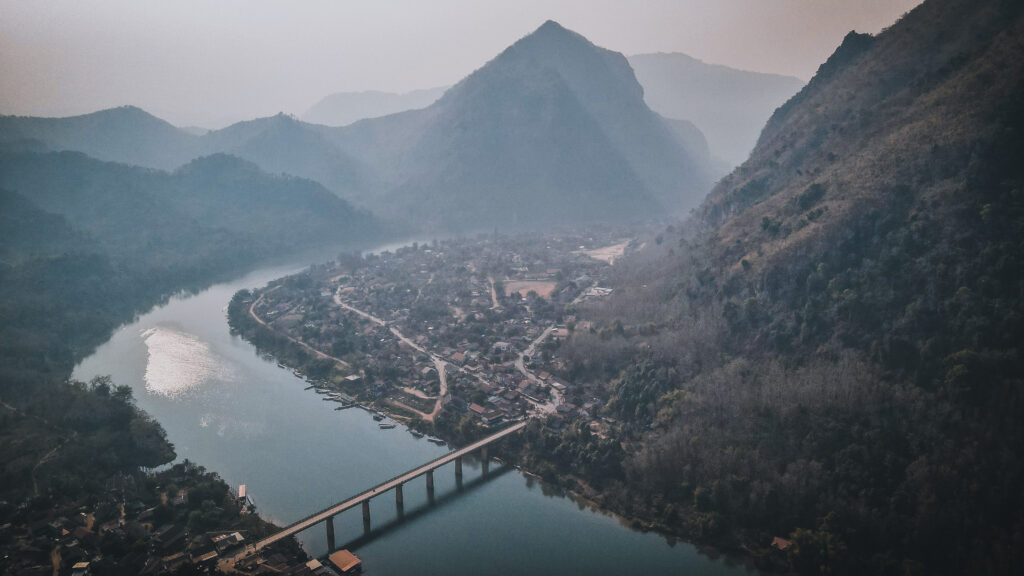 Nong Khiaw Viewpoint / Pha Daeng Peak
This viewpoint is positioned above the Som Nang Viewpoint so provides an even better panorama but it's a more challenging hike, taking about 1-1,5 hours to reach. There is an entry fee of 20,000 LAK. There is also an option of camping at the top.
Phar Kew Lom Viewpoint
Without a doubt, the most challenging viewpoint to get to. Even though I was climbing early in the morning when it was still cloudy and cool, my T-shirt was totally soaked with sweat. At the top, I was rewarded with an incredible view. At the summit is a small platform where you can even camp for the night. It must be really amazing experience which I will certainly do next time! You should count at least 3 hours for comfortable ascent and descent. Entry fee 20,000 LAK.
Trekking
Nong Khiaw is a very popular starting point for 2-3 day hikes with overnight in the homestay in small villages. If you are short on time, 1-day activities are available too. I booked my experience at my accommodation, but you may also to it in the Nong Khiaw Adventure Tours office, on the corner just before the bridge.
Day 1
Once the group was complete (8 people), we got big bottles of water and took a tuk-tuk for a short ride to the beginning of a trail at Ban Ving Kham village. The first section was rather easy, but we were walking on mainly open terrain on a sunny day, so it was pretty hot. We arrived at the village where we took a rest and had lunch. It was also a good opportunity to take some nice photos of the wonderful local people.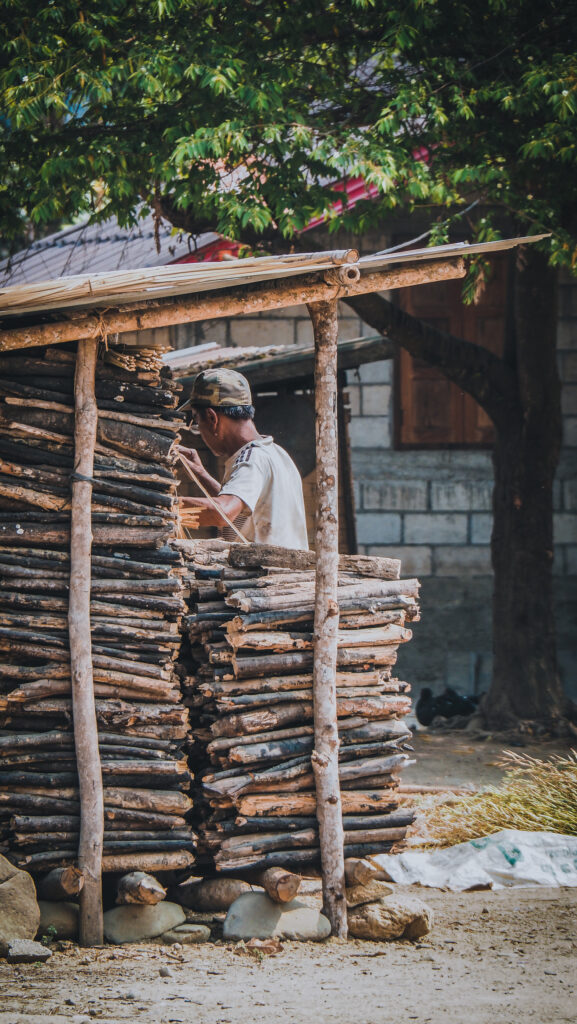 After the break. we continued uphill, which was probably the most difficult part of the entire trek. It was really hot and sweaty and probably the fact that we did the ascent just after lunch didn't help either. At the top of the hill, we made another extended break to take photos and simply enjoy a super scenic viewpoint.
The last stretch was down and then along the river, finally ending in the village. Our mattresses were on the floor, one by one, and over them was a mosquito net. We went to the river to swim a bit and above all, to clean ourselves as it was the only opportunity to do so on that day. The water was cold but after a tiring day, it felt good. Plus the smell of sweat was at least partially gone 🙂 I smell really bad after the whole day hiking in hot weather. The dinner was fine too, with rice and some traditional dishes to share, including pumpkin soup, laap, or tofu. After dinner, we tried some rice whiskey and spent time sitting around a fireplace and learning how to make bamboo baskets.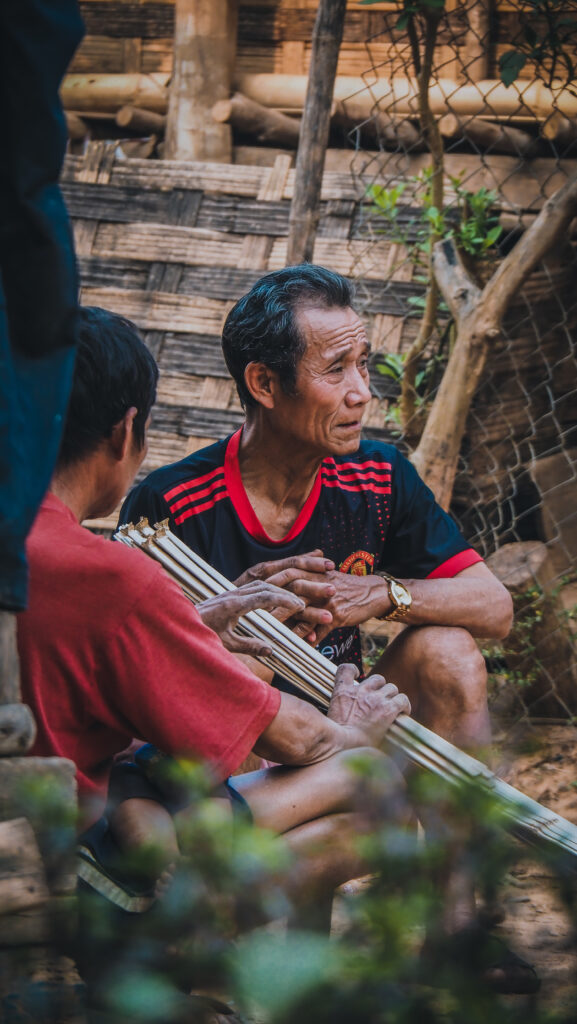 The village was very much alive so walking around provided a lot of cool photo opportunities and brought many smiles. The children were especially excited! I felt really grateful to have my online work and to be able to visit such places where time seems to have stopped.
Overall, it was a pretty long and challenging hike on that day. To be honest, more difficult than I expected, but of course, it was fully satisfactory! The village was just at the riverside and the homestay had a nice vibe.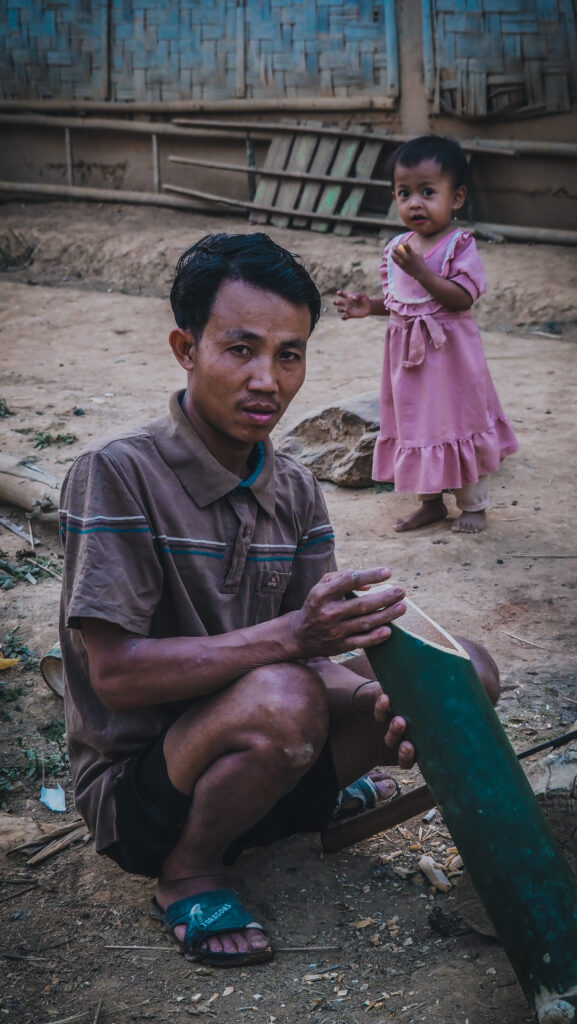 Day 2
We started the day with delicious rice porridge with papaya. Luckily, extra portions were available! While others were packing, I still had some time to walk around the village and take extra photos. So friendly people living there! Then, we went down to the riverbank and boarded the boat that took us to Muang Ngoy.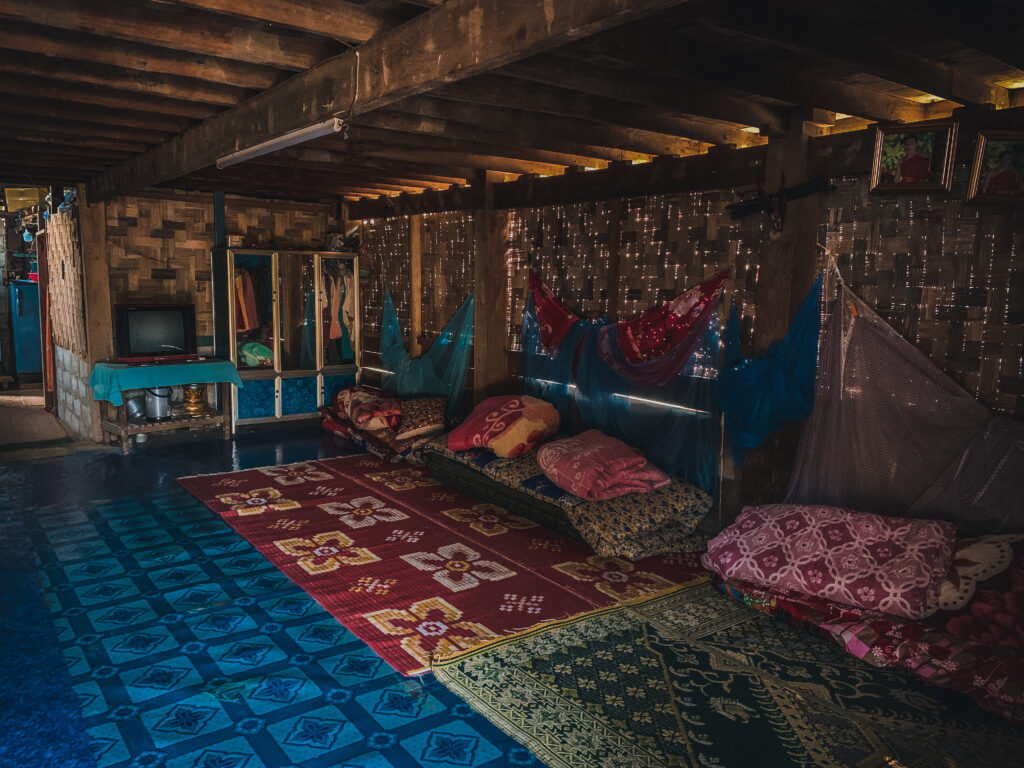 We started sightseeing with a climb to the Phanoi Viewpoint. Nothing too difficult but it's pretty steep and hot so don't forget your water. The panorama of the Nam Ou River was unbelievably beautiful and totally worth the effort. On the way back, we visited Phanoi Cave. After seeing the caves in Central Vietnam, others don't make a super big impression on me.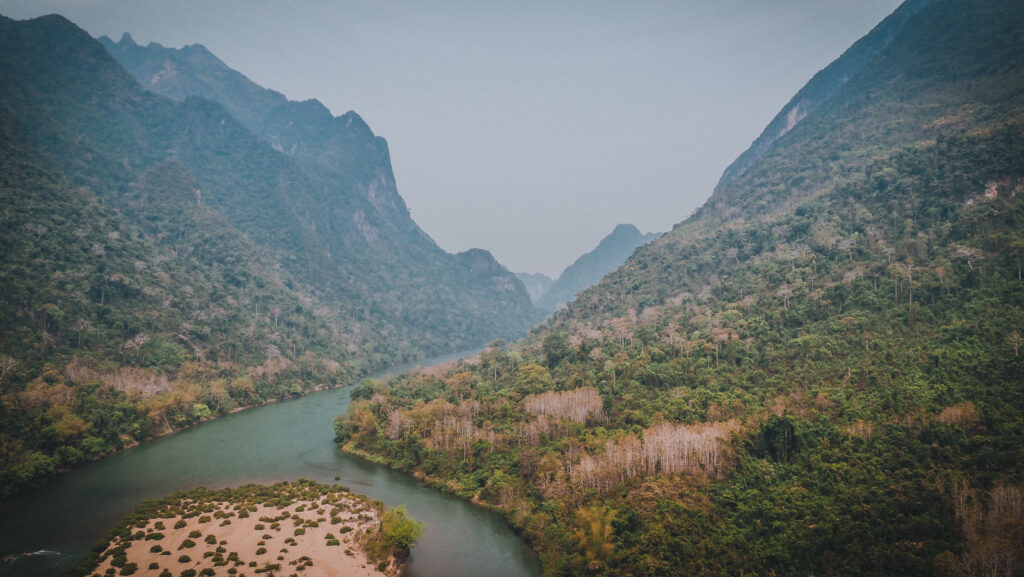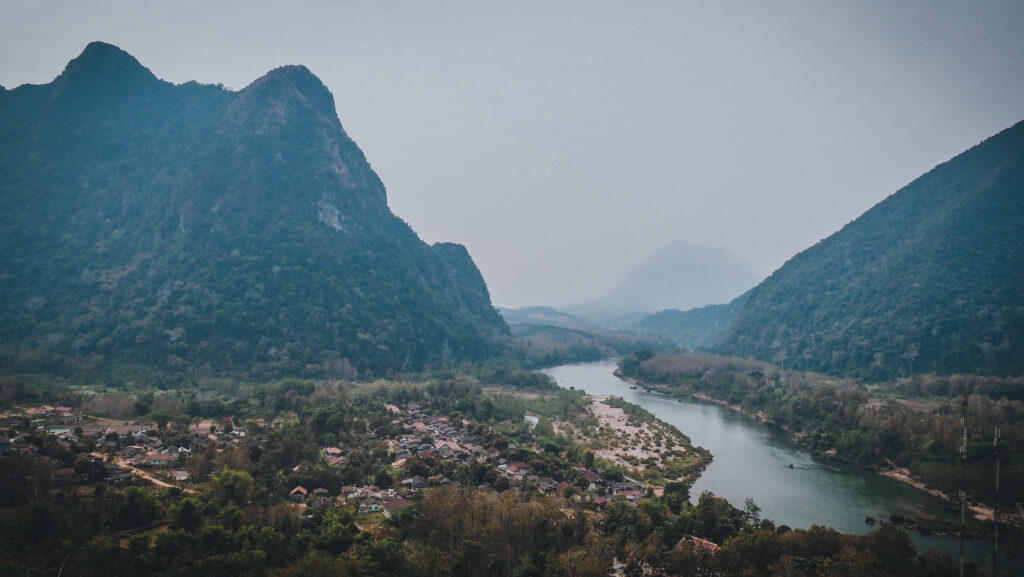 From there, we walked to the center of the village, bought some snacks there, and boarded the boat again to get to Tad Mook Waterfall near Sop Keng Village. It was about time to eat lunch, so we stopped at Yensabai Organic Farm and got some fried noodles packed inside a banana leaf. The organic farm seemed to be a nice place too and there were some people volunteering in a bar and/or staying for the night in tents. The remaining hike to the waterfall was very pleasant. First walking along beautifully green ricefields and then through the forest. Unfortunately, it seemed that all the groups arrived at a similar time, so the place got way too crowded. Despite that, it is a beautiful waterfall.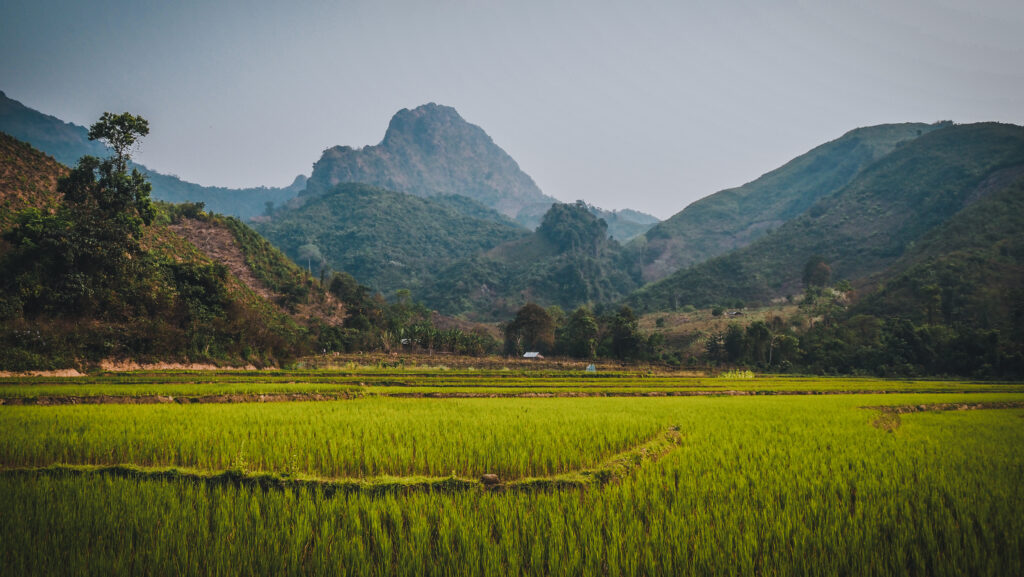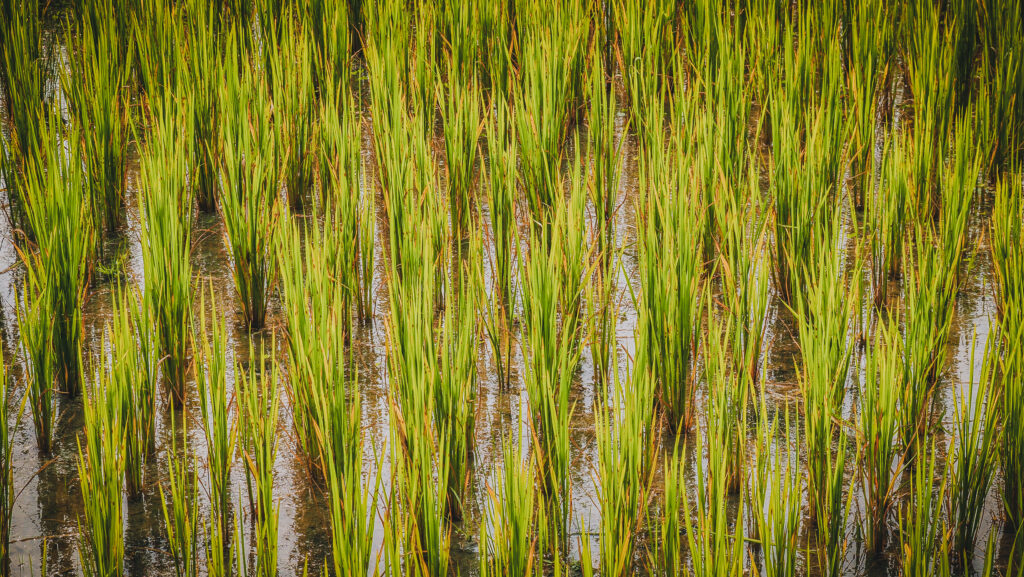 We hiked back to the boat, which took us a bit further down the river, and then we changed to kayaks. The paddling time to Nong Khiaw was probably around 30 – 40 minutes. Not too long but just enough as I could feel already a bit tired from two intensive days. The sun was getting lower and lower so it was a very scenic time to be on the river, quietly paddling and enjoying the sounds of nature.
Overall, the trip was really fantastic and I can wholeheartedly recommend hiking in Nong Khiaw and staying in a village homestay. I will definitely do more hikes in Phongsaly or Luang Namtha in the future!
Caves
Phathok Caves
Follow the road 1C past Phar Kew Lom Viewpoint until you reach the turn-off to the caves. They were used as shelters by the Pathet Lao during their fight with the US-backed national forces, in the 1970s. The first cave is the biggest one, around 30m high and accessed by a stairway. The second one is quite narrow and definitely not for people with claustrophobia. The third one is the smallest and least impressive of all. You will most likely be accompanied by local kids with flashlights, asking you for a tip at the end. You can say you don't want them to follow you but I don't think they will listen 🙂 Bright your own decent torch for safety and just to see more. On the way back you will cross paddy fields which were very green and looked gorgeous in the afternoon light. The entry fee is 20.000 LAK.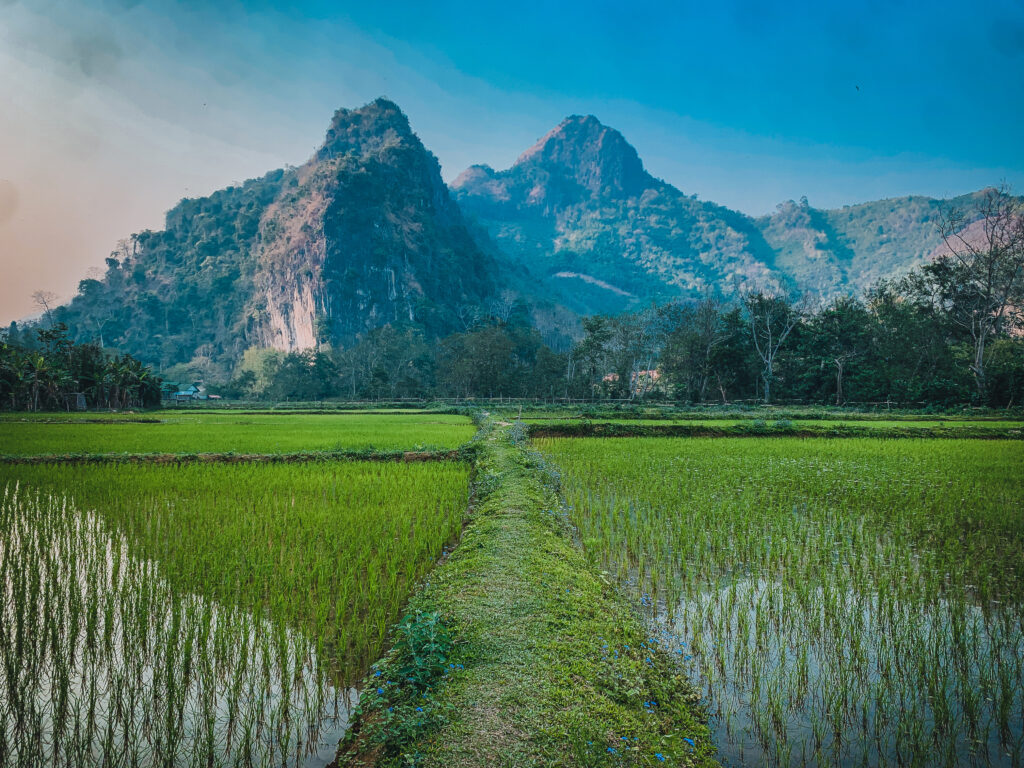 Pha Kuang Cave
Similar to Phathok Cave, this one was also used as a hiding place during the Indochina war. It's a place for people who are ready to get dirty and are not claustrophobic. It involves some serious crawling and going through narrow passages. I don't really like places like that so decided not to go. The entry fee is 10.000 LAK.