Lai Son and Nam Du are both quite undeveloped islands located in Kien Giang Province. Both places offer a relaxing environment for visitors looking to enjoy nature and the sea. The number of foreign visitors is still minimal but the islands are getting more and more popular among domestic tourists and it is said that future development in terms of tourism is inevitable. I spent three days traveling around Lai Son and Nam Du at the end of 2022. Was it worth it?
How to get there?
I bought my ferry tickets on the route Rach Gia – Lai Son – Nam Du – Rach Gia with Superdong. The islands aren't as popular as Phu Quoc so there might be just one ferry per day so be careful not to miss it. The whole trip was really smooth and the quality was good.
They have an office in Rach Gia at the following address:
No. 01 Lot 4, 3/2 Street, Vinh Thanh Van Ward, Rach Gia City, Kien Giang Province.
14 Tu Do Street, Vinh Thanh Ward, Rach Gia
Tel: (0297) 3877 742
Email: rachgia.sales@superdong.com.vn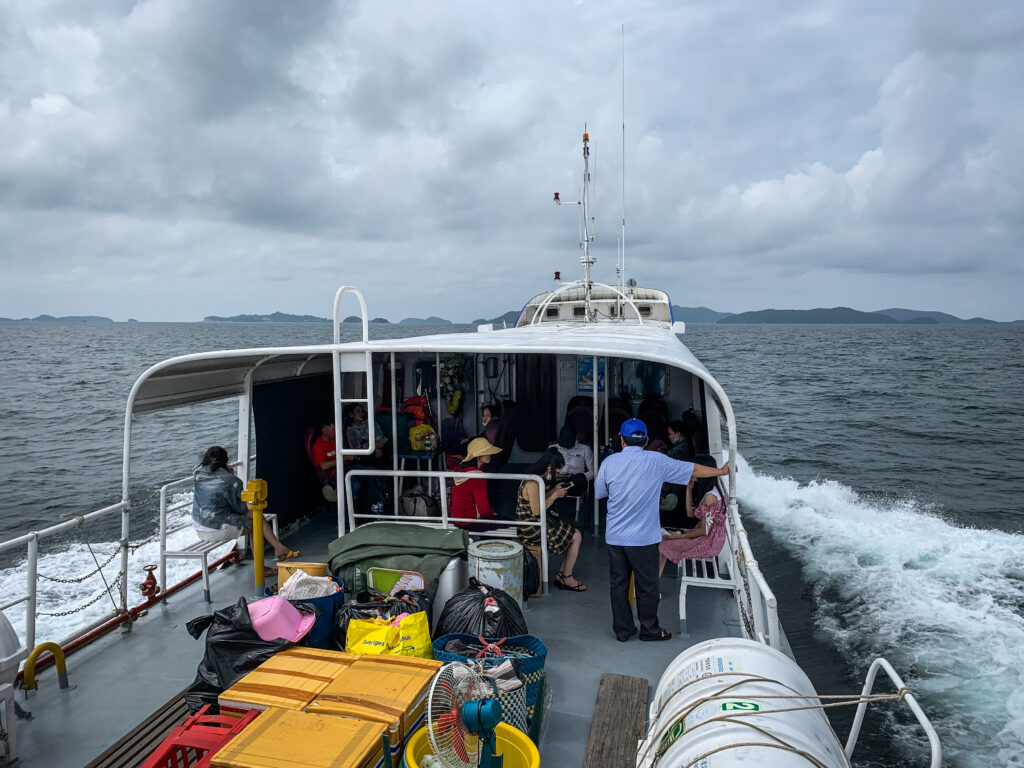 You may also check connections with two other companies: Phu Quoc Express Boat and Ngoc Thanh.
Rach Gia is a port city on the mainland, in the western Mekong Delta region. It can be reached by bus or plane from Ho Chi Minh City. You may check possible connections at 12GoAsia.
When to go?
The dry season in that area starts from December to April. The sea is calm and you will get a lot of sunshine. I was there at the beginning of November and the weather was far from optimal, with quite a lot of rain and clouds.
Where to stay?
Lai Son
Gia An Homestay (Gia An Nha Nghi) was a cheap and comfortable place to stay. It cost me 265.000 VND and I was also able to rent a semi-automatic motorbike there. The room was clean and had air conditioning.
Nam Du
Nam Du View Guesthouse cost about 300.000 VND but it definitely wasn't the place I would like to come back to. It had a nice terrace just at the seaside and if you went to the market to buy some seafood, the owner could cook it for you there. Unfortunately, it was super loud in the evening when a group of men decided to hang out, and of course as always on such an occasion in Vietnam, there was a karaoke until late hours. Of course, it happens in many places so you may be luckier than me 🙂 The noise was actually the only problem. The owner rents motorbikes too and he gave me a ride back to the port which was nice.
Rach Gia
For those who need to spend the night in Rach Gia before boarding the ferry, I recommend Kiet Hong Hotel. It cost only 180.000 VND, the room was really spacious and the port is just on the other side of the road. You can also leave your motorbike at their parking for a small extra fee.
How to get around?
On both islands, the best is to rent a motorbike and you can easily do so in your accommodation. They will either have one for rent or know someone who has 🙂 Usually, it costs about 150.000 – 200.000 VND per day.
If you travel around Vietnam on your own motorbike, it doesn't really make sense to transport it on Superdong Ferry as the cost of transfer exceeds the rental fee on the islands. It's better to leave it at the secure parking at some hotel in Rach Gia.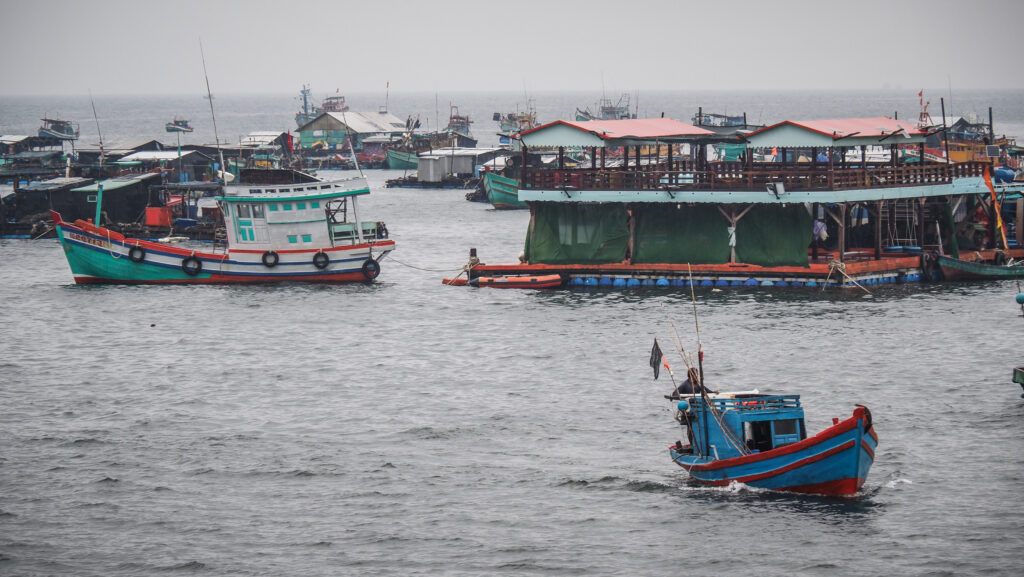 What to do on Lai Son Island?
Lai Son is located about 50 km southwest of Rach Gia. It is very undeveloped and I really had no idea what to expect. It was definitely a unique experience to be the only foreigner there at that time but all the Vietnamese people were very friendly and I received a lot of smiles. There is just a single road around the island connecting a handful of communities and remote beaches.
From the pier, it was only a short work to my accommodation at Gia An Homestay. Unfortunately, it started to rain just after I checked in and rented a motorbike. That's why I simply decided to take a nap and wait for a bit better conditions to start my ride.
About noon the weather improved, so I hit the road. I decided to go around the island first and then cross its interior following the road through the mountains. The first stop was at Lăng Ông Nam Hải which is a mausoleum of General Nam Hai overlooking the sea and fishing village.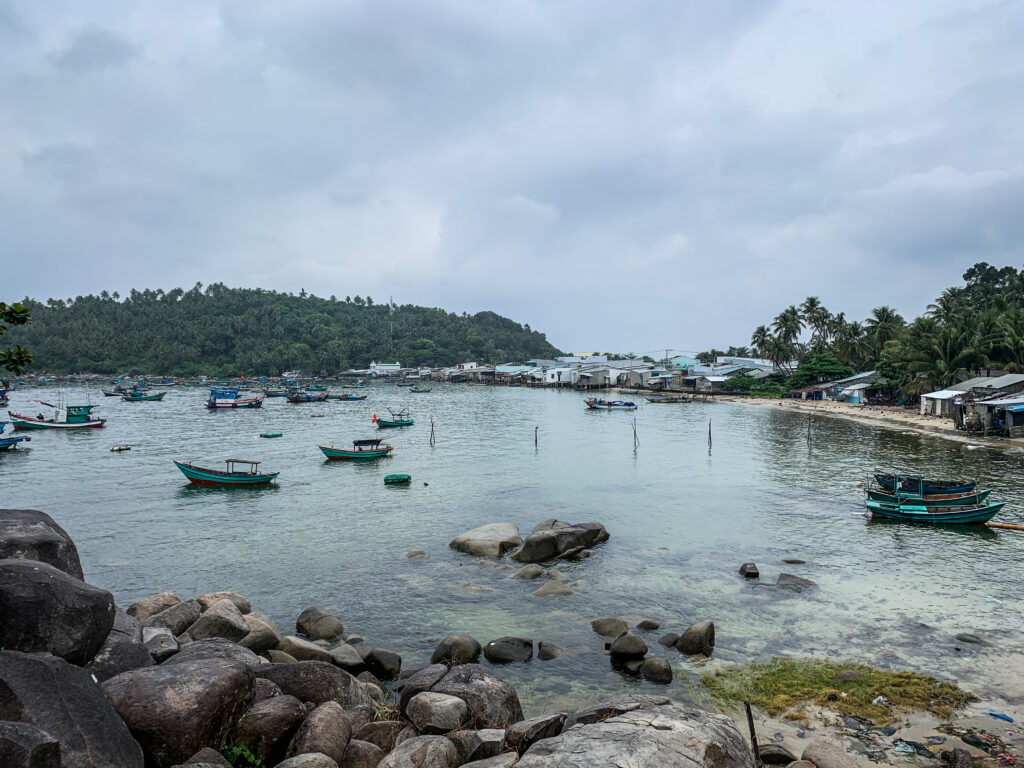 In the northern part of the island, there are some beaches such as Khu Du Lịch Bãi Đá or Ông Rùa Hòn Sơn with a kitschy statue of a turtle that everyone wants to take a selfie with. People never stop surprising me. The beaches are small and narrow and were full of rubbish. Definitely not a place for peaceful relaxing. Nearby the Bai Bac village, there is a scenic viewpoint called Đỉnh Núi Ông Rồng, which can be reached in about 30 minutes on foot.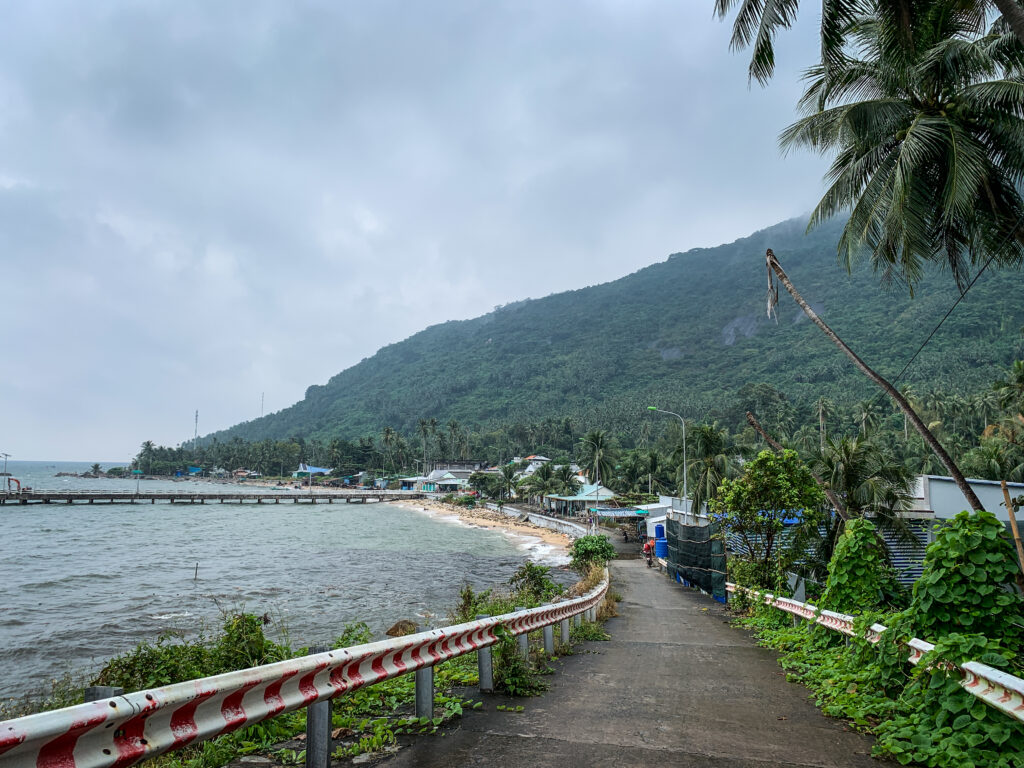 Further, on the east coast is Bãi Bàng Beach, which is probably the best on the island for relaxing, although rubbish is still a big problem there.
If you feel like hiking and the weather is good, you may climb Ma Thien Lanh for a panoramic view of the island and the sea. I wouldn't do it after it rained though as the rocks get very slippery. You can shorten the way by hiring a motorbike rider to take you up to Pho Tinh Pagoda, and then it's less than an hour to the top. It's quite steep but there are ropes to help you out.
I arrived back at the pier, finishing the loop and after a short break, I follow the road through the interior of the Lai Son from the south to the north and back. It was a pleasant ride on the forested hills with panoramic views of the villages on both ends.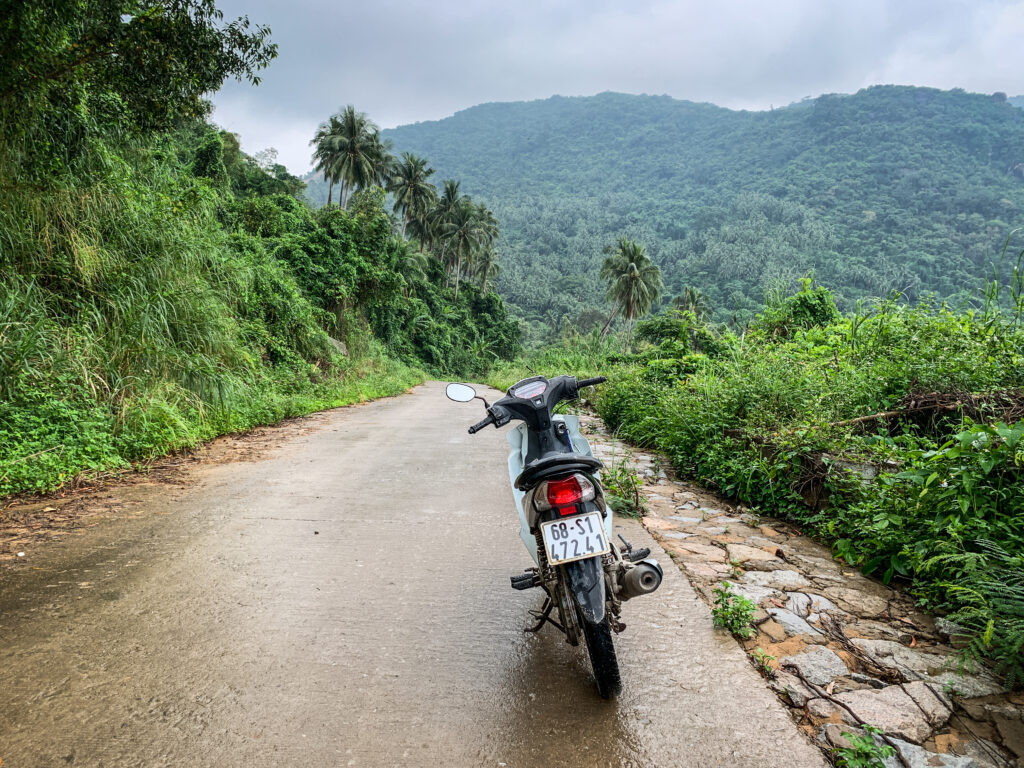 At the end of the day, I just walked around the pier and had dinner in one of many seafood restaurants. Basically, you choose from small pools what kind of seafood or fish you want, and then they cook it for you.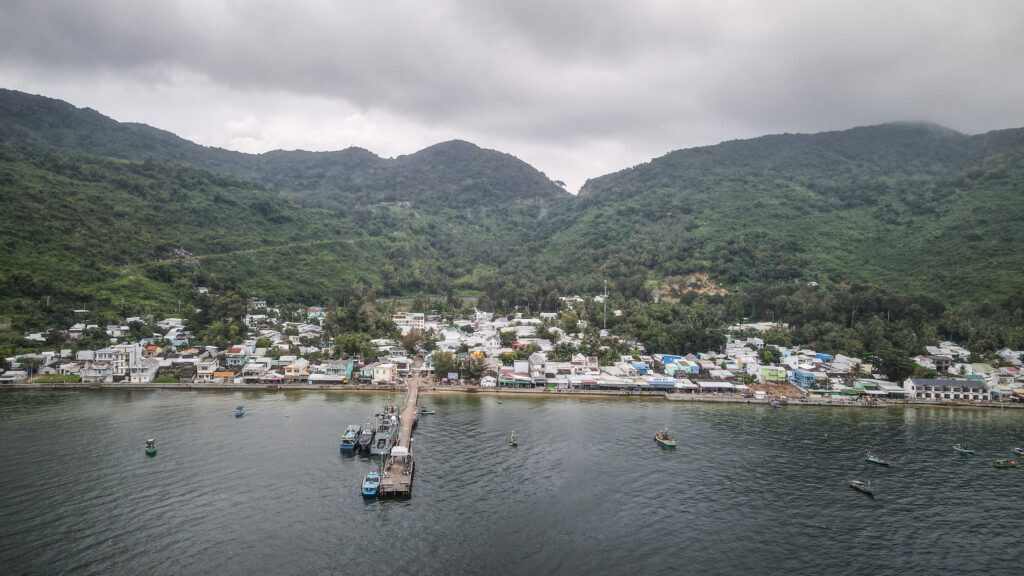 What to do on Nam Du Island?
The Nam Du is actually an archipelago of over 20 islands, islets, and rocky outcrops. The biggest one is known as Hòn Lớn (the name translates literally as the Big Island), but most often people call it simply Nam Du. Most of the tourism facilities and infrastructure in the archipelago are based here. The rest of the outlying islands are pretty small and some are inhabited, such as Hon Ngang, Hon Mau, or Hon Trung and some are not.
I arrived on Nam Du Island in the morning and the first I walked to the guesthouse. It was about 20 minutes walk and probably the owner would have picked me up on a motorbike if I had asked.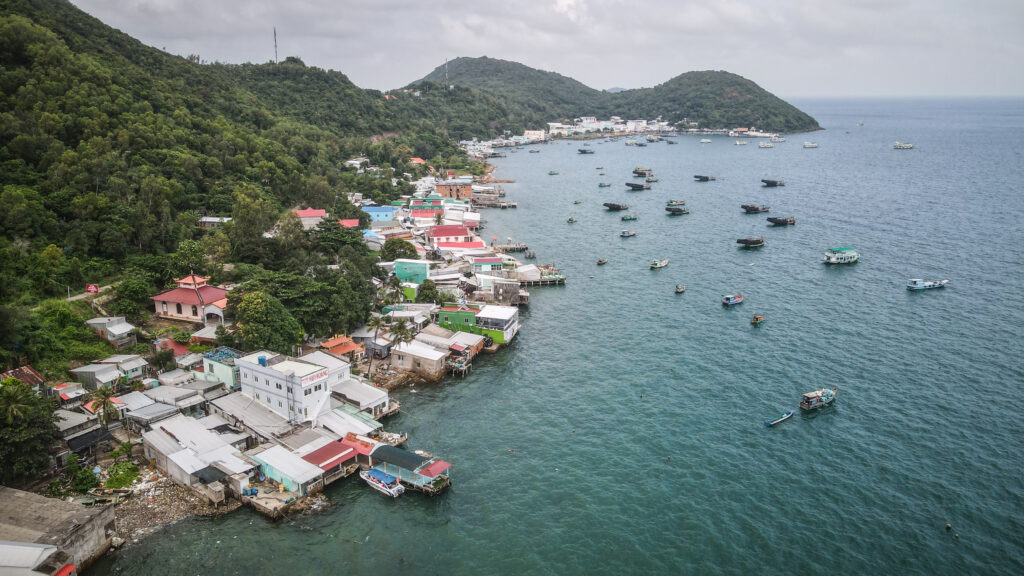 I rented a motorbike and the plan was rather simple, just to circumnavigate the island, following the main road which is about 15 km long. First, I headed south to Bãi Sỏi Beach, which was a nice photo spot. It's a stone beach and not very suitable for swimming. At the southern tip of the island, there is a nice viewpoint of three neighboring islands: Nom Trong, Nom Giua, and Nom Ngoai. I took advantage of the nice weather and took off with my drone.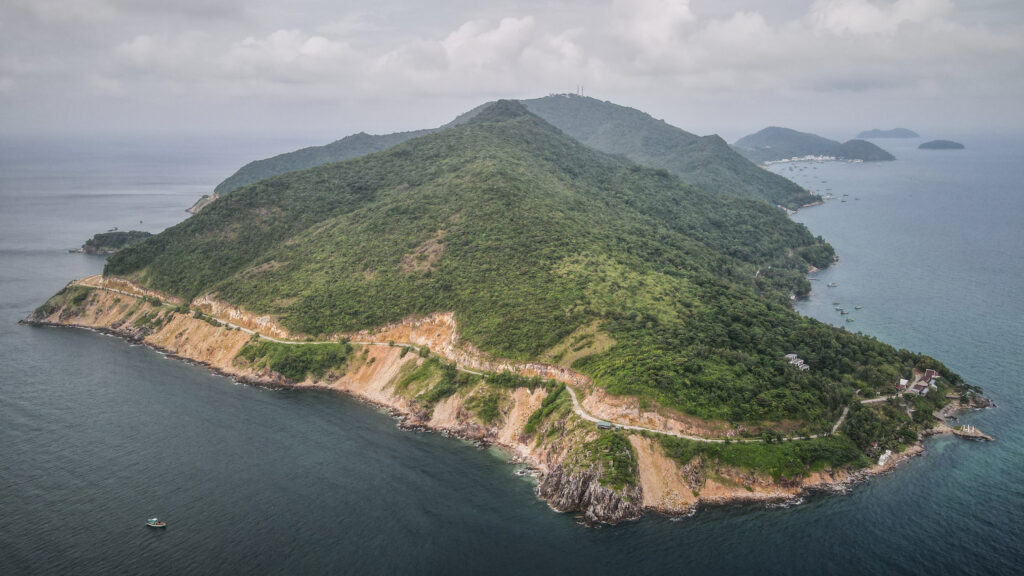 That section of the coast was very pleasant to discover on a motorbike. Soon, I arrived at Bãi Cây Mến which is definitely the best white sand beach on the island for swimming and the best place to chill in a hammock among coconut trees with a cold drink.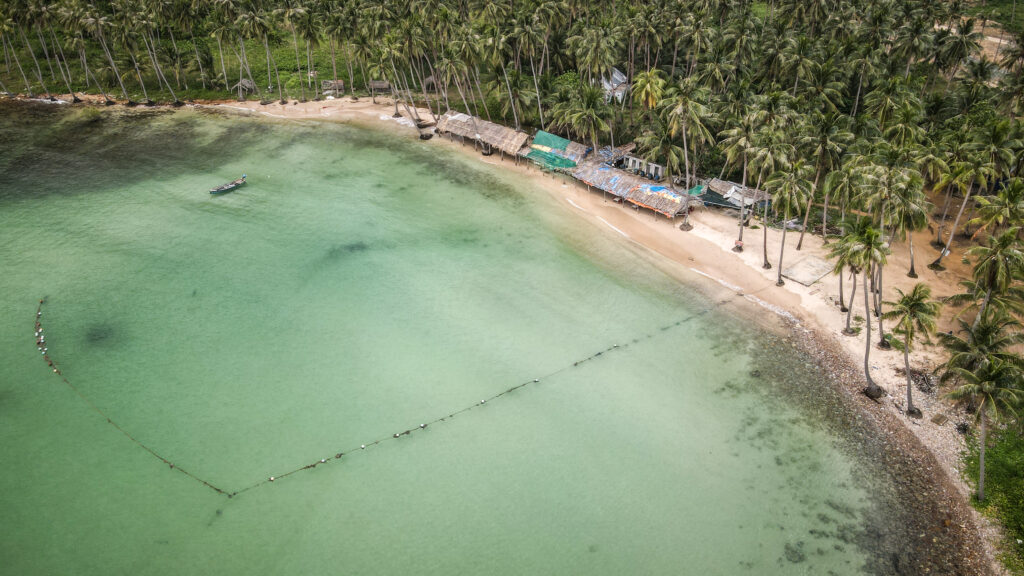 Continuing further north, I reached the roadside temple Dinh Nam Hai Ngu Than which worships a whale. These animals are worshiped in quite a few places in Vietnam, especially in fishing communities as deities of the ocean that bring good luck to sailors. An almost complete skeleton of a whale together with some smaller baby whale skulls can be found inside the temple. The fishermen's village Bãi Ngự is just around the corner. It's easy to get lost in those narrow streets but if you are lucky, you will find a small local pier with nice views. An even better panoramic view down to the village but also around the whole northern part of Nam Du can be seen from its highest point: Hải Đăng Nam Du. It's a military area and the top itself cannot be reached, however, the views from the road leading there are already good enough. Ride carefully, as the road is steep and can be challenging for inexperienced bikers.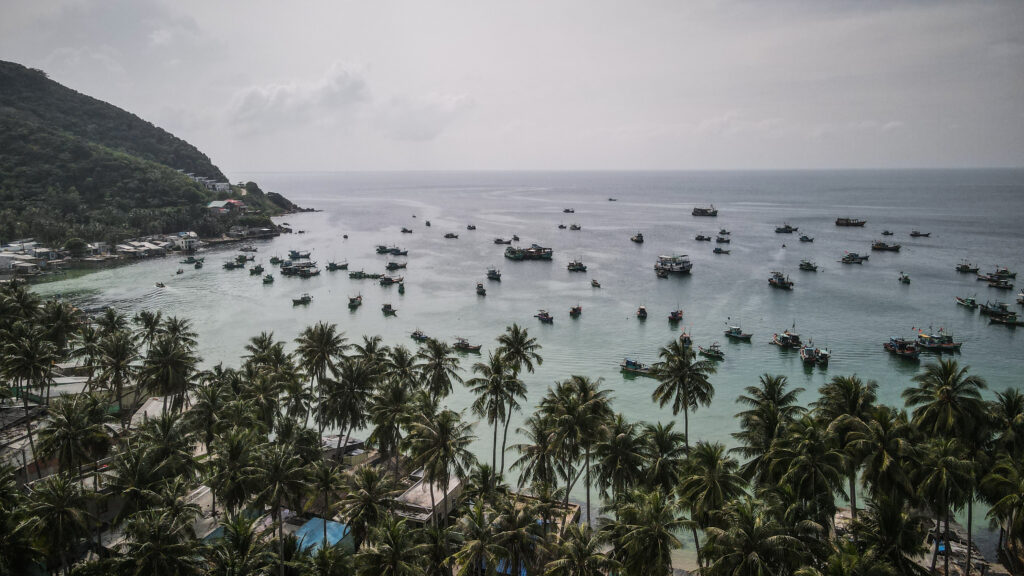 I finished the loop at An Son, the village with the pier where I arrived earlier that morning by boat from Lai Son. There are some seafood restaurants as well as street vendors selling fruits and pretty much everything else.
As mentioned before, Nam Du is actually an archipelago. Therefore, another popular activity, especially if the weather allows, is island hopping. You can visit islands such as Hon Du, Hon Ngang, Hai Bo Dap, and many others. Snorkeling and diving tours can be organized as well. Boat tours usually follow predefined itineraries visiting the most interesting islands but you can also pay more for a private boat and just discuss the route details with a guide.
Summary
I think I got a bit spoiled visiting over 50 islands in Thailand during my 5 months there in 2022. Many of them are still in my mind as true paradise spots. I don't regret visiting Lai Son or Nam Du but none of these islands even came close to my favorite Thai islands in terms of beauty. There is certainly a potential but the problem with rubbish is present on the islands on the same, or maybe even worse level than in mainland Vietnam. If you travel in the region for a few weeks or months like I did, then sure, come over and experience the place by yourself. But I don't recommend fitting Lai Son and Nam Du Islands into your 2 or 3 weeks itinerary. There are simply way better places to visit.