Is there any better way for discovering a new region than doing it at your own pace, with your own vehicle, stopping where you want and for as long as you want? Northern Thailand is perfect for that and there is one famous route for that – Mae Hong Son Loop.
Mae Hong Son is the name of the whole province, bordering Myanmar to the west. The nature here is great, even though it's not a typical landscape of Thailand that may be seen on postcards. There are mountains, forested national parks with waterfalls, lakes and caves as well as many ethnic hill tribe communities living around the rice fields. Driving the whole loop isn't the most touristy thing to do either. Most people fly in or take a night train from Bangkok to Chiang Mai to hang around there, do a couple of hikes and see elephants but they rather don't go further than Pai. But that will be a benefit to you, as there is no shortage of amazing sceneries in Mae Hong Son and you may experience them in a peaceful atmosphere.
The basic version of Mae Hong Son Loop is over 600 km long but it can easily be extended for another 200 or even 300 km depending on the detours you are going to take. And there are so many beautiful spots that certainly you shouldn't just stick to the main route. My guess is that I covered about 950 km in 5 days. It's quite a lot and if I do it again, I would split this distance over a longer period of time. There are 1864 curves on the main route so take your time and better get some experience in riding a motorbike before you attempt the Mae Hong Son Loop.
Obviously, most travellers start and finish the adventure in Chiang Mai. There are good train connections with Bangkok as well as the international airport and motorbike or car rental companies. Here is the overview of the places that I visited as well as accommodation.
Where to rent a motorbike?
I rented a black Honda Click 125CC in very good condition at Mr Mechanic Shop No. 2. The cost was 250 THB per day plus 50 THB of optional insurance which I decided to take for the peace of mind. It was fine for travelling alone and I never had any situation when the engine was not powerful enough. Probably it would be fine for 2 people too, as long as you travel really lightweight. They don't ask for your passport as long as you leave 3,000 THB of deposit. Better to lose some money than an official document if things go wrong. A driving licence is not checked but of course, it's good to have the international version of your licence for a motorbike. If you drive illegally, cops can fine you about 500 THB which isn't a big deal, but if you have an accident, your medical insurance won't cover you and healthcare in Thailand isn't cheap.
Here are the address and contact details for the rental company:
127/3 Mun Mueang Rd, Tambon Si Phum, Chiang Mai 50200, Thailand
Phone: +66827628302
Itinerary and distances
Please remember that the total distance below includes additional attractions that I wanted to see even though they were pretty far from the classic route and longer detours were needed.
Day 1: Chiang Mai to Pai via Huay Tung Tao Reservoir, Mok Fa Waterfall and Huai Nam Dang National Park (~ 130-150 km)
Day 2: Pai to Sop Pong via Nam Lod Cave (~ 60-70 km)
Day 3: Sop Pong to Mae Hong Son via Ban Jabo, Ban Rak Thai and Karen Village (~ 170-180 km)
Day 4: May Hong Son to Hang Dong via Mae Surin National Park, Khun Yuam and Mae Sariang (~ 330-340 km)
Day 5: Hang Dong to Chiang Mai via Op Luang National Park and Doi Inthanon National Park (~ 200-210 km)
Day 1: Chiang Mai to Pai
Leaving Chiang Mai in the morning hours isn't the most pleasant experience. The traffic is rough so be extra careful and ride slowly. For me, the whole section of Road 107 until the turn-off to Pai was the most stressful of the whole trip, with heavy traffic and big buses or trucks passing by.
The first stop that I recommend is Huay Tung Tao Reservoir. It's a man-made lake lined with bamboo huts and restaurants serving local dishes. Very good place for a second breakfast and a short break from the busy road. It's about 20-30 minutes away from Chiang Mai centre, depending on the traffic.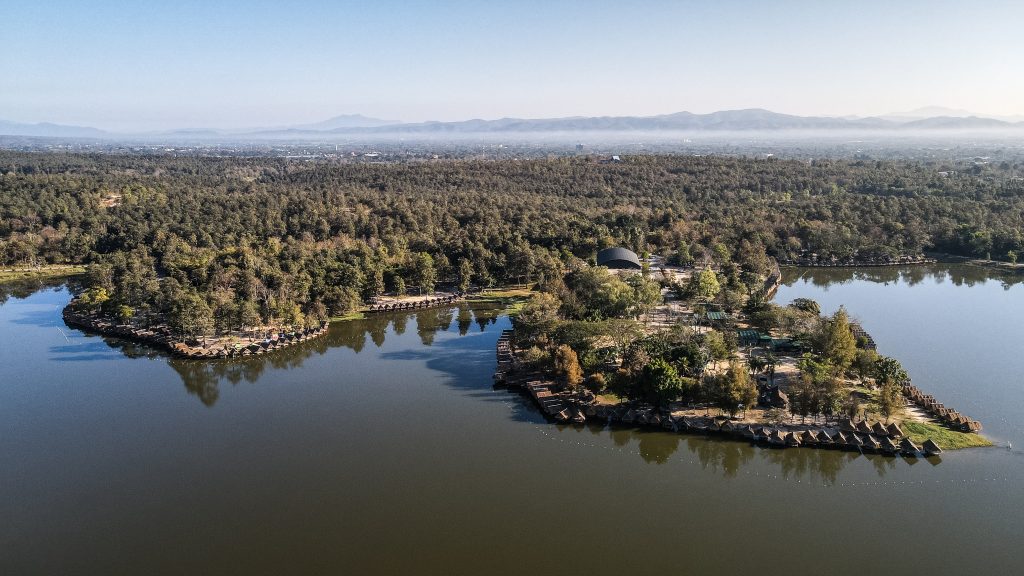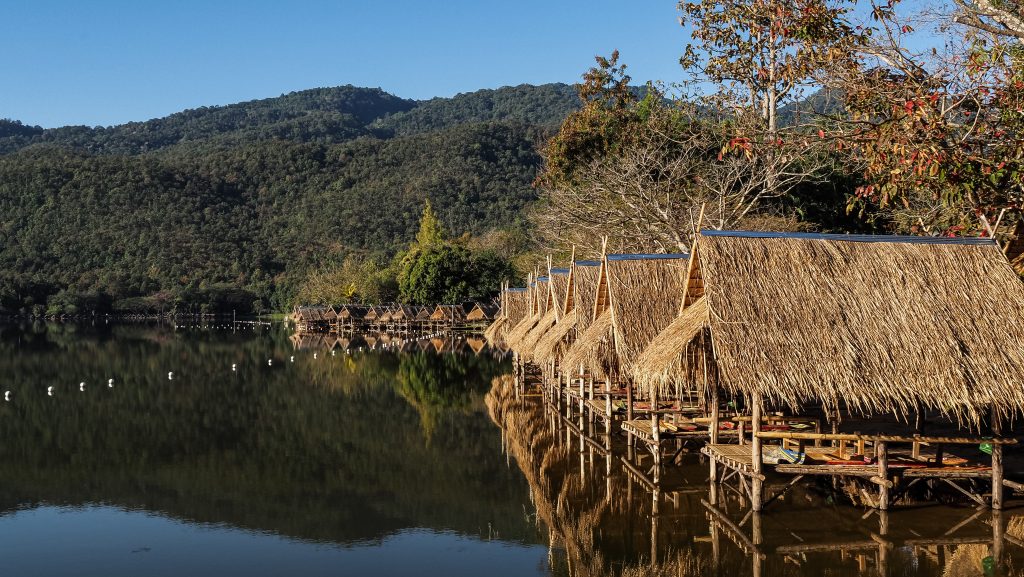 After that, return to Road 107 and continue north where at the major intersection you will need to turn left towards Pai. You can't miss it because you can see a complete A330 airbus by the side of a road! From there, it's about half an hour to the Mok Fa Waterfall.
The entrance costs 100 THB for foreigners plus 20 THB for motorbike parking but I think it's worth it. There is a short way from the parking to the waterfall, about 500 m through the beautiful forest. You may also take a walking path to explore nature on the other side of the river and have a look at the waterfall from a different angle.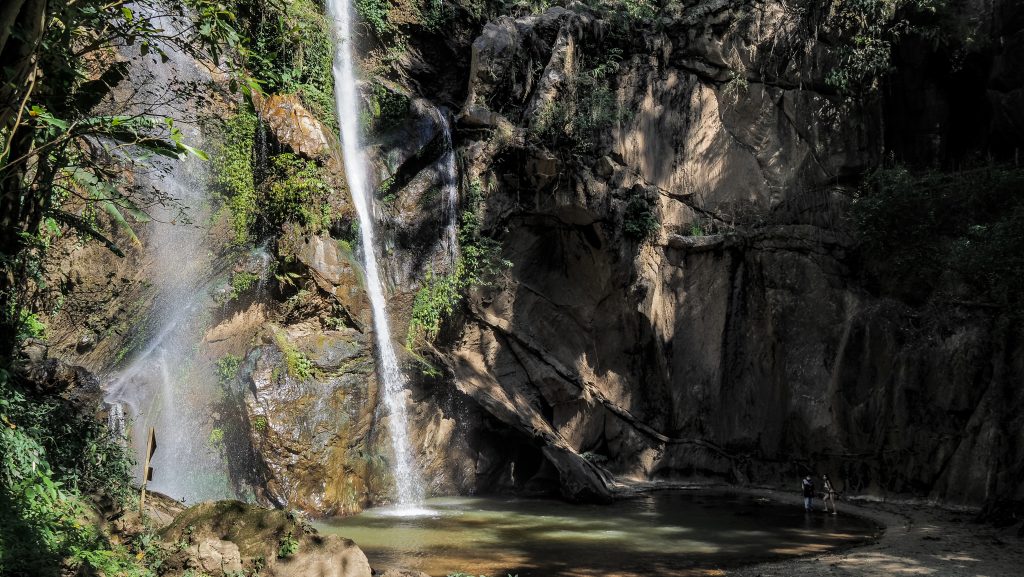 Get back to your motorbike and continue for another 30 km to Pong Dueat Hot Spring The road becomes more winding in that section so it should take you about 50-60 minutes to reach it. Unfortunately, the place seemed to become a bit neglected during the pandemic time and only some of the large thermal pools were open. The entrance fee for foreigners is quite high too, 300 THB per person but luckily it gives you also access to other sites belonging to the same national park. Besides pools, there is a nice loop walking trail where you can see a bubbling hot geyser. I definitely didn't expect to see a place like that in Thailand!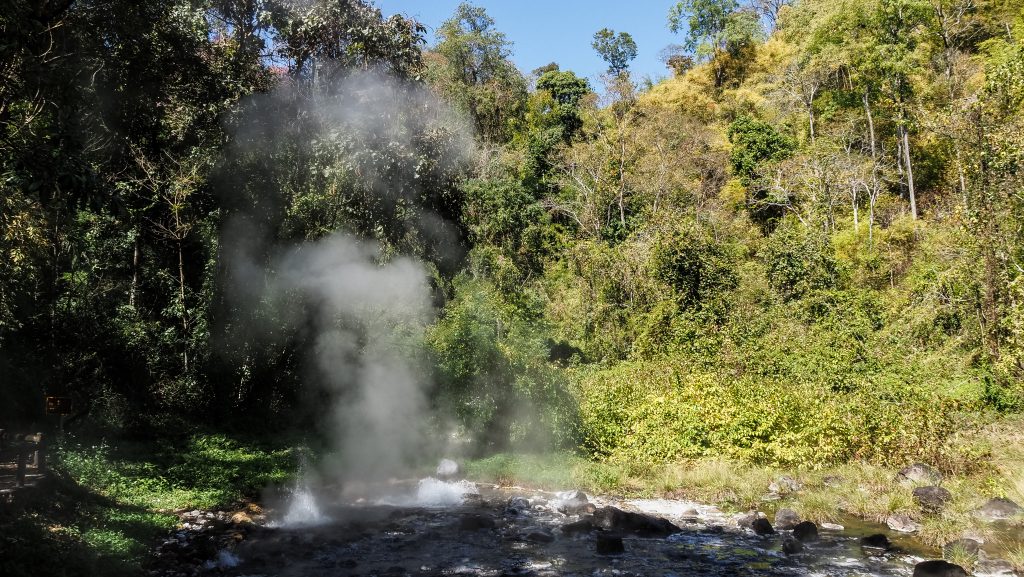 If you continue towards Pai, soon you will see another entrance to Huai Nam Dang National Park on your right side. It's worth making use of your ticket here and checking out the viewpoint with a fantastic panorama of Doi Luang Chiang Dao. There is also scenic camping, which might be an option in case you prefer staying in nature, rather than in the city of Pai.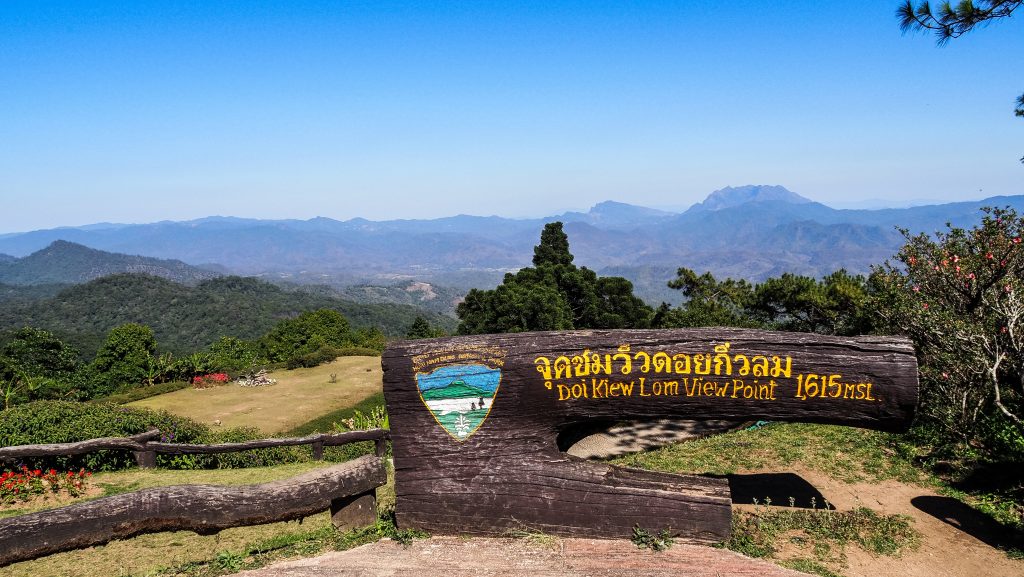 The next stop should be the scenic Tha Pai Memorial Bridge. In WW2 the Japanese used forced labour from the surrounding villages to construct a strong wooden bridge from which to attack British-held Burma. In their defeat, they burned down the bridge and the villagers constructed another wooden bridge which was swept away by floods in 1973 to be replaced by the metal one seen today. A good idea is to park the motorbike and walk across or even go down to the riverside.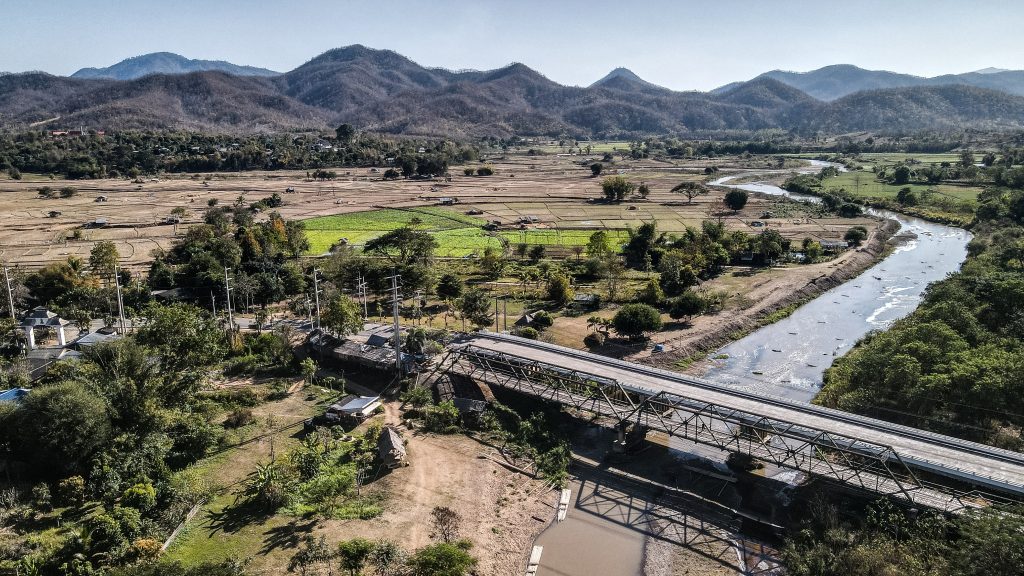 Further towards the city centre is the last stop for today – Pai Canyon. It's a great place for watching the sunset and it's free of charge. There is a short walk from the parking to the viewpoint but the fact is that you can walk around freely and discover the area by taking pictures from different angles. The ridges sometimes get quite narrow so better be careful and wear something better than flip-flops. An alternative place for sunset would be Big Buddha Pai or Wat Phra That Mae Yen, but you will need to climb 353 steps to the top. It's hard to say which of these two places is better. I chose Big Buddha Pai and got some nice sunset footage from the drone.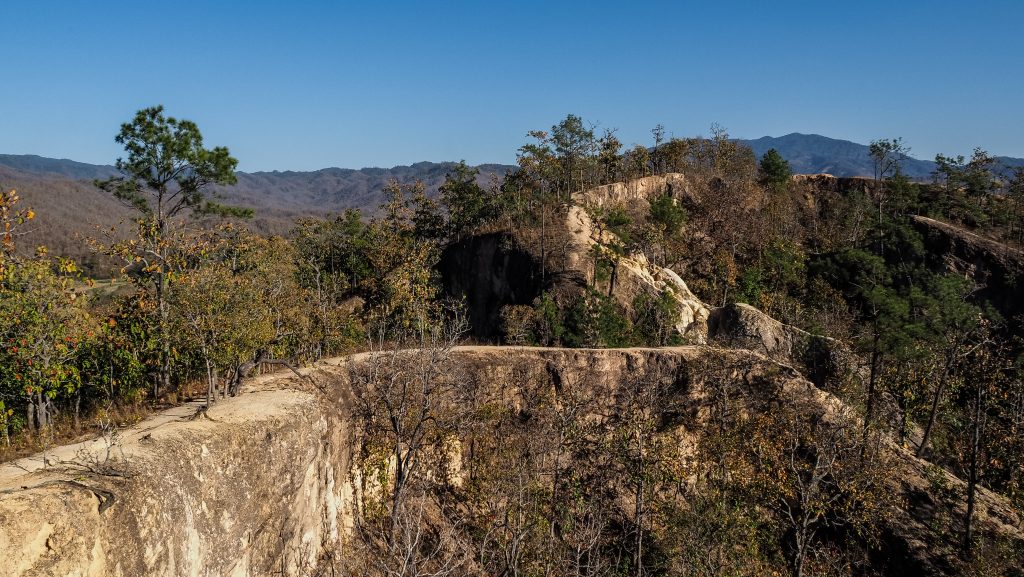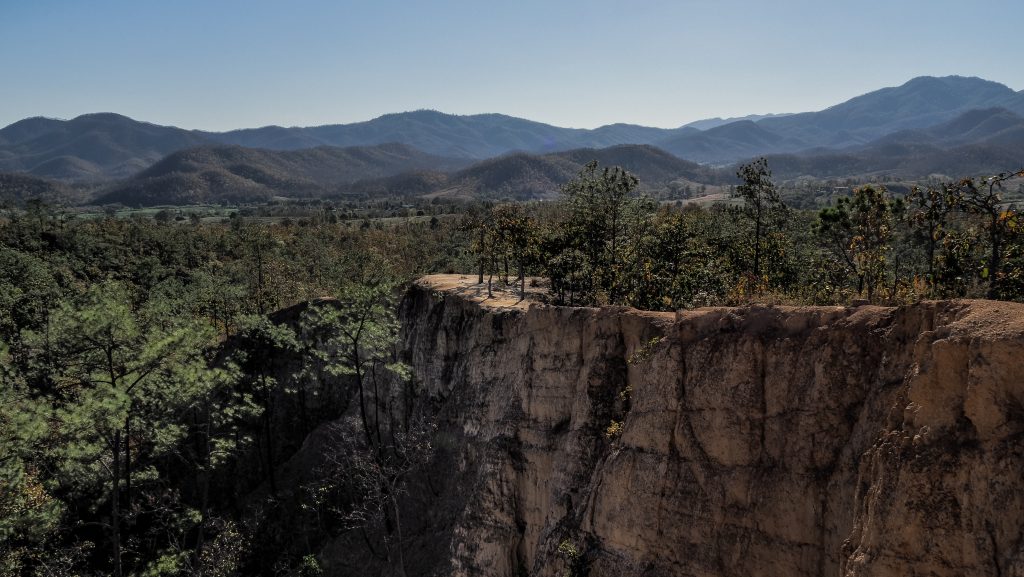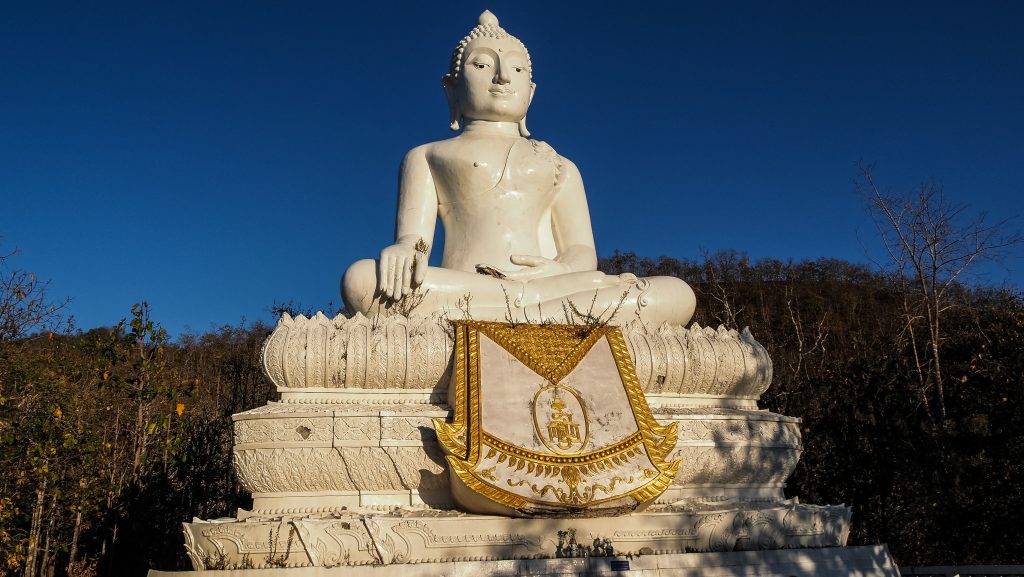 After that, head to your accommodation for well-deserved rest. The classic choice for evening hangouts and street food is Pai Walking Street, which is compared by many to Khao San Road in Bangkok. I don't fully understand this comparison and the big hype about Pai in general, but certainly, it is a nice place to stay when riding the Mae Hong Son Loop.
Optional: There are more places to dip in, such as Sai Ngam Hot Spring or Tha Pai Hot Spring. Having visited Pong Dueat Hot Spring before on that day, I decided to skip these ones and take a cold shower in my accommodation instead 🙂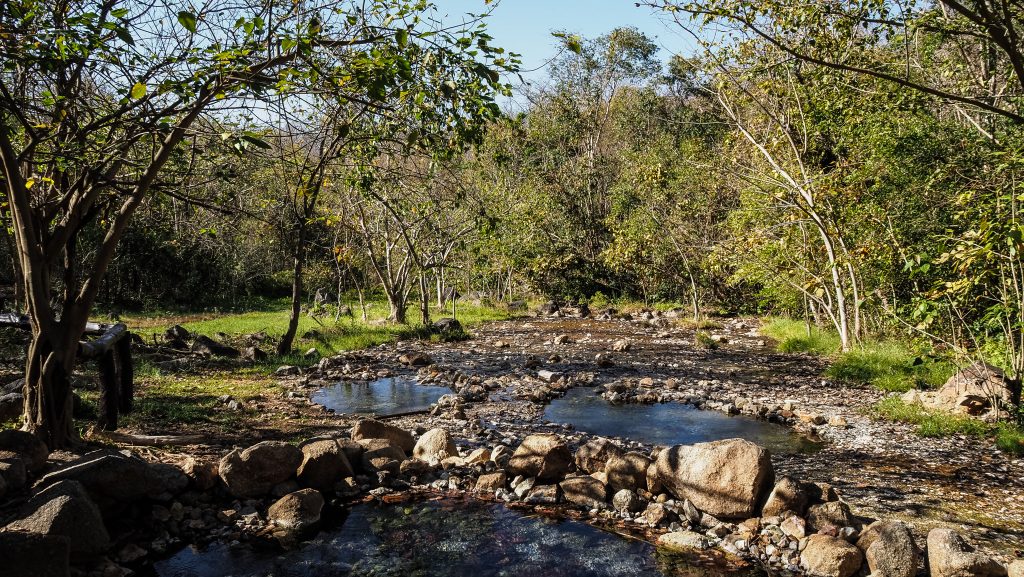 Day 2
This itinerary could easily be split into two days and I'm sure you would enjoy it way more without being in a rush. If you are a sunrise person, I recommend starting the day at Yun Lai Viewpoint. It's 20 THB to enter and there is a cafe on site. Sunsets are not bad either, or you can even experience both while camping there.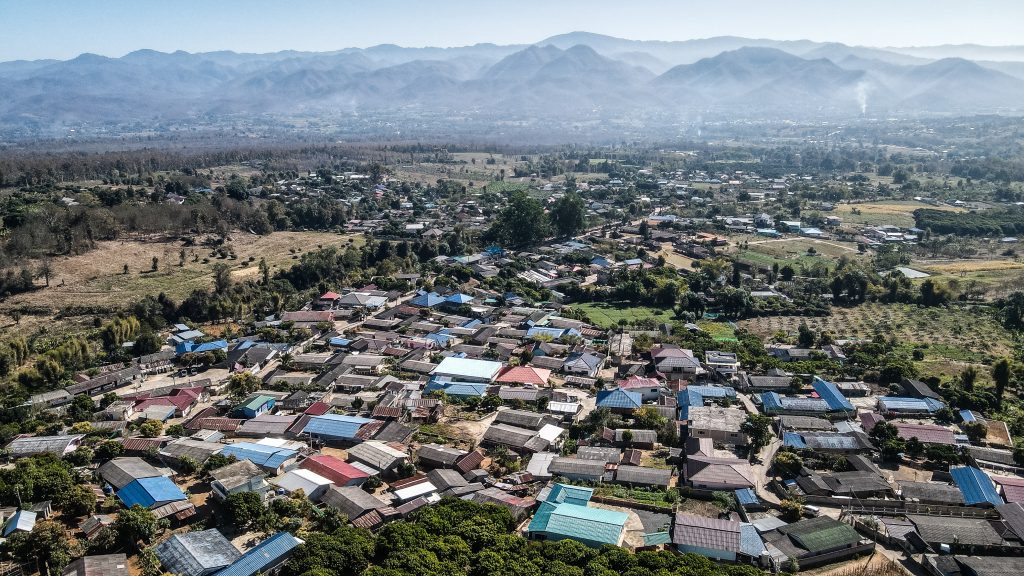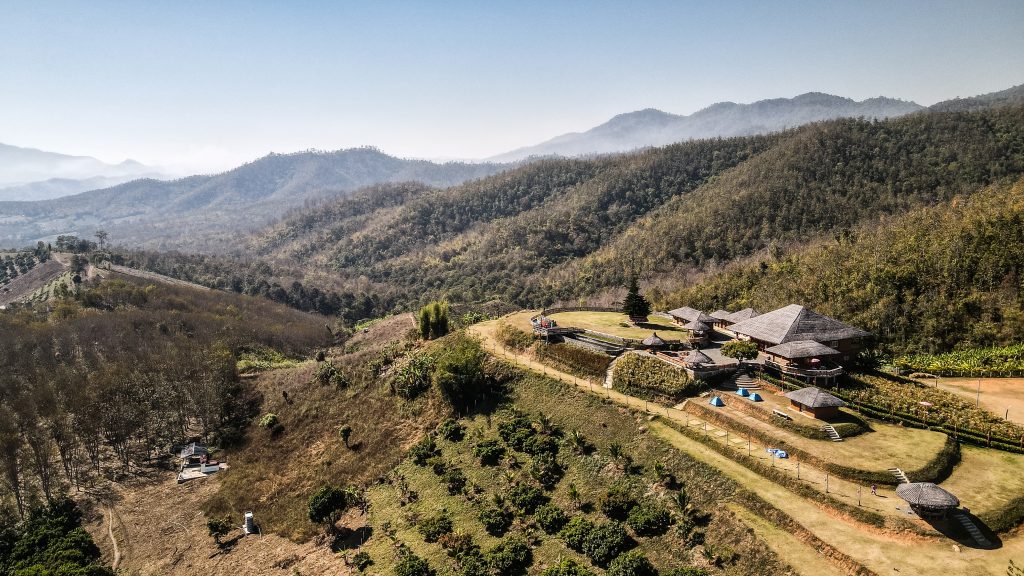 On the way back, check out Santichon Village, a little Chinese-style site. It's definitely set up as a tourist attraction and it doesn't deserve anything more than a short stop, but it's on the way to Pam Bok Waterfall. I made an unplanned stop here, just seeing the sign indicating tourist attraction and the fact that the counter was still closed encouraged me to have a look. If you arrive before 8 AM, most likely no one will be there so you can enter for free. Otherwise, the ticket for foreigners is 200 THB and I wouldn't bother as the waterfall is really small.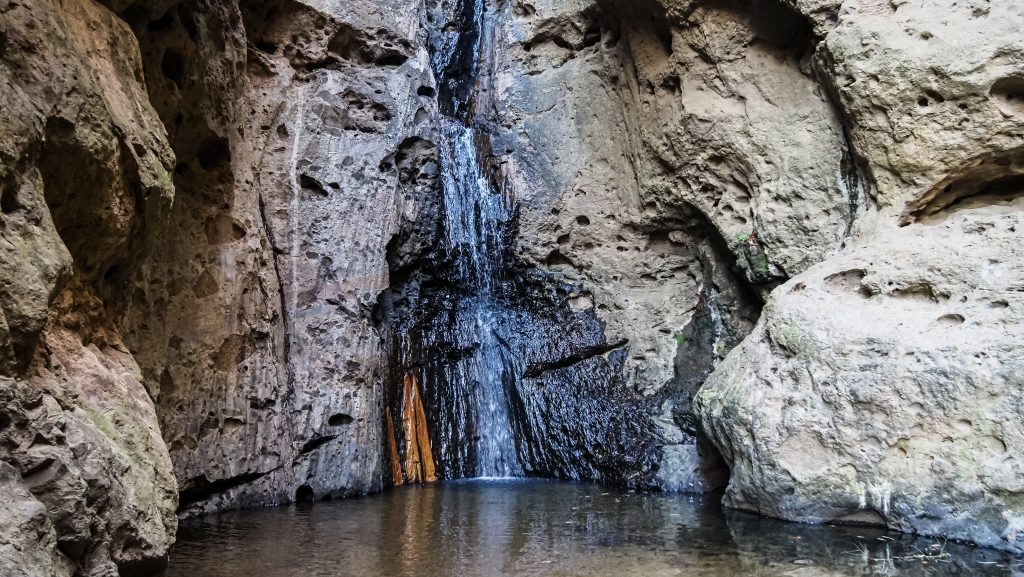 Further along, the same road was my initial destination: Kho Kuu So Bamboo Bridge. It's an 815 metres long bamboo structure that runs through large rice fields, which was unfortunately dried at that time of the year (February). It's free, but you can make a donation to the boxes provided at the entrance.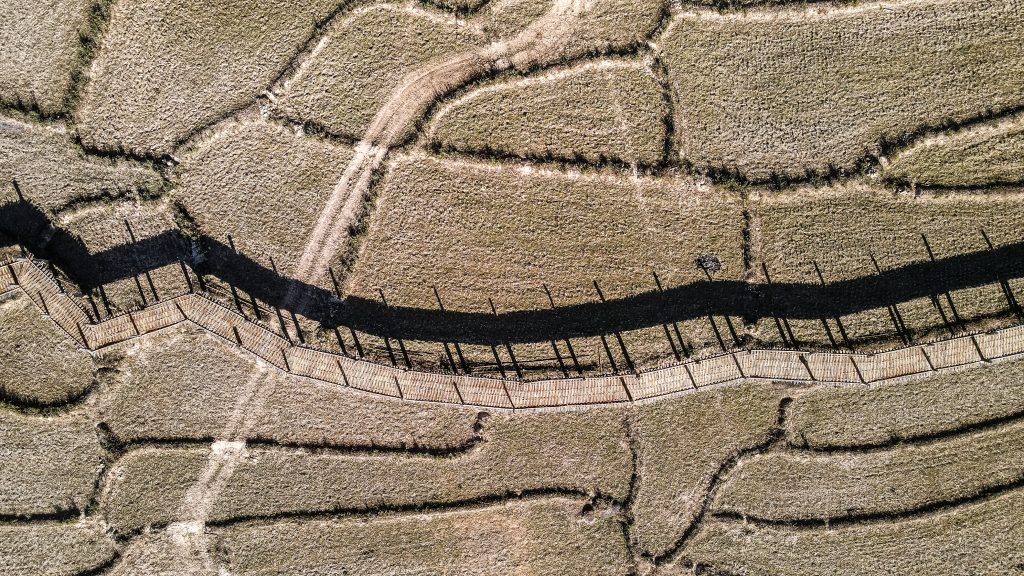 After that, it's time to answer the question: do I feel like going for a hike? If the question is yes, find "Starting point Mae Yen Waterfall" in your Google Maps and ride there. You might be able to cross the stream 2-3 times with your motorbike (depending on the water level) but then there is no other way but to park it and continue on foot. It will take you around 4-5 hours of hike, through the forest with multiple river crossings to get to this beautiful waterfall. Your shoes will definitely get wet so keep it in mind. I think the hike is doable in comfortable sandals (like Keen) but don't attempt it in flip-flops. Take some snacks and water with you as there won't be any opportunity to buy anything around the place.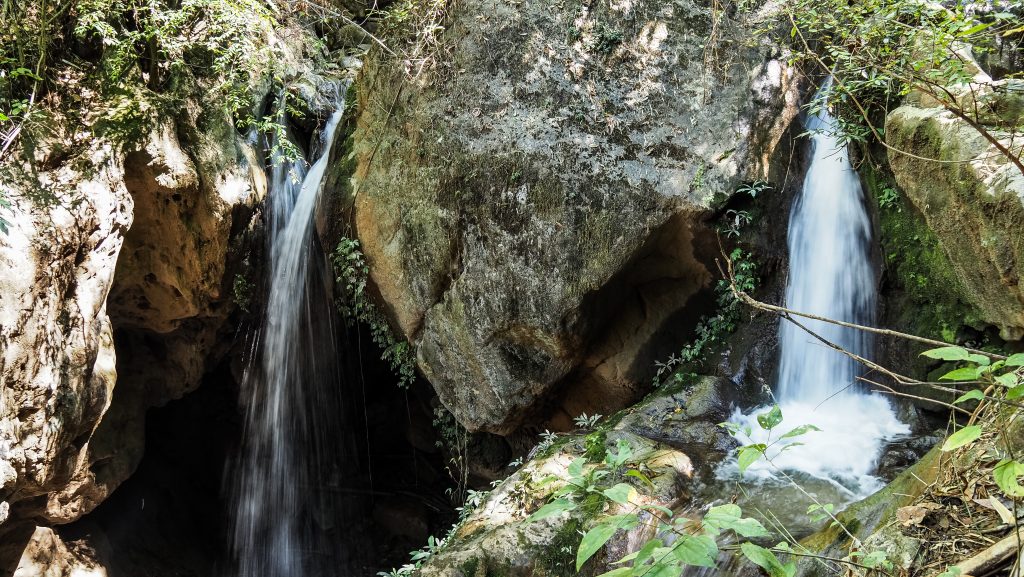 Finally, it's time to say goodbye to Pai and hit the road towards Nam Lod Cave. You may take a photo break at Doi Kiew Lom Viewpoint which is on the way. Nam Lod Cave is definitely the most interesting cave to visit in Mae Hong Son province and one of the most interesting ones in the whole of Thailand! It is believed that the place was inhabited from 9000BC to 5500BC by the Hoabinhian hunting tribe.
You have to be accompanied by a guide to get inside and the cost of the tour is 500 THB for a group of 3 people. Taking into consideration that the tour takes about 1,5 – 2 hours and includes bamboo rafting, it's certainly worth it. There are three main rooms: The Big Column Cave, The Dolls Cave and The Coffin Cave. The lighting inside is very weak and the guide has only a kerosene lamp so sometimes I really regretted not taking a good flashlight with me. If you time your visit around sunset, you may see plenty of bats going out of the cave for an evening meal.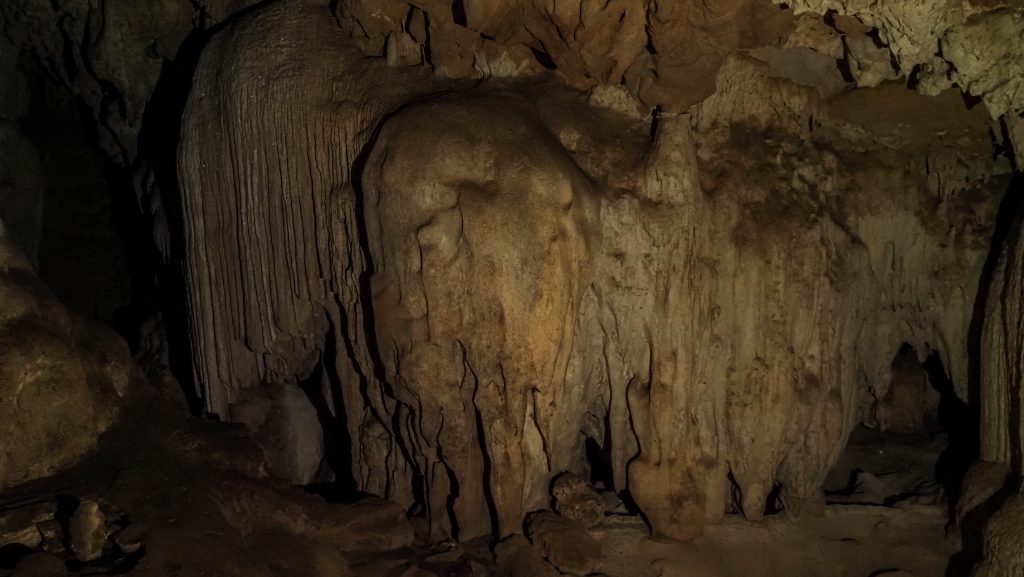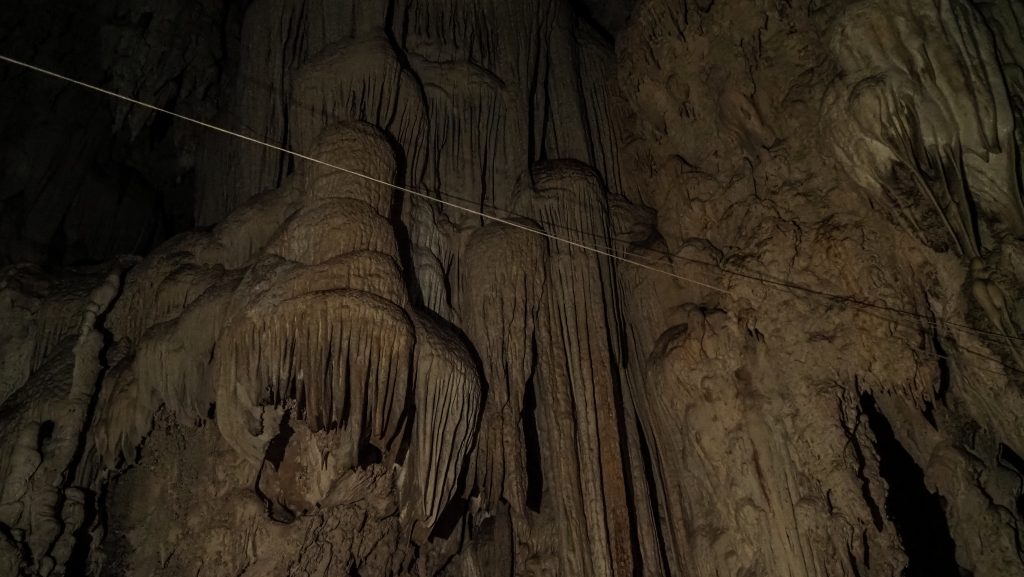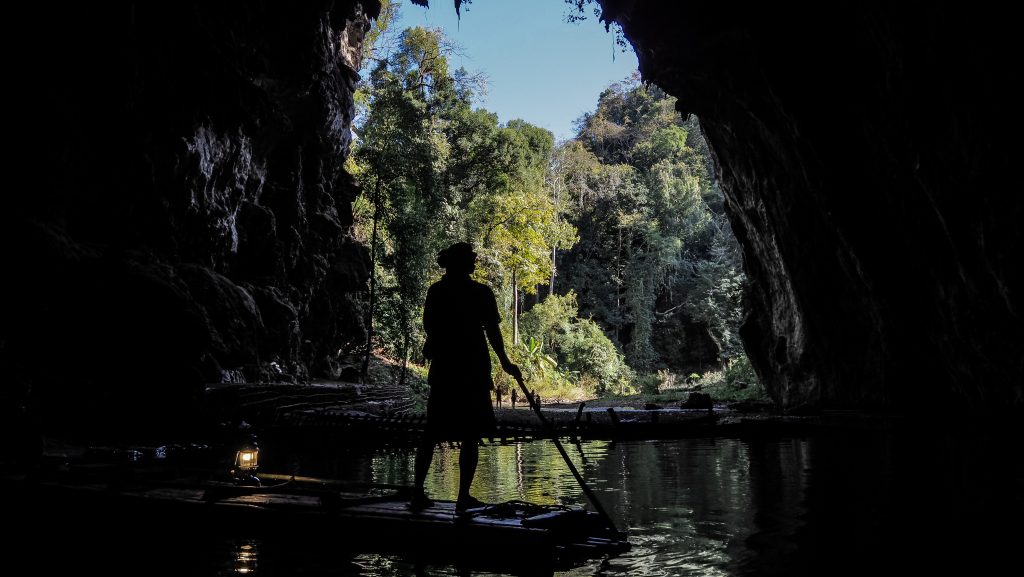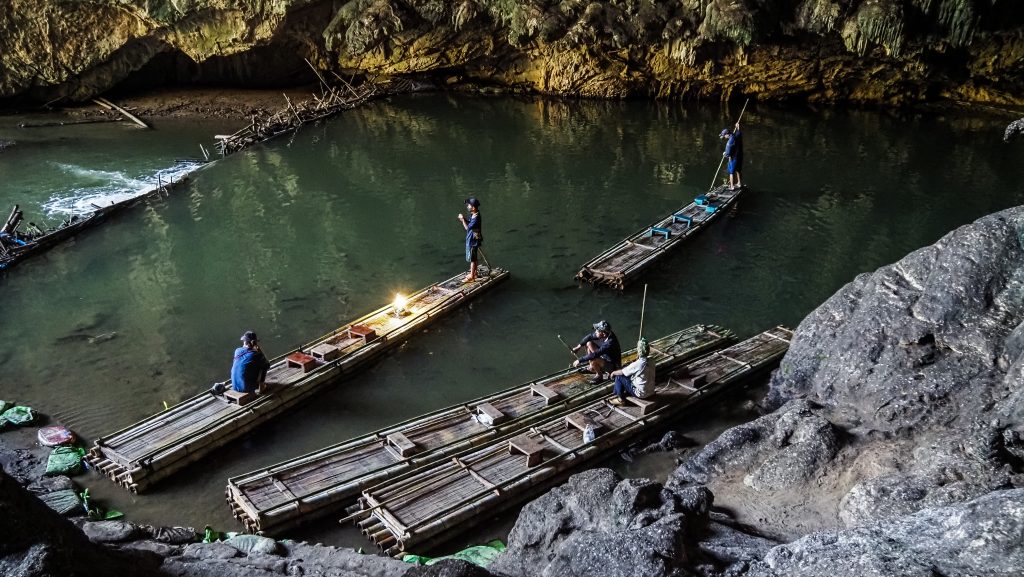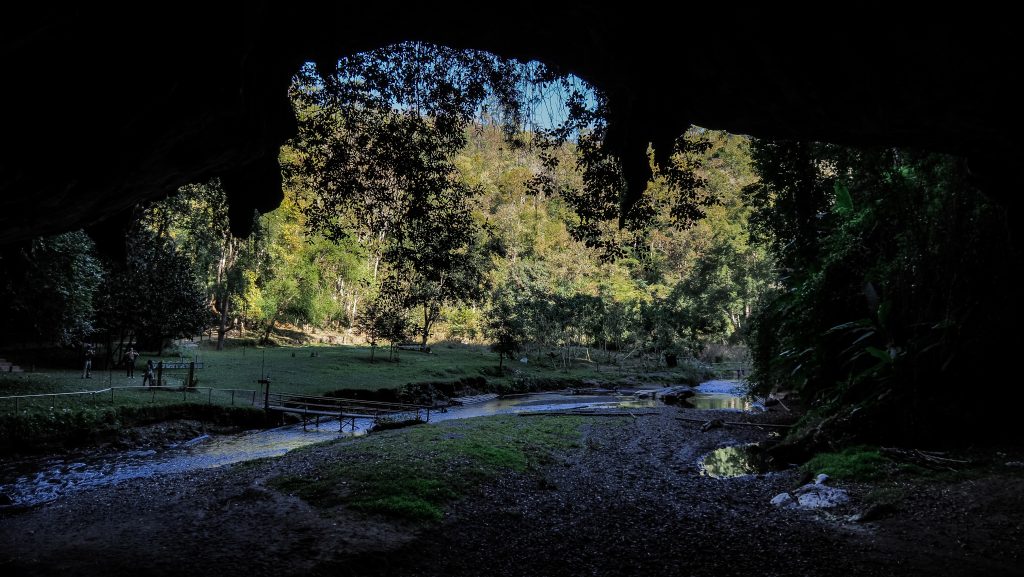 Day 3
Day three started with amazing noodle soup and a decent drink on the terrace of Jabo Coffee in Ban Japo. It's a small mountain village populated by the Lahu hill tribe overlooking an amazing landscape and located only within 5 minutes detour from the main Mae Hong Son Loop. If you arrive for sunrise, you may see the so-called sea of clouds rolling over the mountains.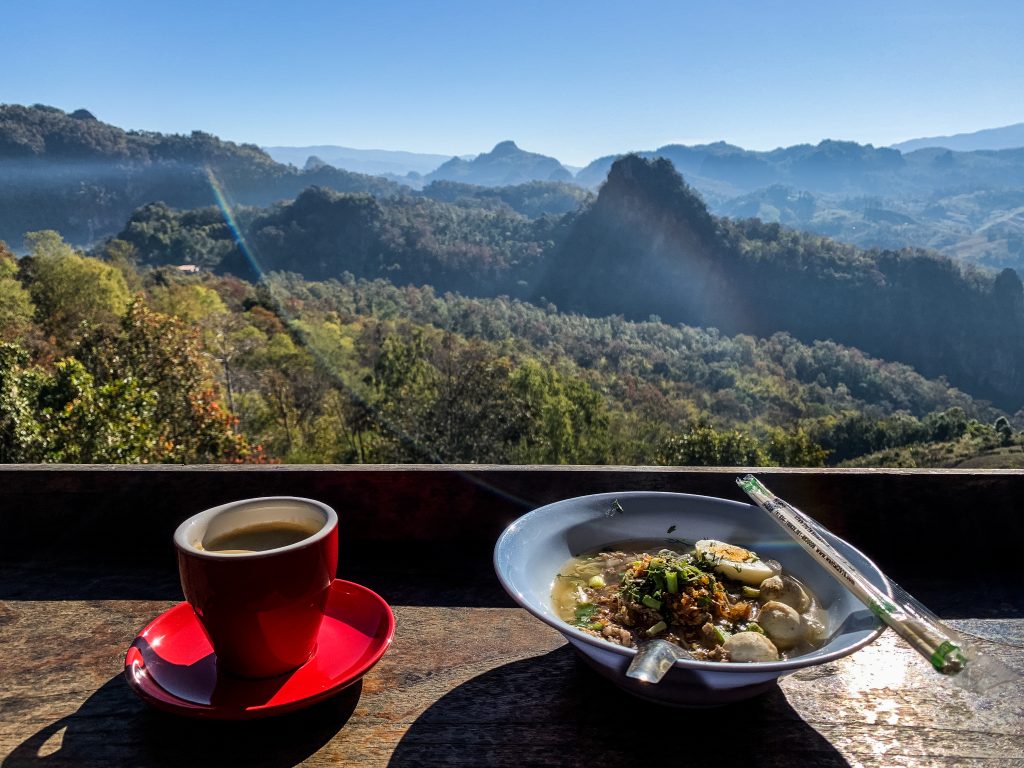 Return to the main road and soon on your right will be Scenic PangMapha, another viewpoint with beautiful scenery. There are some stalls opposite the road selling fruits and souvenirs.
About 17 km later, after a series of curves, take a turn-off to Wat Pa Tam Wua. This international meditation monastery is located in breathtaking mountain scenery with a cave, river and garden to explore. On the other side of the road is a Chinese Village in Ban Rung Arun. Nothing much for tourists, but if you are interested in the northern Chinese Thai culture, you could just ride around and have a quick look.
The next stop, Tham Pla (Fish Cave), is 23 kilometres away. There is a loop walk which could take you about 30-60 minutes to complete. The cave itself is hmm… not really a cave but a hole in the rock with lots of fish which you can feed. A ticket for foreigners costs 200 THB and if it's only about the cave, I would say it's not worth it. However, you can also visit quite a lovely waterfall, Namtok Pha Suea, which is about 12 kilometres further. Going there will be a detour from the main Mae Hong Son loop but it's on the way to Ban Rak Thai which is another 18 kilometres from there.
Ban Rak Thai is a very atmospheric Chinese-style town right at the Myanmar border. It was founded by former Kuo Min Tang soldiers who were nationalists that migrated from Yunnan Province after the Communists took over power in China. Tea tastings at plantations, noodle restaurants and boat rides on Khuean Nai Mok Reservoir are the most popular attractions here.
On the way back, you may check out Pang Oung. It's a park where you can enjoy bamboo rafting on the lake and watching swans swimming along. It's a good place for camping if you prefer nature rather than the city, but otherwise, I would give it a miss.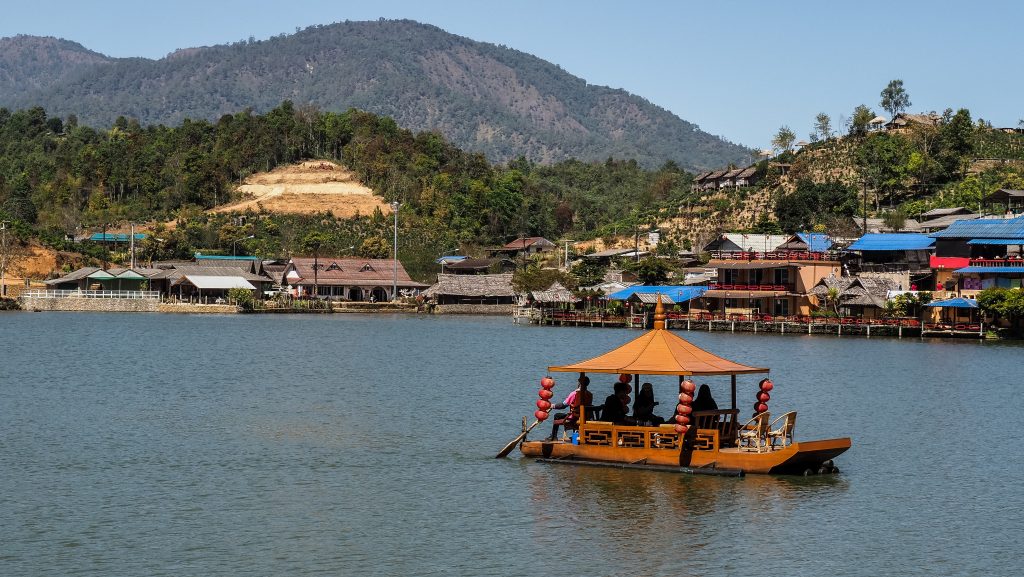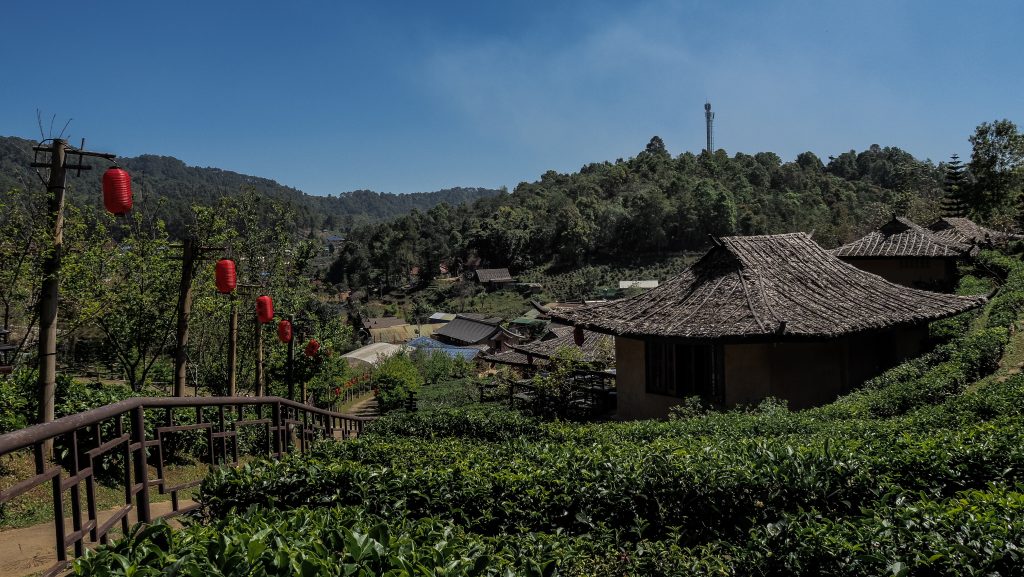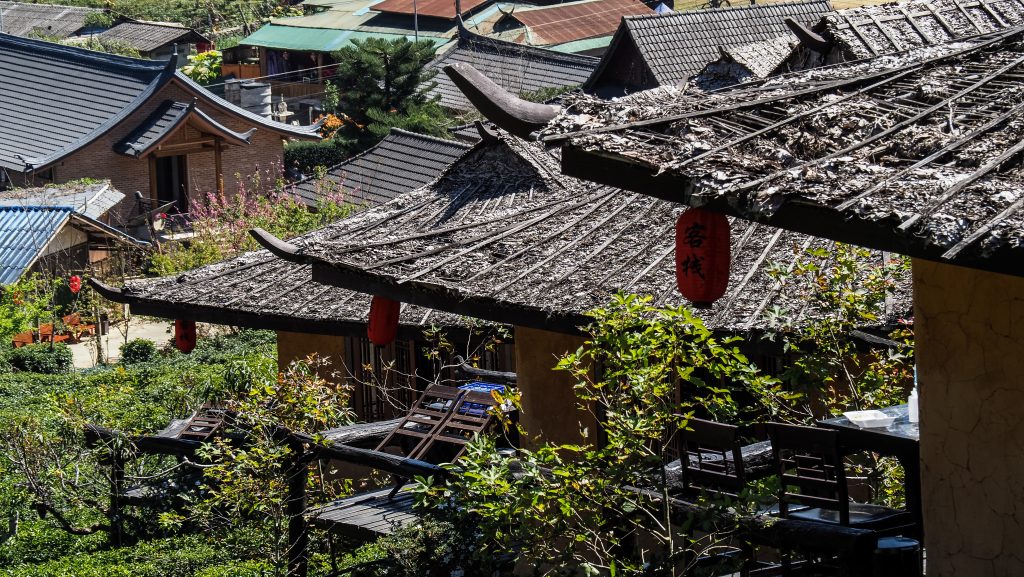 Once heading towards Mae Hong Son, I recommend making two more stops. The first one should be at Su Tong Pae Bridge. It's a similar structure to Kho Khuu So Bamboo Bridge in Pai. It stretches for about 500 meters and was built by the villagers of Kung Mai Saak, for the monks to cross over the rice fields from the village to the Buddhist Temple (Wat Phu Sama), at the other end. The temple is nice to check out as well.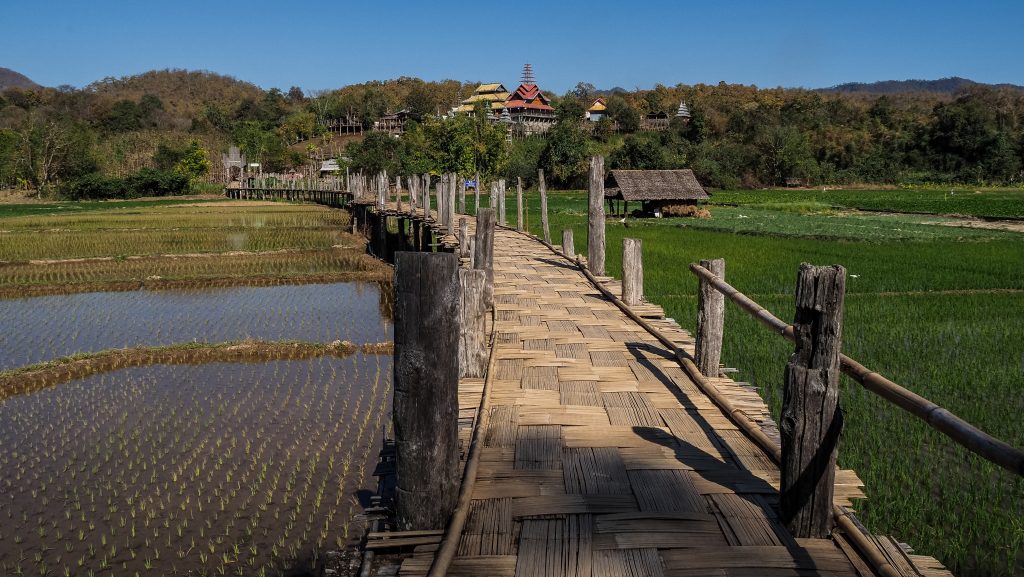 From there, it's another half-hour ride to Kayan Taryar Village, party on the dirt roads. You can see the so-called 'long-necked' women there, wearing heavy brass coils around their necks. The coil depresses the collarbone and rib cage, which makes their necks look unnaturally stretched. There are different assumptions about the meaning of such a custom. It could be meant to make the women look unattractive to men from other tribes or maybe even protect them from tiger attacks. However, the most likely reason is just fashion. I was hesitating if I should go there because these kinds of villages are mainly tourist attractions with several trays with souvenirs and are even called 'a human zoo'. Although they indeed had stuff for sale, I arrived late and I was the only tourist there so I actually didn't have any negative feelings about the place. No one pushed me to buy anything, I could walk around freely, taking photos of local people living there and I received a lot of smiles from people living in very poor conditions. Another similar village in that area is called Huay Pu Keng.
The last stop for that day was Wat Phrathat Doi Kongmu in the centre of Mae Hong Son. It provided a fantastic view over the city and mountains, both at sunrise and at sunset.
If you get hungry, there is a small night market around Nong Chong Kham Public Park.
Day 4
That day was definitely the day of one of the long rides. Before you set off from Mae Hong Son, you may check some more of beautiful temples in the town, such as Wat Jong Klang, Wat Jong Kham, Wat Hua Wiang or Wat Phra Non. After leaving the city, it's worth stopping at Pha Bong Viewpoint, which overlooks mountains and valleys. Another good panorama can be seen from Hmong Microwave Village View Point which is located within 15 minutes detour from the main road. It's a very photogenic place for a quick stop, especially in the early morning hours when the clouds could be still low.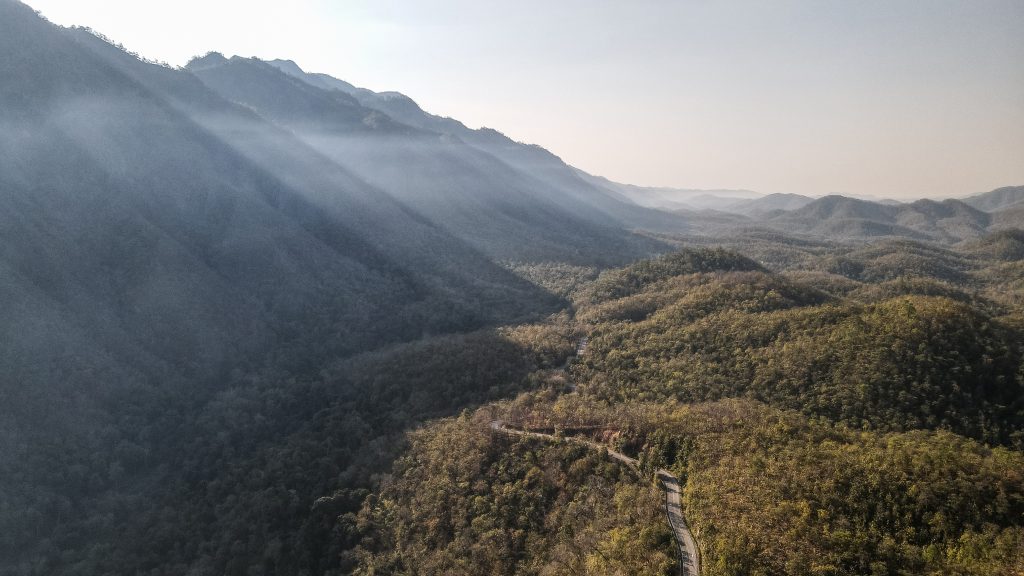 Then, continue for about 34 kilometres to Khun Yuam, where you have to make a decision if it's worth doing one of the longest detours on the loop, to Namtok Mae Surin National Park. It takes about 1 hour one way. Taking into consideration that the road is very scenic, I don't regret going there but it was indeed a long ride. There is a viewpoint called Thung Bua Tong Fields at Doi Mae U Kho, famous for its sunflowers, however, at the beginning of February, the blooming season was over. The ticket to the national park costs 200 THB for foreigners and it's a short stroll to the viewpoint. It's not possible to go down to the base of the waterfall, only to see it from afar, but it's still a wonderful and relaxing place.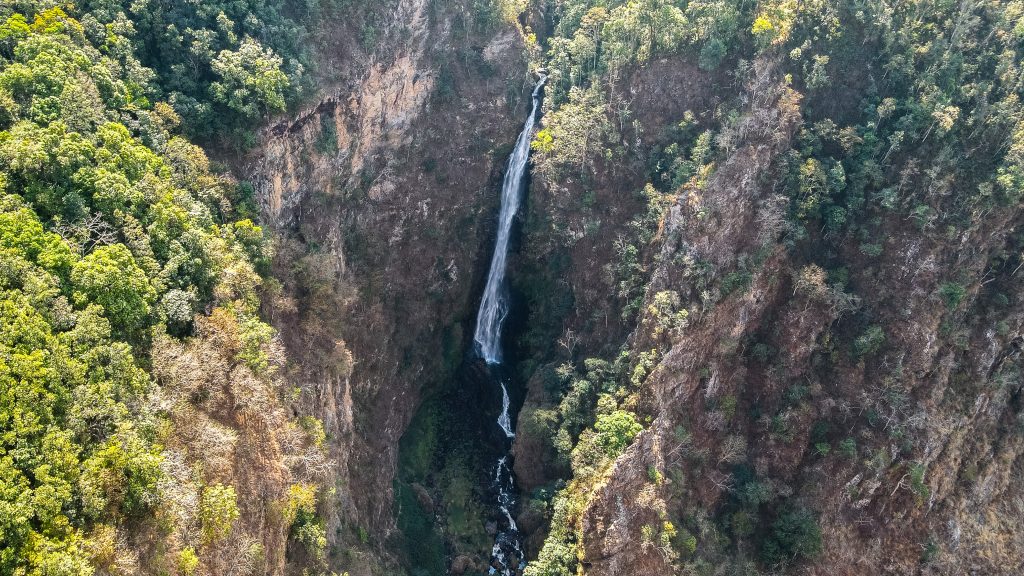 After coming back to road 1263, you may take a shortcut and ride directly to Doi Inthanon National Park. However, I really wanted to complete the full Mae Hong Son loop so I drove back to Khun Yuam where I also visited Thai-Japan Friendship Memorial Hall. It is a good place for anyone interested in the history of World War ll. The visit takes about 1 hour but is rather pricey – 200 THB for foreigners.
From here, it's nearly 100 kilometres ride to Mae Sariang, but you can make a stop at Mae La Luang Viewpoint. Mae Sariang is a quiet town without many attractions but for amazing panoramic views, ride up to Wat Phrathat Chom Mon.
There is also Salawin National Park in that area which can be explored through a 1-hour hike around. Deeper exploration towards Thanlyin River at the Burmese border is possible too but the roads are apparently rough and you would need a decent 4×4 vehicle. I didn't have enough time for this park so I decided to leave it for the next time.
From Mae Sariang, it's 102 kilometres to Huen Hug Hod The Resort, where I decided to stay.
Day 5
The last day of the trip has some great nature and waterfalls. If you decided to spend a night at Huen Hug Hod The Resort and would like to visit Op Luang National Park in the morning, you need to actually go back around 15 kilometres on the same road you took yesterday. The park itself is a great little spot to walk around, with a loop trail to the summit taking between 60 – 90 minutes. The entry fee for foreigners is 200 THB.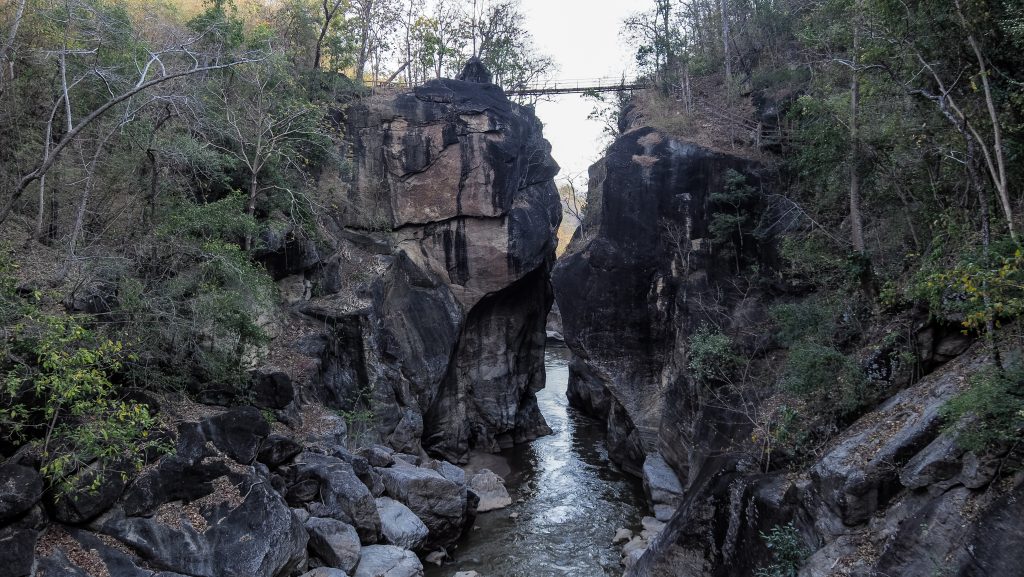 From there it's about a 50-minute ride to Chom Thong where you can visit a very nice temple Wat Phrathat Si Chom Thong Worawihan and refuel your motorbike before hitting the road further to Doi Inthanon National Park. It's home to the tallest mountain in Thailand standing at 2,565 meters above sea level as well as plenty of amazing waterfalls. The entrance for foreigners costs 300 THB.
Reaching the summit of Doi Inthanon is a rather effortless short walk from the parking, without spectacular views due to dense forest. Take some warm clothes with you as the temperature may drop to well below 10C.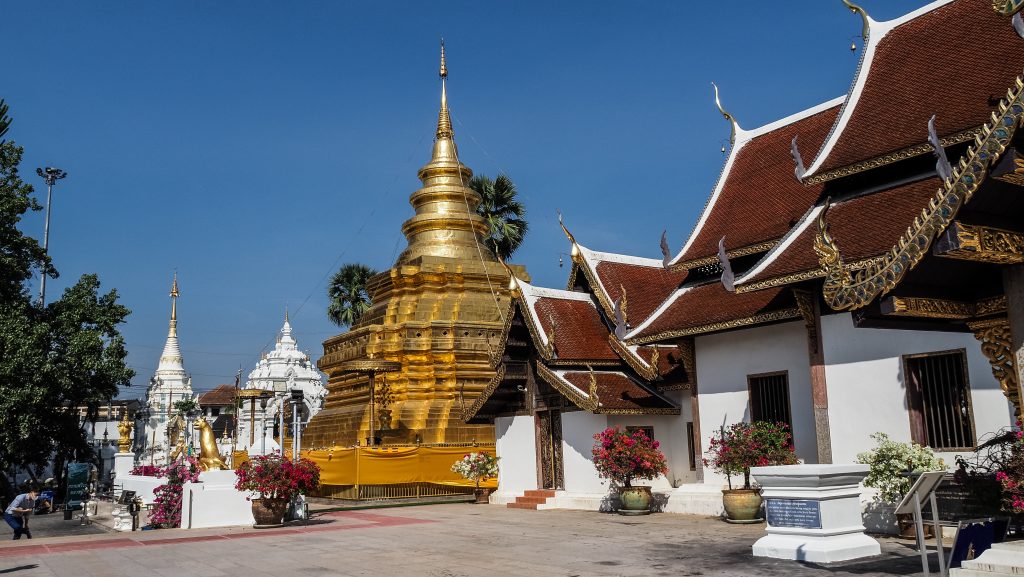 For hiking enthusiasts, there are 3 trails worth considering. The first one, Ang Ka Nature Trail is the shortest and can be done without a guide in about 15 – 20 minutes. It's just at the base of the Doi Inthanon summit. The second one, Kew Mae Pan Nature Trail is about 3 kilometres long and overlooks the two pagodas. At the entrance, you need to hire a local guide. I see completely no point in that as the way is just obvious and you can't get lost. The third, Pha Dok Sieo Nature Trail, has to be with a guide too (220 THB on top of the national park entry fee). Beautiful easy walk along the stream and waterfalls with stops to take a dip if you want. The walk ends with a walk through the local village to visit shops with handicrafts and to taste local coffee. I only hope that the extra money that tourists are forced to pay really goes to the guides' pockets.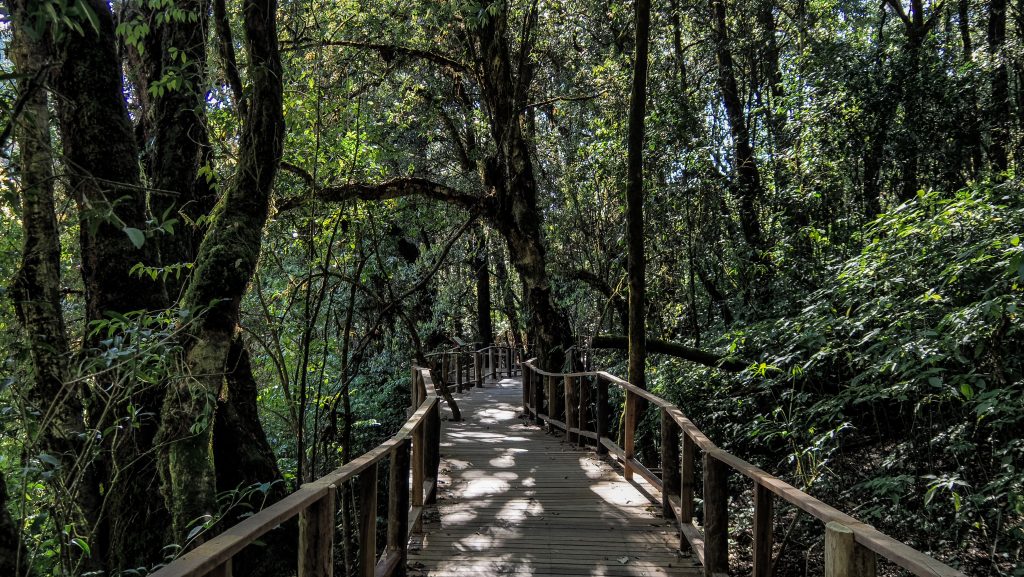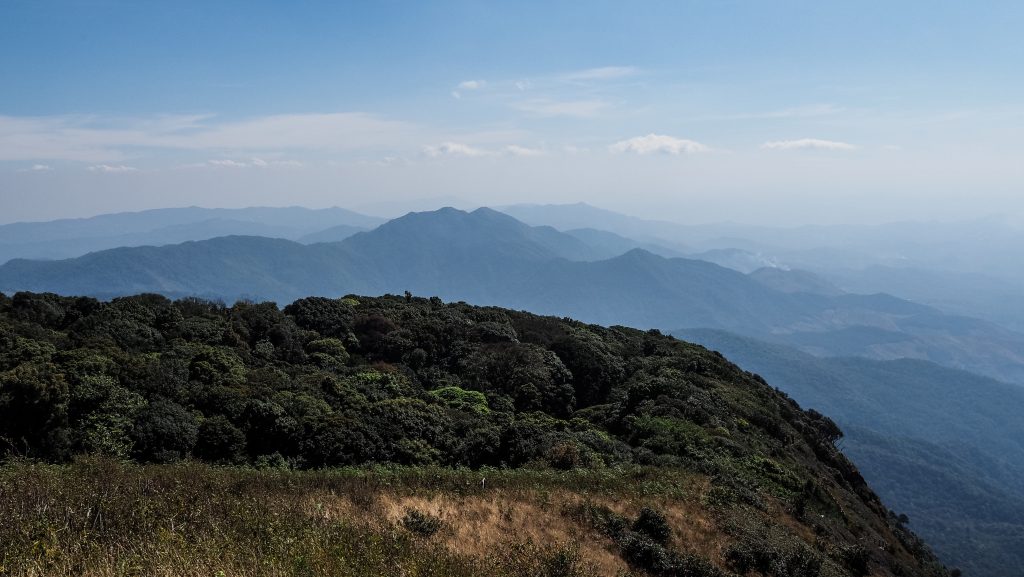 Mae Ya Waterfall is a bit off the main route but you can't miss it! I think it's the best waterfall in the national park and one of the prettiest in Thailand. It's a short walk from the parking lot.
Other beautiful and powerful waterfalls are called Mae Klang and Wachirathan and both are very close to the parking areas. You may see the rainbow around Wachirathan if you are lucky. Then, you can make a quick stop at Sirithan Waterfall. Not that impressive but still a decent size.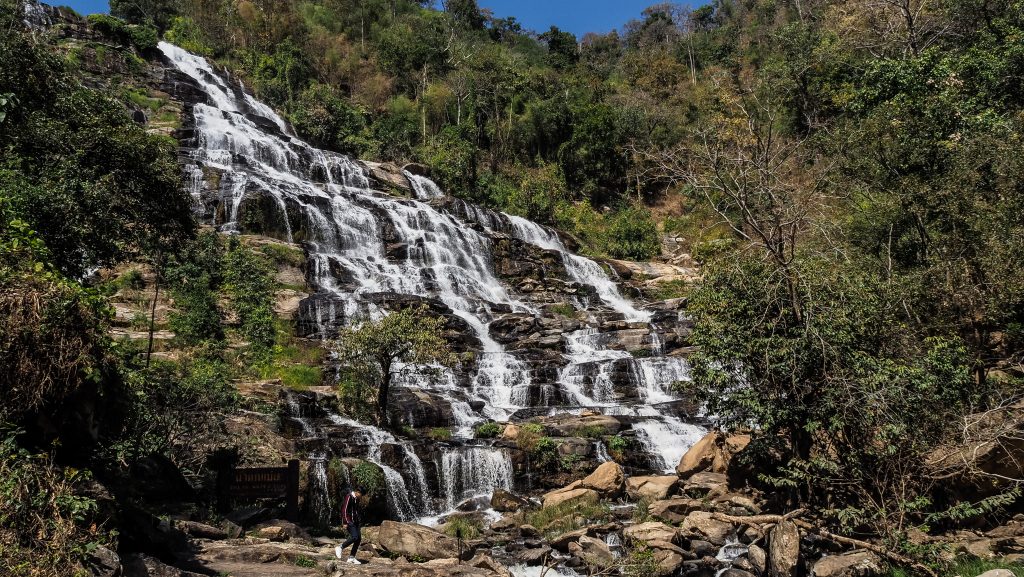 Besides hikes and waterfalls, you certainly can't miss the twin pagodas: Pra Mahatat Noppamethanedon and Pra Mahatat Nopphonphusiri. They were built to honour the late King Bhumibol Adulyadej and Queen Sirikit, and are surrounded by spectacular gardens. The panoramic views are great too.
The Royal Agricultural Station Inthanon is a huge garden for flower enthusiasts but other than that, there is not much else you can do there.
If you need to buy some souvenirs, you may stop at the Thai Hmong Community Market. There are fruits, vegetables, nuts, and various liquors available but the prices are rather high.
After such a busy day, it's time to depart to Chiang Mai, the final destination on the Mae Hong Son Loop. It's about 90 km and should take about 1,5 hours. I must say that the whole trip was simply incredible, but I got really tired and the last kilometres on the busy roads of Chiang Mai really drained all my remaining energy.
Accommodation
Nothing too fancy but a relatively cheap hut (375 THB), clean and with everything you need for a short stopover. It's close to the city centre and a walking street too.
Address: 3/1 Moo 8 Tumbon Vieng Tai, Amphoe Pai, Mae Hong Sorn, Pai, 58130, Thailand
Phone: +66 99 230 6599 GPS coordinates: N 019° 21.097, E 98° 25.979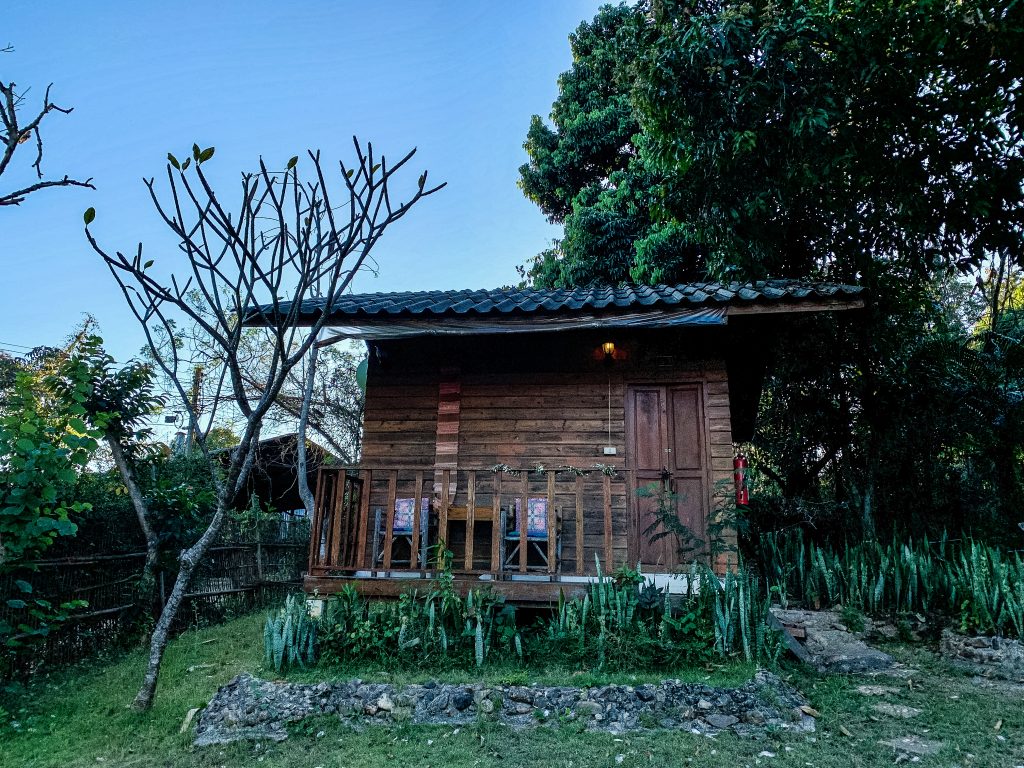 Clean and well-designed huts. The lady showed me the cheaper version and a bit more expensive one. I decided to take the more expensive one for more comfort and it was a good choice. The bed was very comfortable and the owner can prepare some good food for you. The entrance is on a dirt road turnoff from the main road.
Address: 200 1095 สบป่อง อ.ปางมะผ้า, 58150 Mae Hong Son, Thailand
Phone: +66948283865
Another clean, comfortable and well-managed guesthouse. The price is very affordable (450 THB). I had air conditioning, a double bed and a private bathroom.
Address: 6 Soi Padung mauitau, Muang, Mae Hong Son, 58000, Thailand
Phone: +66 88 435 9258 GPS coordinates: N 019° 18.124, E 97° 57.851
The resort is easy to reach from the main road. At night time the road is quiet enough to not disturb the sleep. Nice garden around the bungalows. The rooms are quite large and clean. Breakfast is simple and basic.
Address: 296 Moo.1, T. Hang Dong, A. Hot, Hot, Hot, Thailand, 50240
Phone: +66850307356
I must be honest that I had serious doubts when I arrived here for the first time. Let's say that from the outside, the building doesn't look too appealing. But I ended up staying here easily for more than a week and the owner helped me with my visa extension. It's a great place with a soul. There is motorbike parking and some seating area in front of the house, cheap bicycle rental and laundry. The room has air conditioning and very fast internet. The bathroom is shared, but it wasn't a big deal.
Address: 32-34 Ratchaphakinai Rd, T.Pragin, A.Muang, Phra Sing, Chiang Mai, 50200, Thailand
Phone: +66 89 700 9971GPS coordinates: N 018° 46.944, E 98° 59.397
Tips
Wear a helmet and protective clothing
I know it can get hot during the day and riding a motorbike wearing a helmet, gloves and long sleeves isn't comfortable, especially when you see all the locals doing their freestyle, but it's better to be safe than sorry. You are not as experienced on these roads as they are so don't try to show off.
Travel lightweight
Riding a motorbike for hundreds of kilometres a day won't be easy with a heavy backpack. Keep it small and light. Make use of the space under the seat or keep the bag between your legs if it doesn't bother your while riding.
Take warm clothes
In the mountain regions or at the summit of Doi Inthanon, the temperature can drop well below 10C, especially at the night or in the morning. Needless to say, it feels even colder when riding a motorbike.
Plan enough time
I planned 5 days and even though I saw the places that I wanted, I am the person that likes sightseeing in detail and there were moments when I felt in a rush and a bit tired. If I ever did the loop again, I would plan at least 3 days more, especially in the area of Pai, Mae Sariang or Doi Inthanon.
Take a flashlight
It might be very useful for easier exploration of Nam Lod Cave or any emergencies that may happen at the night.
Avoid riding at night
Mae Hong Son loop has many curves and outside of cities, there is no lighting. Do yourself a favour and plan to be around your accommodation without the need for long rides after sunset.
Save important phone numbers
You don't want to nervously browse the Internet looking for the correct number in case of emergency.