Koh Mak is a mid-size island, much smaller than its popular neighbours Koh Chang and Koh Kut, but that gives it additional charm. In fact, it's only 10km from east to west and 5km from north to south, so you could basically walk around. The landscape isn't too exciting though and you won't find here any jungle or mountains. What you will find are mostly coconut groves and rubber plantations. Koh Mak is a quiet place, which probably isn't the best spot for nightlife enthusiasts. But if you like peace and the feeling of the local community, you will like it.
How to get to Koh Mak?
Getting to the island in the high season is quite easy as there are boat connections with both Koh Chang (Bang Bao Pier) and Koh Kut. If you travel from the mainland, then head to Laem Ngop Pier and take a speedboat to Ao Nid pier on Koh Mak. The cost should be about 450 THB one way.
If you travel by public transport from Bangkok, the best would be to take a direct bus from Ekkamai to Laem Ngop Pier or if not possible, then to Trat and continue by taxi or by pickup truck to the pier.
Trat has also its own small airport with flights from Bangkok operated by Bangkok Airways. However, the total cost of travel, including transfer to the town or pier to the islands is totally not worth it.
Travelling outside of the main season is a completely different story. On most of the websites, you can find the information that boats between islands stop operating between June – September. In practice, when I was there between May 21st – May 22nd, the boats were already cancelled. According to a travel agent, it happened a bit earlier this season (for whatever reason) and I was one week too late. In such a case, the only option was to come back from Koh Chang back to the mainland, take a taxi to a different pier and then a speedboat to Koh Mak. Very complicated and a bit annoying travel, taking into consideration how close these two islands are and what a big detour you have to make to get from one to another.
When to go?
I strongly recommend travelling in the high season, between October and mid-May. Getting around the islands in the Koh Chang archipelago is just so much easier and cheaper, not the mention better weather. There are not many things to do on Koh Mak rather than water activities and spending time on the beach, so when it's super windy or it rains, the fun is gone.
How long to stay?
It's a small island so I would say that 2 full days should be enough to visit all the exciting places and enjoy beach time.
Where to stay?
Hotels, bungalows and resorts, all of these are available on the island at various prices. I stayed in Sea View Resort, which was affordable and quite clean (at least the room), but not as close to the beach as popular resorts. Unfortunately, the area around the bungalows was messy and overgrown. The owner arranged a pickup taxi from the pier for 100 THB and assisted in booking return boat tickets. They rent motorbikes too, but they look like they have never been cleaned before. It's the okayish place for one night, but I would definitely look for an alternative in case of a longer stay. You can make a reservation on booking.com or agoda.com.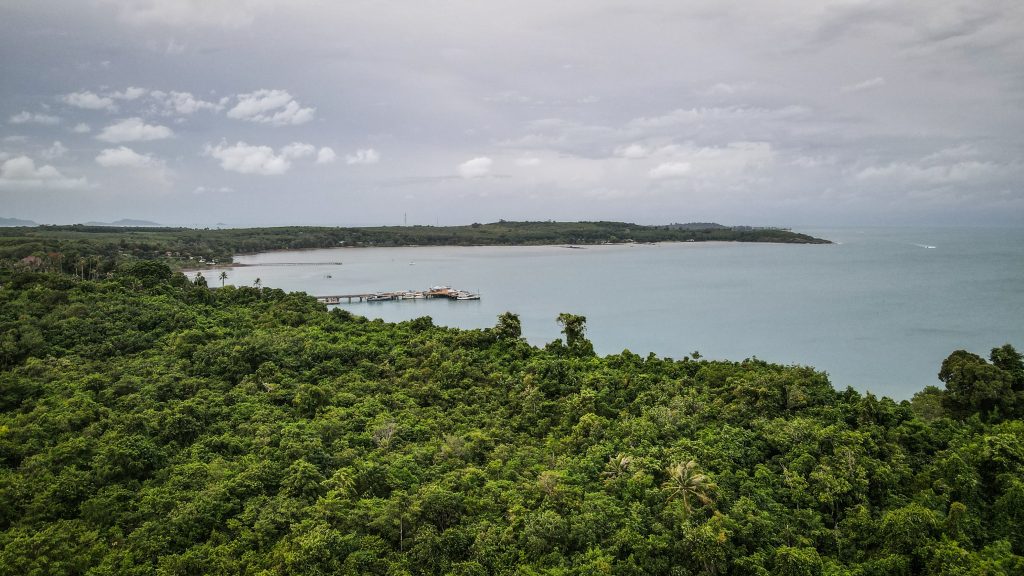 Getting around the island
Options are limited to pick-up trucks or rental motorbikes and classic bikes. I always opt for my own wheels and that time was no different. I got a black Honda Click, one of the most popular motorbike models in Thailand, from my accommodation. The cost for 24 hours was 250 THB, including fuel.
A classic bicycle would be fine too as the island is very flat and there is little car traffic, but temperatures over 30C could be exhausting.
If travelling in a bigger group, getting pick-up truck taxis would be the best but sometimes they can be difficult to find and you may need to ask for them in a restaurant or nearby shop, so they can call the driver. 50 THB per person will get you to most places on the island or you can negotiate your own itinerary with the driver.
Beaches
Koh Mak has the shape of a starfish with many picturesque bays and beaches that can be reached within a couple of minutes on a motorbike. If it's windy on one side, just go to the other. Here is an overview.
Ao Kao
Long sandy beach with shallow water. However, rubbish can be a problem, especially after periods of bad weather. From here you can also take a boat or rent a kayak and paddle to Ko Rayang Nai and Ko Rayang Nok.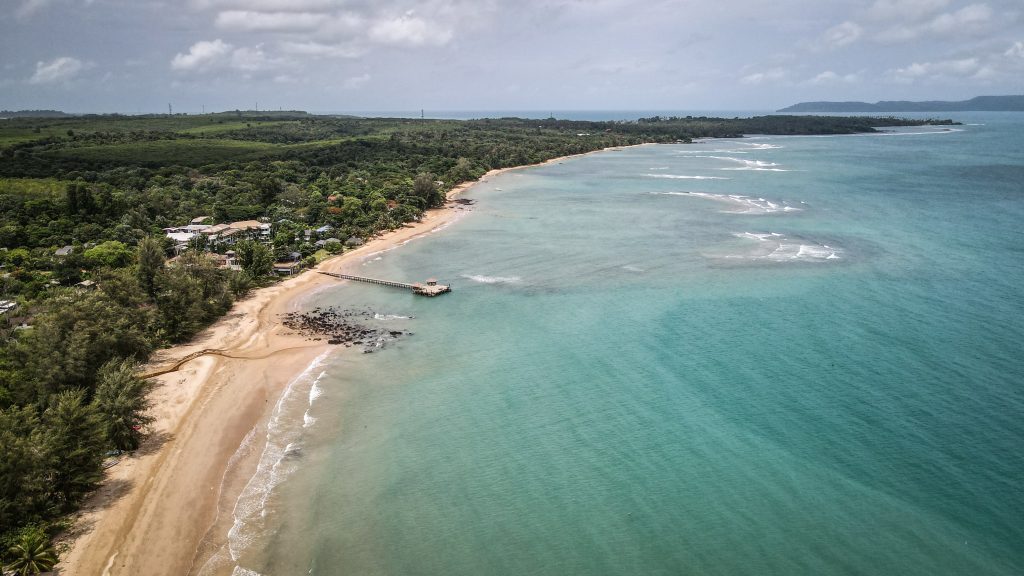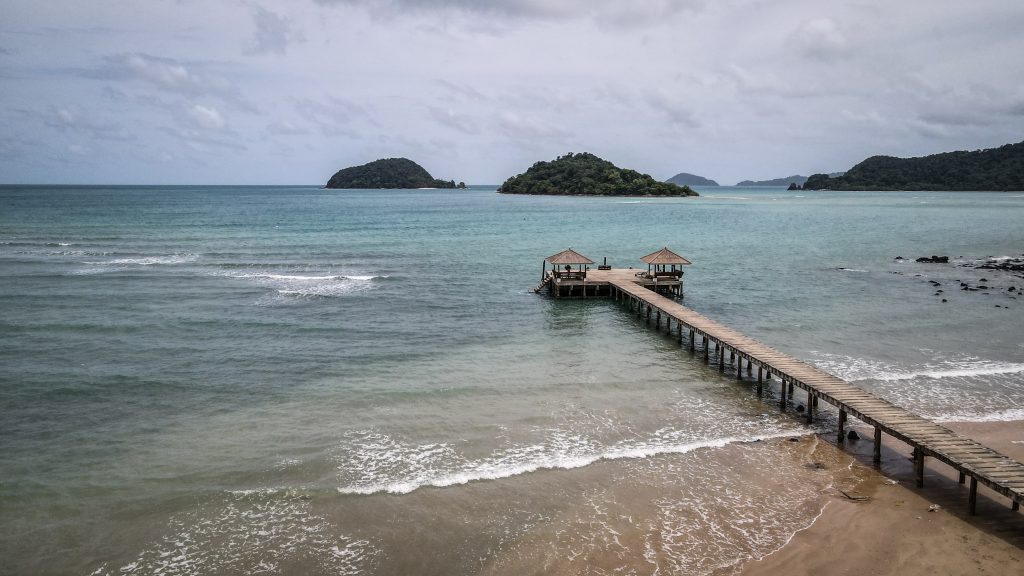 Maruey Beach
Pretty narrow but beautiful with coconut tree shades.
Ao Lom
The road here goes through the jungle and it's not for first-timers on the motorbike. You can see the small island Ko Phi just in front. It's a good snorkelling spot too but be aware of the currents.
Ao Phra
I recommend parking your motorbike in front of Mira Montra Resort and accessing the beach from there. You can also rent a kayak and paddle to Ko Kham Island for a good couple of hours.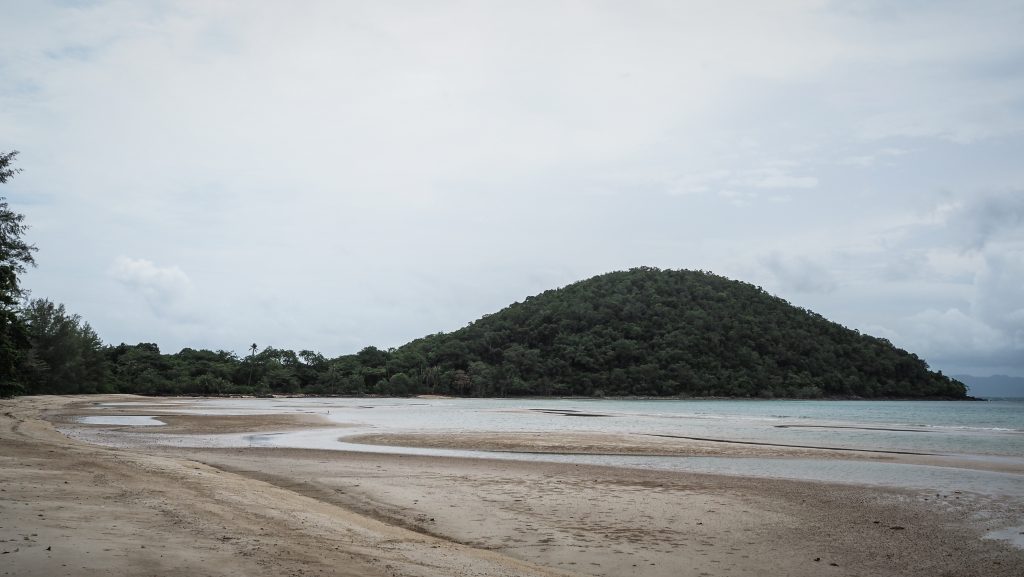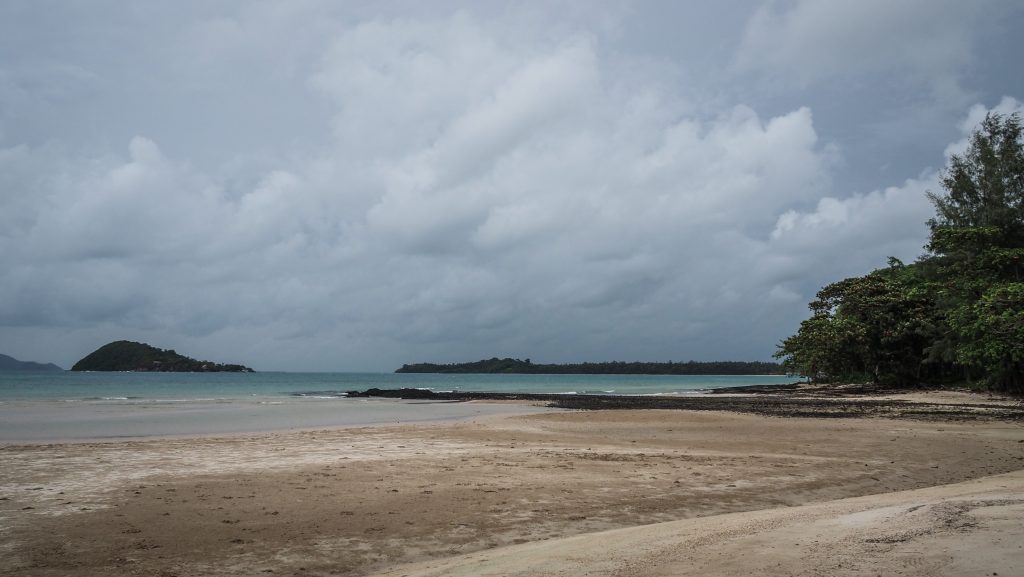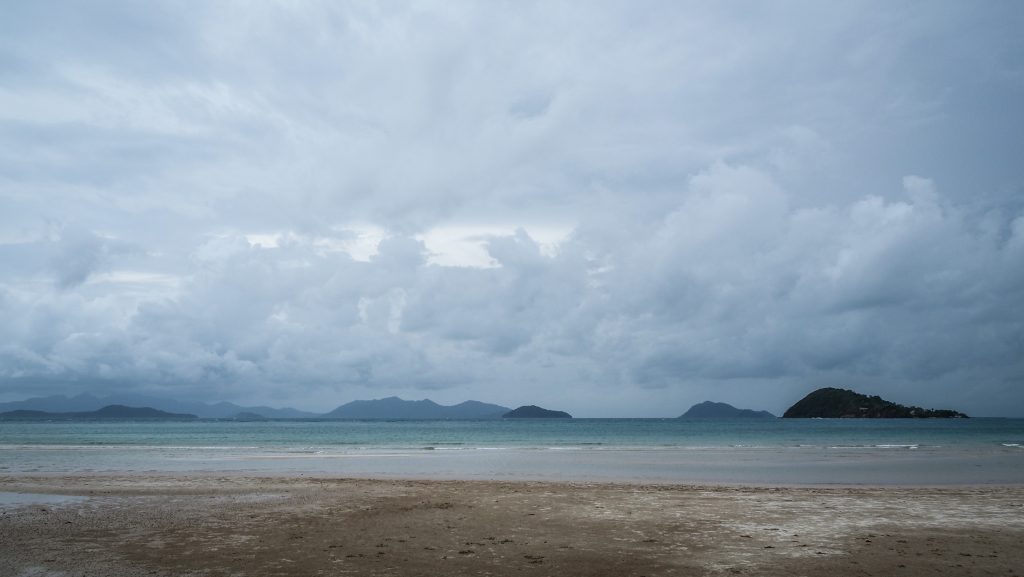 Ao Suan Yai
Nice place to swim in shallow waters and has good sunset views. There are a few restaurants and bars around to chill. Ko Kham Island is just in front and you can easily get there by kayak.
Ao Tao Khai (Turtle Beach)
20 minutes walk through the jungle and you get to a beautiful deserted beach, where most likely you will be alone.
Ao Tan
Just around Cinnamon Resort and wooden pier. This beach is quite lonely and not very good for swimming as the shoreline has more mangroves, but worth checking out nevertheless.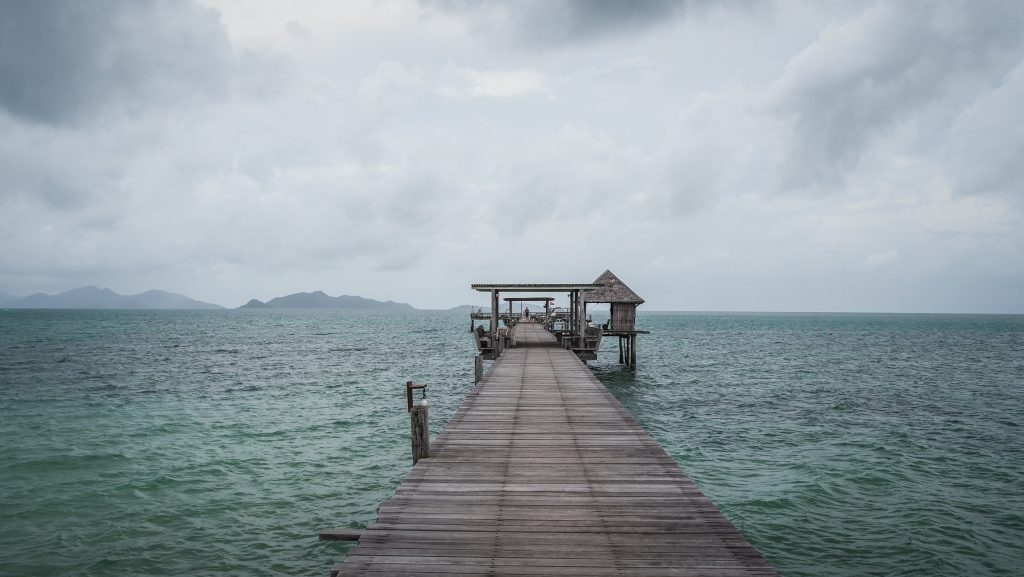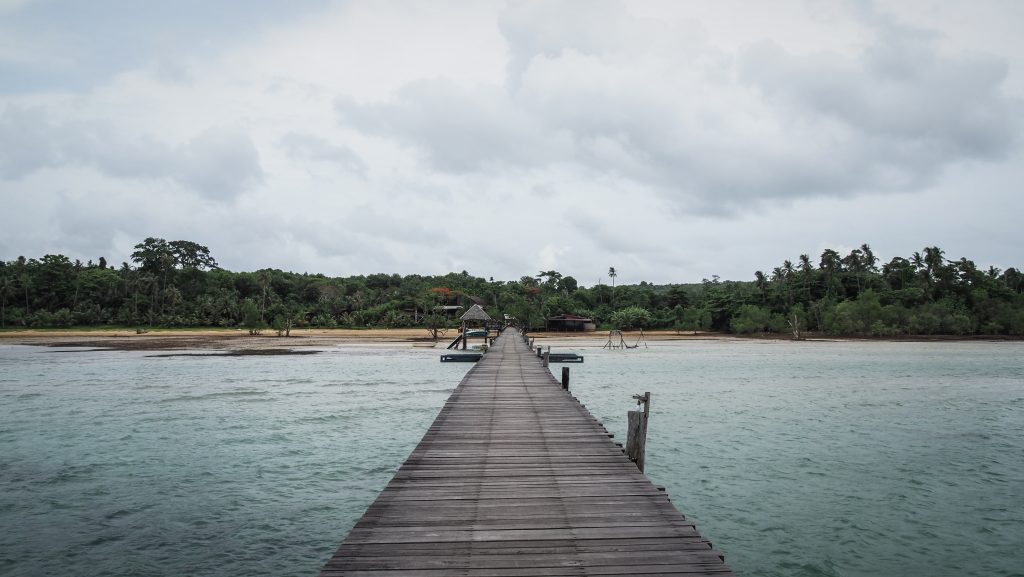 Ao Pai
Next to Ao Nid Pier. Nice to walk on with great views of Koh Kut but not ideal for swimming. There are red sand and stones.
Laem Son
A very cool place which is accessible via a paved road and a dirt track to the far northeastern tip of the island. There is a small place where you can get a cold drink and something to eat. A kilometre offshore is the island of Koh Kradad, famous for a large herd of deer living there. if you want to go there, ask the locals in a bar.
Nearby islands
Koh Kham
Take a kayak and paddle yourself or use one of the regular longtail boat services from Koh Mak Resort or Prompakdee Resort. You will need to pay the entrance fee of 200 THB upon arrival. The sand on the beach is soft and white and there is some good snorkelling around.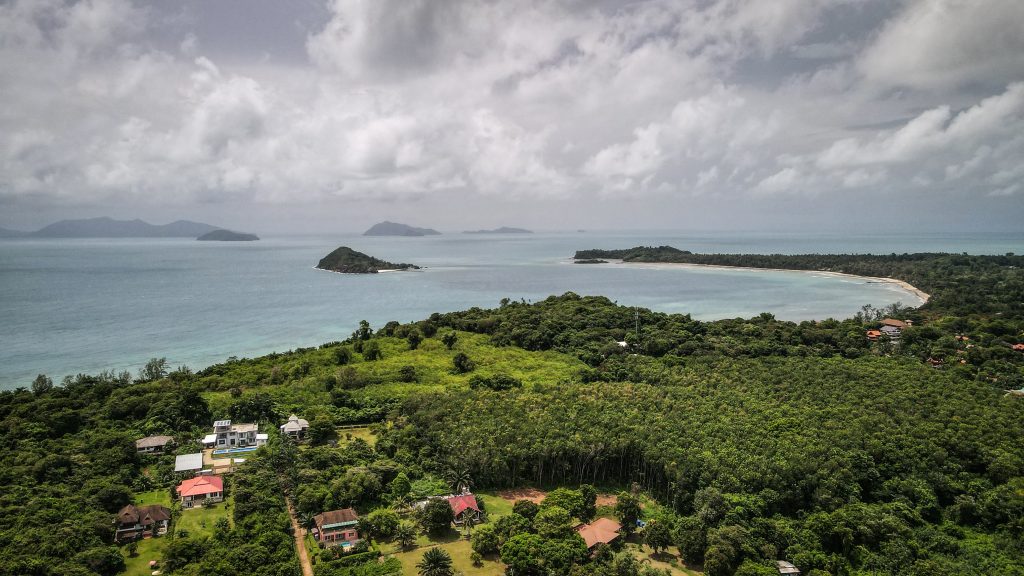 Koh Kradad
Head to Cinnamon Art Resort or Laem Son Beach to rent a kayak or find a longtail boat that will take you there. It's flat and quite easy to walk around. The beach is nice and long and there is a herd of deers wandering around.
Koh Phi
The kayak can be rented from Cococape Resort. I didn't see any longtail boats going there but apparently, if you book an island tour by boat then Koh Phi will be among the places you stop off at. There is nothing to do on the island itself, just the snorkelling around is quite worth it but also not mind-blowing.
Koh Rayang Nai and Koh Rayang Nok
These two islands can be easily seen from Ao Kao Beach. Koh Rayang Nai has one small shrine in memory of one of the founders of the island and that's basically it. On Koh Rayang Nok, there is a small Rayang Nature Resort that can be visited. The admission fee is 200 THB in case you rent a kayak and paddle there by yourself. Otherwise, ask around for the boat at Ao Kao Beach. Generally, it's an excellent place to rest on the beach and do some snorkelling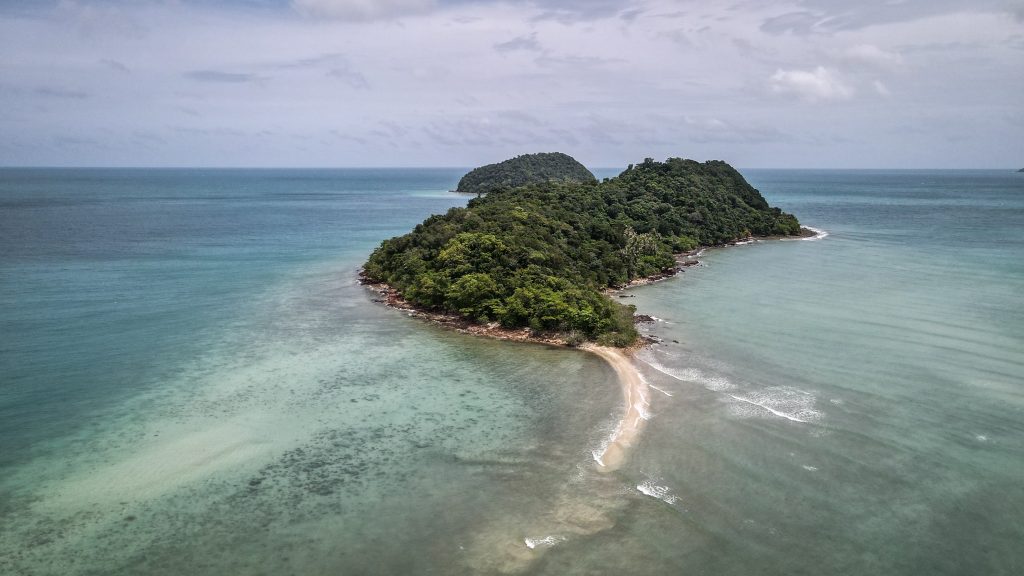 Other interesting places
Wat Koh Mak
The best spot to have a panoramic view of the island. The temple is quiet and has an impressive big Bodhi tree as well as a beautiful statue of Buddha overlooking the sea.
Ride to the south
From Ao Nid Pier just turn left and lose yourself in these country roads. Head towards Banana Sunset Bar, Koh Mak Panorama Resort or Ta-Lay Time Resort. There are some nice viewpoints along the way.