Phong Nha used to be just another sleepy village on the banks of the Son River in the countryside of Vietnam, but it all changed with the discovery of one of the world's largest caves. Guesthouses, tour agencies and restaurants popped up feeling an opportunity and they were right. Today this area is considered to be an adventure tourism hotspot.
I had been looking forward to the visit to Phong Nha for quite some time, as I heard a lot of positive reviews claiming it to be one of the most beautiful nature places in Vietnam. As an enthusiast of multiday hiking trips, I was strongly tempted by the wide offer of tours including camping in the jungle or even inside the caves. In the end, I decided to go for it and selected Hang Tien Cave Exploration, one of the tours offered by Oxalis Adventure.
This is not a paid review. I simply decided to write it as I truly enjoyed the experience.
How to get to Phong Nha?
Phong Nha is one of the top tourist areas so it can be easily reached by bus from all the major cities around. There is an airport in Dong Hoi in case you want to save some time and energy when coming from Hanoi. The capital of Vietnam can be also reached by bus or by train but the travel time will be significantly longer (about 12 hours).
If you ride on a motorbike, the best would be to start at Dong Ha (~ 140 km) or Dong Hoi (~ 40 km) when approaching from the south or Vinh (~ 200 km) when coming from the north.
Where to stay before the tour?
I booked 2 nights at Phong Nha Friendly Home and also left my luggage and motorbike there for the duration of the tour. The room was spacious and clean and there was a nice view from the terrace. The only negative point was the hot water in the shower that didn't last too long so I had to be quick 🙂
The owners are very friendly and breakfast is included in the price (about 400.000 VND per night).
Price and booking
The cost of the Hang Tien Exploration Tour is 9,900,000 VND (426 USD) per person and the tour has a limited annual number of visitors. Yeah, I know. It isn't cheap. But let's just think that for each group of 10 tourists, there are 1 tour guide, 2 safety assistants, 1 chef, 2 camp guards, and 4 porters. Oxalis provides all the meals, and camping and safety equipment such as helmets, harnesses, headlights, gloves and a waterproof box for your valuables. The final night is spent at Tu Lan Lodge which is of extremely good quality, much better than the hotels or guesthouses that I usually book. It's a lifetime experience and I think it is worth the money.
When to go?
The tours are operated from November to September and the best would be to go around April – May. The days are getting warmer and dipping in the water is certainly more fun. I made a trip in late January and it was pretty cold, especially at night or when crossing rivers with icy water. Tours depart on a fixed schedule, on Tuesdays and Saturdays (as of January 2023).
There are no tours from September to October due to the rainy season and increased water levels.
How long to stay in the area?
Besides the amazing trip with Oxalis, it is still worth spending some time for further exploration of the region. It has so much to offer: Phong Nha Cave, Paradise Cave, Duck Stop and Botanic Garden, just to mention a few interesting places!
I spent there two extra days but I could easily imagine an additional one or two in summer when it's warmer you can do more water activities.
The trip plan
Day 1
The big day has come! I was thinking for a long time about which tour to choose and nearly booked another one (Tu Lan Explorer) but luckily Oxalis consultant advised me to pick Hang Tien Exploration Tour which doesn't involve too much swimming, which isn't that nice in January. So, there I was, waiting at my guesthouse for minivan pickup.
They came right on time and about one hour later, we arrived at the Oxalis base camp in the countryside. We were given the equipment (protective helmet, gloves, backpack, bottle with water, and waterproof box for electronics). Then, we met our guide (Dai), who explained all the details of the tour and we had to repack: some things were taken by the porters, and some we carried ourselves. Unfortunately, I chose a backpack that was quite small and only later on I noticed that there were a few bigger ones but they were already taken by other. Well, too bad. Remember to pay attention and choose wisely! As always, my backpack was full to the limits.
We hit the trail walking first through the countryside and saw the daily activities of local people. Many of them were riding bikes with some plants attached to them. Looked quite funny as sometimes you couldn't really even see the rider, just a motorbike and moving leaves. The road was getting muddier and muddier. In general, the first day was definitely the muddiest of all. We crossed a fast-flowing river with a strong current, some people did it with hiking shoes but it meant that they had to spend the rest of the day with completely wet feet. Luckily, I had my trekking sandals, which were excellent for that purpose so I quickly changed.
Then we continued through muddy terrain to the Secret Cave. The interior was small but really beautiful. Then we had lunch, mostly bread, rice paper and all the ingredients to prepare a sandwich or a spring roll by ourselves. Then we went to Hung Ton Cave which involved going down the steep ladder while wearing a safety harness. It was quite easy, even though it looked scary as I had never used that kind of equipment before. I felt perfectly safe as I was convinced that the guides were experienced and knew what they were doing. Then, as the water level was high and no one was interested in swimming in cold water, we took a short boat ride out of the cave.
From there, we hiked through more and more muddy terrain, but luckily there were barely any leeches. We crossed some more streams, one of them with a pretty strong current and water level up to the waist. I think it was the most dangerous section of the trip. If someone had fallen down, they would have gone with the river flow and for sure got hurt.
Finally, we reached our campsite. Some people took a swim in the river and jumped into the herbal steam bath. I didn't do so as the water was way too cold for me. Instead, I drank a few cups of delicious ginger tea and warmed myself up next to the fireplace.
We started drying our clothes next to the fireplace, including shoes, which didn't end up well for me. I left them there for the night and in the morning the right one was seriously burnt.
The dinner was very delicious and it felt really great to eat at the camp in the middle of the jungle. After dinner we were sitting around the fire, having a nice chat and at some point, roasted peanuts were served, which was a nice surprise.
The camp was nicely organized with tents under some kind of roof and on an elevated platform. There was also a thermal steam bath, a bathroom with water in the bucket and a properly-looking toilet.
In the end, everyone went to sleep quite early. The night was quiet and I slept well even though I was a bit cold. Everyone was given two sleeping bags but they were extremely thin, so it was necessary to use extra layers of clothes.
Day 2
We woke up at about 8 AM, got breakfast and then had some time to pack the things and get ready. On that day, the trail was supposed to be less muddy and without many river crossings. The total distance to go was about 8 km with roughly 350m of ascent. Unfortunately, I noticed that one of my shoes got burnt while lying too close to the fireplace. What can I say, I am a jungle genius.
I set off in my Keen sandals as there were small river crossings at the very beginning of the hike and I preferred to have dry feet. I was glad to see that the trail was indeed less muddy than the day before. There were no caves en route today, just pure jungle. We had our first picnic at the beautiful spot at the lake. The meal was really delicious. Rice with papaya and some other veggies, peanuts and sauce. The weather was also much better than the day before, with the occasional sunny period but still cold, especially while resting. Luckily, there were still no leeches as well as no mosquitos.
After the lunch break, we had to cross the small lake walking on the fallen tree and the over the wooden mini-bridge but it was submerging under the weight of the person walking on it, so I again decided to change shoes to sandals and keep sports shoes dry.
Then we walked and walked until we reached our second campsite set in an amazingly scenic location at the riverbank. There was a kind of small beach and Oxalis guys even organized a stand-up paddleboard. This time I decided to take a short dip in the water but it was really so goddamn cold. Immediately after, I jumped inside the herbal steam bath. It was really cool experience.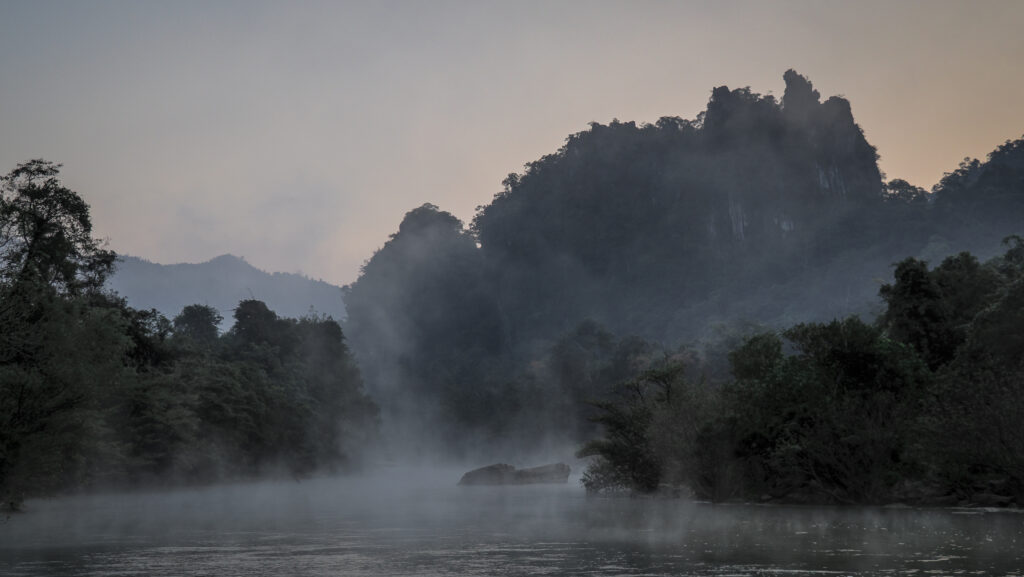 The evening was pleasant. I learned how to play a Vietnamese card game and we had delicious dinner again, followed by chitchat at the fireplace. The chef also prepared some hot sweet potatoes and corn. Awesome. The sky was clear so we could admire hundreds of stars.
There was another Oxalis camp for a different tour, on the other side of the lake, but we couldn't hear them at all.
Day 3
The third day of the trip was the most exciting one as we visited the two biggest caves: Hang Tien 1 and Hang Tien 2. The morning on the campsite was cold but there was nice scenery with a morning mist over the river. Breakfast was delicious too, with nice banana pancakes and chocolate sauce.
We were also asked to decide if we want to take the longer route through the jungle which includes going up the mountains or rather a shortcut and coming back the same way through Hang Tien 1. We voted for the longer hike, which was also my preference.
It was a short trek to the entrance of Hang Tien 1, where we made a stop for a photo session. Then we went inside and it was really, really nice. Very big cave, exciting to walk through with some climbing and narrow passages but allowing to keep the feet dry. Inside, we could see calcite terraces and the circular ceiling dome. Further in we were given a safety harness and instructed to climb a 10 m ladder to reach the cave exit, opening out to a lush forest.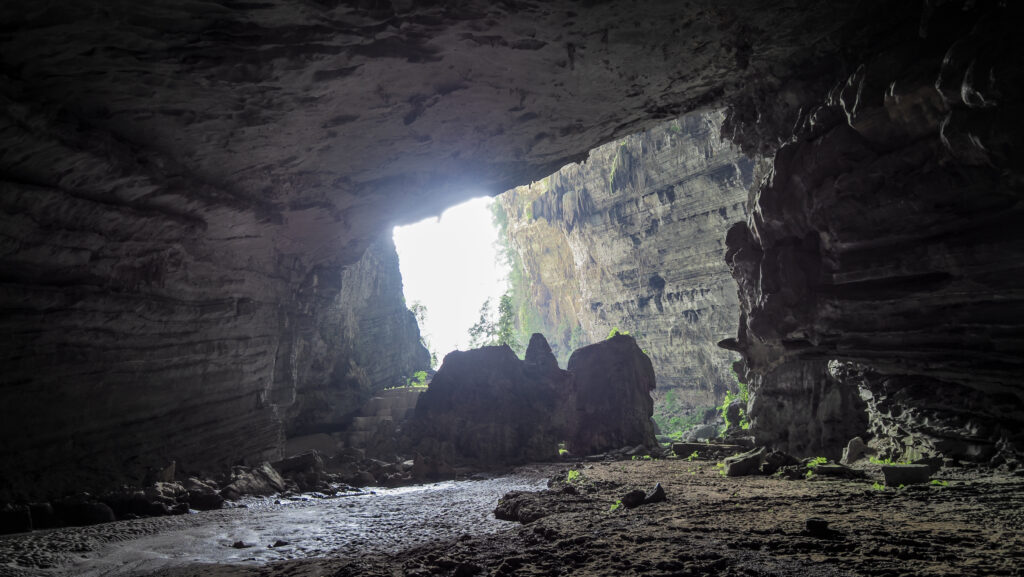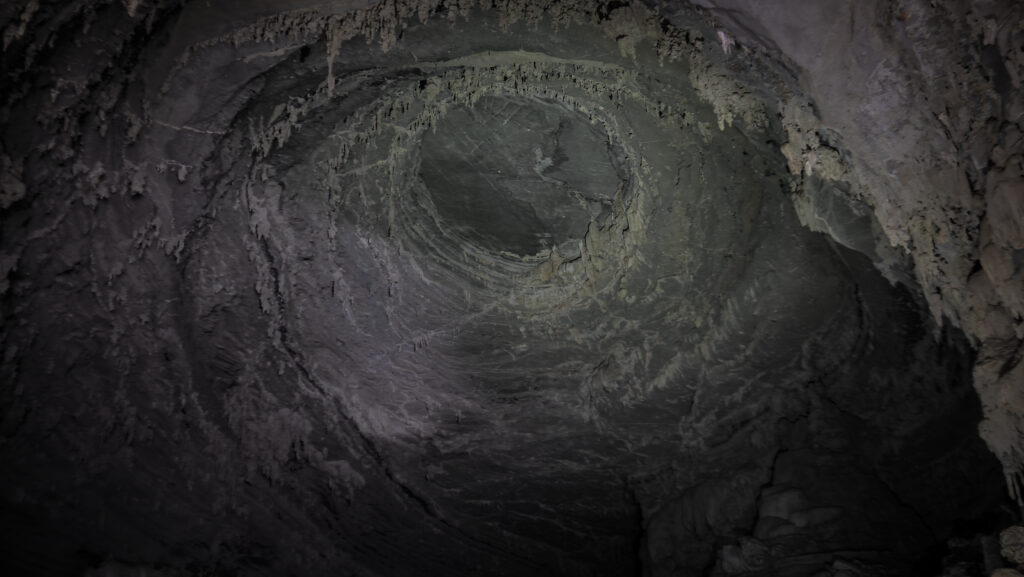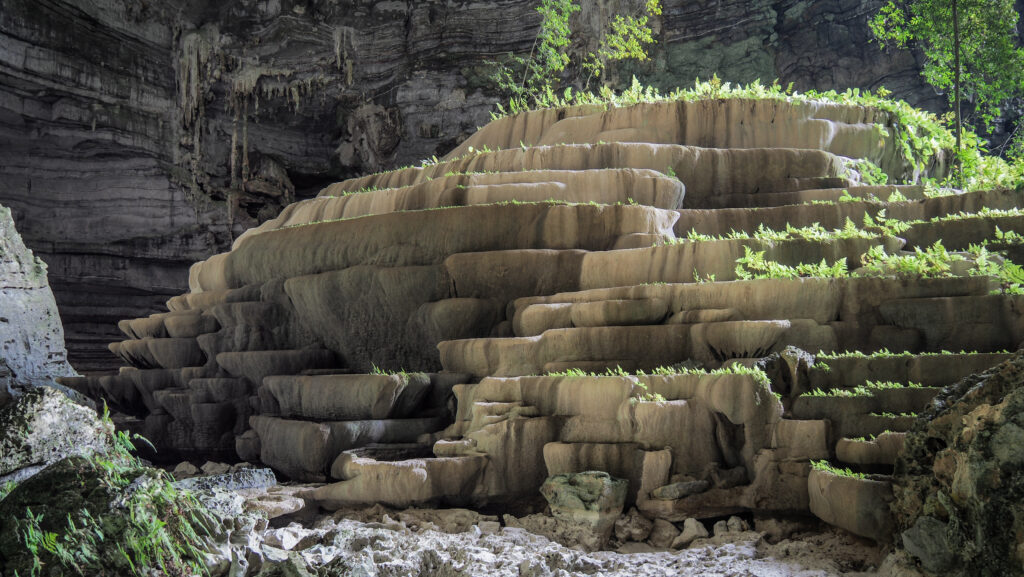 From there we continued to Hang Tien 2, which was smaller but probably even more beautiful inside with crystal-like rock formations. We could leave our backpacks at the entrance because it was a one-way cave with the exit the same way. We took some cool group photos here, with shadows reflected on the rocks and also individual ones while standing between stalagmites and stalactites. The guides were equipped with special lights, which made the photos look really professional.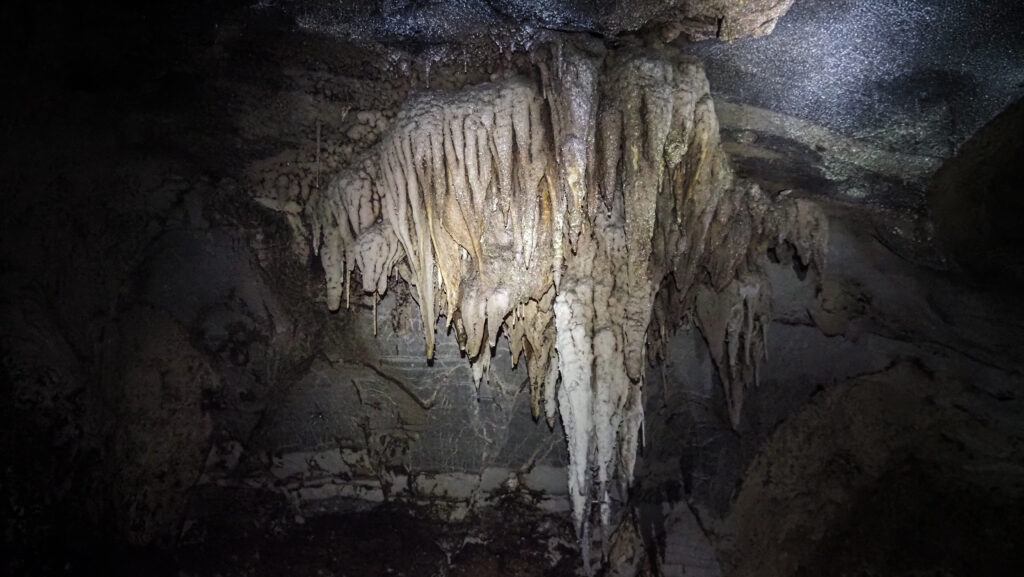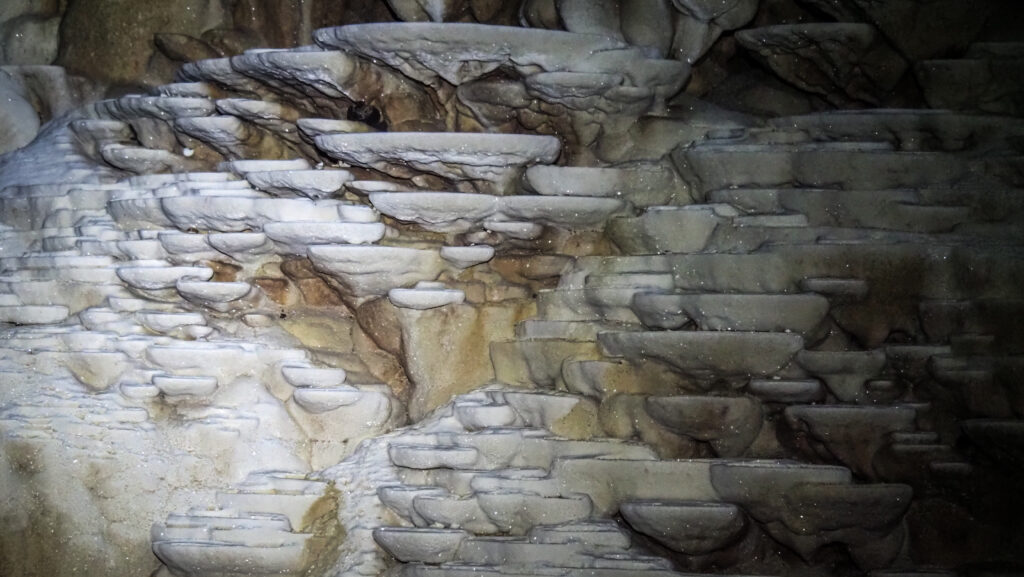 After leaving the cave, we had a nice lunch and then continued the hike through the jungle. The weather was perfect and the hike was really pleasant, even though it was quite steep at some points. We rested for a while at the top and then started descent until we reached the road, where the minibus was already waiting for us.
It took about 1 hour to reach the Oxalis office and Tu Lan Lodge. We received keys to the rooms and had some time for taking a shower or riding a bike before going for dinner. The room was so amazing! Big panoramic window with a view of all the area and the mountains, even from the bathroom! Definitely the best room during my Vietnamese trip. But well, it wasn't cheap 🙂 I did a short bike ride around the village but was definitely planning to wake up early the next day and explore some more.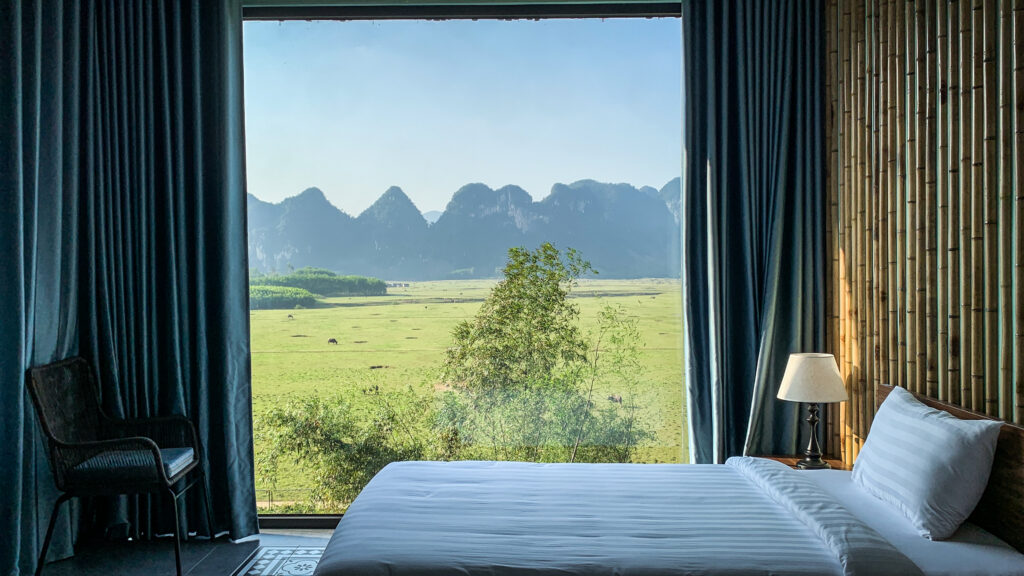 The dinner at the house of the local guide was delicious. A real feast with plenty of dishes but everyone was quite hungry! We also had some happy water (a local alcoholic beverage), obviously for better digestion 🙂
Day 4
The last day shouldn't really be counted as an active one unless you grab a bike and go explore the village. That was exactly what I did! We had free time until 12:00 and the area is way too beautiful to just sit on the terrace. Bikes are available for free for anyone staying at Tu Lan Lodge.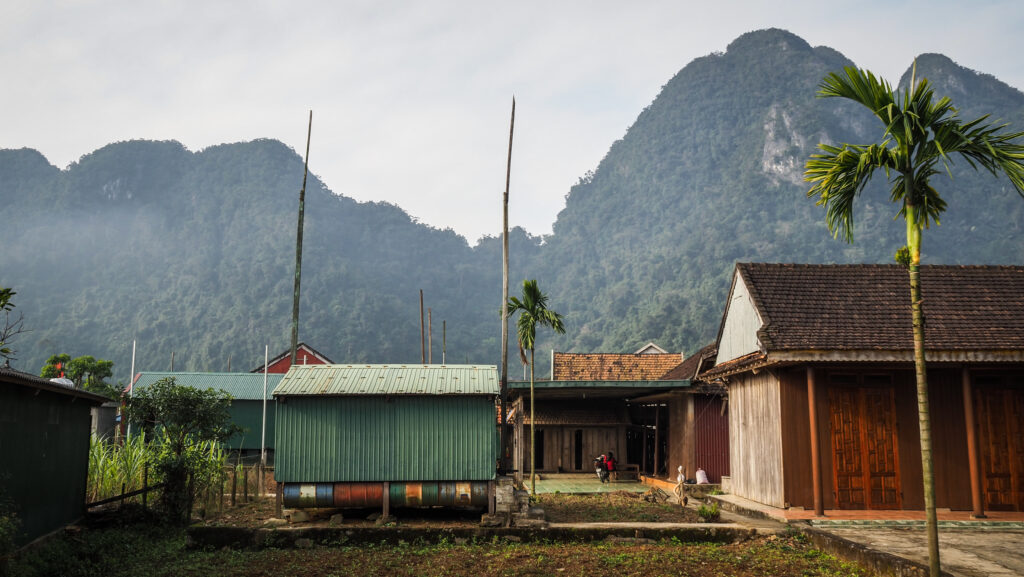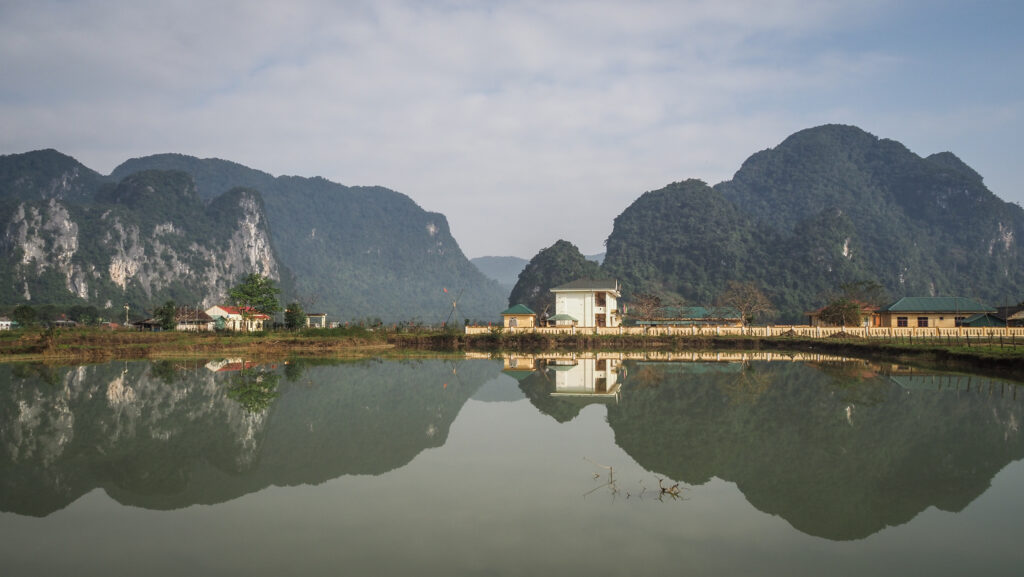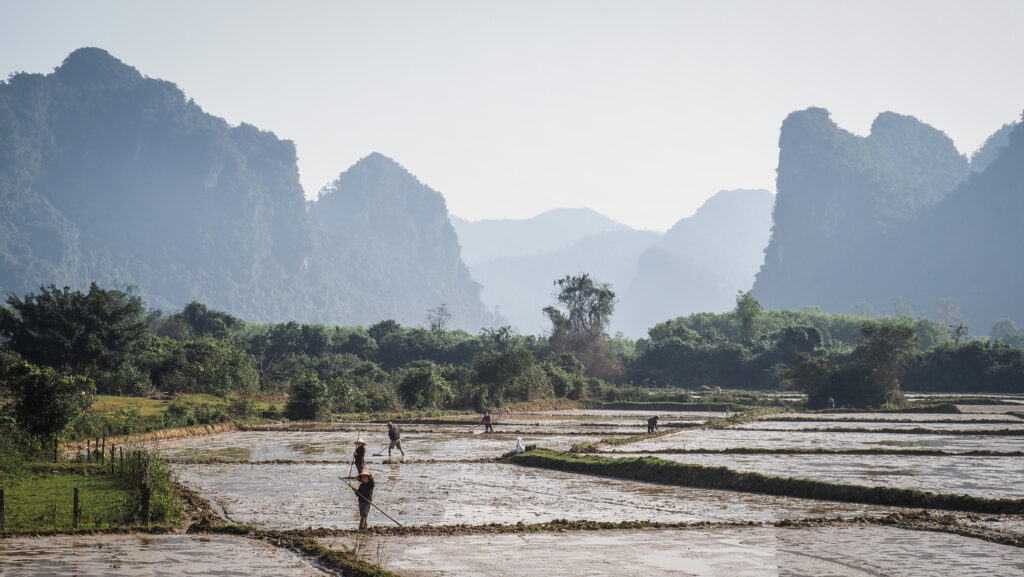 It's a real rural area with extremely friendly people always greeting you and smiling. Lots of great photo opportunities too, especially of people working in the ricefields.
Finally, it was time to set off back to Phong Nha and say goodbye to the group. What an amazing 4 days it was!
Other tours
Hang Tien Exploration is not the only tour in Oxalis Adventure offer. They have both longer and shorter hikes so simply visit their website and find the one that fits you best. It isn't a sponsored recommendation as I truly liked my days in the Phong Nha area 🙂
Summary
All in all, it was an excellent trip. Logistics, guides, food, accommodation as well as communication with the consultant prior to the trip – everything was on a high level. It's definitely not a cheap tour, but on the other hand, it's an experience that you don't have the chance to get very often. I wholeheartedly recommend Oxalis Adventure for all nature enthusiasts visiting Phong Nha.