Jebel Toubkal is the highest mountain in North Africa, situated in the Atlas Mountains of Morocco. Standing at an impressive 4,167 meters above sea level, it attracts hikers from all over the world. Let me share with you my experience of going to the summit!
When to go?
The best time to hike Jebel Toubkal is typically during the late spring to early fall, so from late May to early October. During this period, the weather is usually mild, and the trails are not covered in snow. Winter requires more experience and equipment (crampons, winter clothing). I did my hike at the end of October and it was perfect. Sunny days with a temperature of about 20 – 25C and very cool at night.
How to get to Imlil?
Imlil is located only 60 km south of Marrakech and can be easily reached by grand taxi. You will need to pay about 300 DH for the private trip or 50 DH per seat and share the car with other passengers. Taxis are located close to Sidi Mimoun Garden. The trip will take about 1.5 – 2 hours but the views are very scenic!
Alternatively, you may take a local minibus to Asni and from there get a grand taxi to Imlil but it will take more time and you won't save much.
If you want to have everything organized for you, including transportation, look for a reputable travel agent with a lot of positive reviews on Google Maps or check the offer of GetYourGuide.
Route
The distance from Imlil to the summit of Jebel Toubkal is about 15 km, starting at an altitude of about 1659 m a.s.l. and ending at 4167 m a.s.l. (2508 meters up).
It's quite a lot and most people decide to conclude the first day with an overnight stay at Refugio du Toubkal, covering a distance of about 11,5 km (1501 meters up). On the second day, they continue to the summit and back to Imlil (18,5 km, 985 meters up, 1659 meters down). If you follow this scenario, there is no need to start in Imlil very early in the morning as you will have plenty of time to arrive at the shelter.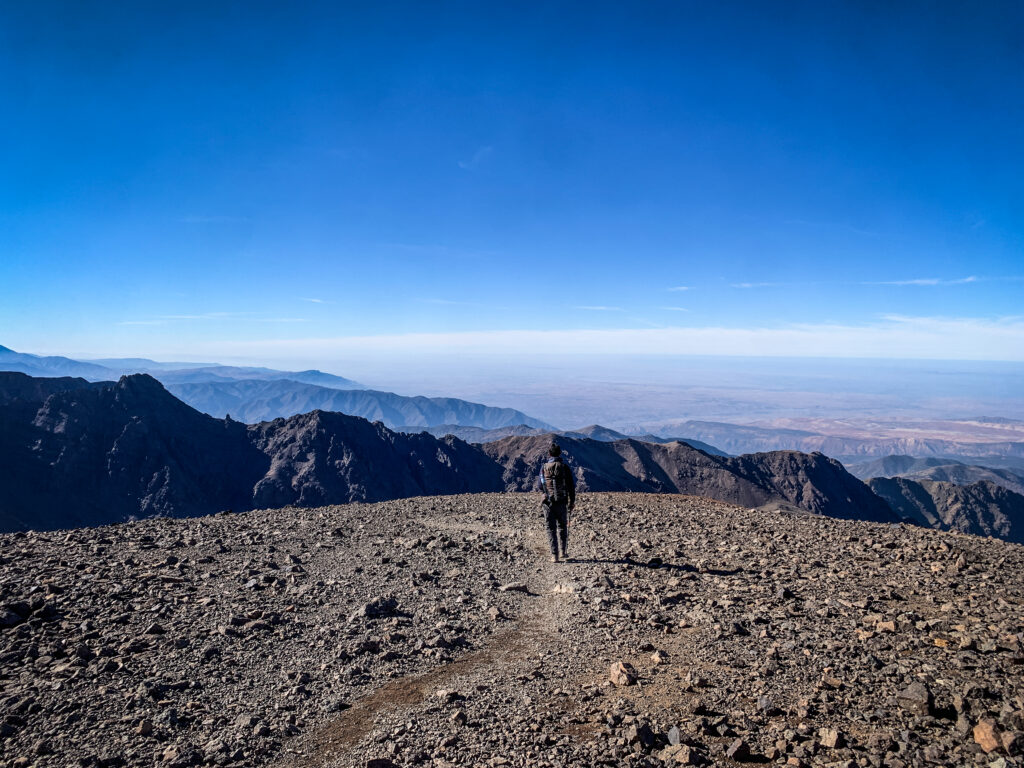 Alternatively, you may do what I did, so go from Imlil to the summit and back to Refugio du Toubkal on the first day (18,5 km, 2493 meters up, 993 meters down), and then walk back to Imlil on the second day (11,5 km, 1501 meters down). If you decide to go for this option, keep in mind that an early start from Imlil is necessary and it will be a very difficult day, especially because of altitude difference.
The trail is well-marked and easy to follow but you can always get the Mapy.cz app on your phone to double-check your position. Of course, I'm talking about hiking season and not winter 🙂
What to take?
When hiking Jebel Toubkal, essentials include hiking boots or trail runners, weather-appropriate clothing (shorts, long pants, jumper, gloves, hat, spare T-shirt and underwear), a sleeping bag, suncream and a backpack with snacks and water. It gets really cold at night so don't underestimate it. Hiking poles will be extremely useful too so if you don't have ones, you may rent them in Imlil village. I regretted that I hadn't done so!
Do you need a guide?
If you decide to start the hike from Imlil, then it is necessary to have a guide. There is a police checkpoint after Aroumd village where your passport as well as the ID of the guide will be checked. The requirement of having a guide was imposed in 2018 after the murder of two Scandinavian tourists. So it's not that much related to trail difficulty but rather overall safety. I found the trail well-marked and easy to follow, especially with Mapy.CZ app on your phone where you can control your position.
I have seen some hikers walking without a guide but they were all coming from the direction of Ifni Lake, possibly doing longer traverses of this section of Atlas Mountains. I believe there is no police checkpoint in Imhilene village but getting there from Marrakech is much more difficult (over 4 hours by car).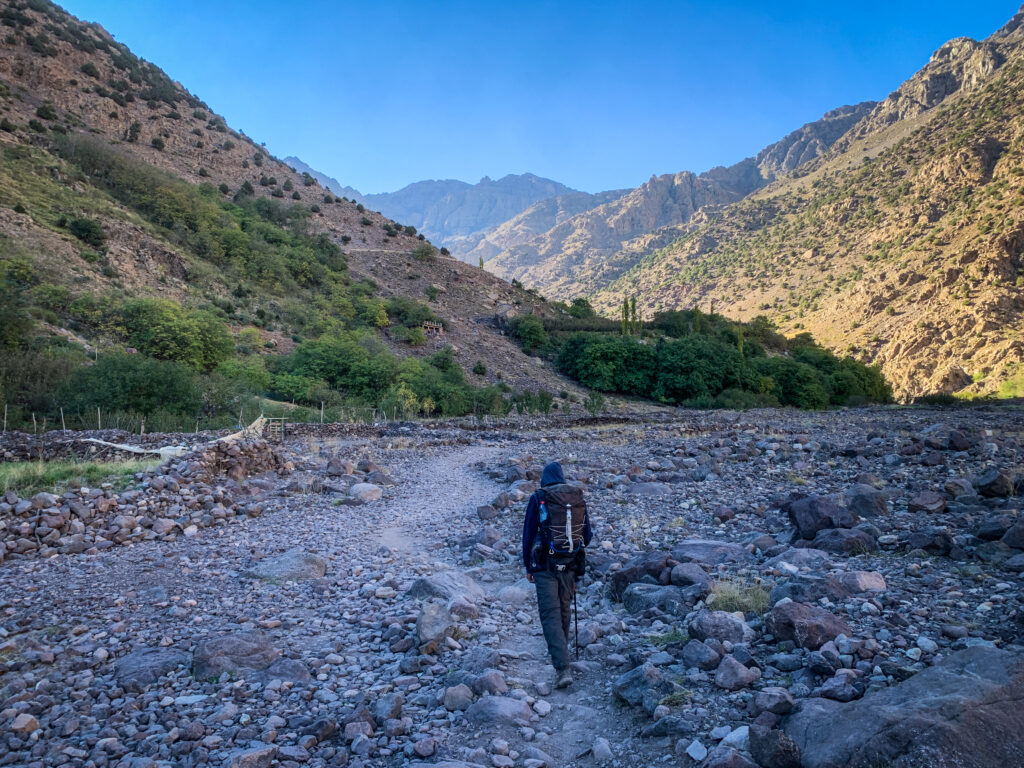 Anyway, remember that hiring a guide supports the local community and for them, it's an important source of income. I paid 800 MAD for the overnight trip and I think it was a fair price.
Here is the contact number for my guide (Kamal): +212 659-076-717. He can be contacted on WhatsApp.
Where to stay?
Staying for the night in Imlil before the hike would be a good idea. It allows you to rest and get ready. Moreover, there are plenty of other shorter routes in the area which you could do as a warm-up. I recommend basing yourself in Dar Adouss in nearby Ait Souka village, but easily accessible on foot from Imlil (about 20-25 minutes). Aziz welcomed me with traditional mint tea, cooked a delicious tajine for dinner, recommended nearby hikes and organized a guide for the hike to Toubkal. It was also possible to do the laundry. The room was a bit cold in October but it's normal in this region that houses don't have heating. There were plenty of blankets to keep me warm at night.
Most people climb Toubkal as an overnight trip, spending the night in Refuge du Toubkal. It's a typical mountain shelter, with dormitories and bunk beds. I was positively surprised by the possibility of taking a hot shower. The food wasn't that good but it hardly ever is in places like that. It was still decent and no one was hungry! The price for the half board was slightly under 300 MAD. In high season, you may want to make a reservation by texting them at refugiotoubkal@gmail.com.
The hike
Day 1
My guide Kamal met me in Dar Adouss just after breakfast at around 8:30 AM. He seemed to be a nice guy, 33 years old so at my age but already with 3 kids. Well, different life priorities 🙂 His English was not too good but we were able to have some basic conversation. First, we went through Aroumd village and then continued towards the police checkpoint where my passport and Kamal's ID were checked.
The weather was perfect. Sunny but still quite cool in the morning hours. We were progressing quite fast, passing by some places offering cold drinks and snacks. We made a break in one of them and Kamal came up with the idea of going all the way to the summit today. It seemed reasonable taking into consideration that it was still very early and we weren't that far from the Refugio du Toubkal.
At the shelter, the break was longer so I had my improvised lunch with tuna and bread. Of course, I couldn't miss some warm tea! It was about 2 PM when we made the final decision to continue to the summit. That was the moment when the hard part started. The terrain was significantly steeper and I guess I started having some issues with altitude as there were moments when I was really struggling to catch my breath and even got a bit dizzy. The path was going up and up and I was fighting my rising, being on the edge of giving up. Luckily, the presence of Kamal and his good attitude gave me more courage and motivation to slowly but slowly progress further.
We reached the high point, from where we could clearly see the summit. It still seemed to be far away but in fact, we reached it much sooner than I expected. It's a wide and flat area, with some ugly metal construction. The views were incredibly nice and we were the only hikers there.
We took a few selfies and started descending back to the shelter. It was obviously much easier but still took some time as my legs weren't fresh at all. The shelter was really big and looked exactly like those kinds of places look like in Europe. There was a separate room for boots and several dormitories with bunk beds. When we arrived, it was packed with people planning to climb Toubkal early in the morning to catch the sunrise. I'm sure it's a nice experience, but taking into consideration lower temperatures and the need for a really early wake-up, I felt really happy that we did it in the afternoon instead.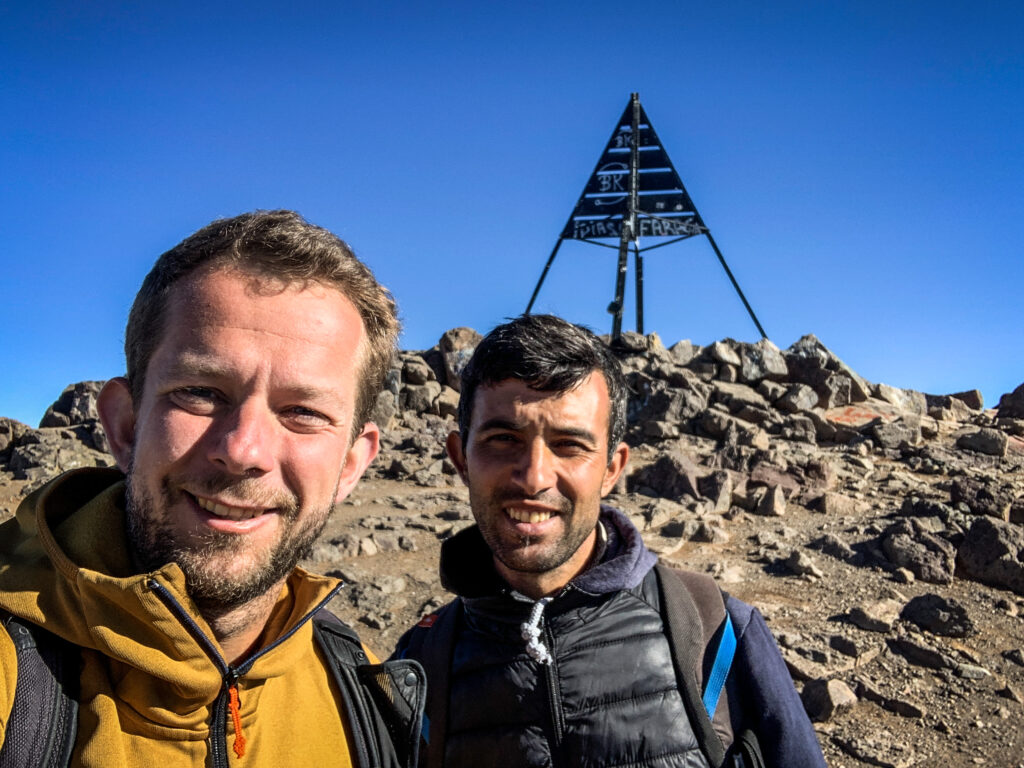 At the dinner, I shared the table with a nice couple from Belgium, and I was surprised to hear that there was even a hot shower in the shelter! It was really great to refresh after the whole day outside. Unfortunately, because of altitude difference and tiredness, I got quite a strong headache so I took some painkillers and went to sleep very early.
Day 2
Most of the people disappeared from the dormitory in the very early morning and I was glad that I had a few extra hours of sleep in silence. We had breakfast at about 7:30 AM and then we set off for the way down to Imlil. Kamal was walking a good few hundred meters ahead of me, and I had the impression that he really wanted to get back home as soon as possible. Well, three kids were waiting 🙂 Once we arrived at Dar Adouss, Aziz prepared for us some mint tea and shortly after, it was time to say goodbye!
Other hikes around Imlil
I arrived at Imlil with one spare day before the start of the Jebel Toubkal hike, and I wanted to warm up my muscles before the big adventure. Therefore, I decided to make the following loop, which was an excellent choice:
Imlil – Tinerhourhine – Ikkiss Amssokrou – Aguersioual – Imlil (6.5h, 16 km, 863 meters up, 890 meters down)
Alternatively, you may also want to discover another area on a slightly more challenging route:
Imlil – Tizi n' Mzik – Tizi Oussem – Imlil (8h, 18 km, 1480 meters up, 1480 meters down)
If you don't have the whole day, it's about a one-hour return walk to Cascade Imlil.