Vung Tau and Ho Tram are popular coastal destinations in Vietnam. Vung Tau is located on a peninsula and is known for its beaches, seafood markets, and restaurants. It's often visited as a weekend getaway from Ho Chi Minh City due to its proximity.
Ho Tram is a beach area situated further east along the coastline from Vung Tau. It's known for luxury resorts and many entertainment options, including casinos.
How to get there?
It's about 100 km and 2 – 3 hours from Ho Chi Minh City to Vung Tau by car. The trip by bus will take slightly longer but is easy to organize. You may check your connections at 12Go.Asia
For those traveling on motorbike from Ho Chi Minh City, the best would be to head towards Monkey Island and then to Ben Pha Can Gio – Vung Tau Ferry. By doing so, you will avoid the very busy road QL51.
To Ho Tram, it's another 50 km, so about 1 hour's drive along the coast.
When to go?
Both Vung Tau and Ho Tram are popular beach destinations for people living in Ho Chi Minh City. You will get more sun and a more pleasant experience from November to April, during the dry season. Even if you come in the rainy season, the rain doesn't usually last longer than an hour or two so it shouldn't be a big deal for general sightseeing but it may be too cloudy for sunbathing.
Where to stay?
Phuc Lam Hotel & Apartment was of fantastic quality and cost only 10 EUR. Located within walking distance from the beach. For those traveling on a motorbike, there is a secure underground parking.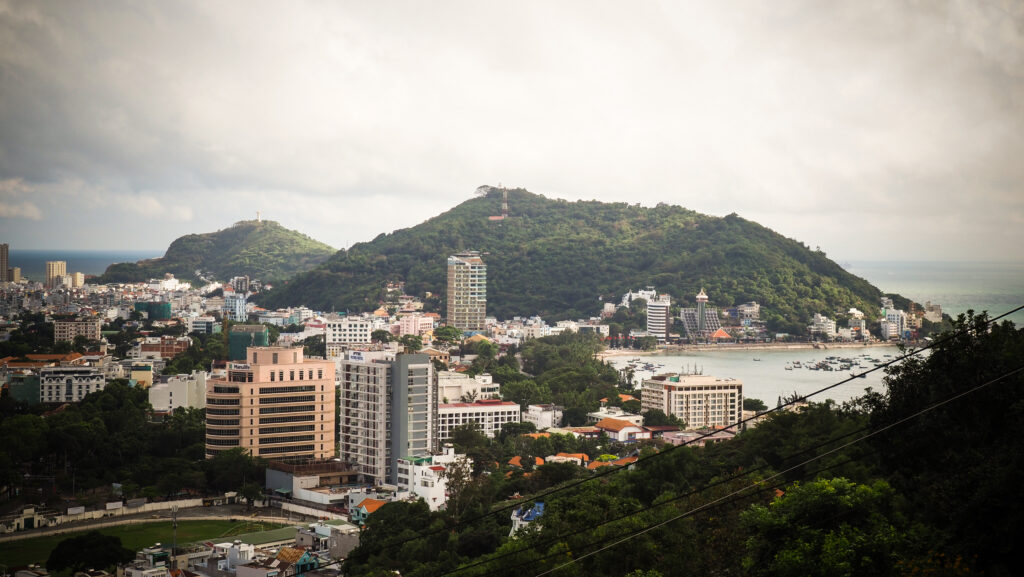 What to see in Vung Tau?
Bai Truoc Beach
Situated on the west side of the city. The beach is very popular among locals but rubbish is a big problem. I would mainly recommend it for taking a walk rather than swimming.
Bai Sau Beach
Nice sandy beach with a pleasant promenade for a walk and is close to many hotels. It can get crowded especially during weekends or holiday periods.
Mieu Hon Ba
A small island with a temple that can be accessed only during low tide.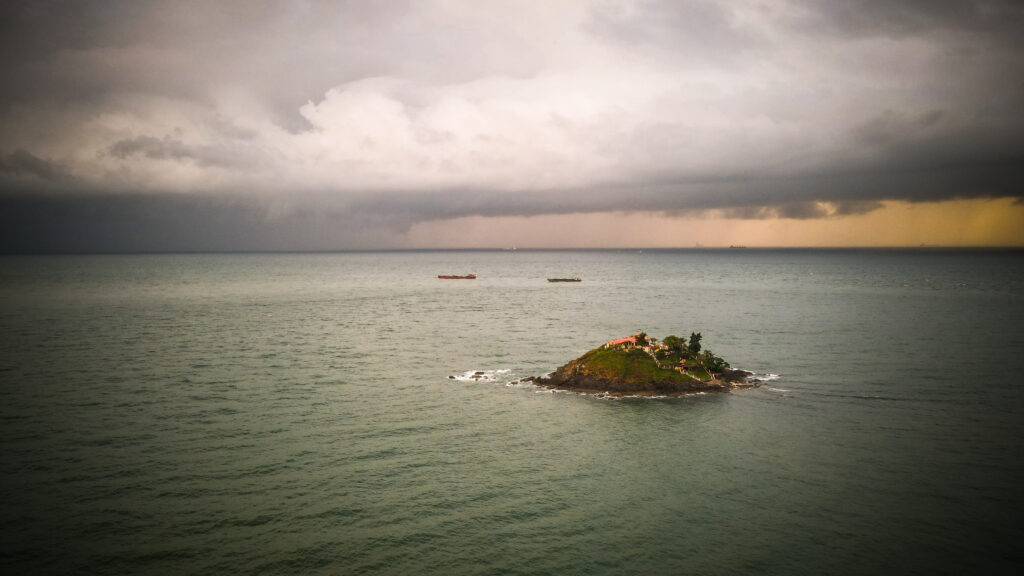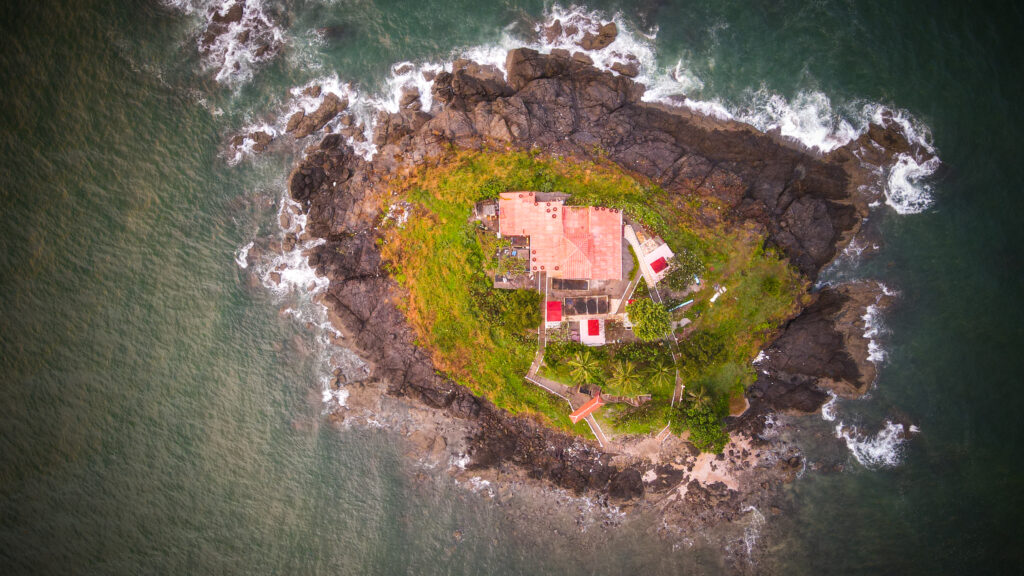 Jesus Christ Statue
Located on top of a hill, this 32-meter-long statue is even bigger than its Brazilian version. About 800 stairs take you to its base but the interior of the statue was closed in November 2023. If you try to get here on a motorbike, Google Maps will lead you to the dirt back road which is quite tricky so I recommend parking the bike on the side and continuing on foot.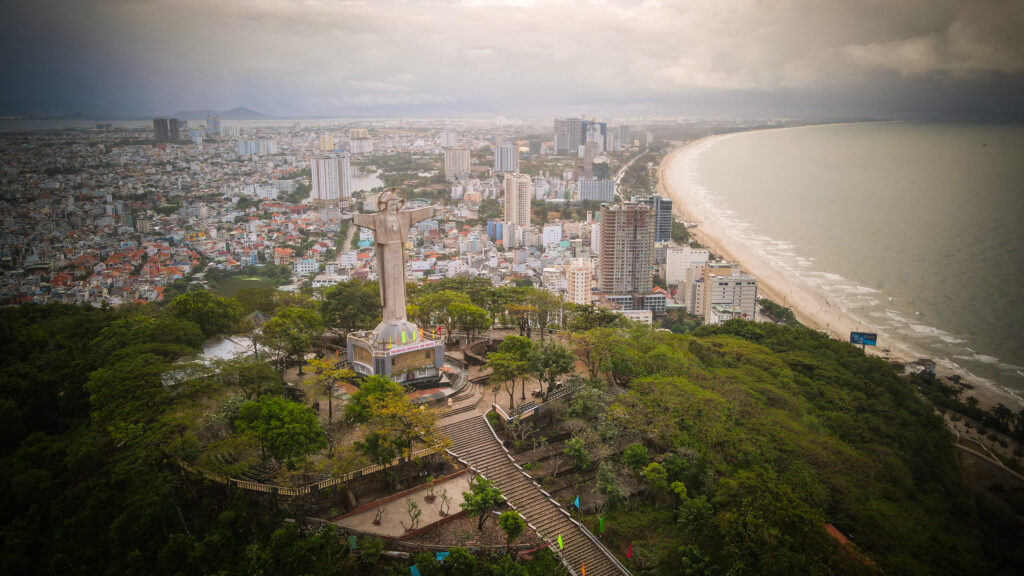 Cap Saint-Jacques (Mui Nghinh Phong)
Good place for a walk with beautiful scenery including grassy hills and sea views.
The Robert Taylor Museum of Worldwide Arms
I'm not into arms at all but I must admit that it's a unique place opened by a man full of passion. You can find arms and uniforms from around the world as well as the ones coming from the Vietnam War or French Colonial rule. The entrance costs 70.000 VND.
Lighthouse
It was built by the French in 1910 and today the area around acts as the best viewpoint in town.
Chon Khong Monastery
Definitely the best monastery in Vung Tau. Very peaceful and quiet, with friendly monks and a big statue of Buddha from where you can appreciate panoramic views over the town.
Ba Ria – Vung Tau Provincial Museum
A very educational place with English descriptions. It has 4 floors to check out, with information about the history, nature, and the development of Vung Tau area after the war.
White Palace Historical Cultural Relic
The residence used to be the weekend chillout place for the French governor Paul Doumer. There is not much to see inside so the visit is rather quick but still worthwhile. It's just next to the Ba Ria-Vung Tau Provincial Museum.
Ho May Amusement Park
Quite a dated place with cable car, small water park, alpine coasters, mini-zoo, etc. Only if you have some time to kill but even then I doubt it's worth the money (400.000 VND).
Ho Tram
The development of a road linking to Ho Chi Ming City together with the construction of big hotels and casinos, transformed this small fishing village into a kind of holiday complex. Unfortunately, like in many places in Vietnam, it looks a bit kitschy, and rubbish on the beach is still a big problem. If you want to enjoy some time on the sand, try Hamptons Pier or Tram Lake Beach.