Ta Cu Mountain, as well as Ke Ga Cape, are located in Bình Thuan Province and are interesting places to visit, especially if you are traveling around Mui Ne or Phan Thiet. In one long day, you can have a fantastic experience of both, the mountain and the sea.
How to get there?
The easiest way would be to rent a motorbike in Phan Thiet or Mui Ne and do the loop checking out both places. If you don't want to ride yourself, you may hire a taxi or buy an organized tour.
From Phan Thiet: 31 km to Ta Cu Mountain and 32 km to Ke Ga Cape
From Mui Ne: 57 km to Ta Cu Mountain and 58 km to Ke Ga Cape
From Saigon: 157 km to Ta Cu Mountain and 183 km to Ke Ga Cape
You may check your connections at 12Go.Asia
When to go?
Both Ta Cu Mountain and Ke Ga Cape can be visited at any time of the year but you will get more sun and a more pleasant experience from November to April, during the dry season. Even if you come in the rainy season, the rain doesn't usually last longer than an hour or two so it shouldn't be a big deal.
Where to stay?
As I was doing the motorbike trip along the Vietnamese coast from the south to the north, I visited Ta Cu Mountain first and then spent the night at Lala Chill Homestay which is perfectly located within walking distance to Ke Ga Cape and only a 40 minutes ride away from Ta Cu Mountain. There are a few places around serving noodle soup and I had the pleasure to share the table with a group of young kids, who were very excited to see a foreigner 🙂
If you travel by bus, you may base yourself in Phan Thiet or Mui Ne. I was more than happy to stay at Hotel Minh Hang in Phan Thiet the following night but there is a variety of accommodation for everyone.
Ta Cu Mountain
It was a hard decision if I should ride the motorbike to Ta Cu Mountain as the day was very rainy and I was afraid that at 457 meters above sea level, the summit will be covered by clouds. I took a risk and luckily, it was worth it.
There are two ways to get to the top. You can either take a cable car or hike up. I arrived in the afternoon and didn't have enough time to hike and then arrive at the accommodation before it got dark. Therefore, the choice was simple. Cable car up and cable car down! The ticket costs 250.000 VND per adult. The ride takes about 10 minutes and even though the cars aren't the most modern, I felt perfectly safe. The mountain scenery and the forest underneath looked breathtaking and a bit spooky after the rain.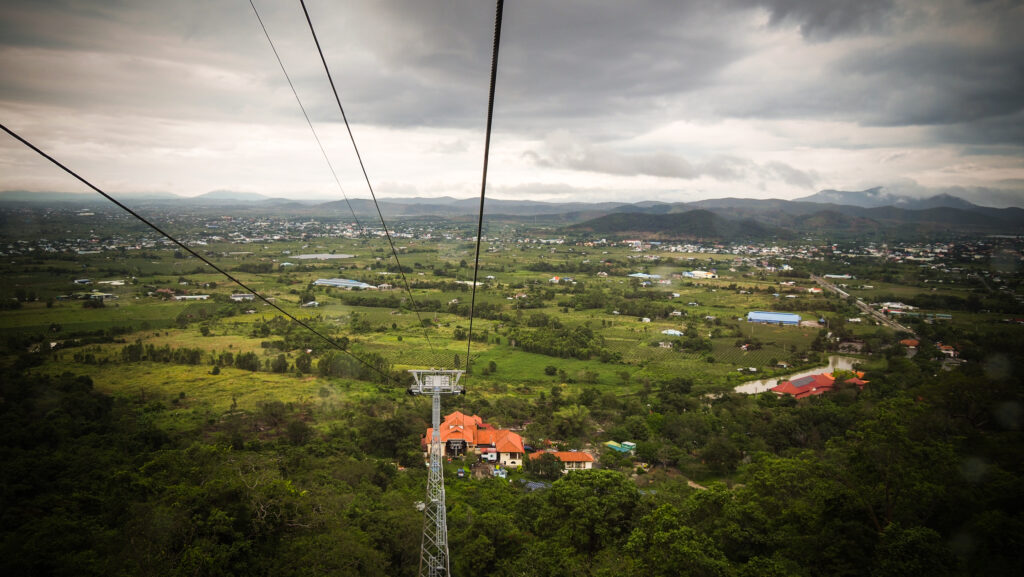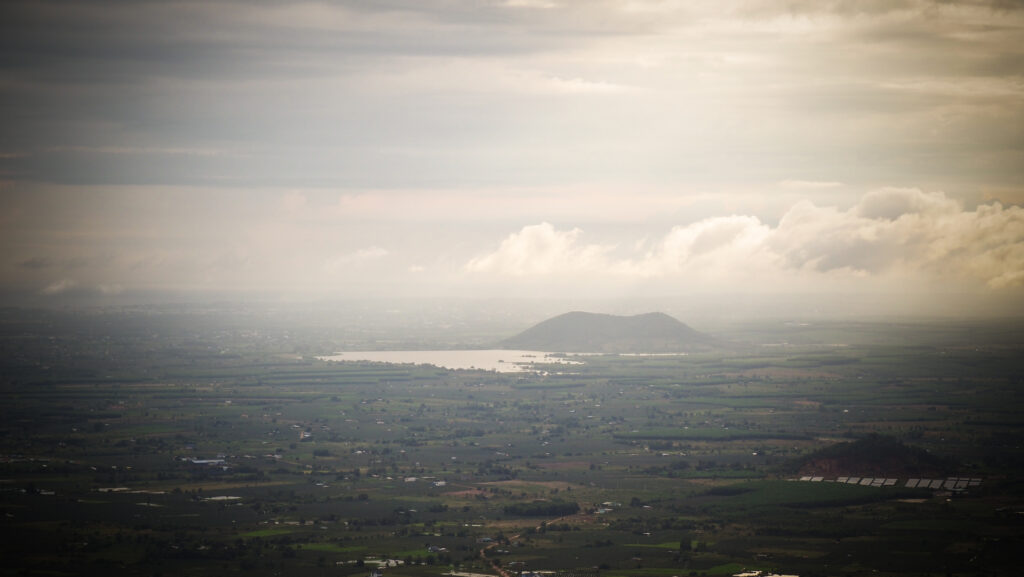 If I had had more time, I would have certainly taken a cable car up and then hike down to have a more complete experience. Well, next time!
The weather in that region can be super hot so if hiking, don't forget water, suncream, a hat, and some snack. A rainjacket can be useful too, just because it's Vietnam and in this country, you never know when you can get soaked! The hike should take about 1,5 – 2 hours.
A Buddhist monk named Tran Huu Duc initiated the construction of the Linh Son Truong Tho Pagoda. After his death in 1887, a group of his followers built the lower Long Doan Pagoda. The construction of the reclining Buddha began much later, in 1958.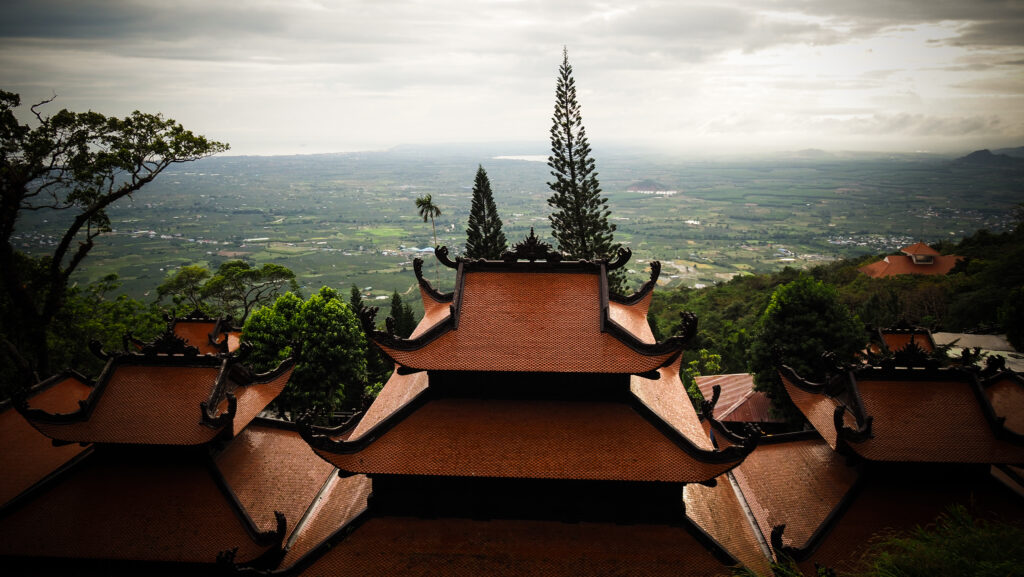 Due to the bad weather, there was only one family hanging around at the top. From the cable car station, the trail ascends further and leads past many statues of various sizes to the largest reclining Buddha in Vietnam. It's 49 meters long and 7 meters high. According to online sources, it was made of concrete and painted white. It depicts the reclining Buddha in a state of tranquility and enlightenment, symbolizing peace and serenity.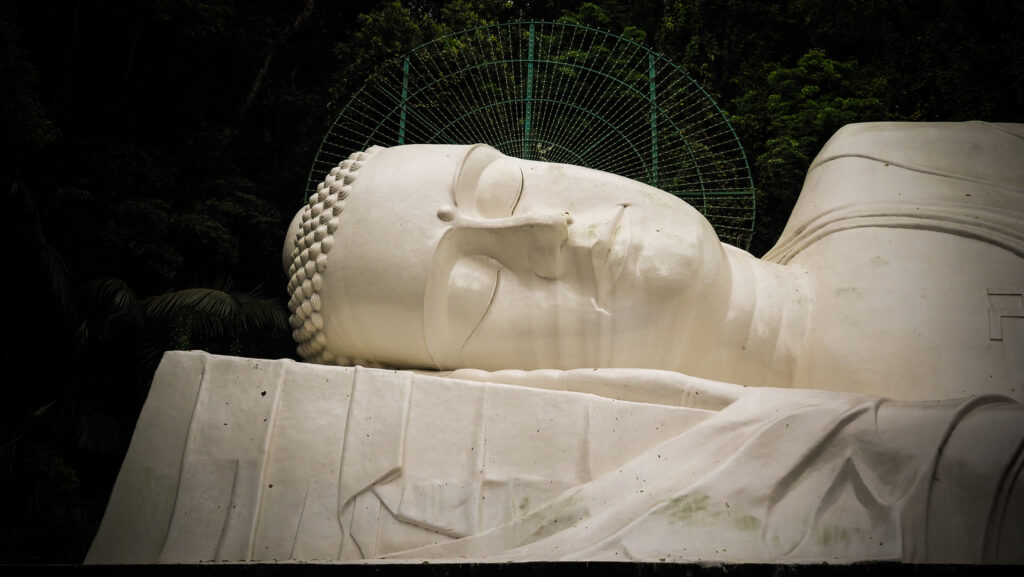 When I wanted to check out Long Doan Pagoda, a group of aggressive dogs tried to scare me away. I experienced similar situations many times in temples in Laos and Thailand as dogs are usually fed by monks and they regularly hang around temple grounds. Luckily, I was noticed by the monks and they managed to calm the dogs down. Anyway, it wasn't a pleasant situation.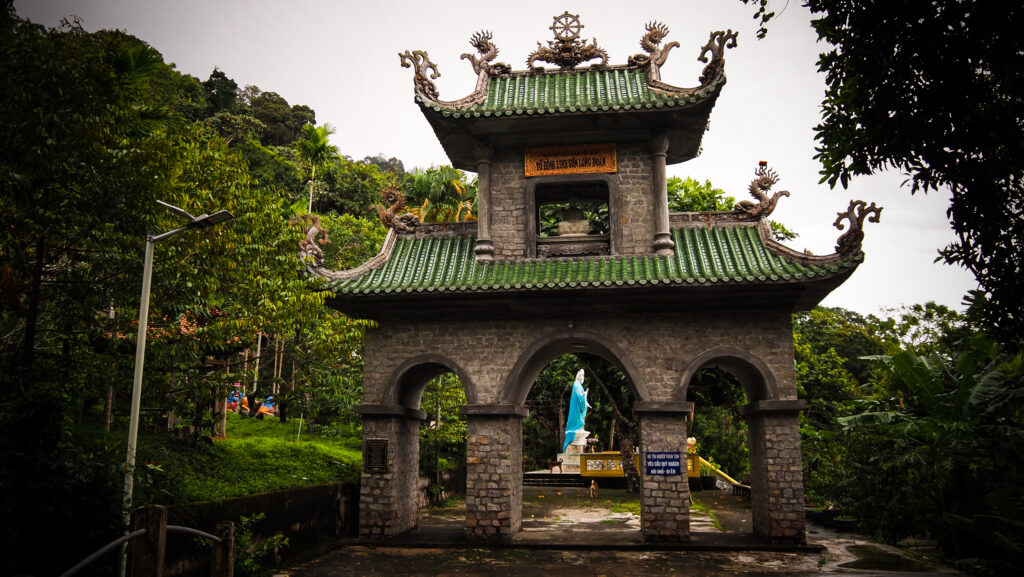 Ke Ga Cape
Ke Ga is in fact a small rocky island, also known as Hon Ba, very close to the mainland. During the low tide, a strip of sand nearly connects the two parts. However, don't attempt swimming there by yourself if the water level is too high as it may be dangerous due to currents. Motorboats or basketboats can be easily found on the beach and local guys will be very happy to take you there. The return ticket should cost about 50,000 – 100,000 VND per person, so you have to negotiate in case you are asked to pay more. Most probably you will be charged an additional 10.000 VND on arrival to enter the island, which I strongly doubt is an official fee as no physical ticket is given.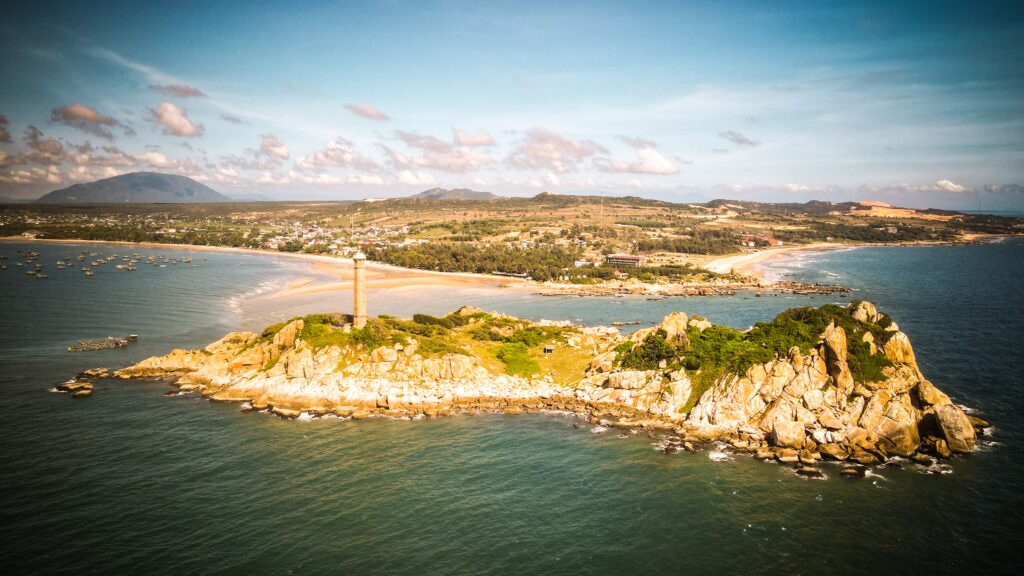 Ke Ga Cape is famous for being the place where the tallest and oldest lighthouse in Vietnam still stands. The structure is about 60 meters high and was designed by a French architect to ensure safe navigation for vessels in that area. The construction was finished in 1899.
According to the locals, the name "Ke Ga" originated from a rocky area on the island that resembles roosters gazing out to the sea. Well, I'm not going to question that. Panoramic views of endless blue waters, unique rock formations, and sandy beaches can be seen all the place but the top of the lighthouse was not accessible to the public as of November 2023.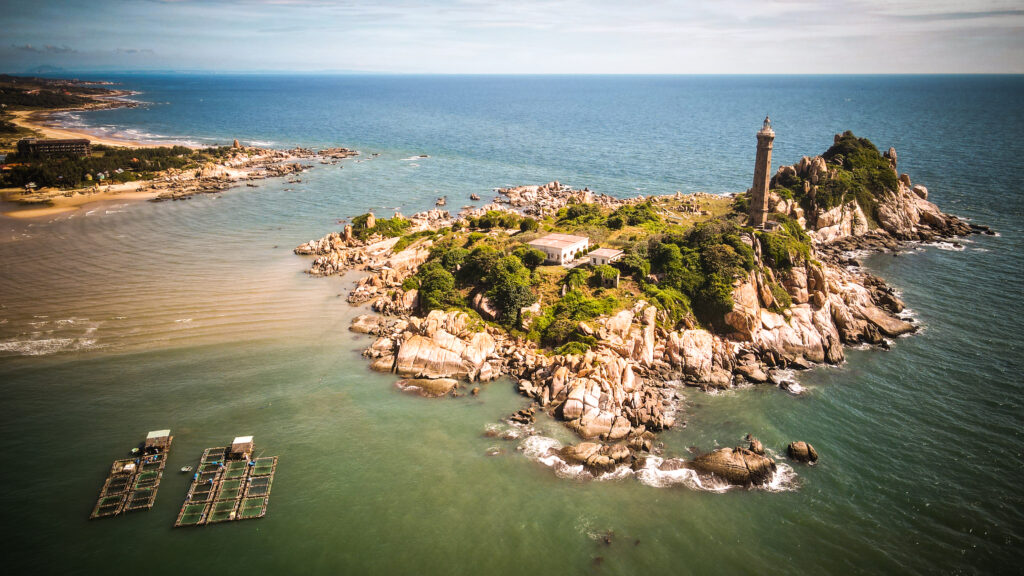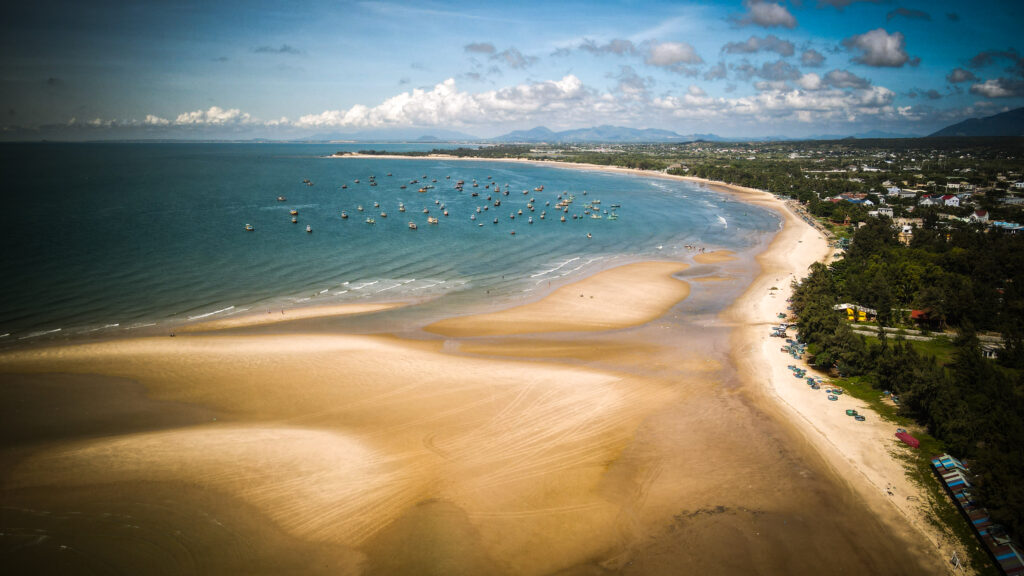 The best moment to be around for photography is sunrise and sunset. In general, the beach around Ke Ga is in relatively good condition. Unfortunately, the rubbish was still there but a bit less than in other parts of the country.