Phan Thiet and Mui Ne are popular tourist destinations located in Binh Thuan Province. Phan Thiet is a coastal city known for its fishing industry and production of fish sauce. Mui Ne, a small fishing village has gained popularity for its stunning sandy beaches, unique red and white sand dunes, and water sports opportunities like kite surfing and windsurfing.
When to go?
You will get more sun and a more pleasant experience from November to April, during the dry season. This period offers ideal conditions for enjoying beaches, engaging in water sports, and exploring sand dunes without being affected by the intense heat of the Vietnamese summer.
Where to stay?
I was more than happy to stay at Hotel Minh Hang in Phan Thiet and from there I made a trip to Mui Ne and to Phu Quy Island. Mui Ne offers plenty of accommodation too so if you prefer to stay there, check booking.com or agoda.com.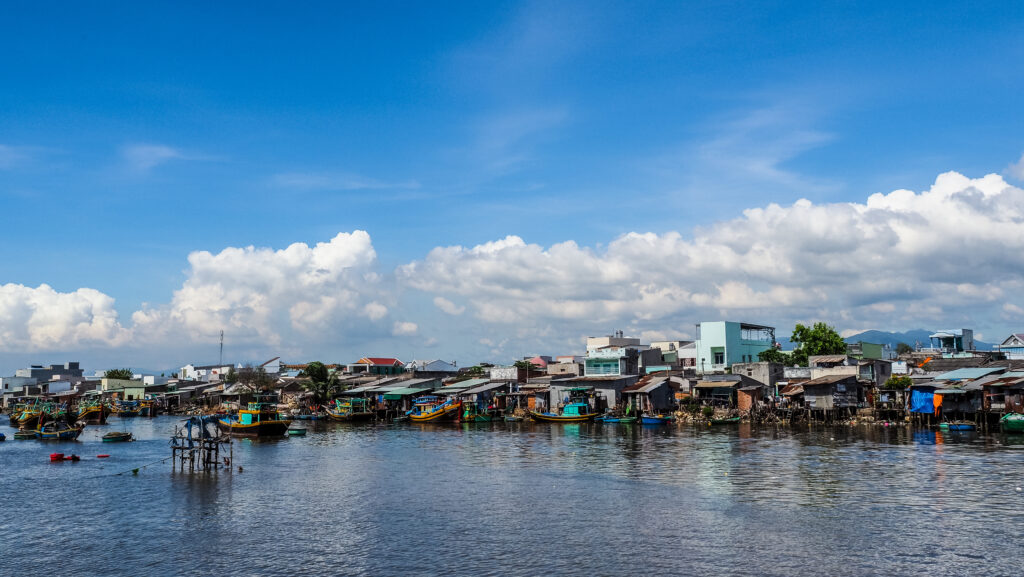 What to see in Phan Thiet?
The main sights can be comfortably seen in half a day. Start with Ho Chi Minh Museum and Duc Thanh School. Most probably both places will be packed with local tourists due to their historical importance. You will see preserved classrooms and boarding houses where former President Ho Chi Minh, or Uncle Ho as he is often called by Vietnamese people, lived and worked in 1910. The museum built next to the waterfront glorifies that individual and presents some school relics. There are no descriptions in English but it's worth having a short look, also to understand the propaganda mechanisms and the cult of Ho Chi Minh in that country.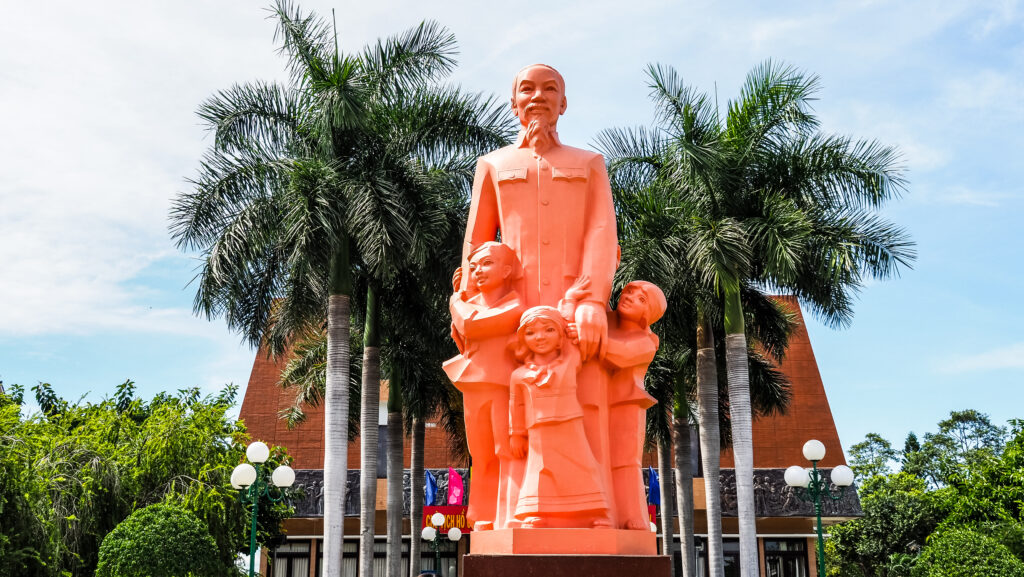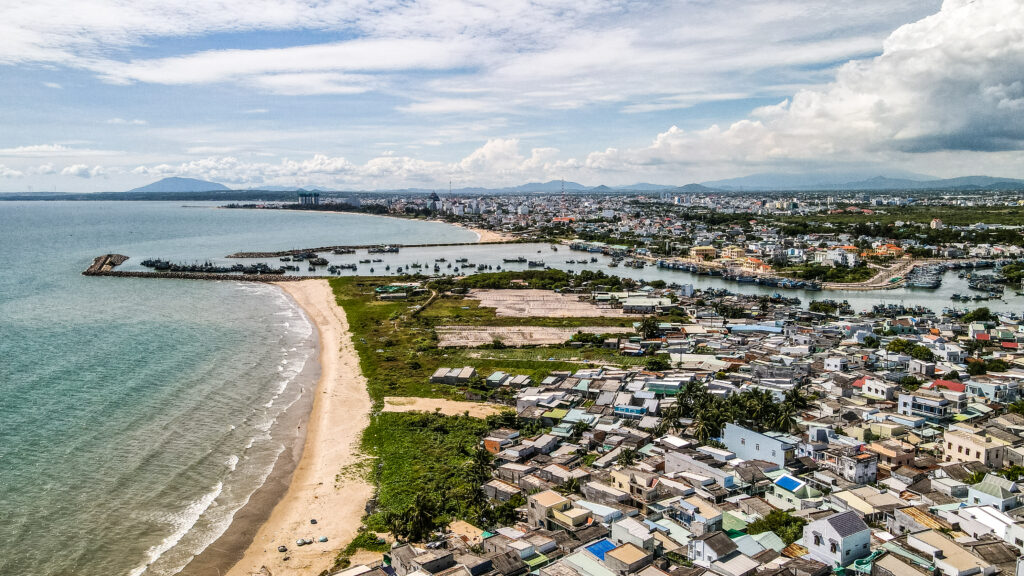 Guang Di Temple is located nearby and is the oldest and largest scale Chinese place of worship in town.
Continue further to Van Thuy Tu Temple, which is a unique place containing the skeleton of a 19-meter-long whale. Fishing communities in southern Vietnam revere whales as sacred beings who offer protection against storms.
Phan Thiet Water Tower and Victory Monument are on the other side of the Ca Ty River. Both places are nicely illuminated at night.
Doi Doung Beach has a nice park with lots of trees. You can sit or walk along the beach, though it's not a particularly clean place to relax.
Po Sah Inu Cham Towers is the most interesting place to visit in Phan Thiet, of course in my opinion 🙂 It's about 10 minutes drive from the city center so you will need a scooter or a taxi. Dating from the 9th century, this complex consists of the ruins of three towers, associated with the Cham people, an ethnic group with a rich history and cultural heritage. They are typically built using brick and sandstone and often consist of several towers arranged in a specific layout, with each tower serving as a place of worship dedicated to Hindu deities. The towers are adorned with intricate carvings, sculptures, and bas-reliefs that depict scenes from Hindu mythology and Cham culture.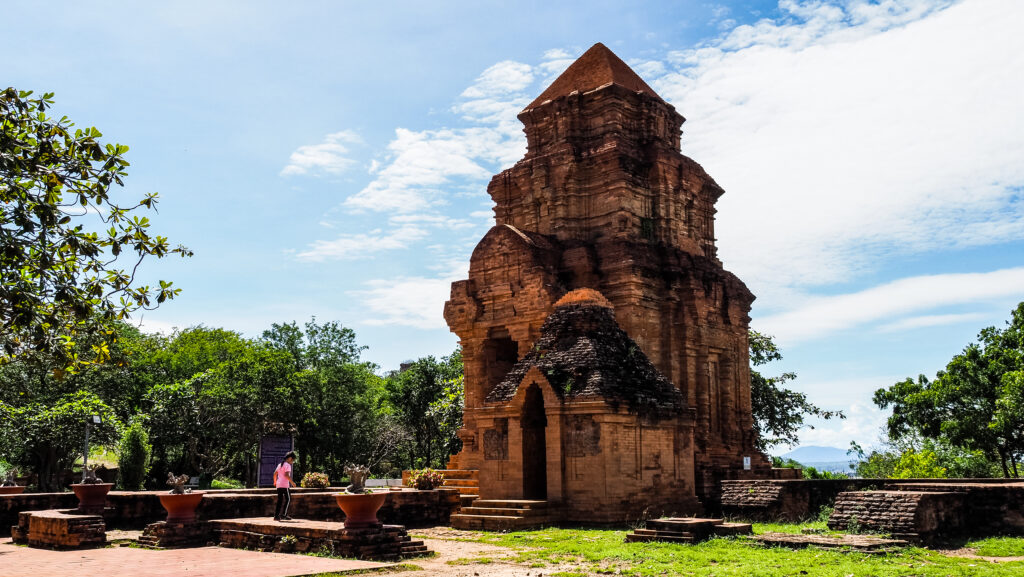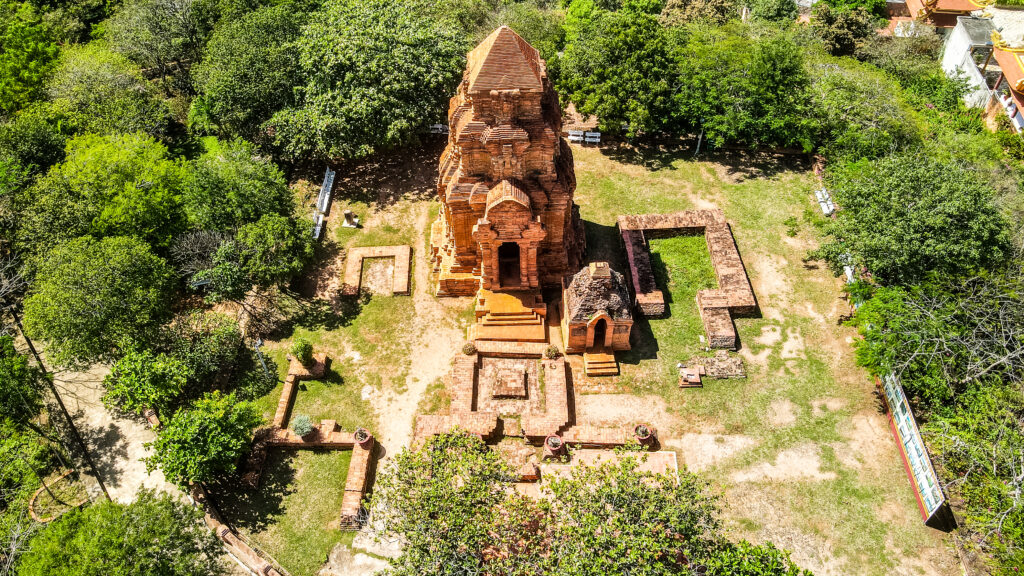 Around Phan Thiet
Phu Quy Island
It's located about 120 kilometers from the mainland. In November, there were hardly any tourists and I could feel a peaceful and relaxed ambiance. There are some rocky cliffs as well as sandy beaches but those are unfortunately polluted with trash. Superdong Ferries and Phu Quoc Expresses depart from Phan Thiet Port.
You can find more information in the separate post HERE.
Ta Cu Mountain
The highlight is definitely a giant reclining Buddha statue, which is about 49 meters long. The pagoda is a place of worship and a serene spot for meditation, accessible by cable car or on foot.
More information can be found in a separate post HERE.
Ke Ga Cape
Ke Ga Cape is famous for being the place where the tallest and oldest lighthouse in Vietnam still stands. The structure is about 60 meters high and was designed by a French architect to ensure safe navigation for vessels in that area. The construction was finished in 1899.
More information can be found in a separate post HERE.
Mui Ne
Fairy Stream
It has the reputation of being a little hidden gem in that area, but is it really? It's a pleasant walk up the shallow creek to the small waterfall at its end, with interesting rock formations along the way. Nevertheless, there are usually quite many tourists and you have to pay attention to avoid being scammed (most probably they will try to overcharge you for the parking or offer an unnecessary guide).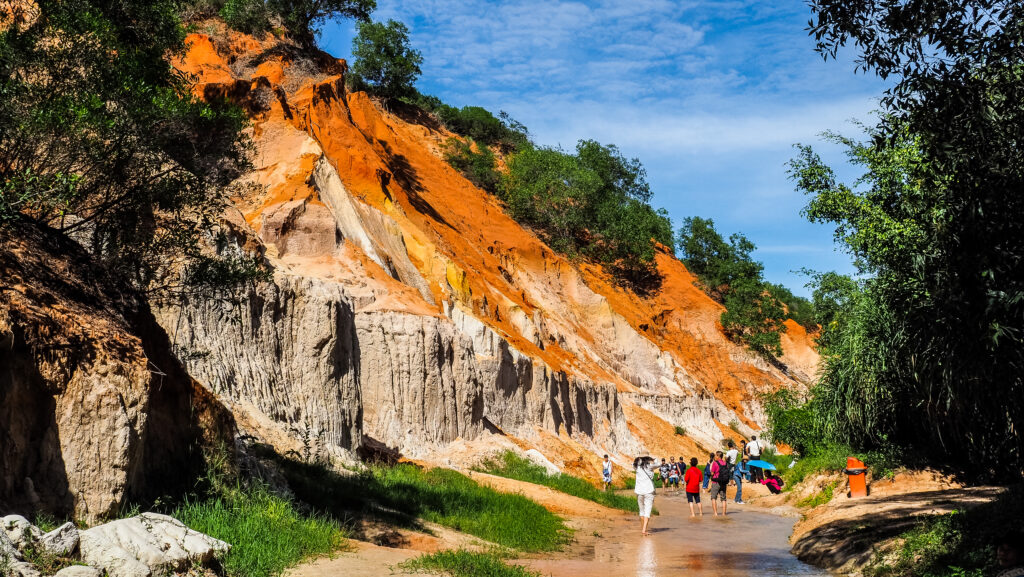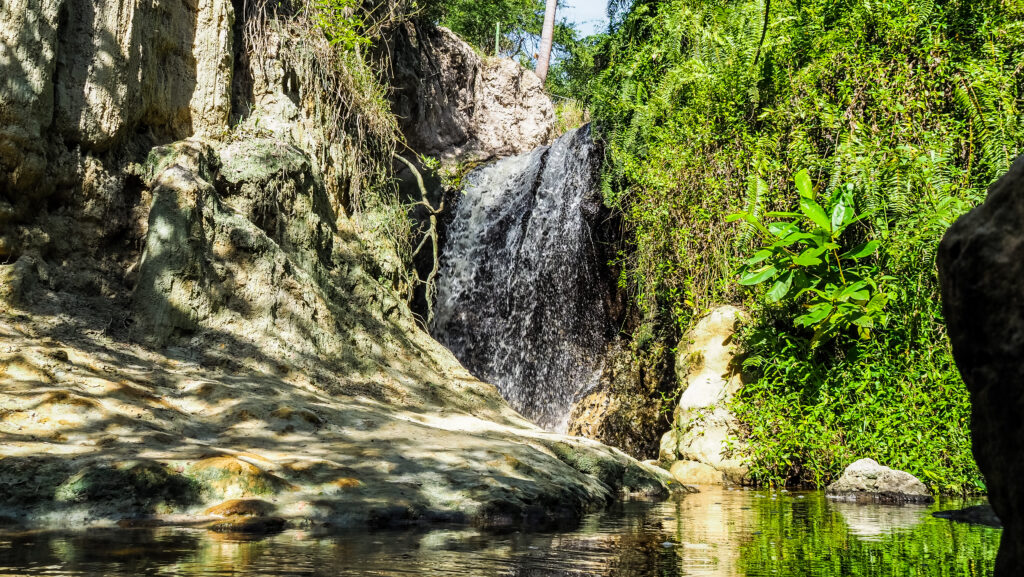 Mui Ne Fishing Village
Amazing view of hundreds of fishing boats. It's a good place to get cheap seafood, but you have to bargain. The beach area is quite dirty due to all that business going around.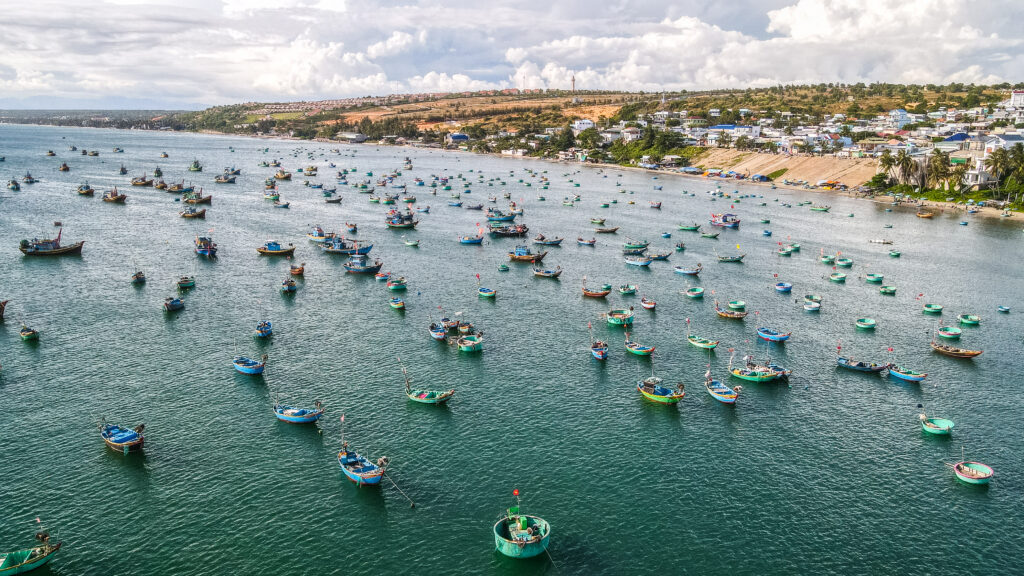 Mui Ne Beach
Disappointing beach that proves that Vietnam isn't the right place for beach holidays. If that's what you are looking for, just do yourself a favor and go to Thailand 🙂 The beach is full of garbage and some shady guys ask 50.000 VND to access it. Save your time and money and skip it.
Red Sand Dunes
Mui Ne is famous for its huge red and white sand dunes and that is what brings most of the tourists to that area. The red ones are smaller but they are closer to the village and look particularly nice at sunset. You can get a ride in 4WD but it's completely not necessary. Just walk.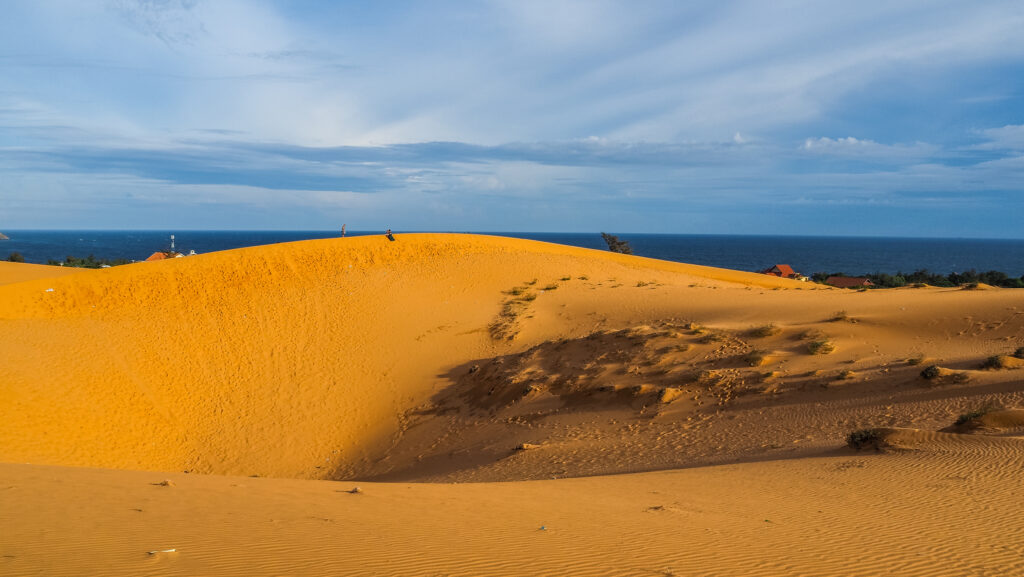 White Sand Dunes
Bigger and more impressive than Red Sand Dunes. To get there, follow the main road to the north for about 25 kilometers. You will be offered quad bikes or buggy rides and it may be tempting as the area is big and it can get hot. If you are fine with walking on your own, it's perfectly doable as well. Just climb one of the highest dunes to get a panoramic view of the landscape.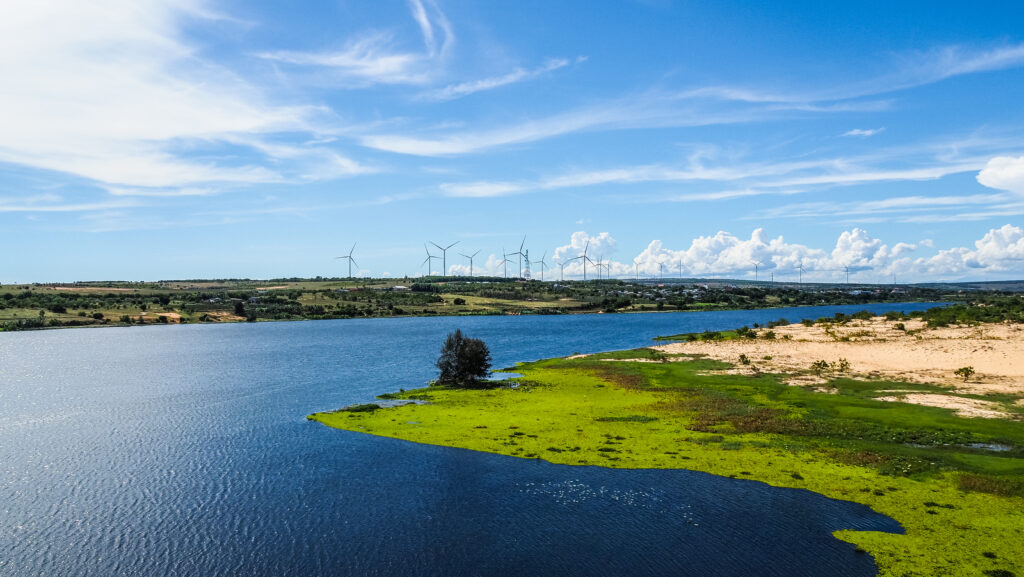 Less Touristy White Sand Dunes
A few kilometers further north you will get another opportunity to check out the dunes. Just park your motorbike at the roadside and start climbing. No loud ATVs or buggies here which is a huge advantage.
While riding a motorbike between Mui Ne Village and sand dunes, watch out for the police. They are frequently patrolling the area and stopping foreigners. As I had an international driving license, they let me go without questions asked but if you don't have one, get ready for negotiations and have some cash with you as most likely they will ask for 'tea money'.