Phang Nga Bay with its 42 islands is located in the northern part of the Malacca Strait between Phuket and the provinces of Phang Nga and Krabi on the mainland of southern Thailand. A large part of it is protected by the Ao Phang Nga National Park. The landscape attracts tourists with huge limestone karsts that seem to grow out of the calm waters of the Andaman Sea. It's something that just can't be missed when travelling in that region.
This article describes a tour around the bay, with an overnight stay on Panyee Island. There are two big islands in that area, but I believe that they deserve a longer visit on their own, as otherwise, you would feel too rushed. The two islands are Koh Yao Yai and Koh Yao Noi and you can read about them in my previous posts.
Where to find a boat trip?
Prior to the trip, I did my research on Google Maps and found a place with quite many positive reviews: Service Tour Boat Friendly Price. Yes I know, the name sounds catchy 🙂 They are located next to Pracharat Pier and parking shouldn't be a problem. Hanah, who is the owner, can be easily contacted by phone (+66933906568) and is really friendly.
They offer two kinds of tours. Tour A includes James Bond Island, Lod Cave, Saokadong Cave and Panyee Island. Tour B includes James Bon Island, Hong Island, Nok Krariang Cave and Panak Island. Each tour costs around 2,000 THB. If you want to combine two tours and additionally stay overnight at Panyee Island as I did, you may need to negotiate your price. It will be higher as after the night on the island, someone has to come and pick you up the following morning, so expect to pay around 3,000 – 3,300 THB. Of course, if you travel with a group of friends, the price per person becomes more affordable.
The easiest to get to Pracharat Pier is from Phuket or Krabi. I went there on a rented motorbike from Krabi and it took me about 2 hours.
Of course, Phang Nga Bay can be reached by speedboat directly from Phuket and it's way easier to organize. It's up to you to decide what kind of experience you want. Speedboat with lots of other people or private long-tail boat which allows you to go at your own pace. Another good option could be arranging a long-tail boat at Koh Yao Noi or Koh Yao Yai Islands.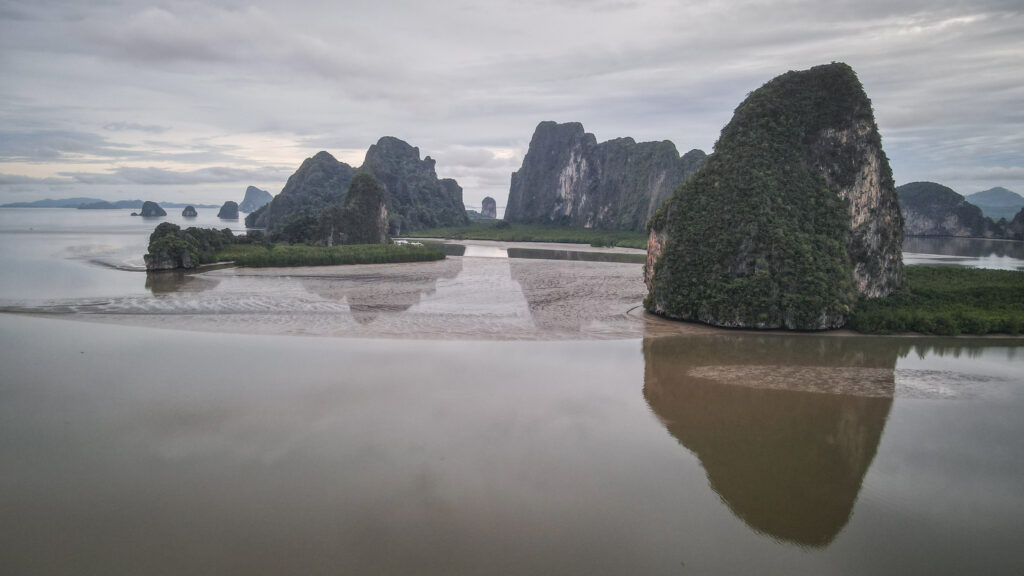 When to go?
The best time to visit Phang Nga Bay is from November to May, outside of the rainy season. The weather is stable and showers are rather occasional. In other months, accommodation may be cheaper but organizing a boat may be way more difficult and the whole experience won't be as pleasing as it could be.
How long to stay?
Most people just do a day tour but I wanted to feel Phang Nga Bay after all the tours and noisy speedboats come back to the mainland. Therefore, I stayed 1 night on Panyee Island which was an excellent choice. If you have the time, I really recommend you do the same.
Where to stay?
I booked a room at Jamesbond Bungalow Ko Panyee which was an excellent choice. The view from the terrace was amazing and there were nice chairs to lie down on. The host was very friendly and the internet connection was fast. I paid 850 THB for 1 night's stay.
What to take with you?
You won't need much, but make sure these items find a place in your bag:
Rain jacket
Sports shoes or trekking sandals (may be useful in the caves)
Flip flops
Swimsuit (you may get wet on the kayaks)
Insect repellant
Sunglasses
Hat
Day 1
The trip started with a visit to the faraway spot: Phanak Island. Normally you can do a short kayak trip here to enter the lagoon which is possible at low tide only. If you don't want to do that the boatsman can pull over next to the rocks and let you get off the boat to have a short walk and have a look at the lagoon. It was a really good start to the tour and the island also looks amazing while you are approaching it. There is also Ice Cram Cave in the other corner of the island. Nothing spectacular but if you are already around…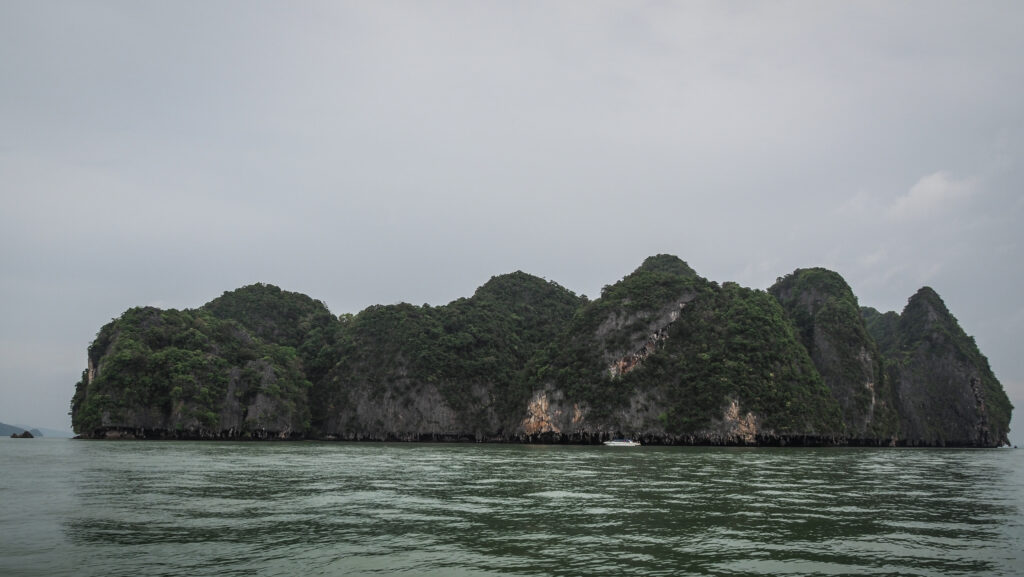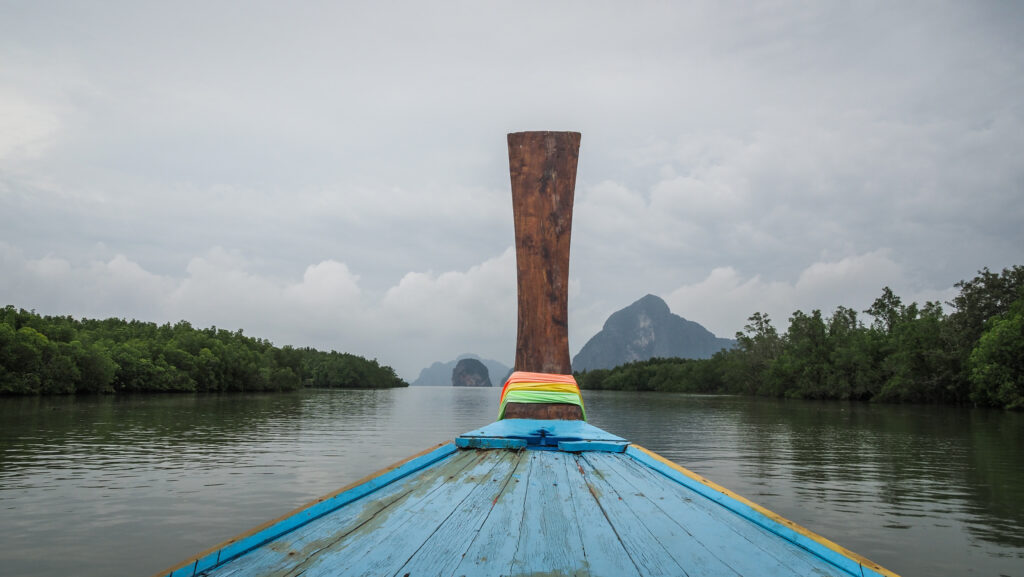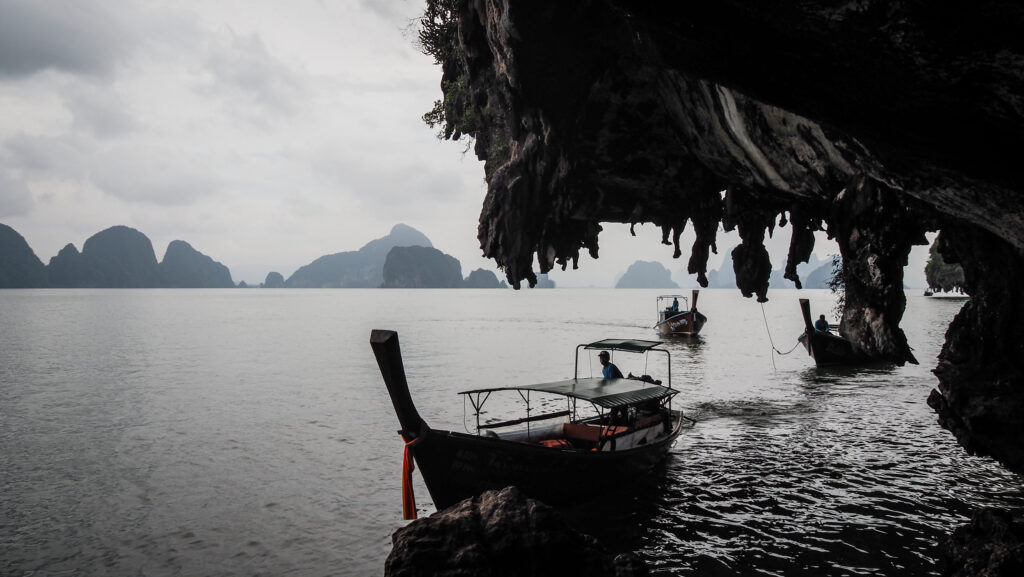 The next stop was at the Birds Cave on Ko Sa Ang Yai Island. It was the most adventurous cave as to get into, you need to climb the wooden ladder. It's a small place but very atmospheric and well worth the visit. From there, we went to one of the biggest attractions in this area: Hong Island. Again, there is an option for a short kayak trip at the additional fee of 300 THB, and this time I decided to go for it. In fact, it's a guided trip so actually you don't paddle yourself but just sit as a passenger. A bit strange 🙂 Some passes are really low so the guide will ask you to lie down and watch out for your head. It was really fun, even though it was raining. You feel so small being surrounded by these towering limestone walls.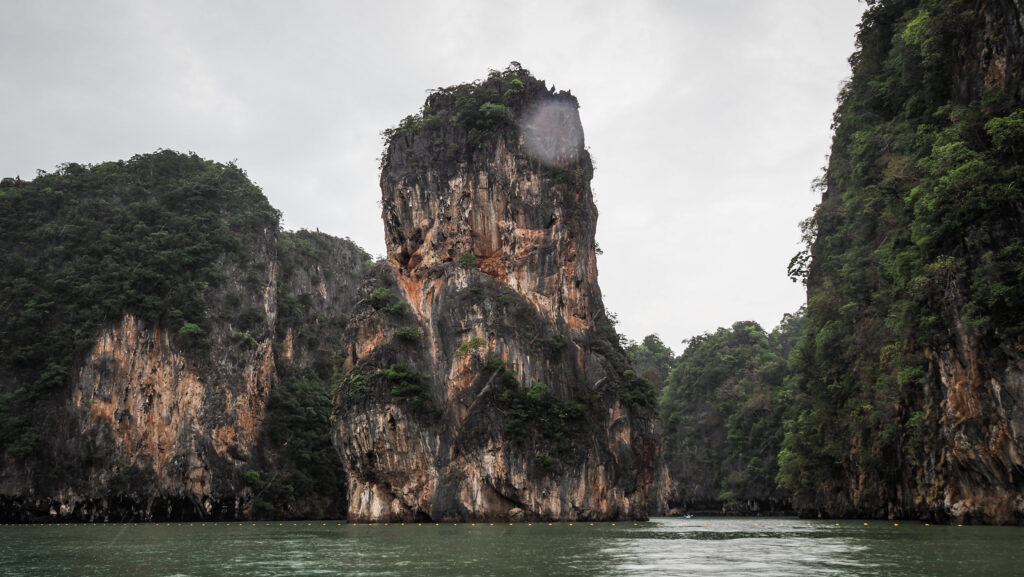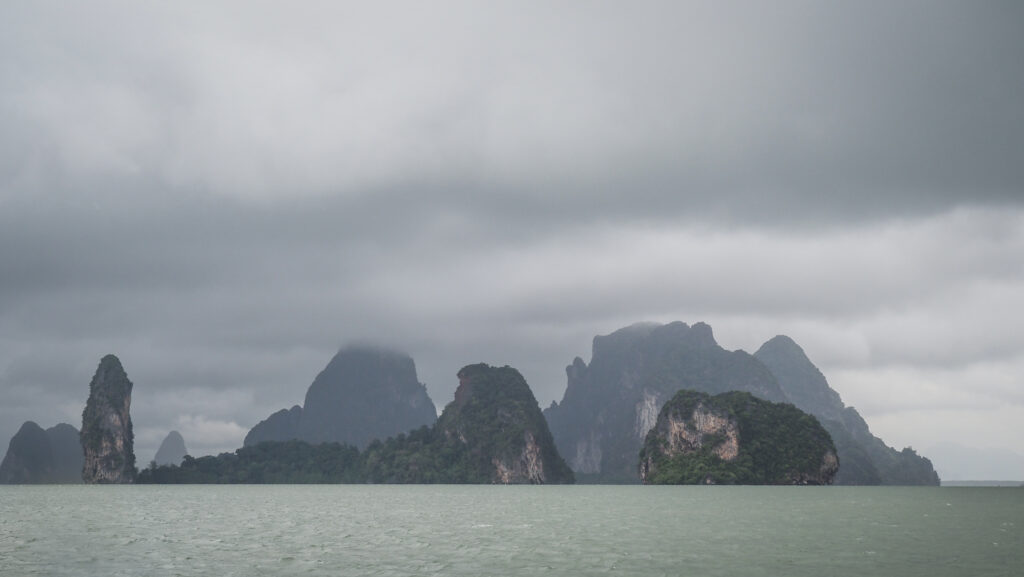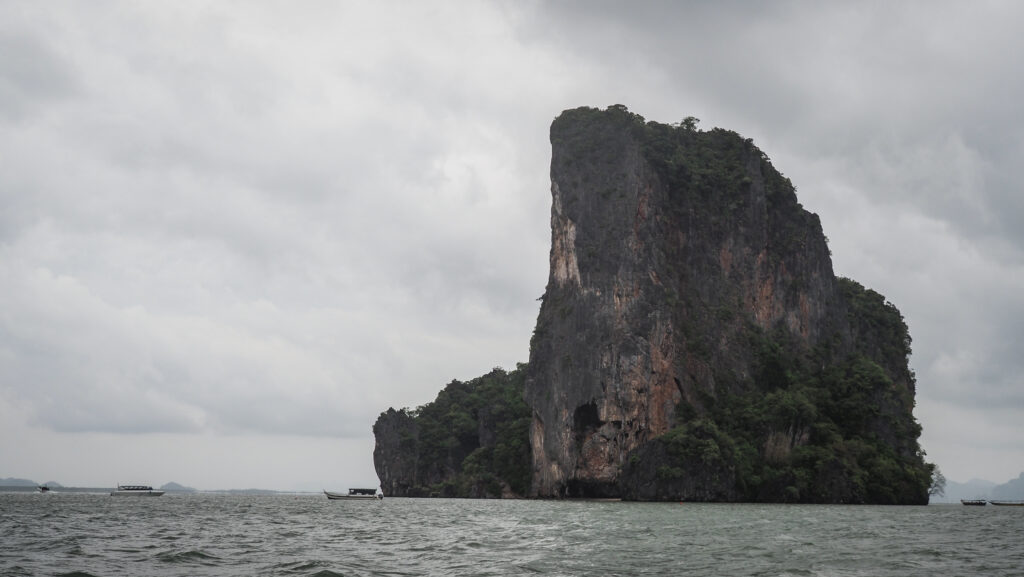 Then, it was time to move on to Ko Tapu, also known as James Bond Island. Very tourist place, which suddenly might get super crowded as many boats arrive at the same time. However, it's good to see it once in a lifetime. The place appeared in the 1974 James Bond movie The Man with the Golden Gun. There is a national park fee of 300 THB per person paid upon arrival.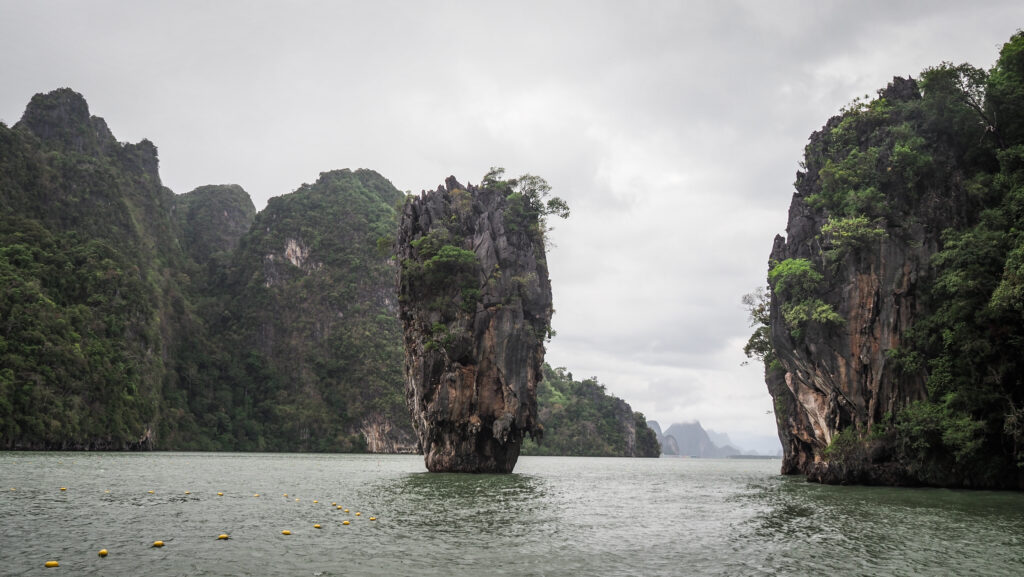 The last stop before arriving at Panyee Islands for chilling was Thalu Mountain and Lot Cave. It's another kayaking stop and again paid 300 THB extra. For me, it was even better than Hong Island so I can highly recommend it. The same as before, you go with the guide who does the paddling job and just enjoy the scenery. You will see impressive rocks, mangroves and most probably some "walking fish" so the mudskipper which is a half-fish half-reptile. The only thing that influenced negatively my experience here was the guide who was all the time talking about his family and how poor he is, kind of forcing the tip in an unpleasant way.
Finally, we arrived on Panyee Island and I agreed with the boatsman to pick me up the next day at 10 AM. I left my things in the room and went for a walk. Panyee Island is a fishing village built on stilts by Malay fishermen from Kedah state. It was very peaceful in the afternoon when all the tours already left and only local people remained. And me, probably the only tourist staying overnight 🙂 The scenery around was truly fantastic, as you can see in the drone shots below. For the dinner, you may find some cheap bites in the market area close to the mosque.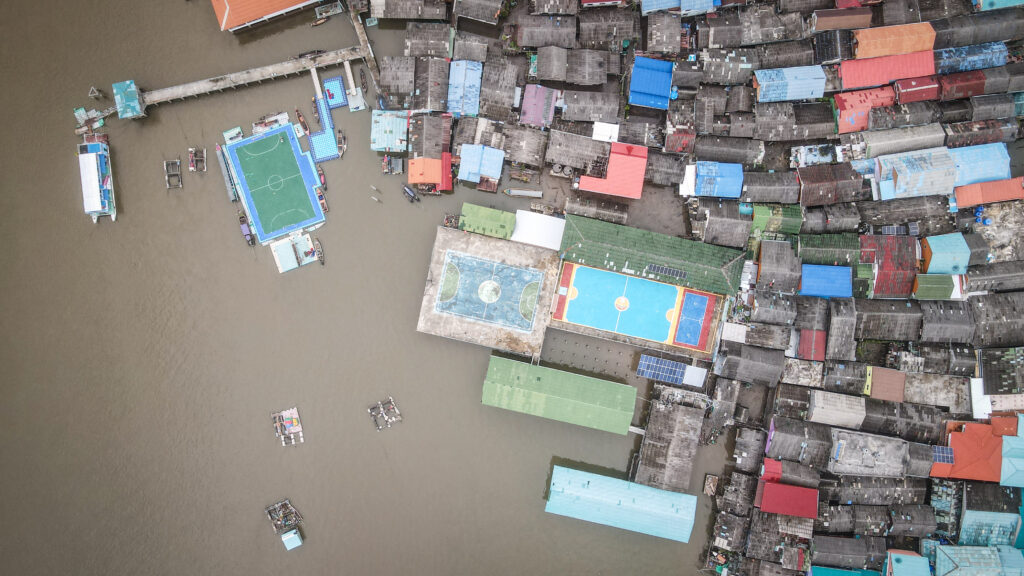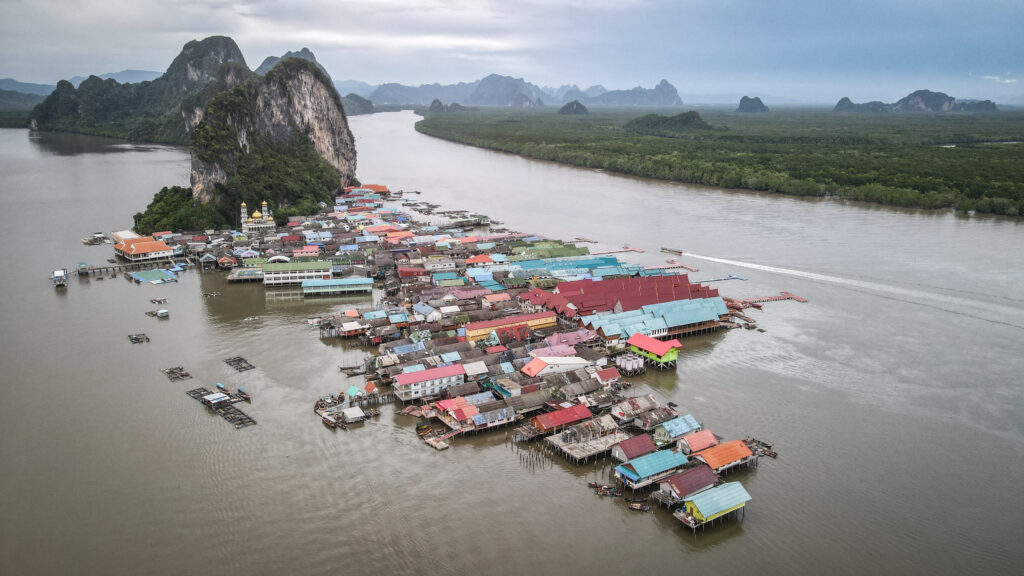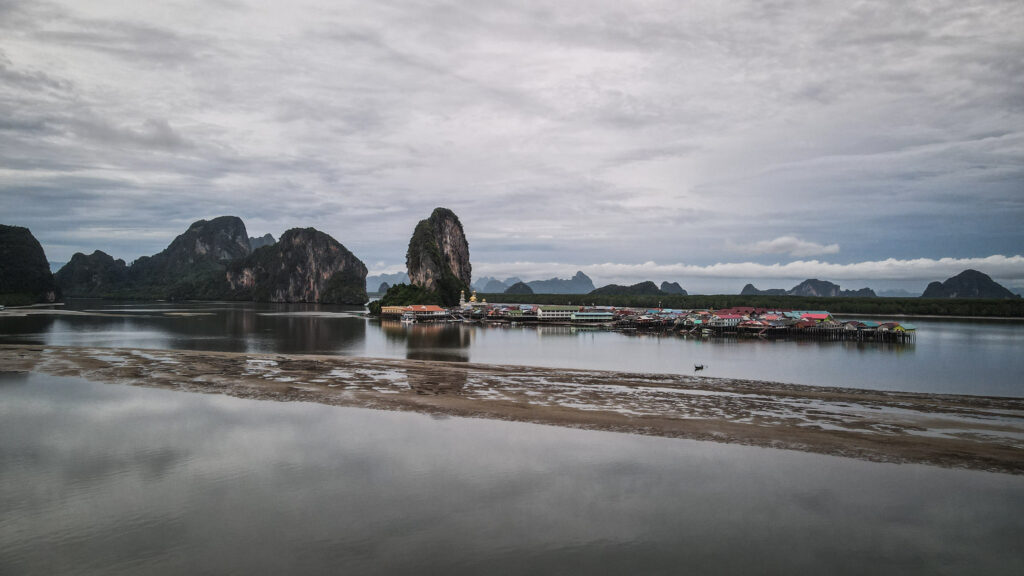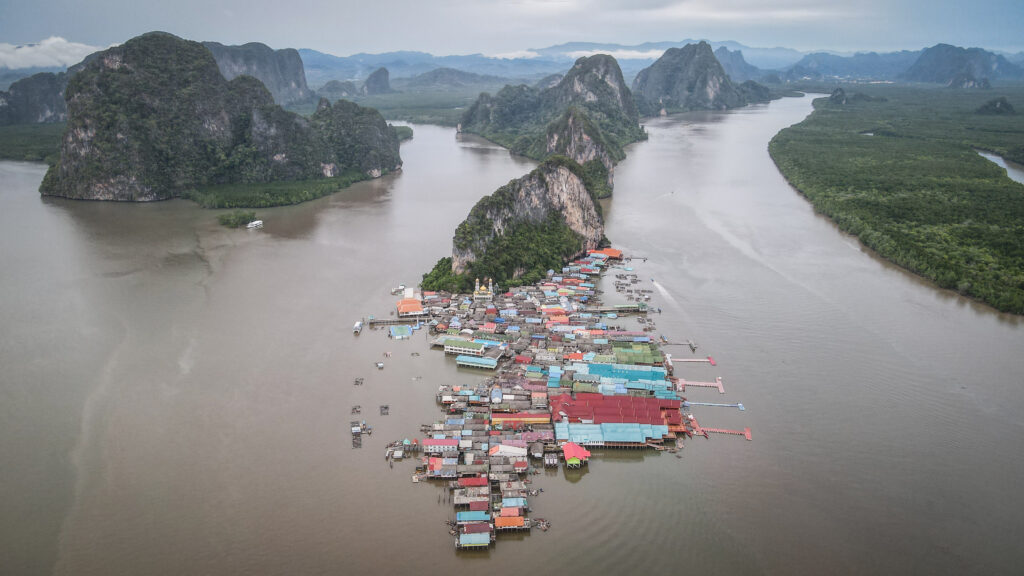 Day 2
I was picked up according to schedule and I was really glad that it seemed to be a sunny day. That's why, on the way back to the pier, I could see the scenery of Phang Nga Bay once again, in different conditions. We made one more stop to visit the cave of the name that I don't even remember anymore 🙂 But the highlight was just a relaxing boat ride in the morning sunshine. Hanah greeted me upon arrival and I jumped on my motorbike to check some other points in the area, before coming back to Krabi.
Samet Nangshe Viewpoint
Being so close, you can't miss the visit to this amazing place. The view is good at any time of the day but of course, it's absolutely breathtaking during sunrise and sunset. You need to park at the bottom and use their 4X4 taxi to go up. It costs 90 THB per person for a return ticket. There is a restaurant at the top but it may get very busy.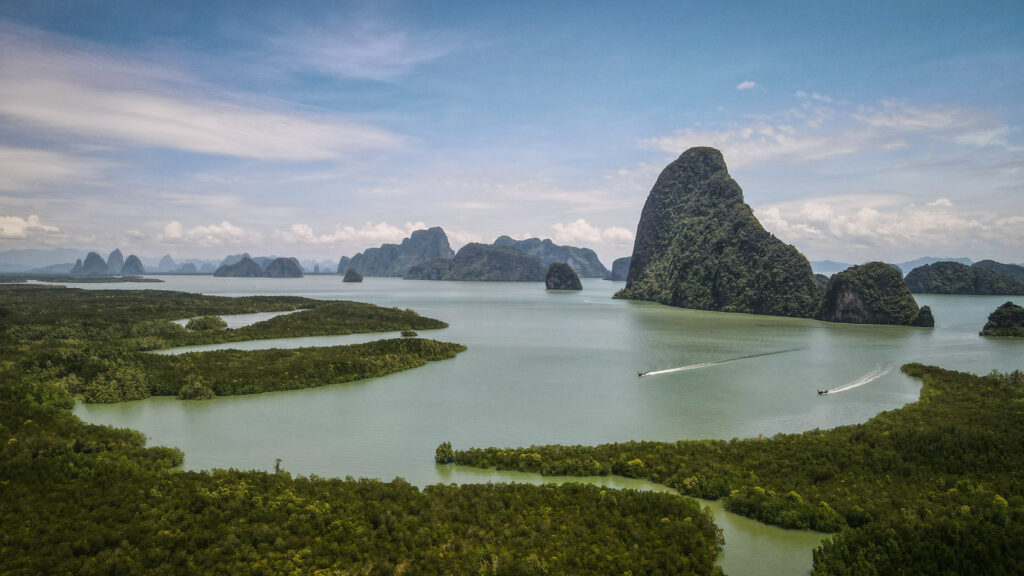 Benyaran Museum and Waterfall
A private collection of all kinds of things in aspects of culture, traditions, living conditions, occupations, etc. The entrance fee is 150 THB for foreigners and I personally think that it isn't worth it. There is a small waterfall, a few minutes' drive beyond the museum which can be visited free of charge. Follow the signs.
Phang Nga
Phang Nga is also the name of the city, the capital of Phang Nga Province. A rather compact place, just for a quick stopover. You can have a look at Tham Sam, a nice limestone cave with wall paintings from as early as 1850. It is located next to a beautiful lake and limestone cliffs. Free to visit.
Another cave nearby is Tham Phung Chang. The price (500 THB) includes canoeing, bamboo rafting, and walking. I had enough caves that weekend so I left it for the next time.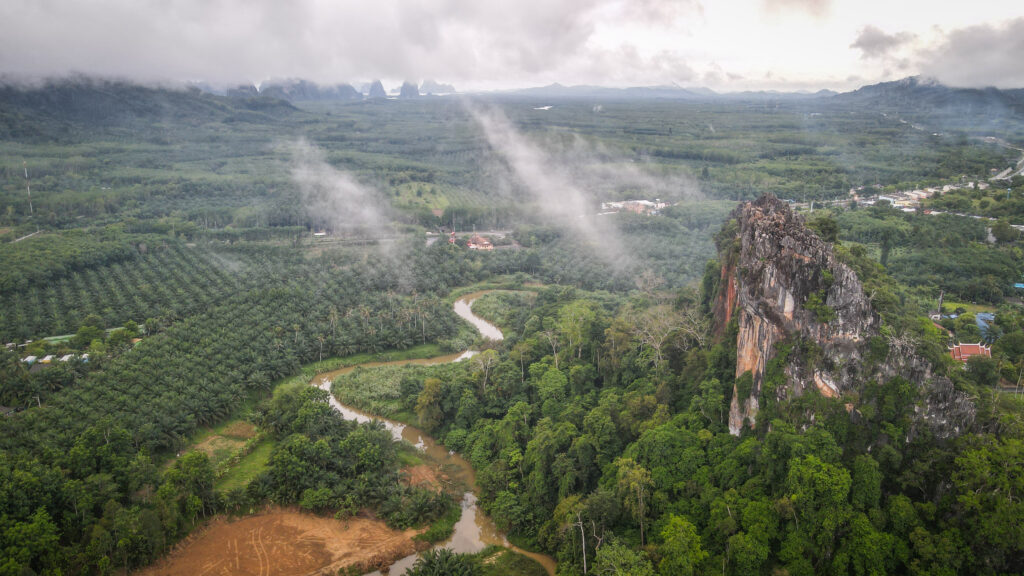 Summary
Overall, it was an excellent and unforgettable time, even though the weather was far from perfect, especially on the first day. It's not cheap, but if you travel with a group of friends, then it definitely makes more sense than an organized speedboat tour from Phuket. Overnight stay on Panyee Island gave me the chance to see the quiet side of Phang Nga Bay, almost without any other tourists around. Well worth it!