With its high cliffs and typical fajãs extending into the ocean, the landscape of São Jorge is truly unique. The island is 54 km long and 6.9 km at its widest point. It belongs to the Central Group and forms the so-called "triangle" of the islands, together with Faial and Pico.
But what are fajãs and why are they so special? Those are small plains created by lava or landslides. More than 40 of them are on São Jorge, some of them accessible only on foot after a hard hike. You should definitely take the challenge and visit at least a few!
I visited São Jorge on my long-term trip in pandemic times, when I took the advantage of remote work and lived "on the road". I stayed in the archipelago for two months, between April – May, which isn't a high season. Graciosa is the only island I haven't visited yet, but isn't it a good reason to be back one day?
How long to stay?
I would say that 3-4 full days should be enough to visit all the interesting places on the island and do a couple of hikes. Of course, it depends on the weather which is very unpredictable in this region. If you are unlucky, the interior of the island may be covered by clouds for the entire duration of your stay. Check the weather frequently and always have a backup plan. It's usually less cloudy closer to the coast.
The mobile app SpotAzores is a great tool for monitoring weather situations in the Azores archipelago. I used it every day when I was there and I seriously can't imagine travelling without it!
Where to stay?
Due to my remote work, I always look for a private room with a fast internet connection. The best quality to price ratio offered Azores Dream, which is located in the centre of Velas. It's a big house with a huge living room, well-equipped kitchen, and terrace on the roof with a magnificent view of Pico. The room was simple but nice with two shared bathrooms at the end of a hallway. Parking is available on the streets nearby. Fully recommended!
Getting around the island
As on all the other Azores islands, renting a car is essential to reach all places. I used the services of Autatlantis several times and I can fully recommend that company. The price was always around 16-20 EUR per day (without any extra insurance) and the cars I had were Toyota Yaris, Citroen C1, or Smart. Bigger ones are available too, of course at a higher price. Pick up and return were smooth and quite fast.
Another popular rental company in the Azores region is Ilha Verde, however, customers' opinions are mixed and I have never used them.
If you don't have a driving license, you can try hitchhiking but you need to be patient and quite lucky.
Tips
The weather is unpredictable and you have to be prepared for anything. Always have with you a waterproof jacket and umbrella. Install mobile app SpotAzores and don't go to places that are totally covered in clouds. You will lose time and won't see anything anyway.
Book your car in advance in the high season. I was travelling in the Azores between April – May so it wasn't a problem to get a car from one day to another, however, I can imagine that in high season it could be a problem, especially on the smaller islands.
Drive carefully, especially in the fog. It's pretty normal that cows, sheep or goats stand very close to the road or simply walk on it.
If you go hiking, download GPS files and maps from the official website Visit Azores and have them on your phone just in case. In general, trails are well marked but in a dense fog, it's not that difficult to get lost.
Don't be afraid of hitchhiking. Many trails are linear, which means that you need to get back to the starting point. You can walk the same way or try to save your legs. On some islands, the traffic is minimal but once the car comes, it is almost certain that the driver will stop and help you out.
Velas
Island's main town is located on the south coast and it is an entry point for those arriving in São Jorge by ferry. There are a few sights worth seeing, all within walking distance. Plan around 4-6 hours to discover the area.
Start at Jardim da República which is a nice tiny park and don't forget to have a look at the 18th-century Baroque building of Town Hall. Then continue towards the port, passing by Igreja Matriz de Velas (church) and Portão do Mar which is a part of the old defence wall.
Casa Museu Cunha da Silveira (museum) presents the history of the region in the form of thematic rooms. You will learn about agriculture, sea, carpentry, weaving, weights and measures as well as the history of the Cunha da Silveira family, which played an important role in the political and social life of the São Jorge island.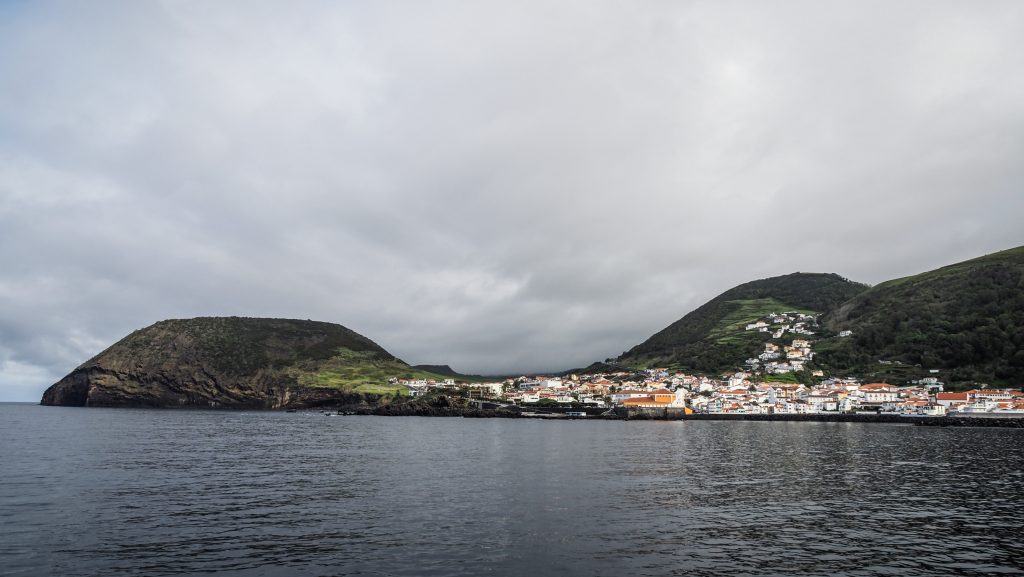 Walk along the coast until you reach Arco Natural de Velas. Besides the wonderful natural volcanic structure, your eye will be certainly caught by the panorama of Pico.
Lastly, walk behind the Chapel of Senhora Do Livramento and then continue uphill to the caldera of Morro Grande. Good panoramic views of Velas and the Atlantic Ocean are guaranteed. Instead of walking back the same way, I recommend descent inside the caldera and cross it to the other side in the ridge direction. Breathtaking views of Entre Morros Bay from there!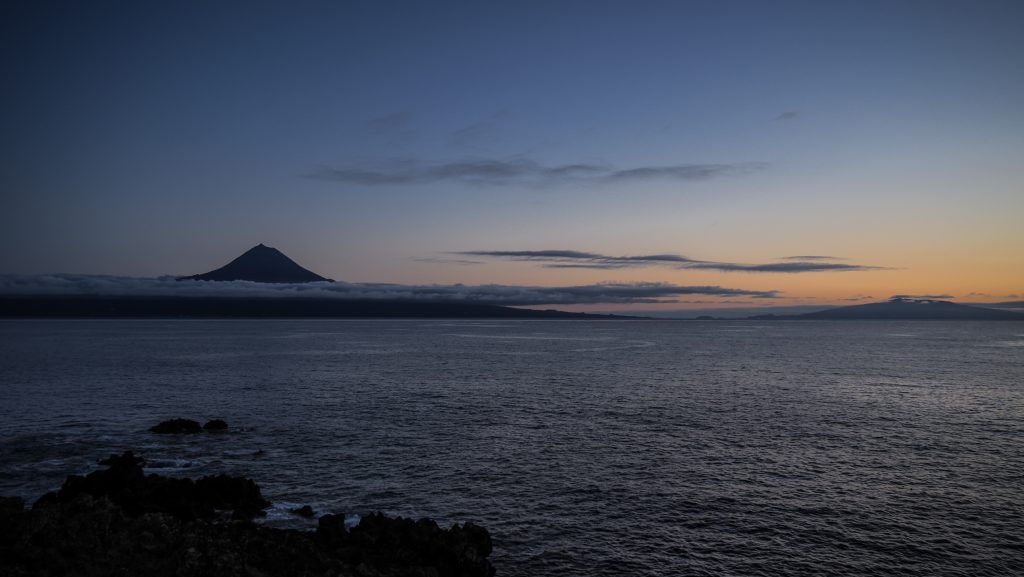 Other sights
Fajã dos Cubres and Fajã da Caldeira Santo Cristo – Both places are definitive must-sees that can be spotted in any tourist magazine promoting São Jorge. These are the only fajãs on the island with coastal lagoons, separated from the ocean by beach strands. Fajã da Caldeira Santo Cristo is especially famous for the cultivation of clams as well as good surfing conditions. It can be reached on foot from Fajã dos Cubres, where you can leave your car. Both places can be also approached following the challenging PR01 SJO hiking trail starting at Serra do Topo.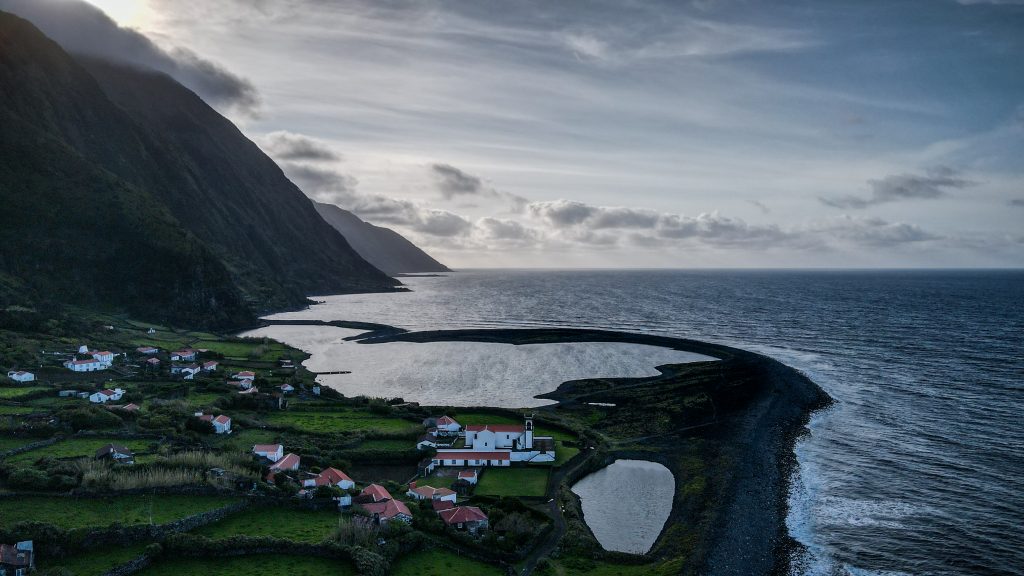 Fajã de São João – small but very picturesque fajã with typical homes built in black stone. PR03 trail starts here but at the moment of writing this article, it was closed.
Topo – interestingly, it is a historical city, which was probably the first settlement on the island, founded in 1480 by the Flemish Willem Van der Haegen. Topo Islet, which is a popular nesting area for many birds species and the lighthouse, which provides decent views over that area, are major tourist sights.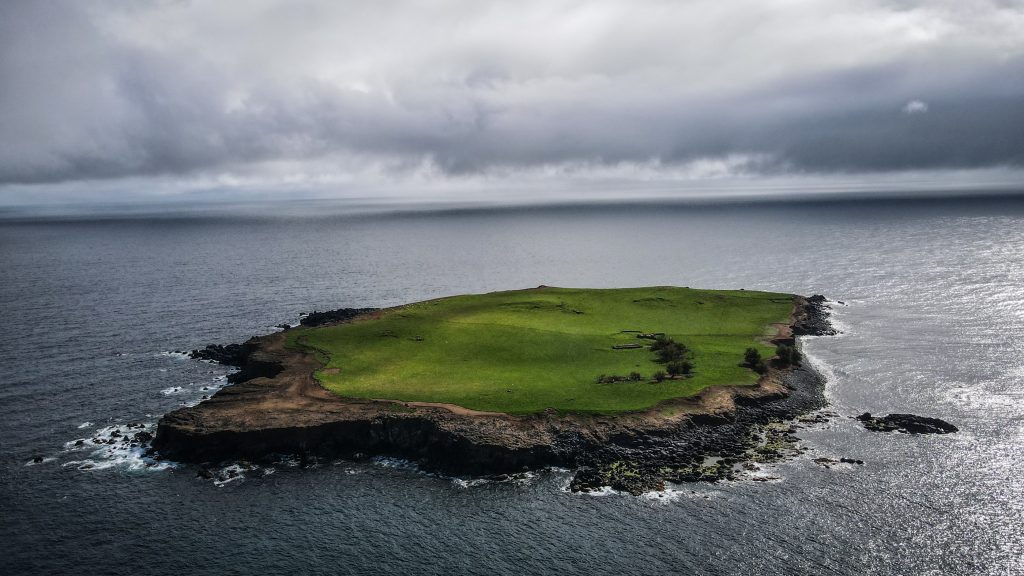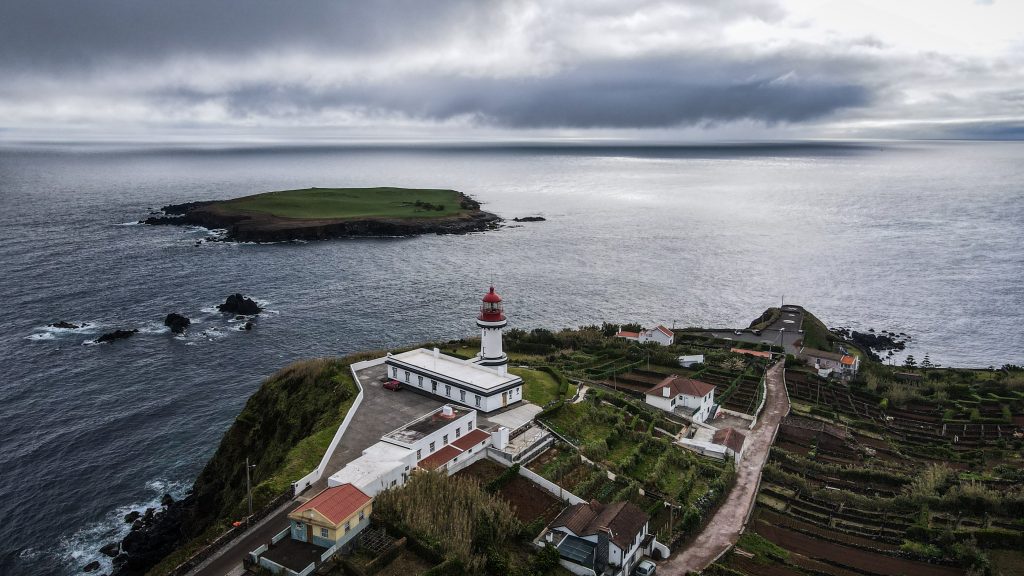 Fajã da Ribeira da Areia – the highlight here is the beautiful arch known as Arco da Fajã da Ribeira d'Areia.
Fajã das Pontas – Small place filled with beautiful rural houses that can be reached following the PRC06 SJO hiking trail. The area is primarily used for the cultivation of vineyards, cornfields, and other vegetables.
Fajã da Penedia – Just next to Fajã das Pontas. It's worth to check out the Chapel of Santa Filomena.
Fajã do Ouvidor – The place is thought to be created by lava flows from Pico Areeiro, which is located 3 km away. What attracts tourists, besides magnificent views, are many natural pools, the largest and most popular being the Poça de Simão Dias.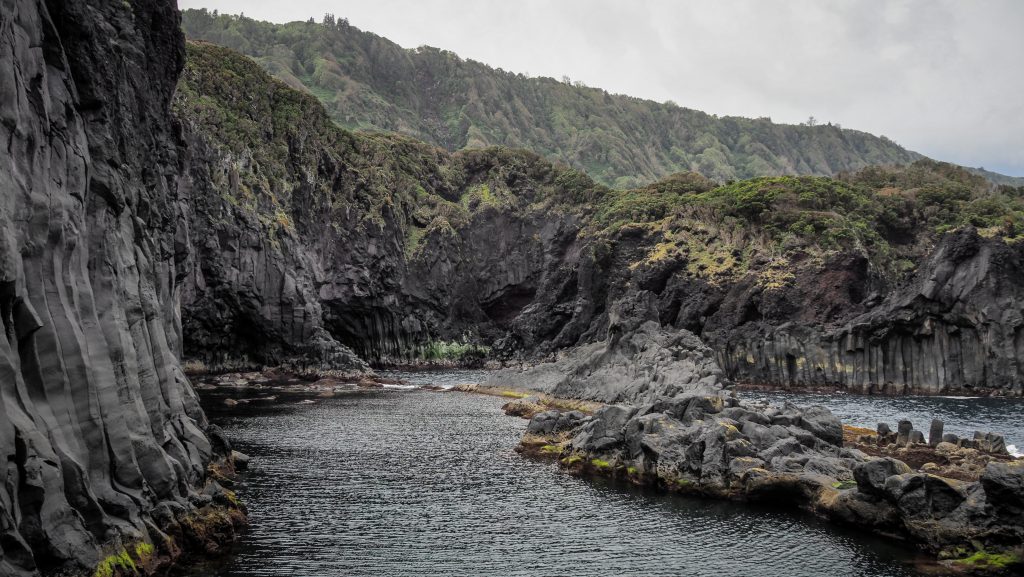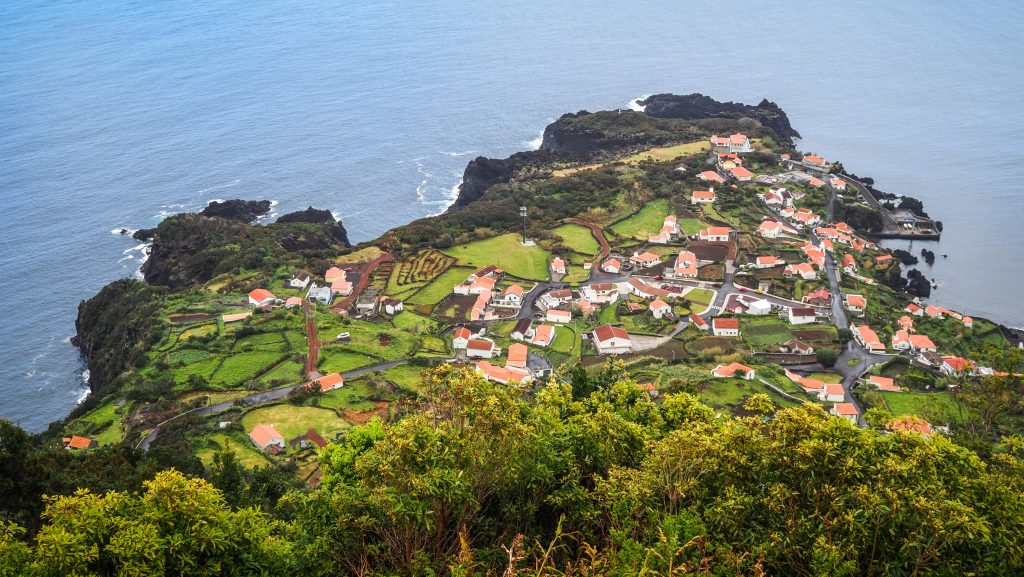 Farol dos Rosais – Inaugurated on 1 May 1958, but abandoned shortly after (in 1964), due to the seismic crisis of Rosais and the submarine eruption. Cliffs' landslides that followed the earthquake of 1980, made it impossible to resume the operation.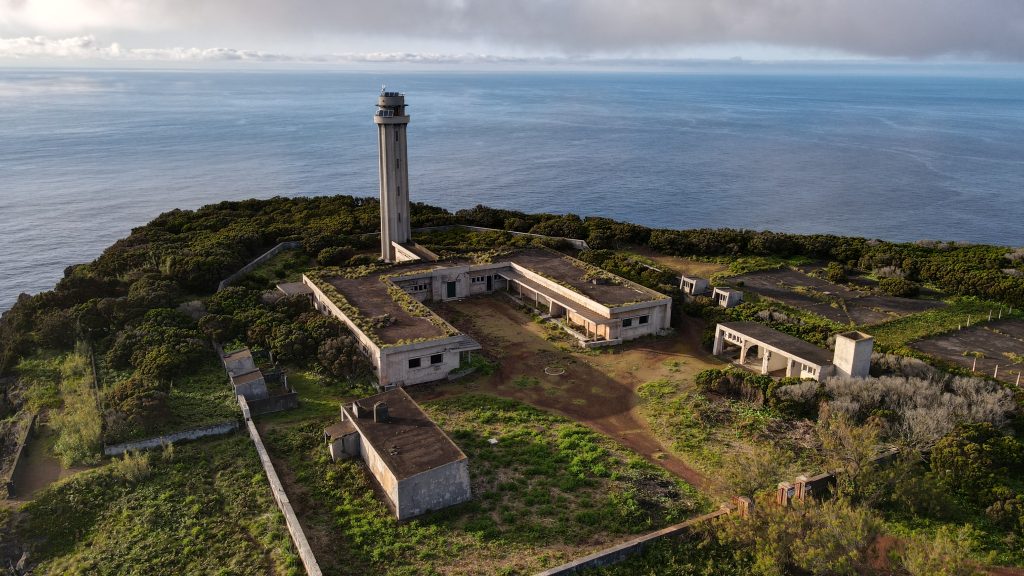 Parque Florestal das Sete Fontes – Many trees, ponds, trails, and picnic areas. I highly recommend following the wide red gravel track leading up to a Pico da Velha, a hill at 493 metres above sea level with fabulous views of Mount Pico and Pico island, especially at sunset.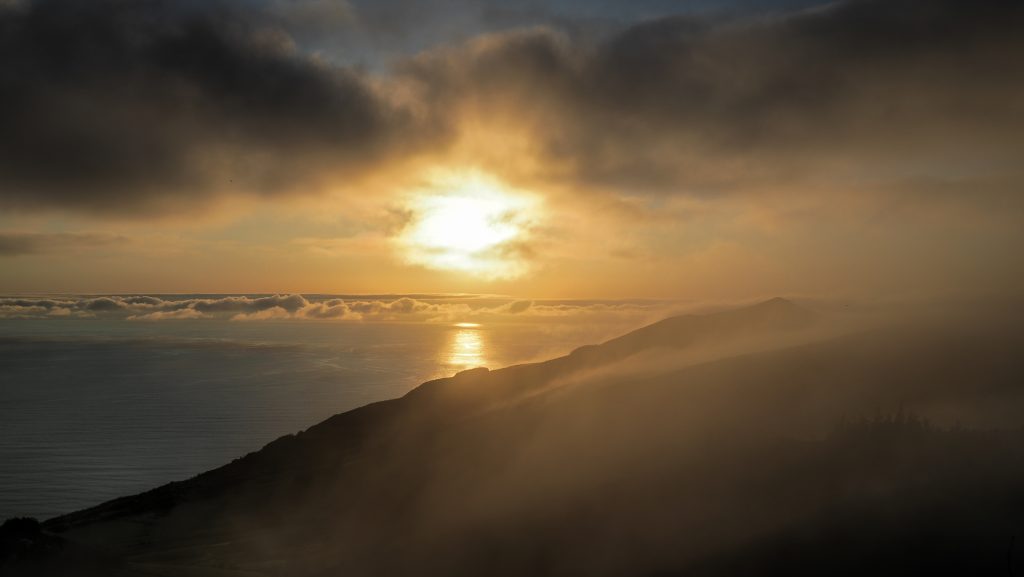 Moinho da Urzelina – One of two typical, colourful windmills, remaining in the parish of Urzelina, on the south coast of São Jorge island.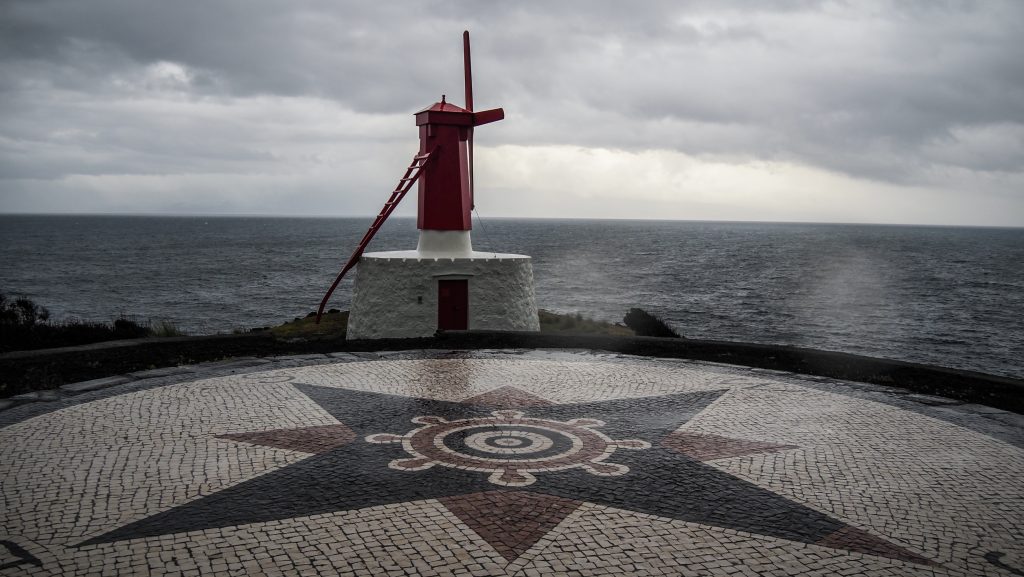 Pocas de Vicente Dias – Other natural pools created by natural lava flows, located about 2 kilometres from Calheta. The background of Pico and Faial Island is particularly appealing.
Viewpoints (Miradouro)
As on every island in the Azores archipelago, there are plenty of viewpoints and usually, they are easily accessible by car. Just look for the sign 'Miradouro' which in the Portuguese language means viewpoint. Here is the list of the most popular ones but of course nice views are nearly everywhere and it's easy to find a stunning 'no-name' spot.
Miradouro da Faja Das Almas
Miradouro da Fajã dos Cubres
Miradouro da Fajã do Ouvidor
Miradouro do Pico da Velha
Miradouro Ferra Afonso
Vigia da Baleia
Miradouro do Canavial
Miradouro do Terreiro da Macela
Miradouro da Transversal
Hiking trails
PR01 SJO – Serra do Topo – Caldeira do Santo Cristo – Fajã dos Cubres
The trailhead in Serra do Topo is often covered by clouds but don't let it discourage you. After an initial a few hundred meters, it goes all the way down to sea level and the further you go, the better the views should be. Be careful as it can be slippery when wet. At some point, there is the first viewpoint to Caldeira de Santo Cristo. Continue descent towards the fajã with the lake known for the presence of clams and different species of birds. The remaining distance to Fajã dos Cubres is mostly flat and it takes about 30-40 minutes to reach the church of Nossa Senhora de Lourdes at the end of the trail.
The problem with this hike is logistics. You can either arrange a taxi that will take you back to your car in Serra do Topo or simply walk back. The first option is expensive and the second one is physically brutal. Alternatively, I would recommend leaving your car at the parking in Fajã dos Cubres, walking from there to Caldeira de Santo Cristo and then continuing beyond as far as you want and can before turning back. In this way, you see the main sights and have more control over the total distance that you want to hike.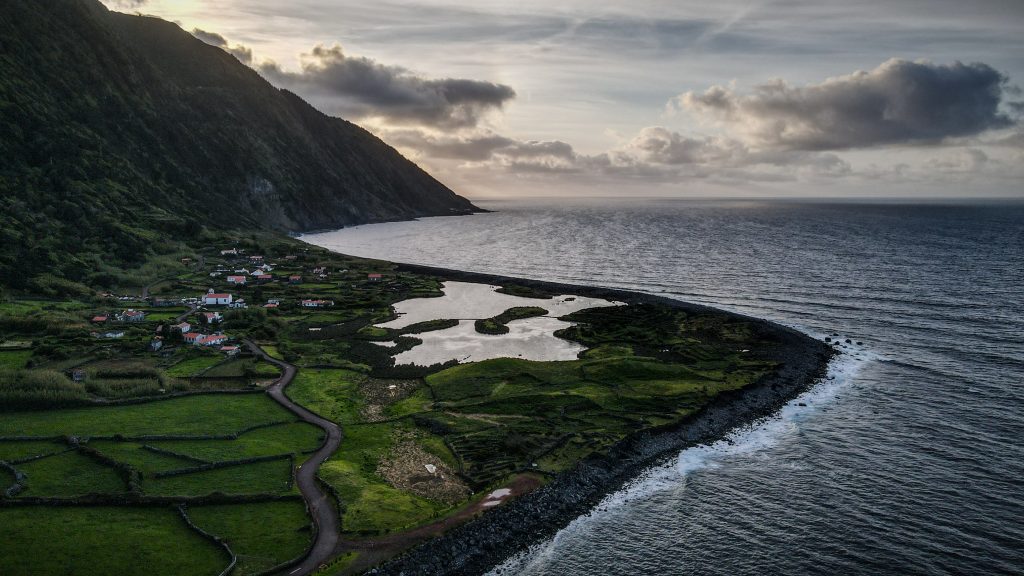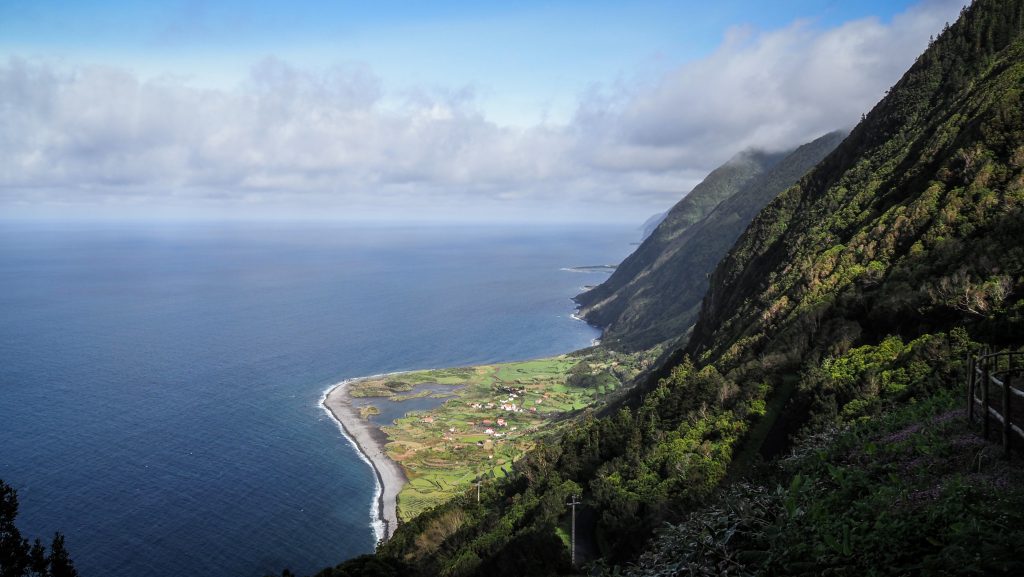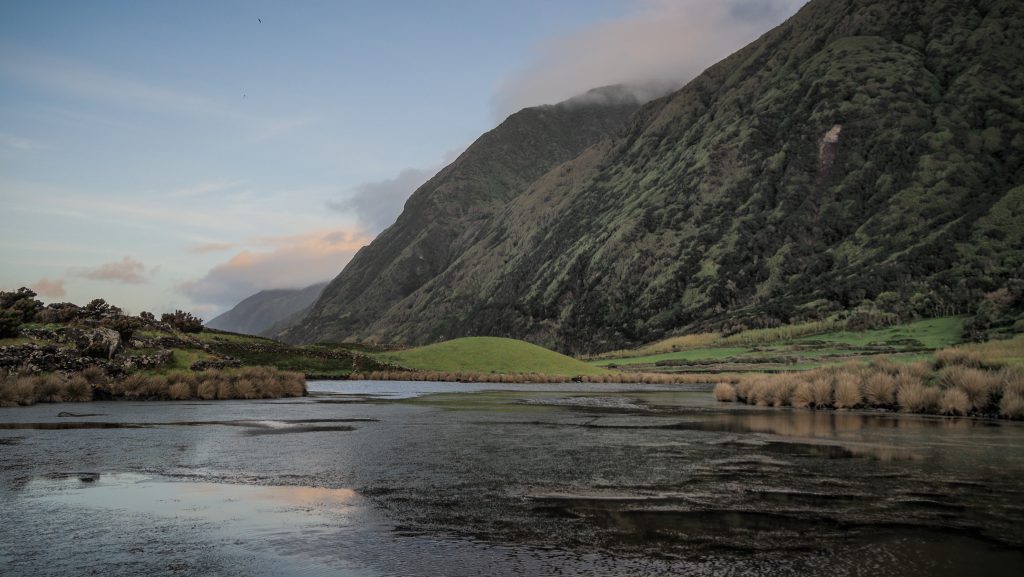 PR02 SJO – Serra do Topo – Fajã dos Vimes
The trail is nothing else but a big descent, so prepare your knees and don't go when the ground is wet as it gets really slippery. If you leave your car at Serra do Topo, keep in mind that the way back won't be easy. Alternatively, you can ask around and organize a taxi or try to hitchhike.
After initial descent, the trail crosses asphalt road and continues towards a water spring called Fonte de Agua Azeda. At the Fajã dos Vimes, there is a small coffee shop where you can treat yourself and have a rest.
PR03 SJO – Fajã de São João – Lourais – Fajã dos Vimes
This trail connects Fajã de São João with Fajã dos Vimes on the south coast of the island. There is quite a long ascent and descent involved with Lourais being the highest point. I departed from Fajã dos Vimes where I saw the notice saying that the track is temporarily closed. I decided to continue and turn back in case there is any sign of danger.
First, there was quite a long section of hiking on a dirt road among local houses but finally, I made it to the forest. Here, in some parts, the track started to be overgrown and quite messy with branches blocking the path (which could be the result of the storm). After approximately 4 kilometres, I decided to turn back. From a technical point of view, there wasn't anything dangerous. However, my pace was quite slow and it was getting late. I wasn't prepared to walk in the darkness plus it's also not something that I like to do 🙂 In general, there are other much better hikes on the island, so I would recommend skipping this one until it officially reopens.
PR04 SJO – Pico do Pedro – Pico da Esperança – Fajã do Ouvidor
Even though it's a hiking trail, it follows a wide gravel road and most people simply drive on it. As it runs along the central and highest terrain on the island, good weather and visibility are essential to fully enjoy it.
Start your adventure near Pico do Pedro and follow the road until Pico de Esperança (1053m). The detour to the highest point of Sao Jorge is a must and on a clear day, the views will leave you speechless. Lakes and panoramic views over the whole island and the neighbouring Pico. Doesn't sound too bad, does it?
Return to the main road and pass by Pico do Areiro and Pico Pinheiro as well as Espigao, which is a bit further on. Soon, the trail turns right and descent to Fajã do Ouvidor. Here the quality of the road gets worse and some parts of it were extremely difficult to cross with such a small car like Smart. The suspension was way too low! Drive very slowly or instead of taking the right turn, continue straight towards road EN3 and head to Fajã do Ouvidor from there.
If you complete the drive following the original track, you will enter the village of Norte Grande right next to the church. From there it's an easy drive on an asphalt road to the endpoint.
Is it better to hike or drive on this trail?
I would say that driving is just fine unless you are a big hiking enthusiast. I can imagine that following a long gravel road on foot for over 15 km can be tiring and slightly boring in some parts. The road descending to Norte Grande is bumpy but drivable and if you decide to do so, the driving and hiking tracks will be 100% the same, so you won't miss any views. However you do it, it's going to be a wonderful time in nature.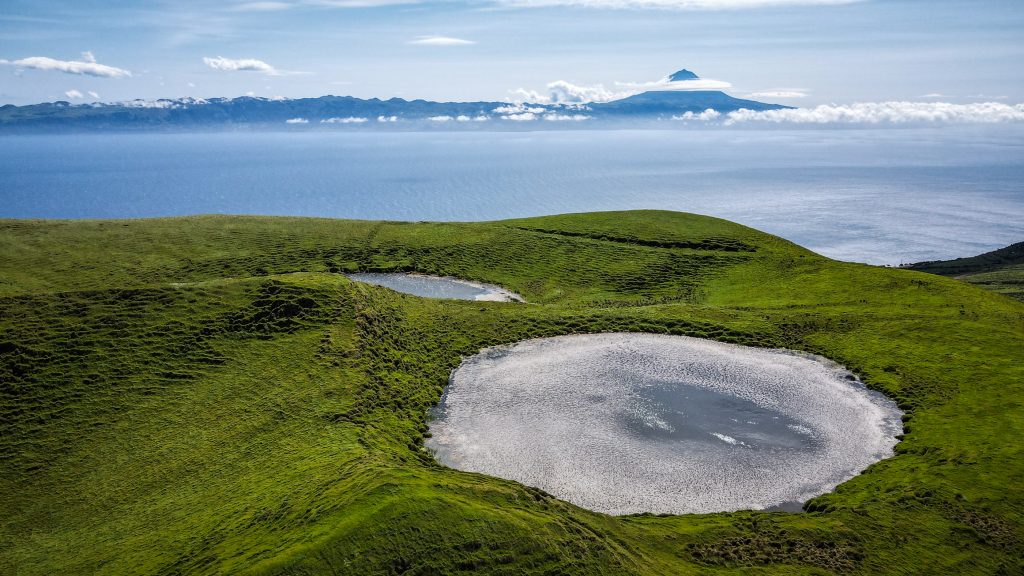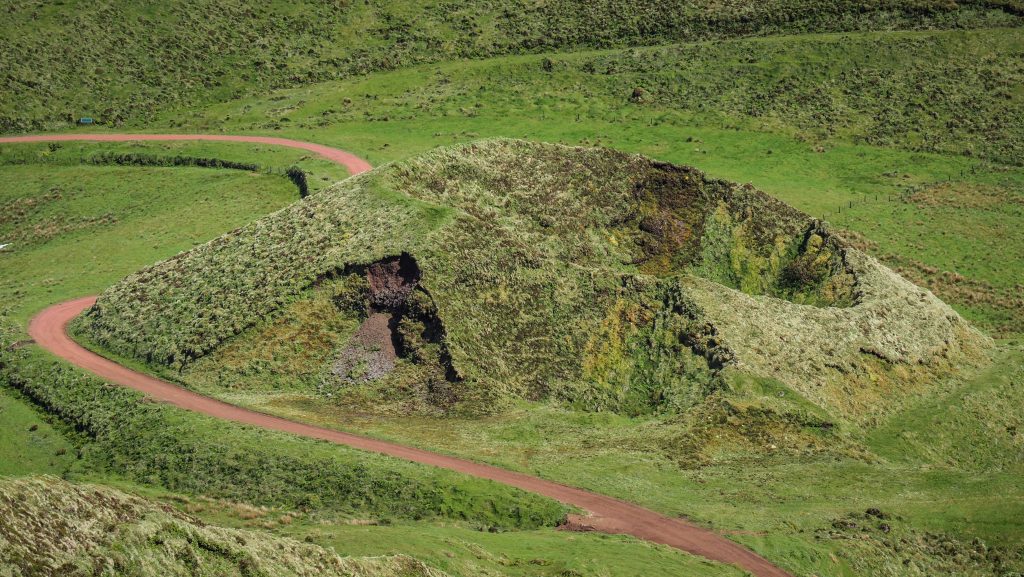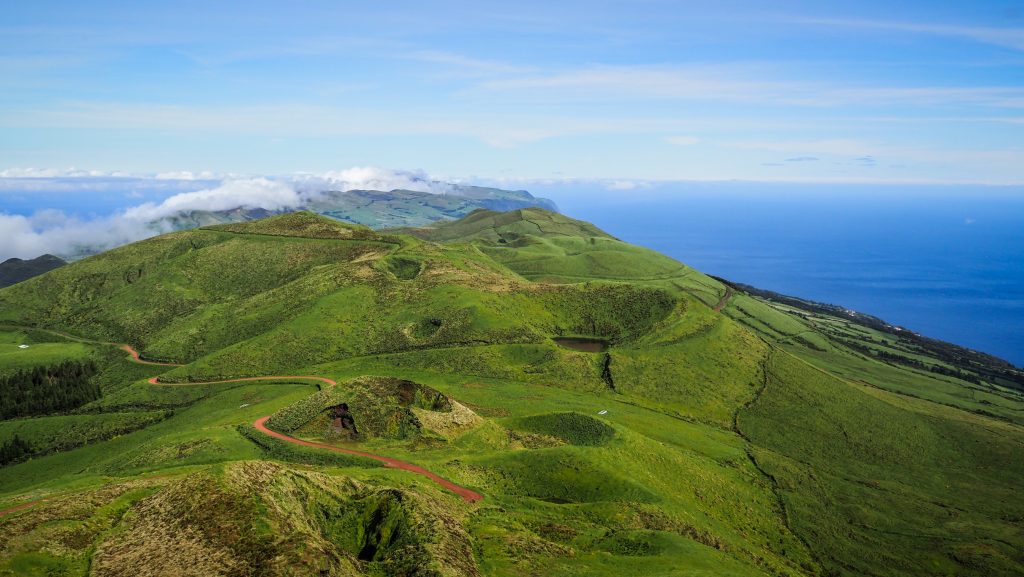 PRC05 SJO – Fajã de Além
It's a less than 5 km long loop but better don't underestimate it! Like most of the other hikes to fajãs, it involves a steep descent (500 meters elevation difference) and then a steep ascent back to the main road (obviously the same elevation difference). There is not much to see in the fajã itself, just rural houses and small agricultural fields with traditional crops. It's all about the views that you can get on the way there. Tough but worth it.
PRC06 SJO – Norte Pequeno
The trail begins in Norte Pequeno and the best is to leave your car next to the church. From there, follow the asphalt road until the turnoff to the dirt one. Soon, the difficult descent starts, with nearly 500 metres of elevation difference. I did the trail in bad weather, with occasional showers and wet ground. It wasn't the best idea as it was really slippery on the way down plus my shoes got totally soaked because of wet grass. But when the clouds are low, it creates a unique moody feeling which is beautiful in its own way. After the descent, the first buildings that you will see are Fajã do Mero. The wide gravel road continues until Fajã da Penedia where it's worth having a short break to visit the Chapel of Santa Filomena. Continue on the main road until it splits. Here you should continue straight towards Fajã das Pontas. It's a dead-end road so soon you will need to come back the same way. It's a small fishing village which like all the fajãs that I visited on the trail on that day, was totally abandoned. But who would like to walk the area on a rainy day? Just me 🙂 It's worth continuing for a while beyond the fajã as the views to the cliff from there are really magnificent. In the end, return the same way until the crossroad, turn left and follow the zigzag road ascending to the point where you started, nearby the church.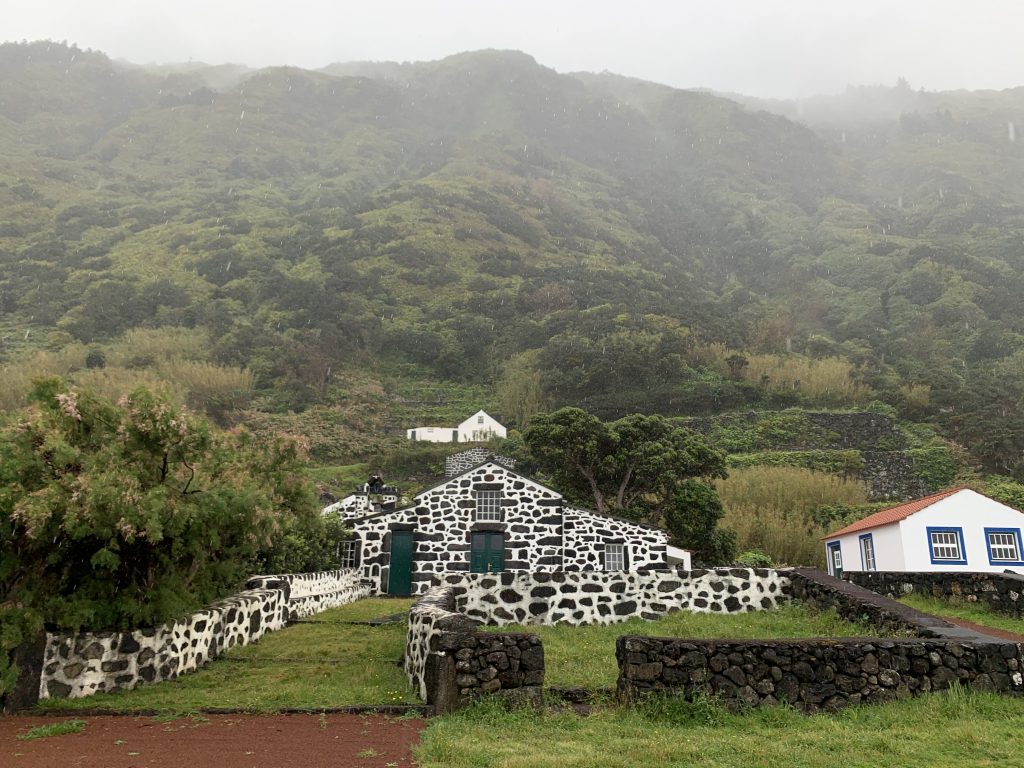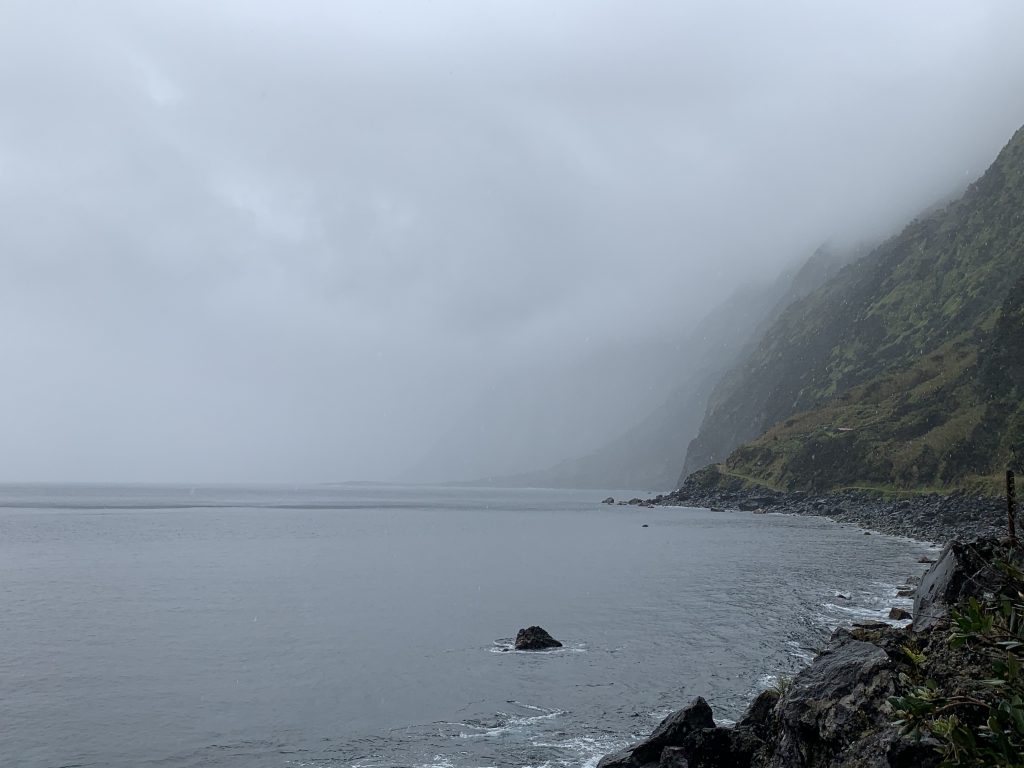 PR09 SJO – Fajã dos Vimes – Fragueira – Portal
The hike can be started either in Fajã dos Vimes or in Portal. I chose the latter option to have a downhill part first. After the initial flat section, the trail started descending through the forest with some occasional views towards the ocean. At Fajã da Fragueira there was already a beautiful and clear panorama of a harsh landscape with vineyard terraces. From here the trail continues for the remaining distance to Fajã dos Vimes, where you can have a rest before returning uphill walk back to your car.
GR01 SJO – Great Route of São Jorge 01
The first part of the trail which crosses the entire island. It starts near the lighthouse of Ponta do Topo and goes through several highlights such as Fajã of São João, Fajã dos Vimes, Lagoa da Caldeira do Santo Cristo and Fajã dos Cubres. Unless you are a tough player, the distance of 40 km should be split into 2 days. Definitely a great option for hiking enthusiasts that are not afraid of hard uphill walks followed by equally hard descends.
GR01 SJO – Great Route of São Jorge 02
The second part of the ultimate trail across São Jorge, from Fajã dos Cubres to Ponta dos Rosais. Highlights include Pico da Esperança and the Central Plateau.