Once the ancient fishing village and today one of the busiest tourist destinations on Costa Blanca. Calpe's location is a big benefit and it might be a great base for exploration of the region. 1 hour to Alicante and 1.5 hours to Valencia, but there are also other charming towns nearby such as Denia, Xabia, Gandia, Altea or more of a party spot Benidorm.
Climbing Ifach Rock
The town is dominated by that towering rock of Ifach and you may wonder how the panorama looks like from the very top. It has 332 metres and the summit can be reached after a demanding but doable hike for about 2.5 hours (there and back). The first part is a good and easy warm-up leading to the tunnel. After that, a more serious path with big and sometimes slippery stones begins. Good footwear is absolutely essential! Before taking a turn to the summit, continue straight for a bit longer and check out Mirador de Carabineros.
Then, return to the crossroad and follow the trail all the way to the top of the rock. From there, on a clear day, even the island of Ibiza could be visible. In fact, in the past Peñon d'Ifach was used as a watchtower to spot advancing pirates and to warn the surrounding community.
Other things to experience
Playa Arenal Bol – The most popular beach in town but it's very long, so you will always find a spot. There are many restaurants and shops nearby and the city centre is within walking distance.
Platja de la Fossa – Another beautiful beach with clear blue water and nice restaurants along the promenade.
Spanish Stairs – Charming little street with stairs painted in Spanish colours.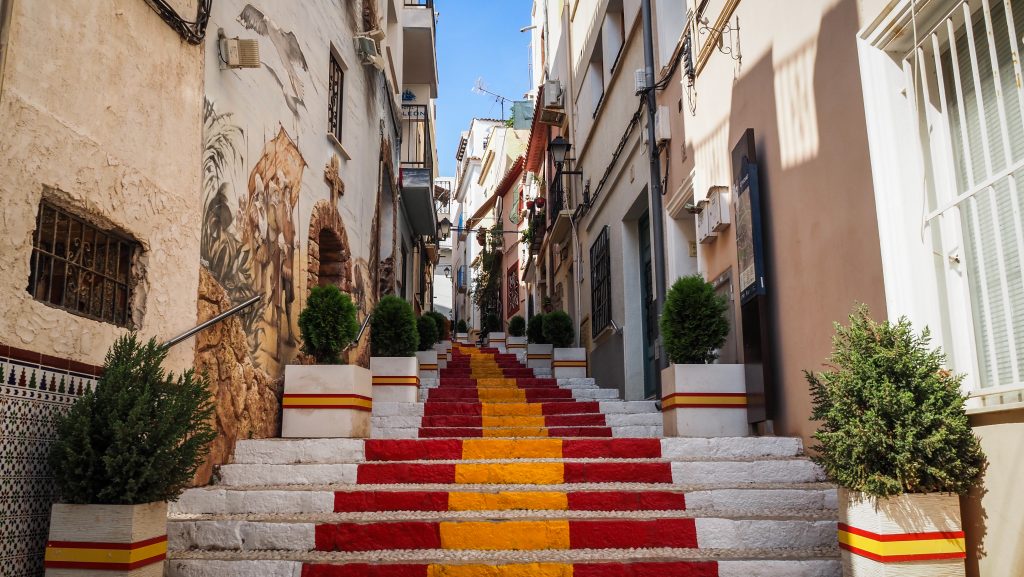 Torreó de la Peça – remains of a defensive bastion where a piece of artillery that defended the town from Moorish attacks was installed. There seems to be a small museum inside but opening hours are limited and comments say that the content is in Spanish only.
Edificio La Muralla Roja – Designed by Ricardo Bofill and completed in 1973, this residential building, with 50 family homes inside, is located on the edge of a cliff in La Manzanera. Its red facade contrasts with the pink and blue interiors. Unfortunately, it's private property, off-limits to tourists. Keep your distance and respect it. In the end, people live there and they need some peace!
Edifici Xanadú – Another interesting spot to architecture lovers designed by Ricardo Bofill and completed in 1968. Similar to Edificio La Muralla Roja, it's a residential building so going inside is not an option.
Cala La Manzanera – Rocky beach just at the foot of Edificio La Muralla Roja. Excellent views to the Penyal d'Ifac.
Passeig Ecològic de Benissa – Hiking route passing by numerous Benissa coves with informative and explanatory panels. Starts on the north of Calpe, around Cala de la Fustera. About 3.5 km one way.
Salinas de Calpe – An unusual salty lagoon located in the centre of town. It was exploited for hundreds of years as a salt industry but now is no longer used as such, since it stopped working in 1988. It's an important habitat of numerous animal species, e.g. flamingos.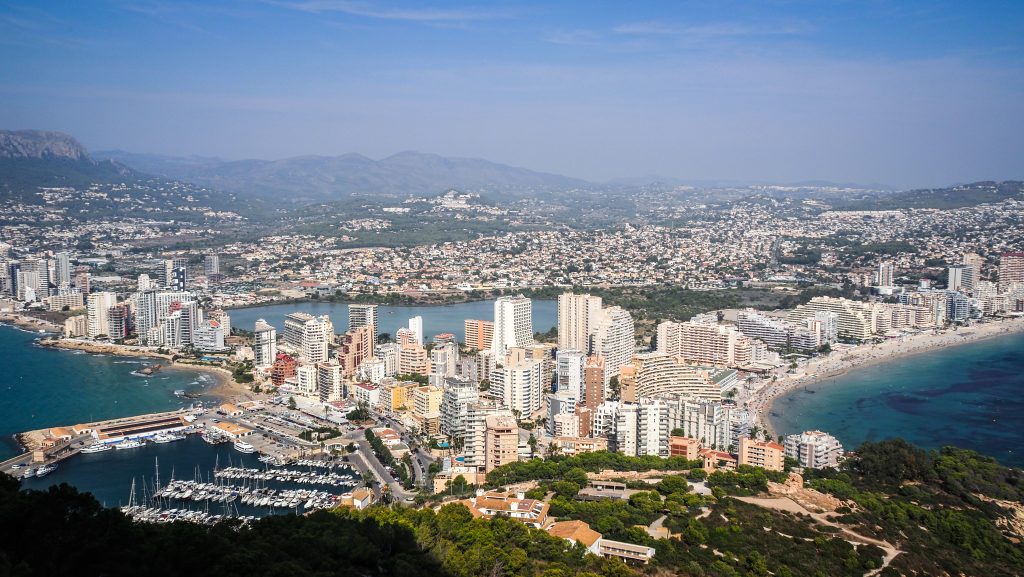 Mirador Morro de Toix & Antenas de Toix – definitely one of the best views of Calpe. It's about 3 kilometres round trip.
Mascarat Canyon – Amazing and very easy hike to do, going straight into the ravine. Leave your car at Platja Mascarat and follow the signposted track. The first bridge in that area was built to enable easier communication and transport of goods between Altea and Calpe. It's not used anymore, but a newer construction can be seen just next to it. A little bit further is also a railway bridge and from time to time you can see trams passing just over your head. Soon, the ravine narrows so much that it's not possible to continue. Go back the same way and finally, check Platja Mascarat if you haven't done that before.
Interestingly, the name of this gorge and the bridge comes from the presence of masked bandits in the area who robbed the stagecoaches taking advantage of the difficulties of the passage.
You can also take up the challenge and climb Castell del Mascarat. You will have to scramble using ropes that are put on the trail for safety reasons but apparently it isn't that tricky as it sounds. I haven't done that due to lack of time but even though nowadays the castle is just a single wall covered with graffiti, the views are supposedly spectacular.