Day 1 made us tired but warm dinner and good sleep helped to recover quickly. At 9 AM we were packed and ready to go. The weather wasn't as good as the day before. The sky was covered with dark clouds and it was significantly colder. It seemed that the experience up in the mountains could be limited to "walk in the fog". Moreover, parts of the red track were apparently closed due to the proximity of the border of Poland with the Czech Republic which wasn't allowed to cross due to the epidemy of COVID-19. In fact, the track meanders just between these two countries, sometimes with hikers having one leg in Poland and another one in the Czech Republic. For common sense – who cares? Unfortunately, virus paranoia was taking its toll.
We had met a fellow hiker the day before saying that he passed through without any issues even though he was seen by border guards. With uncertainties about our route for today, we decided to hit the road and make further decisions on the way.
Route: Szklarska Poręba to Odrodzenie Hut
Distance: ~ 20 km
Skalny Pensjonat was way off the red track so it took us a good half an hour wandering around Szklarska Poręba to finally get to the road leading towards Kamieńczyk Waterfall. Here, uphill walk began. Maybe it was better. We could quickly warm up and burn poor breakfast within 1 hour 🙂
We left our backpacks next to the ticket boot and armed ourselves with a helmet. Then it was just a few steps down on a metal construction to see the first glimpse of the highest waterfall on the polish side of Karkonosze Mountains. There are 3 cascades of total high 27 m. Not the most impressive ones but still very photogenic and definitely worth a stop. A regular ticket costs 8 PLN once discounted one 4 PLN.
From the waterfall, a boring concrete road leads all the way to PTTK Hut "Na Hali Szrenickiej" (1195 m a.s.l.). It's time for a coffee. Clouds are passing by so quickly like it's some kind of weird race and it's getting certain than in a few hundred meters, we will disappear in the clouds as well.
The hut visible close by is on the top of Szrenica (1361 m a.s.l.) and it's possible and recommended to do a short detour there. Afterwards, it was decision time. The red track was closed and we saw a group of tourists discussing options so I happily join the conversation. The outcome was very Polish – let's fuck the rules and go anyway.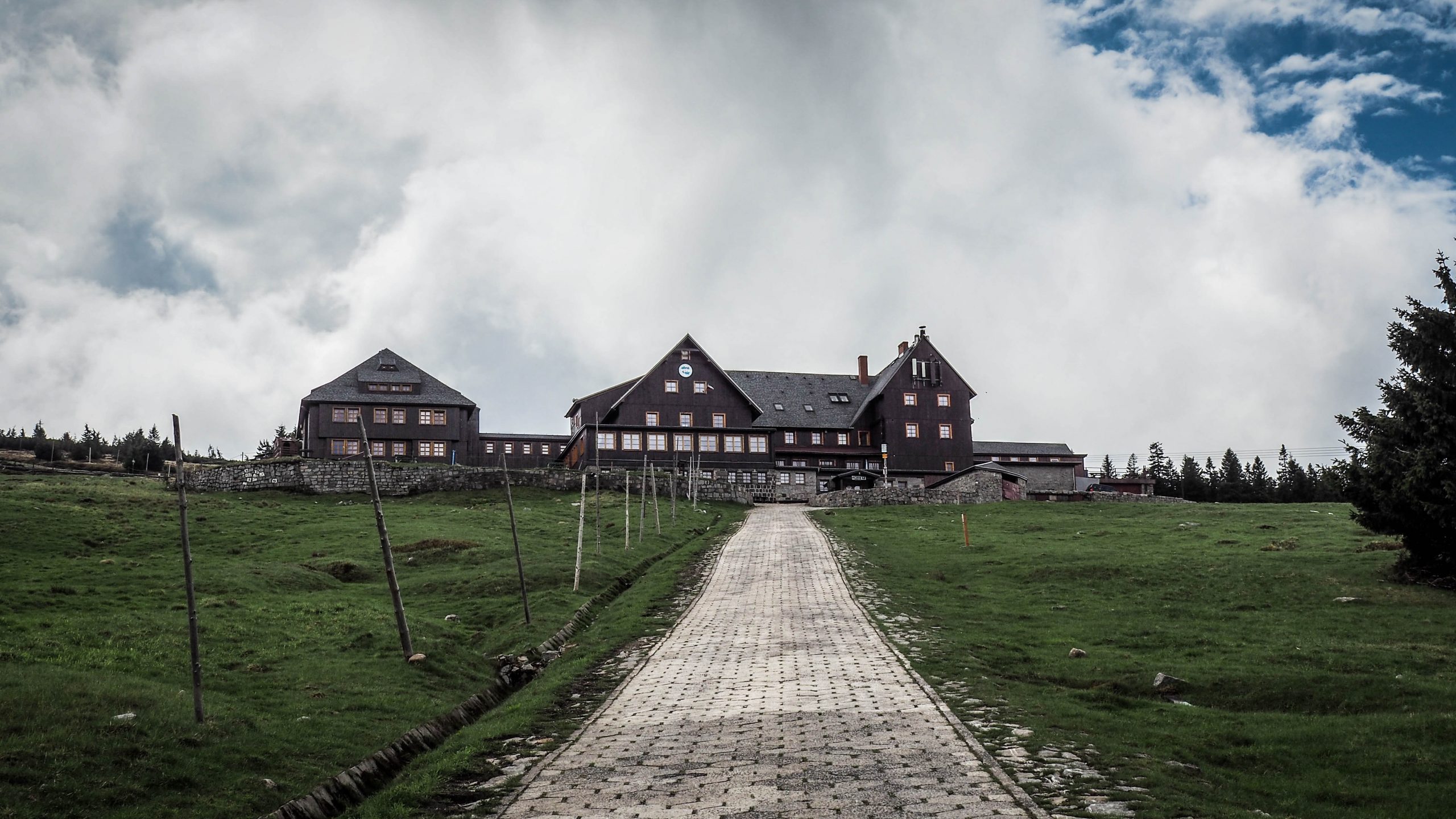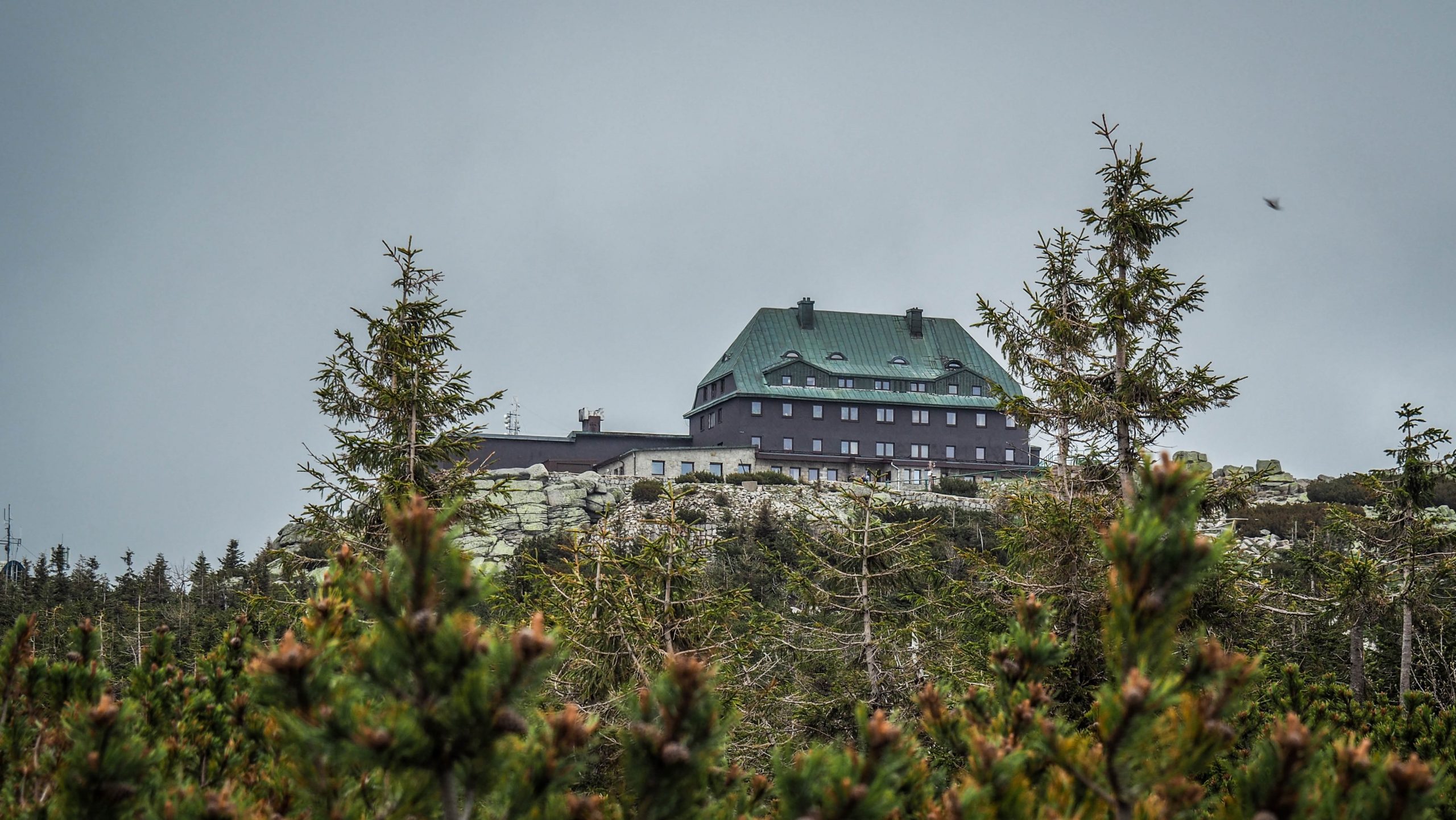 Maybe I didn't get the sense of humour of those enthusiastic folks because when we left slightly behind taking pics of the rock formation The Three Pigs (Trzy Świnki), the group didn't go to the red track at all but instead followed the green one towards PTTK Hut "Pod Łabskim Szczytem". So did we, as being the only outlaws in the area didn't sound right. From there we planned to continue along the green track to meet a blue one that should link us back on the red just after Śnieżne Kotły.
Guess what? After PTTK Hut "Pod Łabskim Szczytem" the green track was closed as well and the available alternative was a big detour through the forest, far from all the cool sights. That time our dark side won and we decided to bend the rules and simply follow the closed green track called "Ścieżka nad Reglami". Just to be clear – we are not proud of it and absolutely do not encourage anyone to do the same. However, having lots of kilometres to go, we weren't convinced that we will make it to the next overnight stopover before the night. It's a poor excuse and only shows that we were underprepared but yeah, that's a story.
The path was forbidden but incredibly interesting. Fog, snow and passing clouds only added to the atmosphere. No words can describe the fun we had there so just have a look at these pics: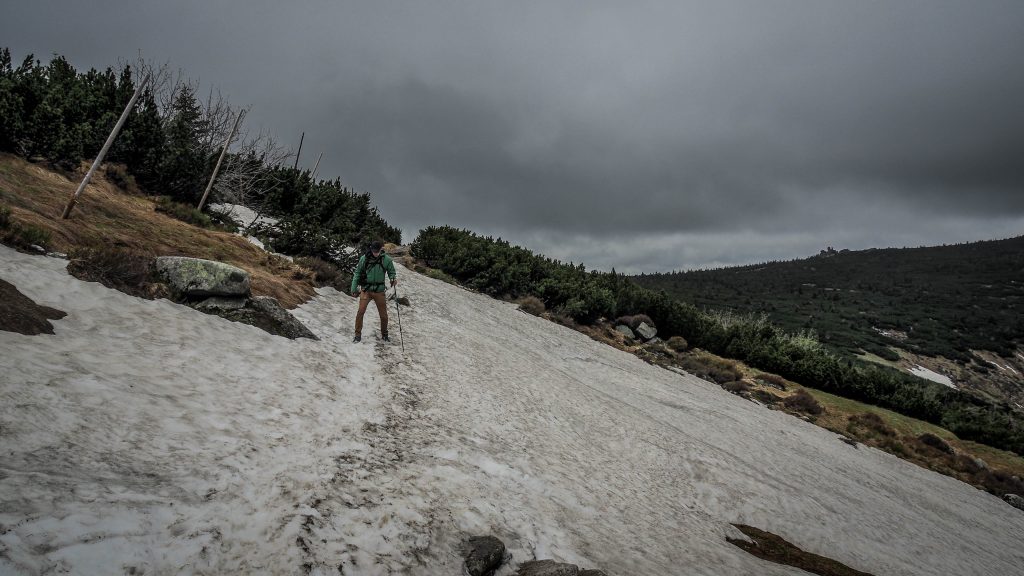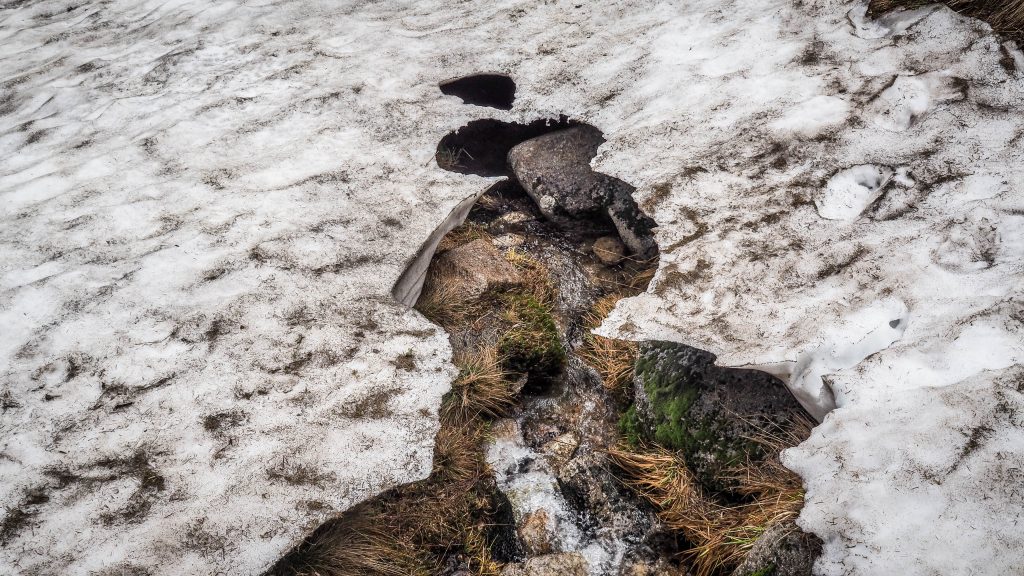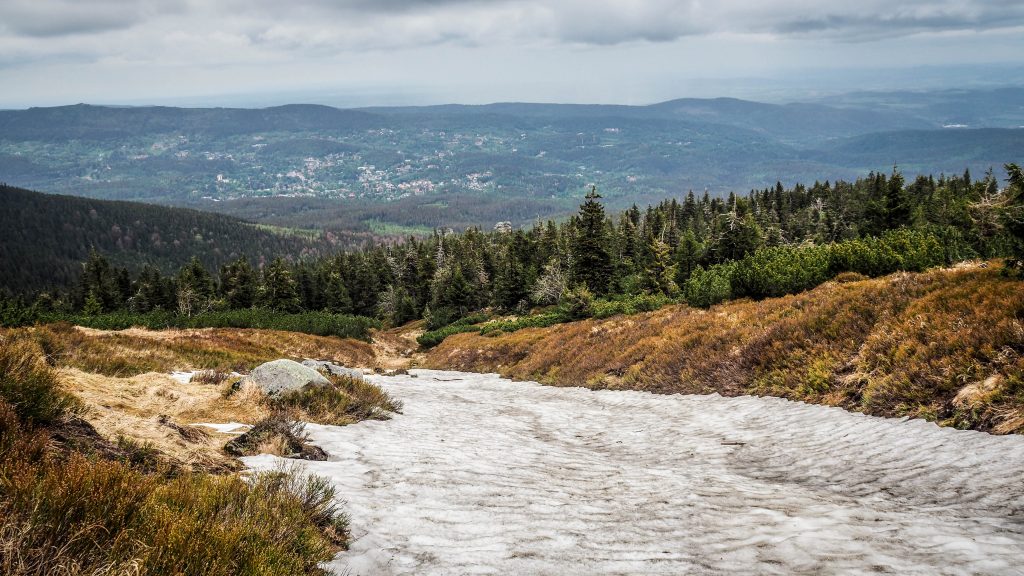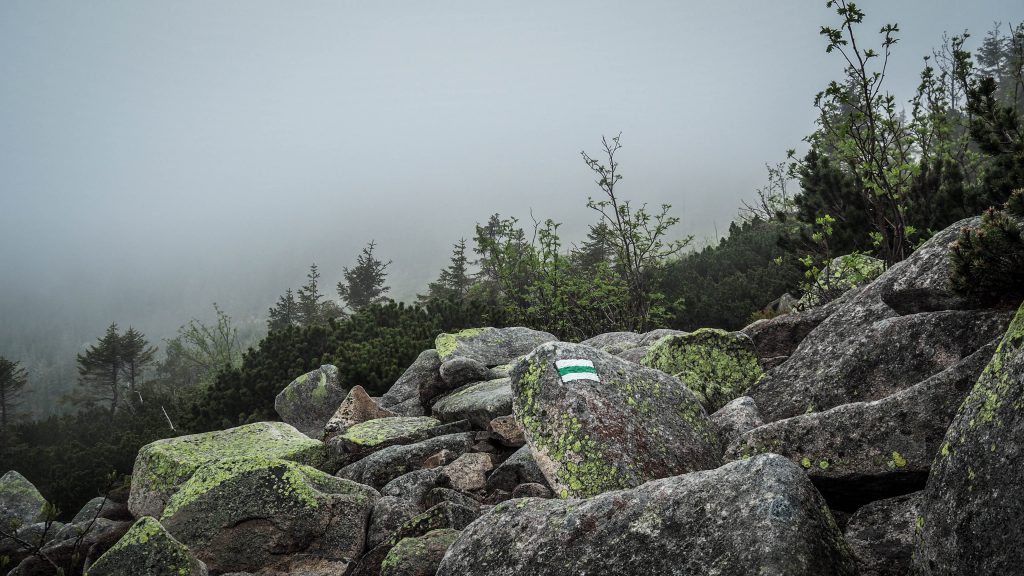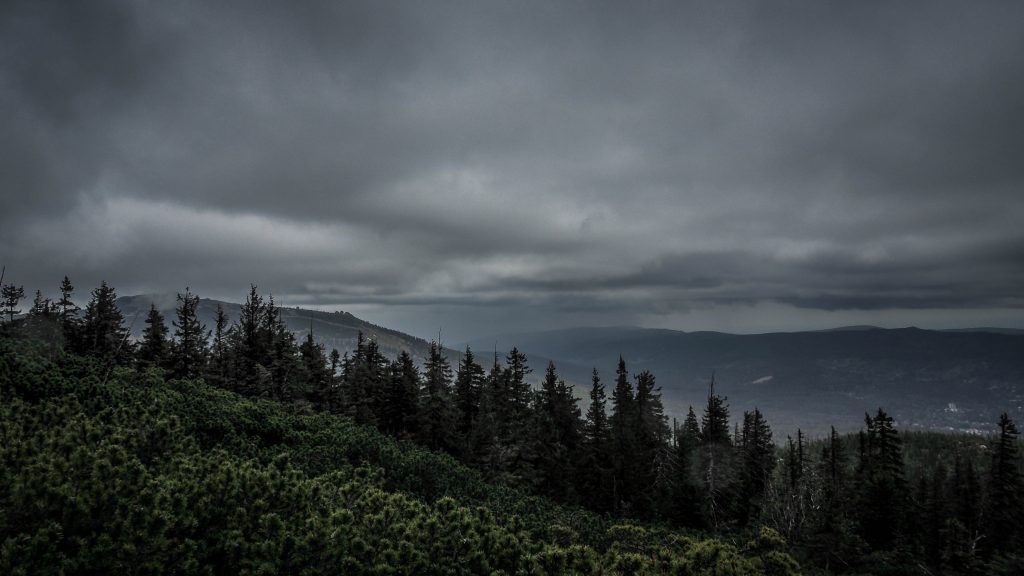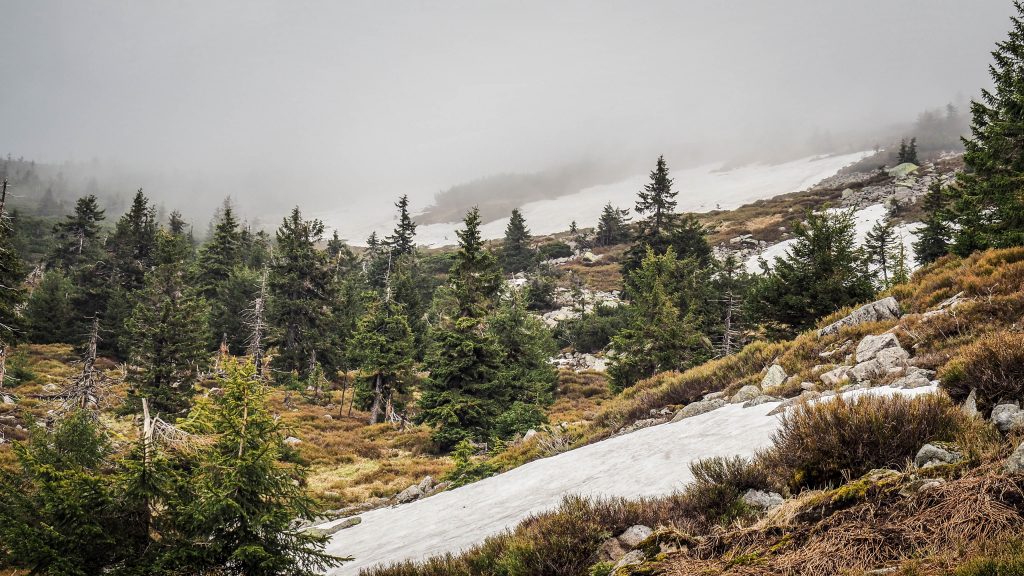 Not too bad, isn't it?
There were wide panoramic views all the way towards Snowy Ponds "Śnieżne Stawki" where the track got a bit rough. The level of the water in ponds was so high that track partially got completely flooded and we had to scramble on the wet and slippery rocks and tree roots. Honestly, that looked like a decent reason for the track being closed for the average hikers (so the group we belong to). Turning around wasn't preferred solution so we pushed forward very slowly but successfully, somehow even keeping feet dry.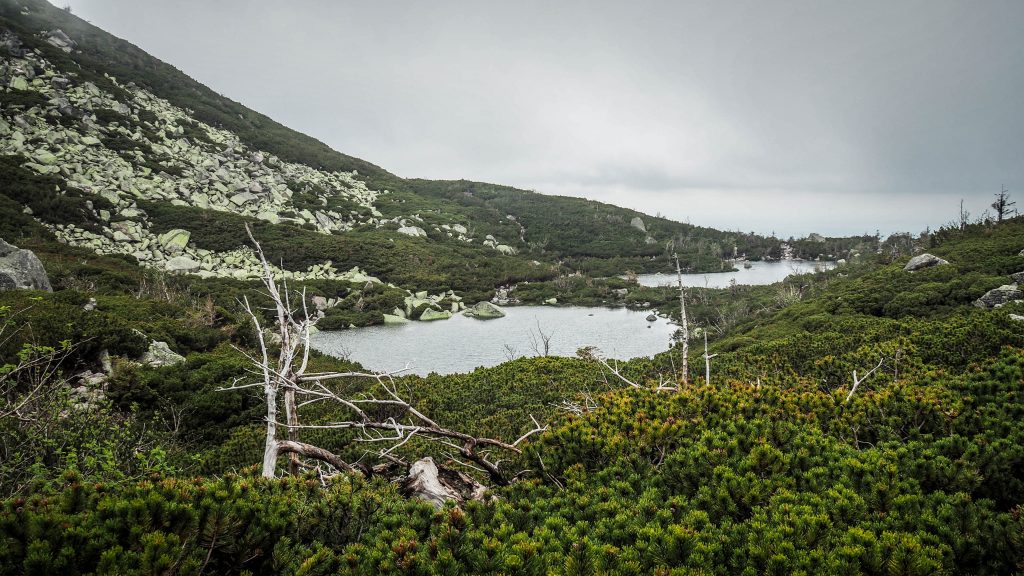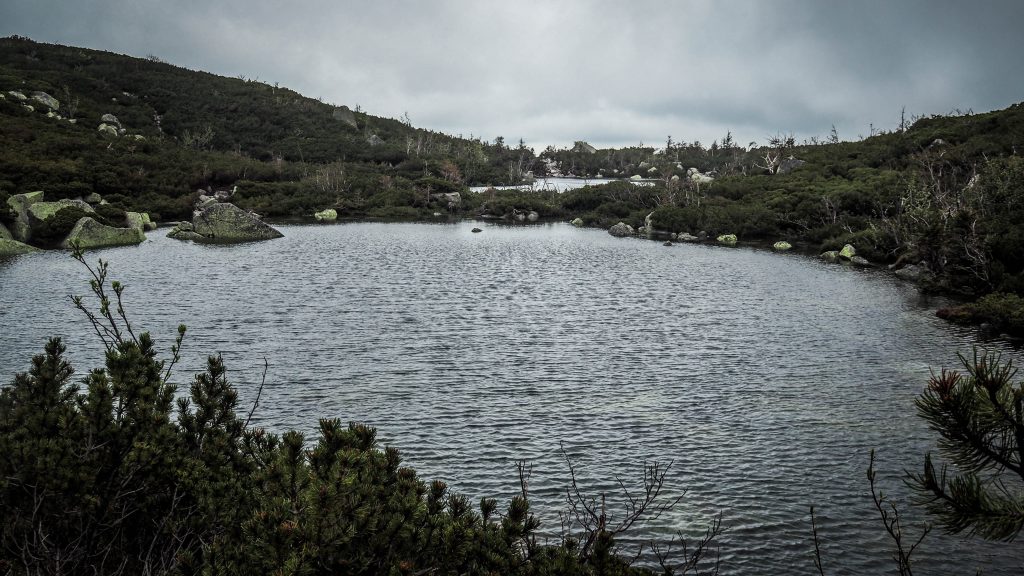 Finally, we met blue track and went up to Śmielec Pass (Przełęcz pod Śmielcem). Back on the red track again. Continuing in the dense fog was fine but at the same time, we felt lucky that we chose the green track instead. With lower altitude, it was still possible to see the landscape, which most likely wouldn't be the case up there. Plus we avoided the risk of getting spotted by the border guards (even though we went on the closed track anyway).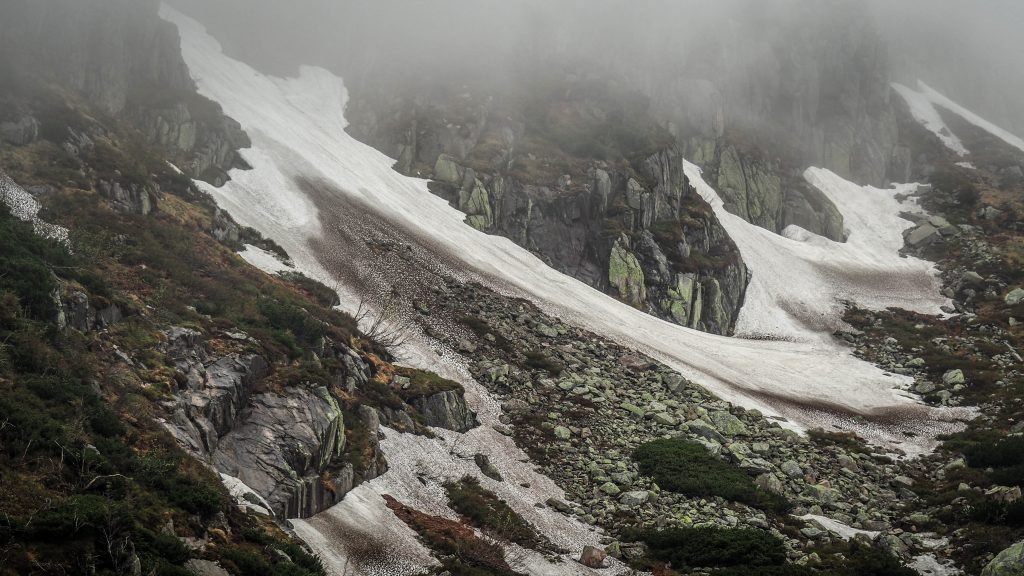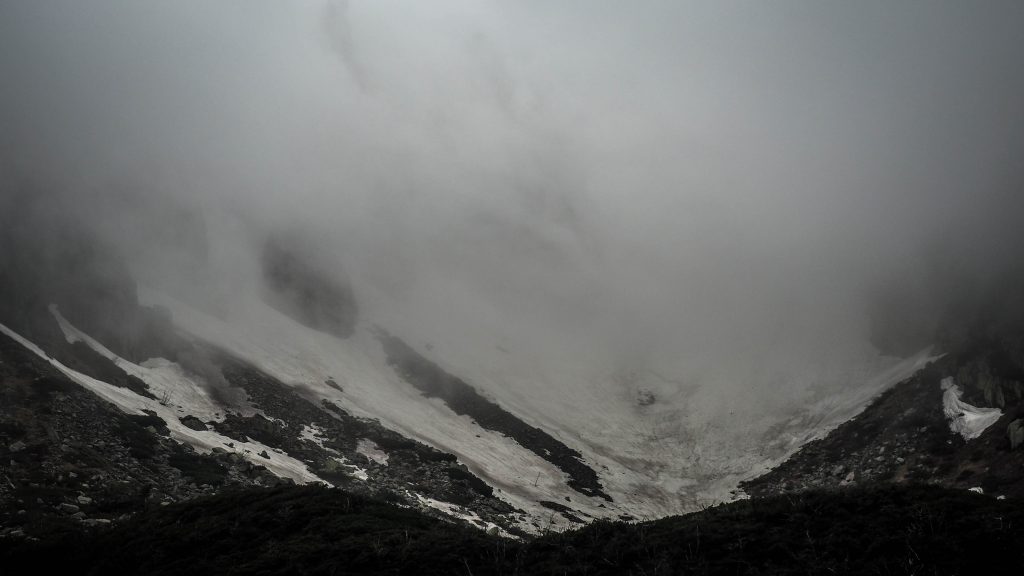 After Black Pass (Czarna Przełęcz) energy level dropped significantly but we still had ~ 6 km to Odrodzenie Hut. It was a long 6 km. I went a bit faster downhill, passing Petrova Bouda on the Czech side and Taito stayed behind. Then I took off my backpack and was waiting for him but time was flying and the dude was clearly not there. Probably something had happened. I started to go back only to see him wandering around like stupid around the abandoned Petrova Bouda thinking that it's our hut and trying to get inside. Well, just desperate hikers 🙂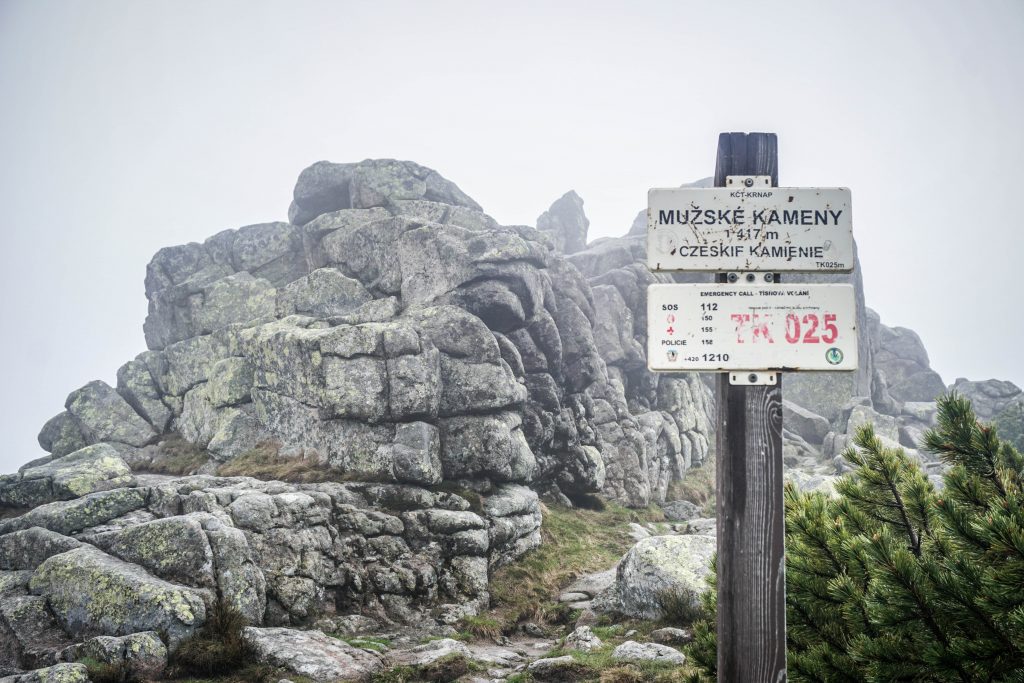 Finally, after another 30-40 minutes, we reached Karkonoska Pass (Przełęcz Karkonoska) at 1198 m a.s.l. from where we ascended final meters thinking very intensively about żurek that we wanted to order for the dinner. We were super lucky to arrive literally 15 minutes before kitchen and as żurek didn't seem to be enough, fried cheese with fries landed on the table as well.
The Odrodzenie Hut was built in 1928 and it sits 1236 m a.s.l. Believe me or not, it was my first overnight stay in a mountain hut in Poland. What a positive surprise! The food was great, rooms very cosy and hot shower after the day like that was a treasure.
PS: After foggy afternoon, next morning greeted us just like that:
Please remember that the distance covered in that stage is only the description of my preferred itinerary. If that sounds too much for you, consider staying overnight in another place. Never underestimate the mountains.