Kawah Ijen is an active but recently quiet volcano in East Java. Being home to the natural phenomenon of blue fire, it attracts thousands of tourists ready to set off in the middle in the night to witness the unique flames that can be seen only here and in Iceland!
How to get there?
Mount Ijen is located in East Java and the easiest way to get there is by ferry from Bali or from the nearest airport in Surabaya. Tour operators offer 1 day trip from Bali with pick up at your hotel and it is popular among tourists. Keep in mind that East Java has much more to offer so staying longer is definitely a better idea.
For independent travellers, the best is to base yourself at Banyuwangi and look for private transport (car/scooter) or organized tour there.
Where to stay?
Javalindra Homestay was a perfect base for exploring the area. The room, as well as a shared bathroom, were very clean, there was a spacious hall with a comfortable couch for chilling, they provide breakfast and rent scooters as well. Plus the owner is simply a friendly guy and he even dropped me to the bus station when I was about to leave to Semarang.
If you tell them about your plans to go to Ijen, they will also provide you with a breathing mask which is obligatory and at least partially helps to handle the intense smell of gases. You could also get one later from one of the guys hanging out at Ijen, but the quality may be questionable.
Adventure begins
The alarm went off at 11:30 PM. Time to start a new day before the previous ends! It was really hard to play it right as I usually don't go to sleep very early so even though I tried to force myself to fall asleep at 9 PM, it turned out to be big failure.
Quickly packed some warm clothes and hat (the summit is at 2,799 metres a.s.l. so it can get chilly up there), headlight, camera, snacks, put on my hiking boots and it was a few minutes past midnight when I turned on the engine of my rented scooter.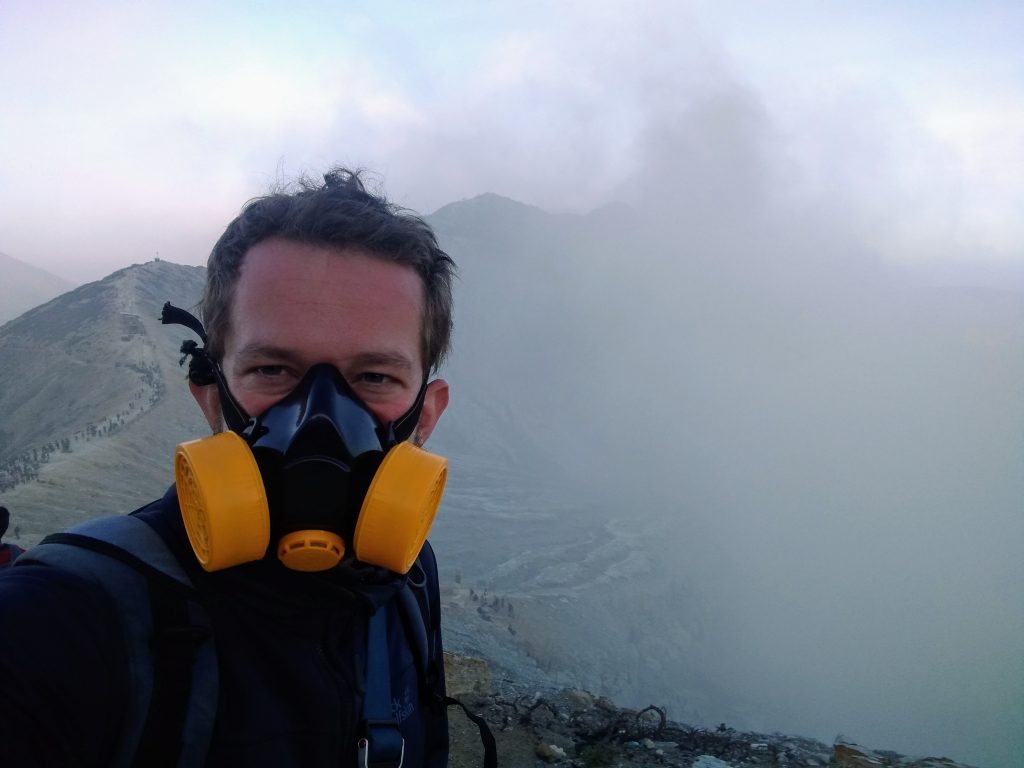 The night was cold and very dark as I was basically the only vehicle on the road. At some point, I was wondering if I am going the right way, but the closer I got, the more cars there were. After 1.5 hours (yes, it's quite a long drive) I arrived the parking lot where first organized groups had their hot drinks before the hike to the crater.
The entrance ticket costs 100.00O IDR on weekdays and 150.000 IDR on the weekends. From the ticket office, the path goes steeply uphill but it's wide and well maintained. You certainly don't need a guide and it's impossible to lose the way. Having said that, be prepared to meet many guys who normally work in the crater getting the sulphur out of it and carrying in big baskets down to the village. They usually offer to take tourists down to the crater for another 150.000 or 200.000 IDR as it's on their way anyway.
It's not big money so if you find it more comforting than descending on your own, go for it. I was hesitating because I started the hike quite early and there weren't too many people to follow. If this is the case, just have a snack and wait patiently for the first wave of tourists, then follow them. In the end, they all go to the same spot, so it's easy to follow their headlights.
From the beginning of the hike, depending on your fitness, it takes roughly 1-1.5 hours to reach the caldera rim. Here you can decide to either continue hiking up to the sunrise spot or descent down to the crater and see the blue fire. Obviously, most of the people go down to the fire first and then come back all the way up for sunrise (usually around 5 -5:45 AM depending on the time of year).
Descent to the crater is on a rocky path but nothing too challenging. It just looks more difficult than it really is in the middle of the night. Here you should already put your gas mask on. After 20-30 minutes you should be already next to the largest highly acidic crater lake in the world waiting for the spectacle of blue fire. The pH of the water containing hydrochloric and sulphuric acids is less than 0.3, meaning it can dissolve metal. It has a unique turquoise-green colour which you won't be able to see in the dark, but certainly later on after sunrise.
Being there, I had time to simply stand in silence and watch the work of sulphur miners. They are residents of nearby villages, working without masks, walking the same route as tourists do but 3-4 times a day and with the load up to 80 kg on their back. All of these for around 800-1,000 IDR per kilo of sulphur which sounds like a joke but unfortunately it's true. That's why they also offer to be your guide or sell small souvenirs made from sulphur.
Finally, the blue fire went off and it was truly amazing to observe, even though I expected it to be a bit larger. I had the big luck to be in the crater way before all organized groups and I easily spent there over 45 minutes before it got crowded. From time to time the cloud of gases was blown by the wind into my direction but it wasn't anything too disturbing. Just wear the mask, close your eyes and watch out for your electronics if you don't want them to end up rusty.
The blue fire is a result of sulphuric gases combusting. They escape through the cracks in the volcano at high pressure and temperatures up to 600 C and igniting after reaction with air. The blue fire is often mistaken for lava, as some of the gases turn into liquid sulphur and keep burning on the slopes of Ijen.
I started my way back to the crater rim and after passing the crowds going in the opposite direction, I was sooooo happy I got to the fire early enough to avoid them. It was like a long line of headlights on the path. From there, I continued up towards the sunrise viewpoint.
The views and colours of the sky were really impressive. I saw the most sunrises in my life in Indonesia and it was certainly one of the most spectacular ones. Finally, after wandering in the darkness, I could admire the whole landscape of Mount Ijen around me.
At the top, I met a group of friendly local folks that wanted to take a picture together. Why not, my pleasure! In fact, it happens in many places. Somehow I can't imagine that someone stops another person on the street in Europe, just because of different skin colour and asks for pictures. But people in Indonesia don't create stupid and unnecessary social borders as we do and they are extremely friendly.
The way down took me a while, not because it was difficult but rather because I couldn't stop taking pictures. The lake inside the crater and the place where I was just an hour ago next to the blue fire were clearly visible now.
If you don't feel like walking, local guys will be happy to take you down in carts. It looks a bit ridiculous for me, but in the end, it's another way to somehow support this hard-working community.
Once back at the parking, I had to wipe the seat of the scooter as it was all wet from morning dew. Put my helmet on, turned on the keys and… the engine didn't start! I was sure I had enough fuel and I used the same scooter the day before without any problems. Luckily, some locals seeing me struggling hard, helped me to start the engine in an old-style way – with kick start. Indonesia was the first country where I drove scooter nearly every day so I didn't have all the knowledge 🙂 This is something that I value a lot in this country. Even if you travel alone, far away and you need help – you can always count on it. It's a totally different mindset than in Europe where everyone minds their own business.
Would I recommend the night trip to Mount Ijen?
Definitely. Night trip to the active volcano to admire spectacular nature is definitely something that I love and fits well into my travel character. I can easily put it next to ascents to Semeru, Inierie or Kerinci, also in the middle in the night, to see the sunrise from the summits.
Mount Ijen is much less demanding comparing to those, making it more accessible for moderate hikers. On the other hand accessibility make it crowded.
5 tips before your go
Go early and do it by yourself
Arrive at the crater before organized tours. It will give you enough time to enjoy the blue fire and take nice photos. To do this, start from Banyuwangi around midnight. I wouldn't bother too much with joining tours unless you need it for psychical comfort. You certainly don't need a guide to walk around and find your way. To go independently, hire a scooter or a car with driver (ask at your accommodation).
Take warm clothes and gas mask
The temperature certainly won't be like in the middle of the night in Bali. It's gonna be much colder so take enough layers to feel comfortable. Your clothes will need proper washing afterwards or everyone will know that you were at Ijen last night (intense smell of sulphur). A gas mask can be hired at your accommodation or from one of the guys on the way to the crater.
Take hiking shoes
It isn't a hardcore hike but still a hike and proper shoes will make it much more enjoyable, especially when descending down to the crater.
Avoid the cloud of gases
Once next to the blue fire, try to get off the way of the cloud of gases occasionally being blown by the wind all over the place. If you can't avoid it, close your eyes and hide your camera under the jacket.
Be friendly and support local community
Local guys can be a bit pushy and try to convince you to use their services as a guide. Take one if you wish or refuse politely and keep going. Small sulphur figures are great souvenirs from the place have small money and buy some for yourself or your friends.