Corvo is the smallest island in the Azores archipelago (17.1 km2) and together with Flores, it forms the Western Group. Due to its isolation, it is probably the least visited one. Both islands were discovered around 1452 by the Portuguese explorer Diogo Teive on his return from Newfoundland.
Vila do Corvo is the only settlement on the island, located in a lava fajã which forms the island's main level surface. It is a pretty little village with narrow streets, a port and an airport. The population is at the level of about 460 inhabitants, so yeah, everyone knows everyone!
How to get there?
Most of the travellers head to Corvo with organized boat tours, departing in the morning from Santa Cruz das Flores, spending around 4 hours on the island and then coming back. Boats usually pass next to the north coast of Flores Island giving an extra opportunity to see waterfalls and caves. The cost of such a trip, including a boat and taxi transfer to Caldeirao, is about 50 EUR.
If you are short on time, it is a good option but for me, 4 hours on Corvo didn't seem to be enough. I asked for the possibility to go on one day and come back on the next, but unfortunately, May is still outside of the high season and there was simply no boat on the following day.
Therefore, I decided to choose a small ferry operated by Atlantico Line and organize it all by myself. The ferry departed at 9:30 from Santa Cruz das Flores and it took about 40-50 minutes to disembark in Vila do Corvo. The cost of a one-way ticket is 10 EUR.
It's also possible to fly to Corvo with SATA Azores, however it's more expensive and flights are infrequent.
How long to stay on the island?
I stayed on the island for 2 nights and it was great. I wasn't in the hurry, had more than enough time to feel the island, do all hiking trails and simply wander around Vila do Corvo without any reason, enjoying beautiful weather and taking lots of pictures.
In the summer months (June-August), certainly, there are more connections between Flores and Corvo, so it should be much easier to tailor the trip to your needs from the timing perspective. For the most optimal experience, I recommend spending at least one night on the island.
Getting around
The only transportation that you need is the taxi up to the Caldeirao. Other than that, it is best just to walk around, both in Caldeirao itself as well as the way back to Vila do Corvo. To get a driver, ask in your accommodation or any small shop and friendly folks will certainly help you out and share the phone number.
Where to stay?
There are not too many options to choose from. The most popular seems to be Guest House Comodoro. This is exactly where I stayed, and I can fully recommend it. They have a decent breakfast included in the room rate, rooms are spacious, and the terrace is a nice place to have a rest observing slow village life. Internet connection is great too. Cost: 65 EUR / night.
Alternatives are Joe & Vera's Vintage Place and The Pirates' Nest. Both places have excellent reviews so they must be good too.
Tips
The weather is unpredictable and you have to be prepared for anything. Always have with you a waterproof jacket and umbrella. Install mobile app SpotAzores and don't go to places that are totally covered in clouds. You will lose time and won't see anything anyway.
Book your car in advance in the high season. I travelled in the Azores between April – May so it wasn't a problem to get a car from one day to another, however, I can imagine that in high season it could be a problem, especially on the smaller islands.
Drive carefully, especially in the fog. It's pretty normal that cows, sheep or goats stand very close to the road or simply walk on it.
If you go hiking, download GPS files and maps from the official website Visit Azores and have them on your phone just in case. In general, trails are well marked but in a dense fog, it's not that difficult to get lost.
Don't be afraid of hitchhiking. Many trails are linear, which means that you need to get back to the starting point. You can walk the same way or try to save your legs. On some islands, the traffic is minimal but once the car comes, it is almost certain that the driver will stop and help you out.
Hiking trails
There are only two official hiking trails on the island but both are great and can be done in one long day.
PRC02 – Caldeirao
It begins at the end of the road leading to Caldeira and from there you descent to the bottom of it. Follow counterclockwise direction looking out for next signalling pole (which in my opinion are quite poorly visible even in good weather). Your walk around the lake will be certainly observed by the rangers of this place – cows. But don't worry, they aren't dangerous as long as you don't disturb them too much. Once the round is completed, you have to climb back up to the point where you started.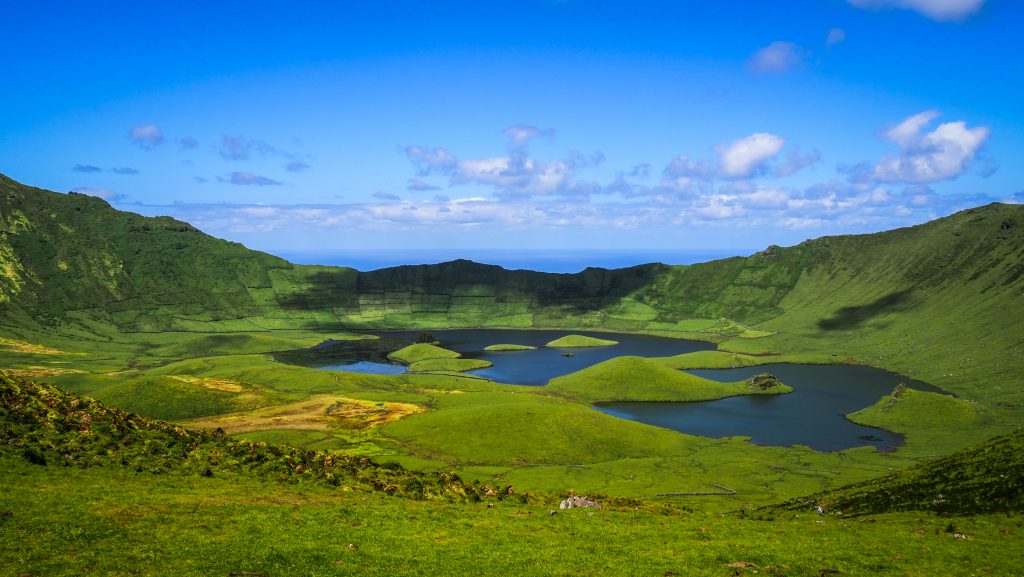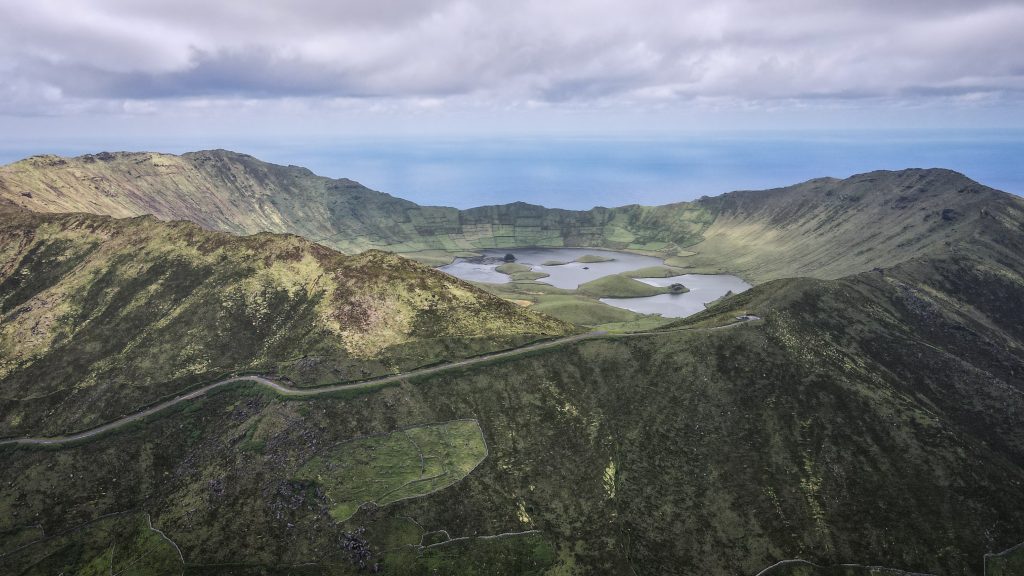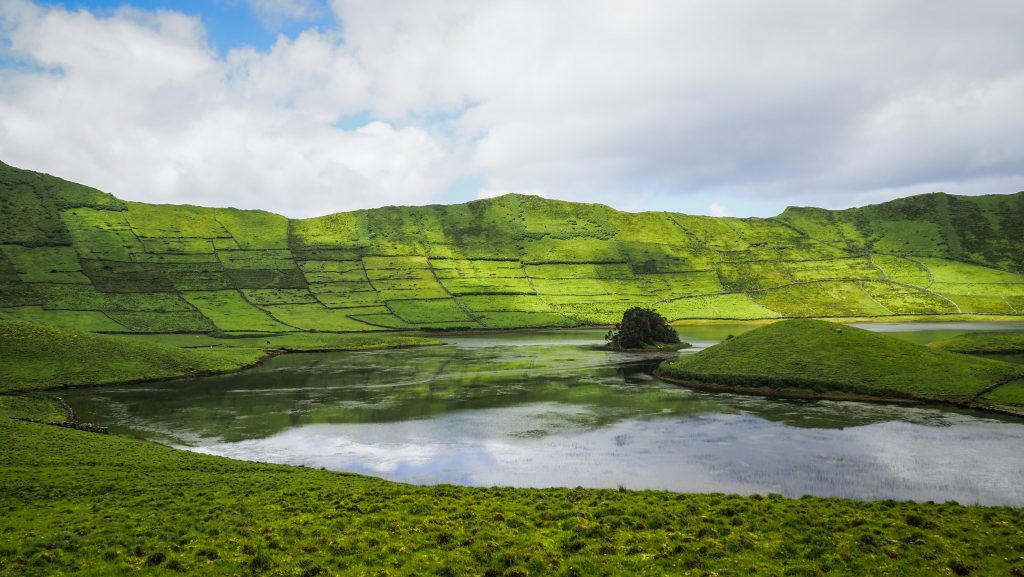 PR01 – Cara do Indio
This great trail connects Caldeirao with Vila do Corvo and I took it to come back to the village. The beginning is quite boring, as it follows asphalt road but after a while, it turns right and the landscape starts to look better and better. The trail passes next to water tanks, through pasture lands and stone walls, which are typical in the landscape of the Azores. Later, the view opens to Flores Island, well visible on the horizon. Once you reach the cliffs, watch out for Cara do Indio – a rock formation that resembles "the face of the Indian".
Further on, there is a viewpoint overlooking Vila do Corvo with a nice bench to sit down and have a rest before the final phase. After passing through the historic centre of Vila do Corvo, you will get the chance to admire traditional windmills before the hike ends at Praia da Areia.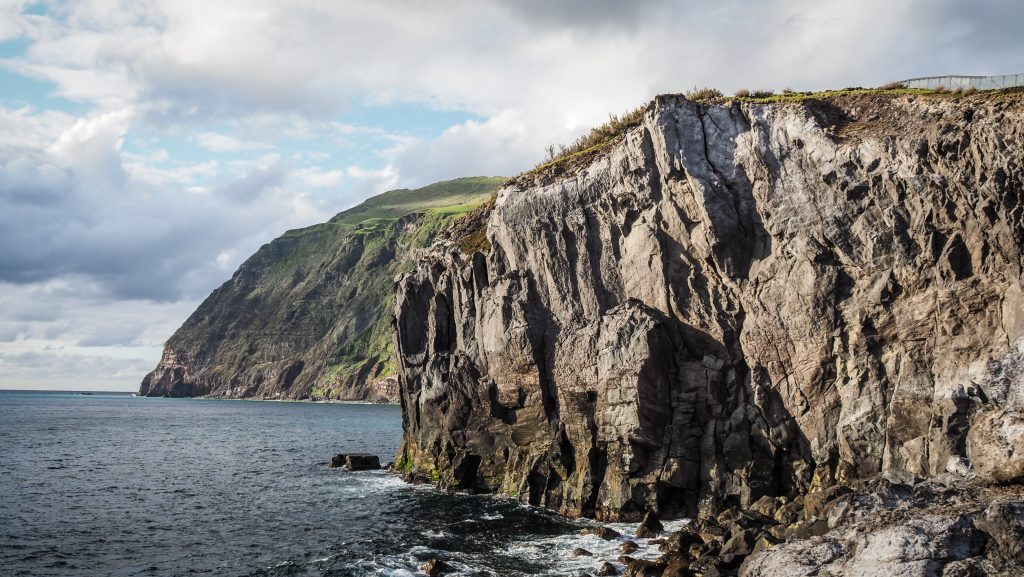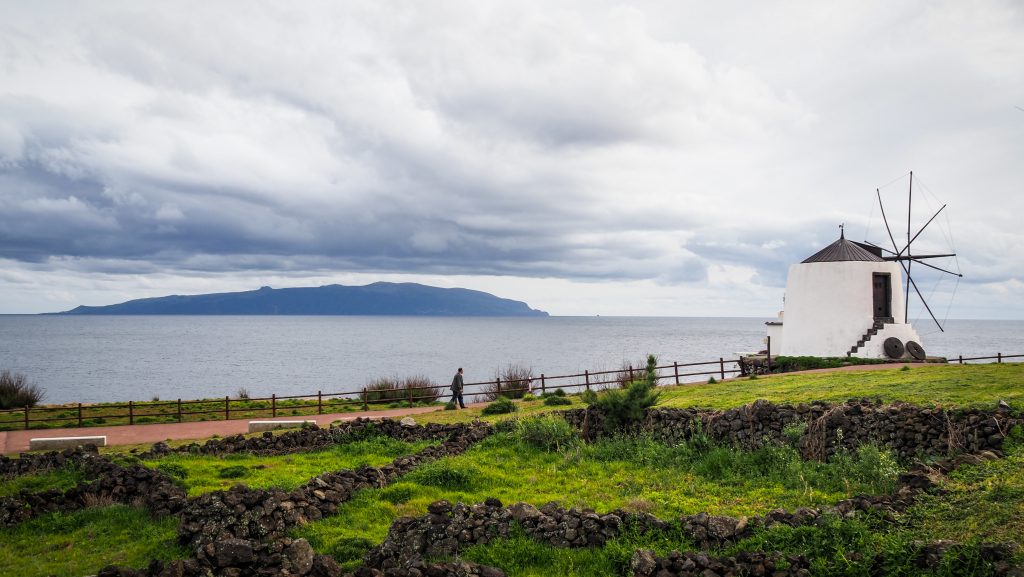 GPS, maps and leaflets of both hikes can be downloaded from the great website: https://trails.visitazores.com/
Other places to see
It is worth visiting the Church of Nossa Senhora dos Milagres (the island's patron saint) as well as the Corvo Visitors' Centre. Casa do Tempo Ecomuseu do Corvo is a great place to learn about the history of the island and watch interviews with local people (free of charge). A bit further up the road, there is also Corvo's Wild Bird Interpretation Center but the entrance fee is 3 EUR and it's a total waste of money.