The fishing villages of Taghazout and Tamraght are located on the southwest coast of Morocco, north of Agadir. They are among the most popular beach destinations in the country, well-known for famous surfing spots that are suitable for advanced as well as beginners. For me, it was a perfect and much-needed escape from the madness of medinas of big cities such as Marrakech of Fes.  
When to go?
If surfing is not the reason for your visit, you will enjoy the place year-round. It's a semi-arid climate with mild winters and rains are rare.
For surfers, the best period is from October to the end of April, but keep in mind that the waves between December and February can be challenging for beginners.
How to get there?
If travelling from Agadir, your best choice is to buy a seat in a grand taxi. It should cost about 10 MAD to go to Tamraght (20 minutes) and about 15 MAD to Taghazout (30 minutes). You can also get there by local bus (line 32 and line 33), but it will take about 1 hour, and you won't save much money so it isn't worth it.
If travelling from Essaouria, you may take a grand taxi heading towards Agadir and ask the driver to drop you off in Taghazout or Tamraght. Alternatively, get a CTM bus. It doesn't stop in either of those small towns, but you may buy a ticket to Agadir and ask the driver to leave you at the roadside next to the turn-off to Taghazout or Tamraght. From there, it's an easy 15-minute walk down to the coast. This is what I did, and it worked perfectly well. Just keep in mind that drivers can forget about you, or they change halfway, so besides asking at the beginning of the trip, make a friendly reminder about 10 kilometres ahead of your destination.
How to get around?
You really won't need much more than your legs. You can easily walk around both villages and take a nice promenade that runs between them (about 6 km). If you get tired, you can always get a taxi or rent a bicycle for a longer trip.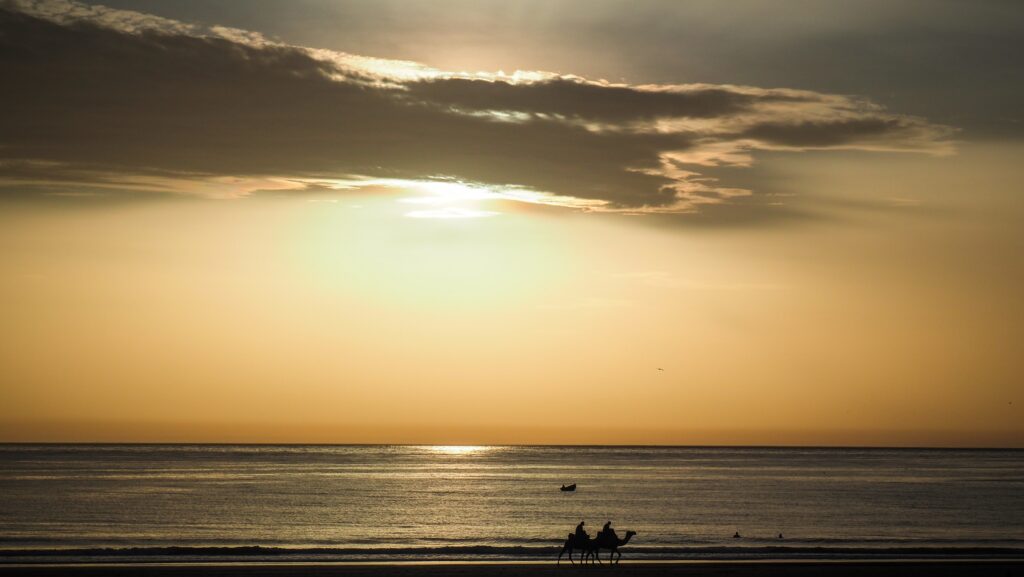 Where to stay?
Both Taghazout and Tamraght have plenty of accommodation options for all budgets. I based myself in Arima Surf House in Tamraght and everything was great. The owners took me on a surfing class and I really enjoyed the experience, even though there is definitely a lot of work ahead of me to become a professional surfer 🙂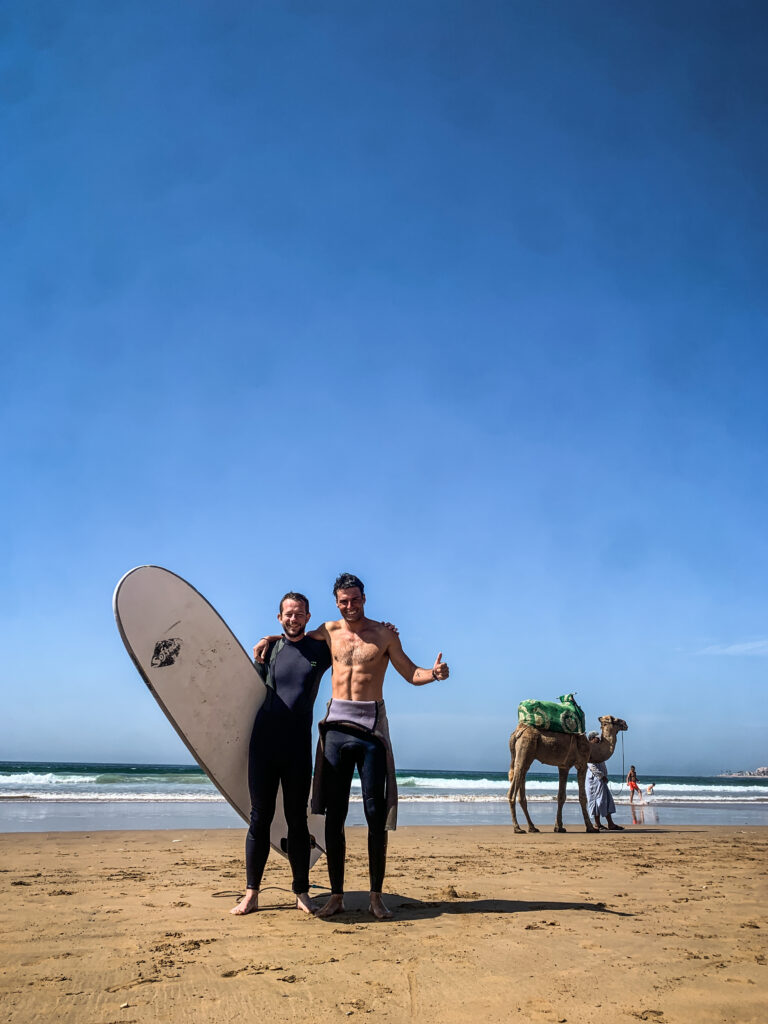 What to do in Taghazout and Tamraght?
There aren't many must-see places and that's the beauty of both villages. Prime activity is relaxing!
Blue boats line the beach in Taghazout and it's nice to come here in the early morning to calmly observe the first rays of sun and listen to the waves. You may also stroll on the streets of the village and even though it's very compact, it's also very picturesque.
Watch the surfers or be the surfer! Walk to Madraba Beach and chill there, observing surfers at their best at nearby Anchor Point. There are also plenty of surf schools all around Taghazout and Tamraght so if you feel like trying to catch some waves in Morocco, there won't be a better occasion.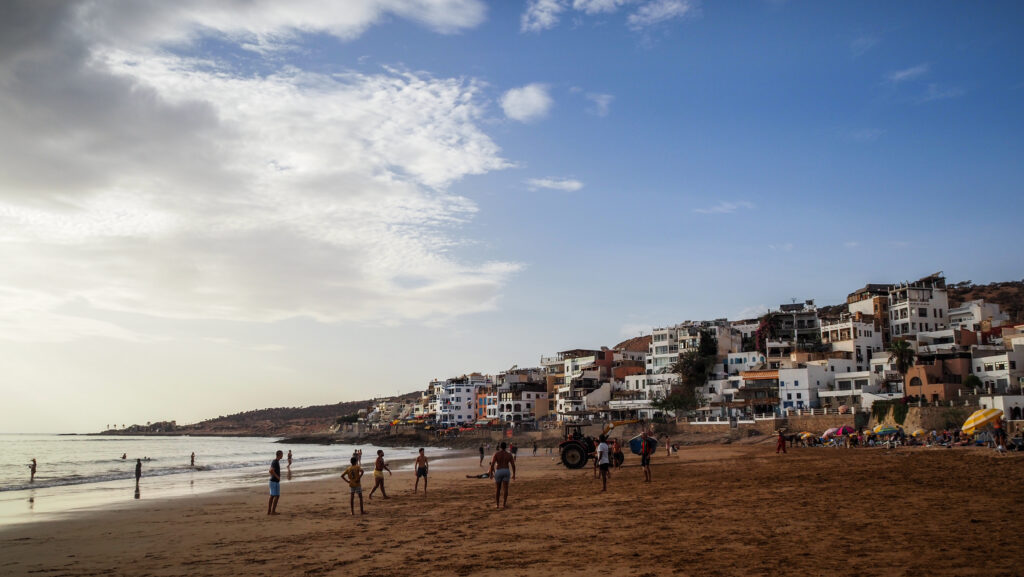 For straightening your legs, I recommend following the seaside promenade all the way to Tamraght. It's about 6 kilometres. There, you can check out Imourane Beach, Tamraght Beach and the Devil's Rock. Come back to Taghazout by taxi in case you have had enough of walking 🙂
Each day should be concluded with observing the sunset and those can be really spectacular. And don't forget to get some seafood for dinner!
Paradise Valley
One of the most popular places to visit from Agadir, also easily accessible from Taghazout or Tamraght. It's a small oasis with pools scattered all along the river, all in the middle of breathtaking mountains. Instead of swimming, you can also do some cliff jumping to boost your adrenaline level. Needless to say, be careful as there have been some accidents in the past. For less adventurous, there are a few stands at the beginning of the valley where you can get a table and cool your feet in the water. The easiest to get there is with an organized half-day trip.
Timlalin Dunes
Impressive sand dunes with stunning views. You can rent equipment and do some sandboarding or simply walk around. The best way to get there is by car and the day trip can be easily connected with a visit to Imsouane which is described below.
Imsouane
Imsouane is a small fishing village located on Morocco's southwestern coast, about 1 hour 15 minutes drive to the north of Taghazout. Due to its location at the mouth of a large bay, it's another ideal surfing spot.