Hermannsburg
This Aboriginal community is on the way to Palm Valley, therefore its historic precinct is very often visited by organized groups on day tours. It was established in the 1880s as a Lutheran mission by German pastors, hence its name. They constructed characteristical buildings including a church, school and several houses. Today, you can enjoy your time in a tea shop, museum and the Namatjira Gallery.
Albert Namatjira is a world-famous Aboriginal watercolor artist born in Hermannsburg. Due to his art, he gained an appreciation and became the first Aboriginal person to get restricted Australian citizenship allowing him to vote, buy alcohol and claim land rights. In 1953 Namatjira was awarded the Queen's Coronation Medal and in 1968 he was honored on an Australian postage stamp.
You can admire his works in many museums all around Australia and don't forget to check the ones in the museum in Hermannsburg Historic Precinct.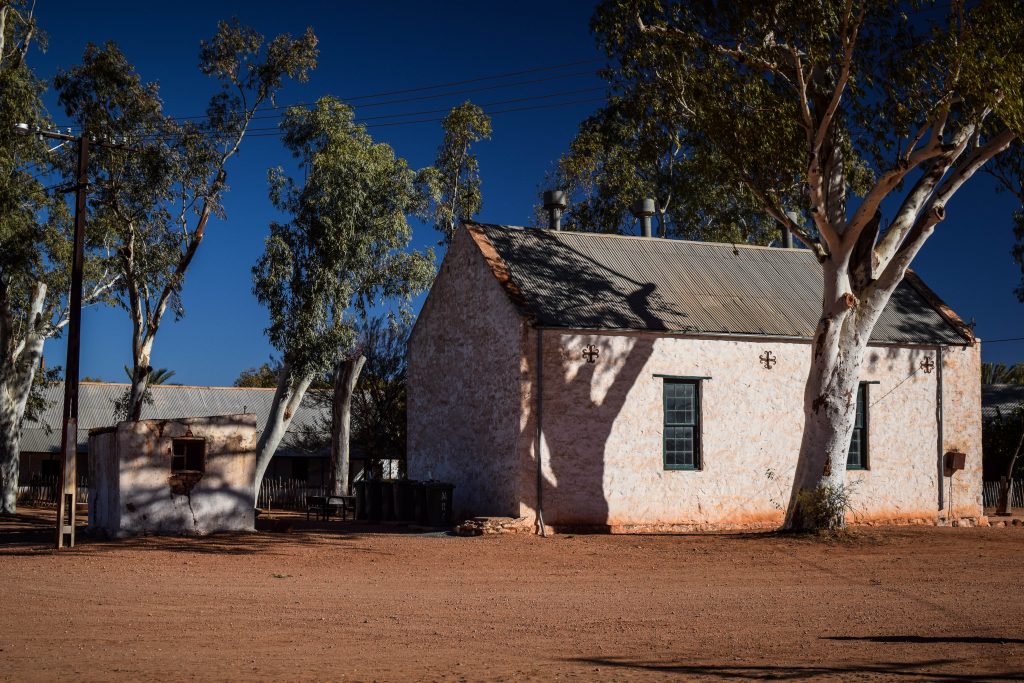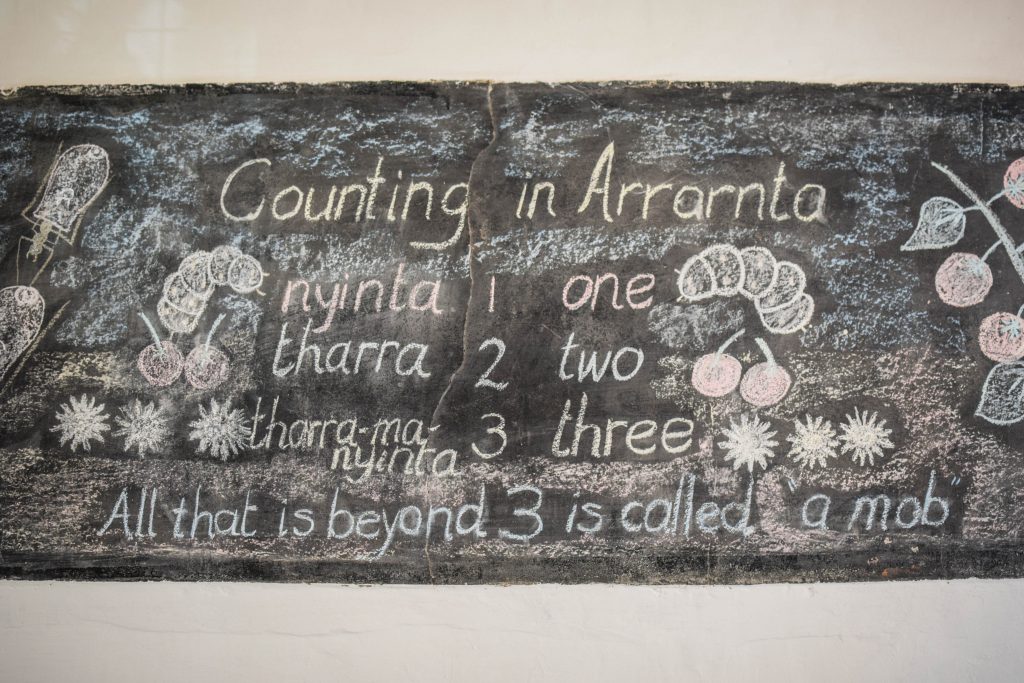 Palm Valley
Palm Valley lies within Finke Gorge National Park that covers an area of around 46.000 hectares in Central Australia. Why is it so special? Because it's like an oasis filled with around 12.000 Red Cabbage Palms after which the valley is named. There is no other place like that in the region and the nearest specimens are 850 km away in Queensland.
Why are there palms on the desert?
One of the very first versions claimed that palms are survivors from prehistoric times when the climate in this region was far more tropical. However, recent studies proved that the same species of palms grow around 1000 north around Mataranka and Katherine. It is believed that the seeds were transported from one place to another by migrating people 15.000 – 30.000 years ago. Why did they move? That remains uncertain and we can only speculate: the rise of sea levels, bushfires, etc.
The theory would, in fact, go in line with Aboriginal legend telling about palm seed brought by the 'gods form the north'. Is it really possible that the legend survives more than 15.000 years? I don't know but I like to believe it is. It only adds magical feeling to this already extraordinary place.
While Red Cabbage Palms are the main actors in this theatre, there are about 684 species of plants living in Finke Gorge National Park, 30 of them being rare and 16 that can be found only here.
How to get there?
You would need 4WD and I mean it. In many parts of Australia, I managed to access remote attractions with 2WD, just taking it easy and driving on corrugated dirt with care. But here, it certainly wouldn't be possible. You will drive on a sandy bad of Finke River after all!
Therefore, without high clearance 4WD, I would suggest going for an organized tour as I did. It was a totally hassle-free experience in a 4WD truck and commentary provided by our guide Bluey from Emu Run Experience was probably the biggest advantage! Daily tours depart from Alice Springs and from there it takes around 2 hours to get to the national park. Besides Finke River National Park, they usually stop at Hermannsburg as well.
On the way back we saw 4WD Toyota Hilux in trouble when the driver went too fast and broke suspension which in the result made a puncture in the fuel tank. The fuel leaked out completely in just a few seconds and that was the end of the trip for unlucky ones. Other tourists gave them a lift to Alice Springs where they had to find a mechanic and spare parts and then come back to Palm Valley to fix the car onsite. Difficult Aussie life!
Overnight
If you travel independently you may want to set your camp at the dedicated spot and spend a night in this remote area. It must be an amazing experience and I would certainly do so next time. There are showers, toilets and barbecues provided. Don't forget to take some cash to pay onsite.
Walks in the area
Arankaia Walk (2 km, 1-hour return) – located in Palm Valley itself it gives you the best opportunity to admire these spectacular plants.
Mpulungkinya Walk (5km, 2-hours return) – the longer version of Arankaia Walk.
Kalarranga Lookout (1.5 km, 45 min return) – easy ascent to the top where I was rewarded by the panoramic view of the national park and surrounding amphitheater of rocks. It's a breathtaking spot for sunset, so if you camp overnight, get here on time!
Mpaara Walk (5 km, 2 hours return) – it's a nice walk but also cultural experience describing the mythology of Western Aranda Aboriginal people. The start is at Kalarranga parking.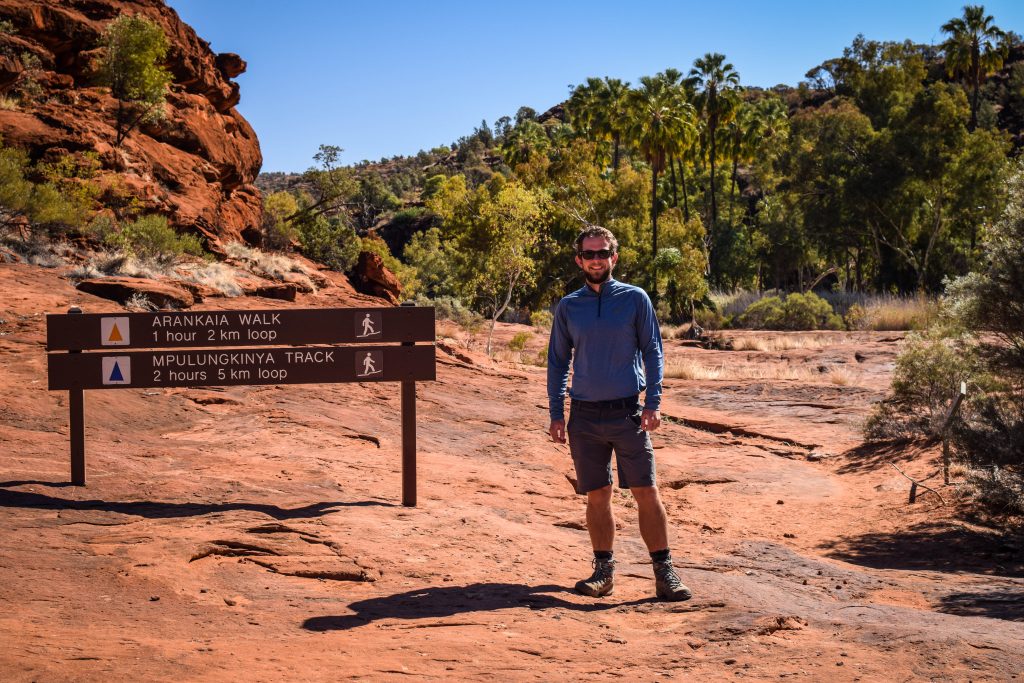 A few things to remember
Please don't ignore the guidance provided by Finke River National Park:
Camping is only permitted in the designated camping areas at Palm Valley and along the Finke River at Boggy Hole.
Collect firewood before entering the park.
At Palm Valley, fires are only permitted in designated fire pits.
Pets are not permitted in the National Park.
Rubbish bins are not provided, so take your rubbish with you.
If traveling the Finke River 4WD route, stay on the marked track.
Be careful where you walk and stay on the marked tracks. Young palms can be destroyed by visitors not realizing what they are walking on. The regeneration of the palms is needed for the survival of this population.
Enjoy this beautiful place!